Chrystine Dominique and her husband Kevin are glad they have flood insurance, coming off a harrowing experience of being rescued by boat from their doorstep after the region was pummeled with more than a foot of rain last week. 
Claycut Bayou, which runs behind the Baton Rouge couple's Inniswold neighborhood near Airline and Jefferson Highways, overflowed and rapidly seeped across their lawn around 8:30 p.m. last Monday. The couple was rescued by first responders around 1 a.m. Tuesday as their mailbox was swept into the rushing flash-flood water. 
"It kept getting closer so we started putting comforters in front of the door trying to keep water from coming in. The water comes up fast. We were trying to run out of the front and I realized it was already coming in through the back from the creek," said Dominique, as she surveyed the growing pile of belongings on the curb as scrappers and resellers picked through the wares and building material Wednesday evening.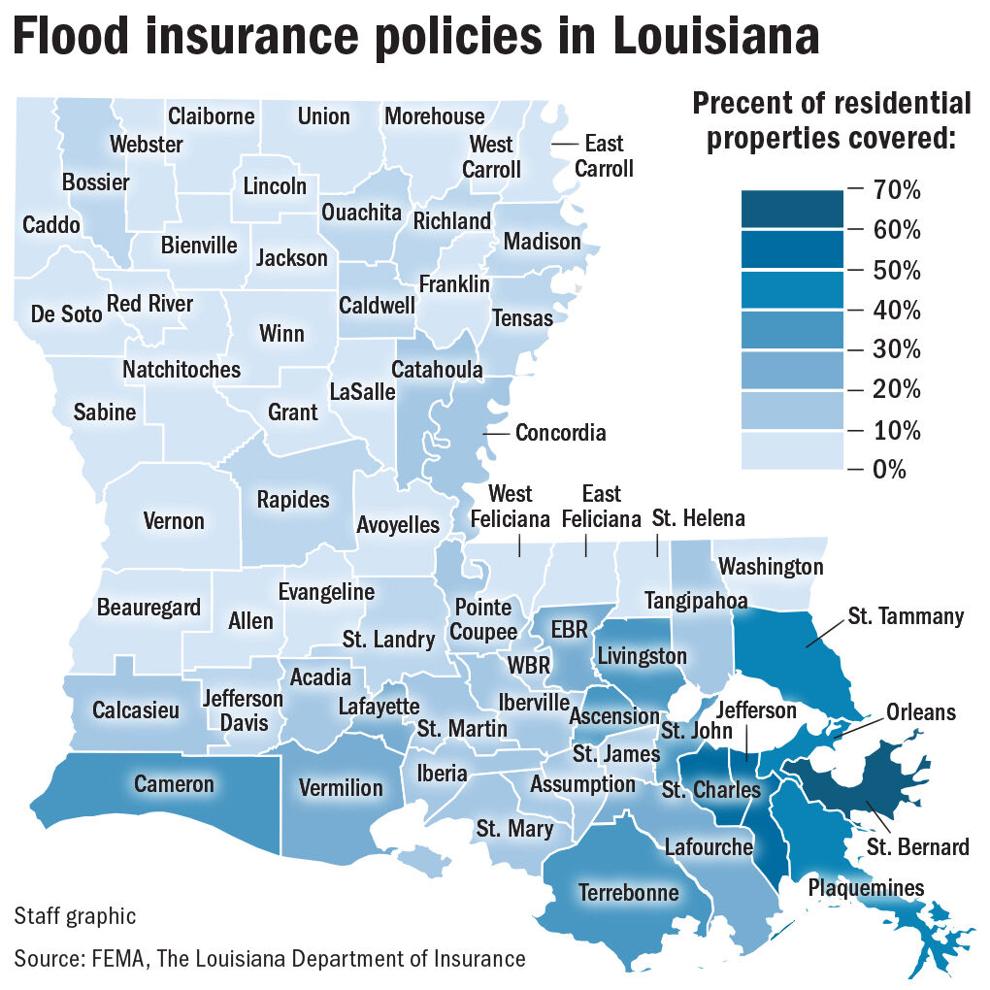 Fortunately, the Dominique family is one of hundreds of thousands of households whose damage is covered across Louisiana through National Flood Insurance Program policies from the Federal Emergency Management Agency. But there is an effort underway that could affect premiums, as the federal government tries to balance a program that has paid out billions of dollars more in claims than it collects in payments.
The flood policies — purchased separately from regular property casualty insurance — can cover up to $250,000 for home structures, with an additional $100,000 for contents. The Baton Rouge family's flood policy — required by their mortgage lender because they are in a moderate flood zone near to the bayou — covers about $185,000 for the home plus $36,000 for items inside, minus a $1,000 deductible.
The Dominiques have been paying into the national flood program in the case of such an event for 18 years, having never flooded, not even in the massive area flood of 2016.
"This year and the last couple years it kept on increasing," Dominique said, recently rising from $1,900 to $2,100 for the year.
Now, their future rates will be subject to changes coming ahead in the national flood program that will affect how much the Dominique's and others across the nation and state will pay.
Nationwide, the National Risk Rating 2.0 analysis projects that 66% of policyholders will see increases of between $12 and $120 per year. Another 7% would see increases up to $240 a year and 4% would see an uptick of more than $240  each year. However, 23% of policyholders will see an average $1,032 per year decrease.
In Louisiana, roughly 70% of FEMA flood policyholders, about 343,246 policies, are expected to see average increases ranging from small sums up to $120 each year, according to a new risk-rating analysis released in March. Another 7%, or 34,252 policies, would increase between $121 and $240 each year, while 3% would see increases of more than $240 per year, impacting 17,159 policies. Meanwhile, 20% of existing flood policies, or 101,174, would see immediate savings across Louisiana, though those amounts were not spelled out in the March report.
Flood insurance is not required in what is known as a preferred flood zone, though roughly 25% of all flood claims actually come from low-risk areas where cheaper policies typically are offered. For historic properties along known flood plains or near bodies of water, the same policy could cost tens of thousands of dollars a year.
With the national program paying out billions more in flood claims than it is collecting, new risk-rating rules are expected to go into effect on Oct. 1 in hopes of balancing it out over time. Any discounts will be immediately applied. New or renewing policies would be subject to new calculations on April 1, 2022, and beyond. However, the process already has been delayed several times for various reasons, most recently the coronavirus pandemic.
"It's surprisingly similar to FEMA's national analysis," Lloyd Dixon, senior economist and director for the Kenneth R. Feinberg Center for Catastrophic Risk Management and Compensation with RAND Corp., said of flood-prone Louisiana's rate change projections. "I was expecting maybe more difference, but they are very similar in the percent of different policyholders to experience these different rate effects," he said.
"Moving toward a more risk-based term of pricing is a good idea but the affordability issue is very important," he said of the changes.
As the federal government recalibrates its risk-rating process, Louisiana sits at the crossroads of a potentially massive change to the real estate landscape. Some properties will no longer be viable financially for middle-class residents who live there. While there are efforts to reduce displacement of existing communities, some families will be forced to relocate.
"What we don't know is what is the income distribution of those households (getting premium hikes), compared to the rest of the country," Dixon said. "If the NFIP increases its rates, how many people does it push over into being considered housing burdened …," which means they can't get a mortgage from a lender because of costs.
"I think some people, barring an affordability program, would find it hard to stay in their current home with higher insurance premiums," Dixon said.
He believes subsidy programs and discounts should be targeted to those who most need them, instead of including higher-income households for aid. And the way to calculate affordability should be the principal, interest, taxes and insurance, or PITI ratio, to household income — a formula that typically sets the feasibility of a mortgage to no more than 28% of a borrower's gross monthly income.
While FEMA's leadership asserts that nobody knows exactly what new flood premiums could be until bills are handed down to policyholders, estimates have been attempted.
For example, FloodFactor estimates that for the 70809 Zip code, where the Dominique family lives, the average annual loss for properties is $642. That's less than the federally estimated premium cost of $878. The difference suggests homeowners in the area could see new flood premiums decline when "real risk" of flooding is determined in the flood program reboot. 
But it's no guarantee, and there are many homes expected to be handed a much larger bill, potentially prompting a sticker shock effect.
In Louisiana, there are 241,852 residential properties with a substantial flood risk that are expected to have collective loss of $745.3 million in 2021, according to estimates by New York City-based nonprofit First Street Foundation, which runs FloodFactor.com.
For Louisiana homes inside FEMA's special flood hazard areas that require insurance, the foundation estimated the average loss for those properties in 2021 would be $4,379, whereas the average state premium was only $1,104. That would suggest that "if premiums were adjusted to cover current risk they would have to increase 4 times," according to the nonprofit.
"The concern is that this creates a financial burden on the homeowner. People are already paying thousands of dollars a year," said Sam Brody, senior fellow at the Baton Rouge-based Water Institute of the Gulf. "That worries me. The floodplain moved into them and they are not necessarily responsible, nor were they communicated with about changes."
Areas that participate in FEMA's Community Rating System could work toward significantly lower premiums, but that would require foresight, planning, expertise and buy-in from those willing to implement preventive measures to stop flooding — instead of just waiting for checks when disasters happen. Communities could earn rate discounts between 5% and 45%, based on the community rating system classification, according to FEMA.
"The community does the work and the residents get the benefit," Brody said.
There is debate about how accurate physics-based models are, especially when extrapolated nationwide as compared to estimates based on actual losses.
The so-called "Flood Factor" for the Dominique family's home was considered only moderate. But according to the FloodFactor data, forecasted trends in the environment mean the annual damage to the Inniswold home from "all flood scenarios" could increase over time. That means the likelihood of at least 1 inch of floodwater rushing into the home in the next year is only 1%, but in 5 years is 5%; 10 years, 10%; and 15 years, a 14% chance. By the 30-year mark, this Inniswold home has a 26% chance of flooding, according to the FloodFactor data.
The question now is whether last week's flooding might affect the mindset of homeowners. After the 2016 flood inflicted massive devastation on the community and other areas of south Louisiana, adoption of flood insurance increased in many areas, though those memories appear to have been short-lived.
East Baton Rouge Parish saw a 66.7% increase in flood policies between August 2016 and December 2020, but only 22.1% of single-family homes had active flood insurance policies as of December, according to Louisiana Department of Insurance records. The peak market penetration for NFIP flood policies in East Baton Rouge Parish was 2018, when 22.7% of residential properties had active flood insurance, or 43,384 properties.
There was a very similar trend across the metro area, with some variations across the state. It is possible that some of those homeowners previously paying into the federal program bought private flood market insurance, which is increasingly attractive for those in lower-risk areas because it's often cheaper and more comprehensive in terms of actual coverage than the more narrow federal program.
Even it weren't required through her mortgage, Dominique said she doesn't take any chances when it comes to flood insurance.
"I always get the max (insurance) that I can get with contents as well, because the thing is I believe in God as my source — he's my everything — but I'm not crazy either," she said. "I buy the best insurance that I can buy. Even if I was a millionaire with money sitting in my bank account, I'd continue to do what I do as far as insurance. I'm not worried about (getting) the cheapest insurance for an extra $30 in my pocket."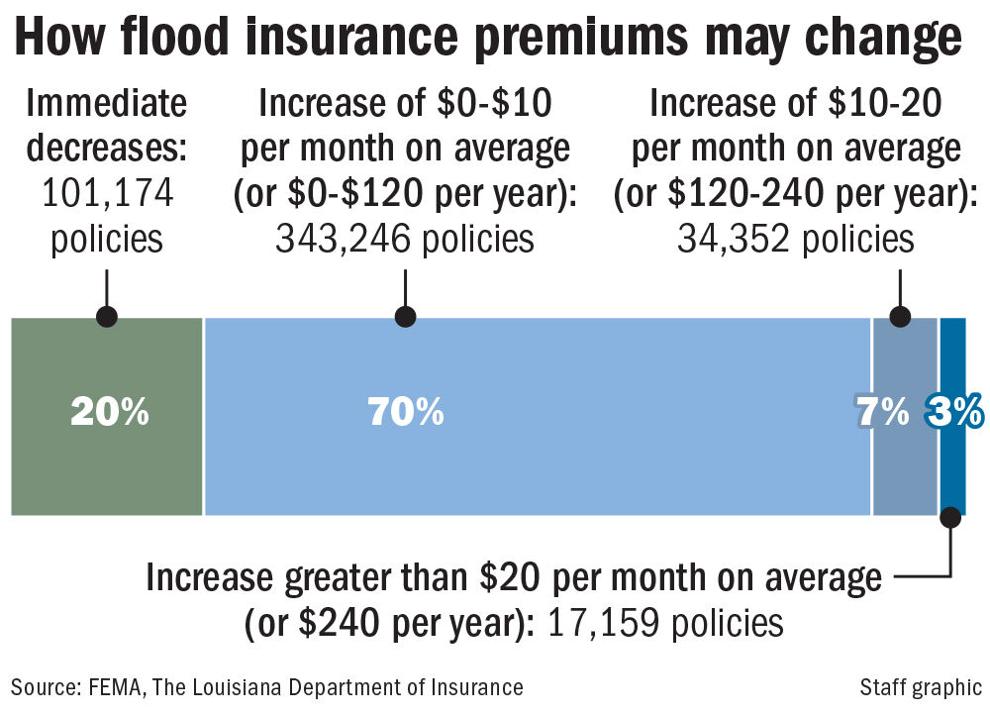 Her family and friends worked diligently last week to saw out sheet rock up to four feet high. Affixed above all the doorways are religious scriptures, which flood water did not touch. Photographs and memorabilia from her daughter's childhood and other sentimental items had been thrown into the tops of closets before the couple fled their home.
"I want my baby's pictures," she said of her daughter, who is now 38 years old. "That stuff means more to me. I don't care about none of the furniture," she said, the exception being her grandmother's antique cypress wood wardrobe and dresser, both family heirlooms.
Major appliances and the overall condition of the home were photographed and serial numbers jotted down. Remnants of their lives were perched atop each other in a growing mound on the curb. 
An insurance adjuster verified and assessed the damage on Friday. In the coming days, the Dominiques will find out how much they'll get for the flood damage and the extent to which all those years of paying for that coverage will be worth the cost. 
"Now we're just waiting on them," Dominique said. "We always said we'd do some work around the house and now it's going to get done for real. We'll have a better house than what we had."
Whether the potential claim could be enough to replace her family's belongings as she took stock of the situation, that will remain to be seen. "We're going to make it work," she said as her eyes welled with tears.