It's been two weeks since the film production Shawn Bohte was working on wrapped, and he's back searching for a new job in the New Orleans area. 
Bohte, 51, has applied to at least 50 jobs in recent days, mostly in sales where he has decades of experience. He holds an associates degree in business administration but hasn't gotten any good leads lately as he's hoping to find a job that pays at least $15 an hour. 
"I've been in sales all my life," Bohte said. "But it's been pretty rough, I've been looking at other states because the job market around here is pretty bad. There's a bunch of jobs out there, and I have a really good résumé, but I just haven't heard back."
Meanwhile some businesses are trying to rustle up enough workers to keep up with demand: Burger King attempted to hire 250 people in Baton Rouge in one day for its franchisees. CVS wants to hire 500 workers across Louisiana from pharmacists to technicians and retail employees. 
Gary Wagner, Acadiana business economist with the University of Louisiana at Lafayette's Moody College of Business, was more optimistic about the economic recovery last year than today, because there are several indicators that suggest a slowing business climate. 
"Between first and second quarter, the economy grew," he said. "But firms are figuring out ways to produce more with fewer people; it's likely going to be a permanent change." 
The biggest metric was that between first and second quarter, Louisiana's unemployment rate improved from 7.5% to 7.1%. During a more typical year, that means workers are getting back into the labor force. 
But this year, something else happened: 58,000 workers dropped out of the labor market entirely, not seeking jobs anymore. More than 20,000 of those workers leaving the job market were in New Orleans. And that trend accounted for the entire improvement of the unemployment rate.
"On the surface, people would look at the and think that's a good sign," Wagner said. "The entire reduction in the unemployment rate was that people quit looking for work; that's not a good sign." 
By the end of the year, the unemployment rate is projected to fall to 6.6% but is likely going to fall more aligned with how it does in a typical year.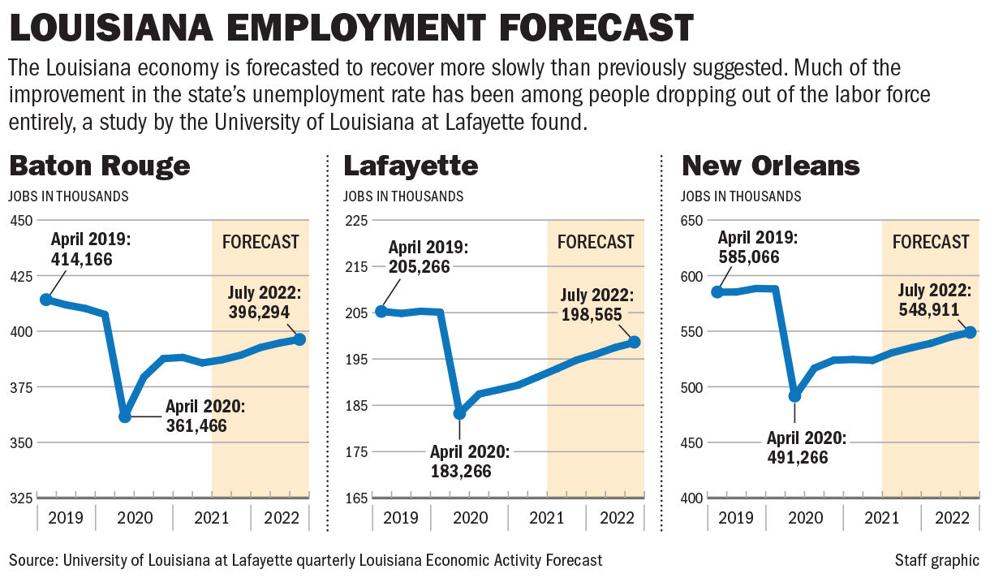 For employers looking to hire professional workers, that means more compromises. 
"We have a lot of applicants who say if they can't work remote they're not interested," said Jack Hunt, vice president for Hunt, Guillot & Associates a Baton Rouge-based engineering consulting firm. 
The company does some federally funded work after natural disasters, which means government contracts may require employees to work together in an office setting. But for its industrial business customers, remote is an option. The pool of job seekers is pretty deep, Hunt said. 
"It does seem that there are a lot of potential employees," he said. "We've been hiring folks a good bit and have found adequate applicants; it hasn't really been a big issue yet."
The U.S. economy is forecasted to grow by nearly 5% on average in the next 12 months. Gross domestic product in 15 states surpassed prepandemic levels but not yet in Louisiana. The state GDP expanded at an annualized rate of 4.7% during first quarter this year and is expected to grow at 4.8% in second quarter and 3.2% in third quarter. It is expected to recover to pre-pandemic levels by the end of 2022. 
Louisiana ranks No. 45 in the job recovery nationwide. 
The state regained 39% of the 285,000 jobs lost during the pandemic in 2020. Louisiana's more sluggish recovery is now expected to add 29,000 jobs in the next 12 months, instead of 71,000 jobs. 
Meanwhile, five states have already added back all of its job losses in 2020. 
A quarterly research report conducted by UL ran economic forecasting models through an optimistic, pessimistic and likely baseline scenario for third-quarter economic activity in the state.
Even an optimistic job recovery forecast the state would not recover by July 2022, but more like July 2024. 
The Houma-Thibodaux metro area is forecasted to return to at least 87,100 jobs after 2022. 
Baton Rouge metro area jobs hit 407,500 before the pandemic, projected to hit 396,300 jobs by mid-2022. 
Lafayette metro area had 205,100 jobs before the pandemic, which is on track to hit 198,600 jobs by mid-2022. 
New Orleans metro area had 588,000 jobs before the pandemic, is on track to hit 548,900 jobs by mid-2022. 
Hammond metro area had 47,000 jobs before the pandemic, on track to hit 46,700 jobs by mid-2022.
Lake Charles metro area had 111,000 jobs, expected to have 96,000 jobs by mid-2022. 
Spherion Staffing Baton Rouge saw a deep drop in new jobs in July 2020. Since the COVID-19 vaccines were rolled out earlier this year, the market has improved. Employers are even offering higher pay than before the pandemic, and remote work is common. 
Still, in general, it's been tough to find qualified workers for open roles. 
"It's definitely been a challenge trying to find the qualified candidates when there was additional unemployment help, but we are still having a very difficult time," said Mike Zaunbrecher, owner of Spherion. "There are lots of jobs out there right now."