California utility giant Sempra Energy is dusting off plans for natural gas storage in salt caverns in Cameron Parish as more liquefied natural gas export terminals are built in southwest Louisiana.
In 2005, Sempra had proposed retrofitting two caverns for natural gas storage under its Liberty Gas Storage project. The company proposed removing salty water so the empty caverns would have the ability to store 23.4 billion cubic feet of natural gas, but the project was postponed indefinitely several years later.
New plans near Hackberry by Sempra subsidiary LA Storage LLC target four structures, calling for converting three existing salt caverns for natural gas storage plus a new cavern. They would have a combined total storage capacity of 25.5 billion cubic feet of natural gas. Sempra also is a majority stakeholder in the nearby Cameron LNG export facility.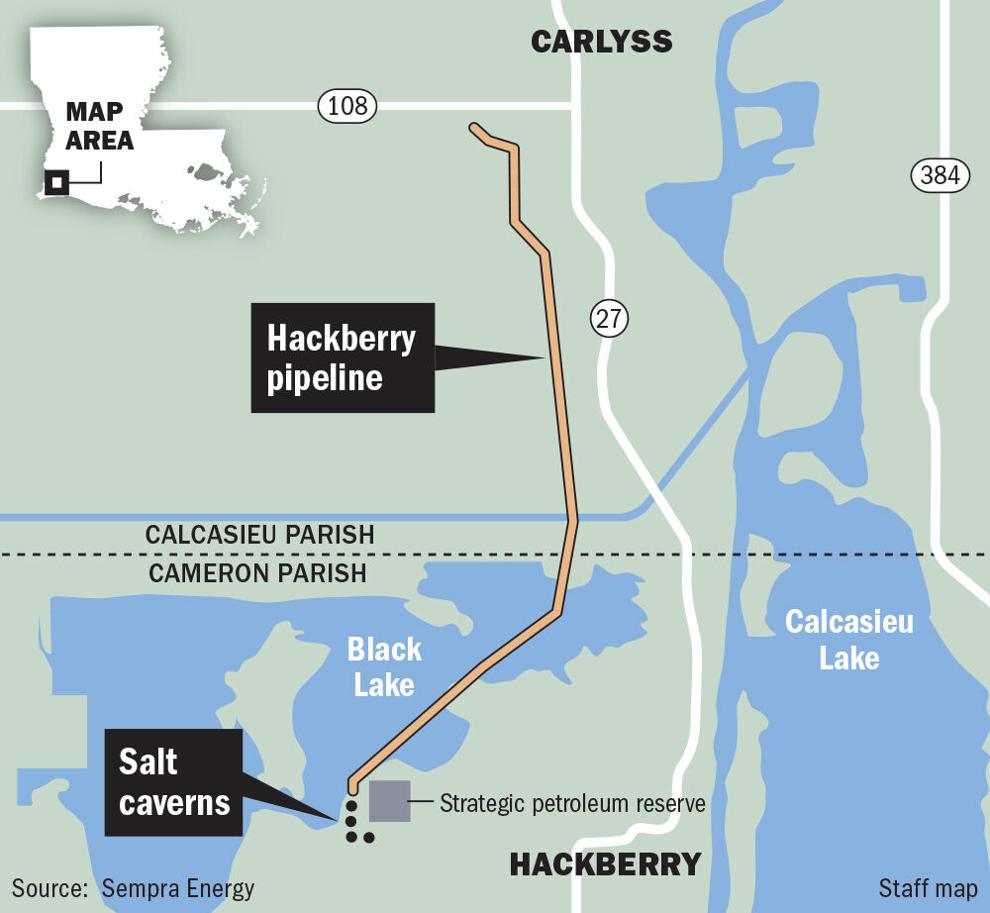 In addition, pipelines are proposed to connect the storage cavern project to existing natural gas hubs. The 160-acre site where all four salt domes are located sits next to the West Hackberry Strategic Petroleum Reserve, a federal salt cavern oil storage site holding emergency reserves of oil for the nation.
Each day, the four Sempra caverns could withdraw or add 1.5 billion cubic feet of natural gas. 
Cameron LNG exports up to 12 million tons of LNG each year from three units at its export terminal, the equivalent of 1.7 billion cubic feet each day. A proposed expansion of Cameron LNG could add two more units to the site, boosting its export capacity to nearly 25 million tons each year.
The natural gas storage facility looks to begin construction during first-quarter 2022 after securing environmental permits. The project would support 300 construction jobs and expects to begin storage operations by the second quarter of 2024. About 10 permanent jobs would be created. The company expects to spend about $79 million locally on construction materials and services in the region. 
Sempra Energy asserts that there is demand in the market for such a storage project and interested customers sought to lease 20 billion cubic feet of storage for their own natural gas through nonbinding agreements. Since then, the company is negotiating contracts with potential customers.
"Respondents … represented a diverse group of market participants, including LNG facilities, marketers and members of other important segments of the natural gas industry," according to its application on file with the Federal Energy Regulatory Commission. "This response demonstrates an existing and pressing need for the Hackberry Storage Project."
The project sits within 15 miles of pipelines that already connect to the largest LNG export facility in the country, Sabine Pass LNG, but also Venture Global's Calcasieu Pass LNG that is under construction. 
"Having a storage facility gives you a lot of value as a developer. I think what's driving this is proximity and volume. LNG facilities need to move so much gas," said David Dismukes, executive director and director of policy analysis at the LSU Center for Energy Studies.
But it's unlikely that there will be any more salt caverns built as the LNG terminals are built. Before 2008, storage was proposed because the price of natural gas was much higher and fluctuated greatly. Salt caverns in particular are more expensive to build but are more valuable because natural gas can be more quickly withdrawn from storage. 
"I think that this is just a one-off transaction. There's not a lot of volatility in gas markets right now, and that's really what storage does," Dismukes said. 
Often, companies might buy natural gas during the summer when the price is cheaper then store it until the gas is sold during the winter when demand is higher for heating fuel. 
There are already nearly a dozen salt caverns in Louisiana used for natural gas storage with collective capacity of 218 billion cubic feet, according to the U.S. Energy Information Administration. 
Most of the existing salt caverns are used by natural gas pipeline companies and marketers, which sell to natural gas-fired power plants.
For instance, Bobcat Gas Storage in Port Barre in St. Landry Parish, owned by Canadian natural gas distribution business Enbridge, was built in 1971 and holds 40 billion cubic feet of natural gas, but its net working capacity is 28 billion cubic feet. Houston-based Cardinal Gas Storage Partners LLC owns two salt caverns with natural gas storage in Arcadia and Winnsboro, with roughly 35 billion cubic feet of capacity for sale on the market to various customers along the Gulf Coast. 
"When the salt dome is homogenous in its structure, the caverns can be cut very predictably. It's like cutting a doughnut hole in a solid mass," said Whitney Autin, retired professor at the State University of New York College at Brockport. "There are risks though," said Autin, who studied salt caverns in Louisiana as a geologist earning his Ph.D. at LSU. 
In 2012, there was an issue with a salt mining operation after years of pumping fresh water underground to mine the deposit too close to the edge of the cavern. That ultimately caused a 24-acrewide Bayou Corne sinkhole — and the problem wasn't related to natural gas storage. 
Potential weakness can be detected before construction begins to determine the stability of a salt dome, Autin said. It is possible that if there is a fracture there could be leaks, he said. 
New Orleans-based environmental nonprofit Healthy Gulf expects to oppose federal permits for the pipeline and salt caverns. 
The project is not in the public interest and would potentially destroy about 75 acres of wetland, according to the environmental group. 
"Those wetlands protect nearby communities from storms by providing critical buffer to slow the surge and winds down," said Naomi Yoder, staff scientist with Healthy Gulf. 
Yoder is a marine ecologist and geographer and argues that there is no environmental justification for the project and it puts public health at risk.