Five months ago, Venture Global LNG filed a special request with the federal government to rev up construction of its liquefied natural gas export terminal in Plaquemines Parish.
Work began in earnest on the multibillion-dollar Plaquemines LNG facility in August 2021. Shortly thereafter, flooding from Hurricane Ida halted construction for two months, Venture Global said in a Federal Energy Regulatory Commission filing.
To make up for lost time, Venture Global asked for FERC's blessing to swell its construction workforce from 3,600 people per day to 6,000. FERC's original approval of Plaquemines LNG only allowed for the 3,600-worker threshold.
With a targeted 2024 opening coming, the Virginia company asked for its request to be approved in November, but FERC has yet to rule on it. It was published in the Federal Register in February, and a public comment period ended March 6. FERC's environmental review of the request could take months to complete.
For industry advocates, the pace of that review is far too glacial. For LNG opponents, the regulatory process isn't working at all.
As the yearslong war over Louisiana's booming LNG industry continues to play out, the federal approval process has become the latest battleground for the sector's future.
LNG champions say additional export capacity is sorely needed to address heightened demand for natural gas in Europe as the Russia-Ukraine war trudges on. Republican in Congress — including Louisiana Reps. Steve Scalise and Garret Graves, along with Sen. John Kennedy — are leading efforts to curtail regulations they say are preventing the industry from operating at full capacity.
The industry's opponents, however, say LNG export terminals are already moving too swiftly and loosely to be allowed any more leeway. They cite incidents such as the Freeport LNG explosion in Texas last year, along with volatility in natural gas demand and harmful ecosystem impacts, as reasons for grinding LNG exports to a halt.
As the global competition for natural gas goes into overdrive, the regulatory battle will have consequences on Louisiana's LNG industry, regardless of who wins.
"There's a lot of political push on this thing, but it's going too fast," said John Allaire, a retired engineer and LNG adversary who lives in Cameron Parish next to Venture Global's Calcasieu Pass export terminal and the planned Commonwealth LNG terminal.
An industry centerpiece
Every year, the American Petroleum Institute outlines its policy positions to "unleash" the U.S. energy industry, as the latest document put it.
This year's API report honed in on LNG. It called on Congress to speed up export permit approvals and create a single approval framework for LNG projects by the Department of Energy, instead of sending construction reviews to FERC and export permits to the Department of Energy.
Interest in sending LNG to Europe skyrocketed last year following Russia's invasion of Ukraine. Economic sanctions and a global stigma of Russian fossil fuels drove European-bound cargos to new heights last year, and President Joe Biden pledged to steer even more shipments to the continent.
Fossil fuel advocates in Congress have taken notice of the industry complaints.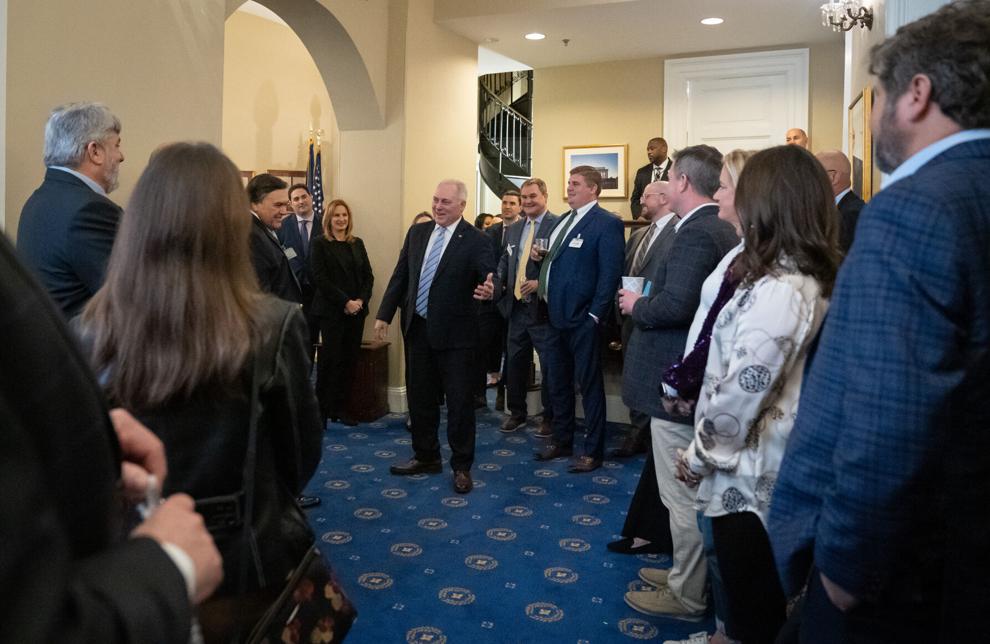 House Republicans, led by Majority Leader Scalise, have unveiled a sweeping package of energy-related bills called the Lower Energy Costs Act. The House is scheduled to vote on the legislation by the end of March.
Among many other changes, the Lower Energy Costs Act intends to streamline the environmental review process for all energy projects, including LNG terminals. It would also outlaw fracking moratoriums.
Scalise said the Biden administration has been "very deliberative and targeted" in its slowdowns of basic permit approvals for energy projects.
"All of that has dramatically increased the cost of energy for families here in America. But it's also hurt our ability to undermine adversaries around the world like Russia," Scalise said.
Federal environmental impact statements, which can take a few years to complete, would be limited to a two-year deadline under the act. Environmental assessments, a shorter federal review, would be capped at one year.
Graves, the Baton Rouge Republican who sponsored that part of the legislation, said those caps are reasonable based on his experience with National Environmental Policy Act reviews. Graves chaired the Coastal Protection and Restoration Authority under former Gov. Bobby Jindal.
"There were projects that were within the application process that, if approved, would've provided more capacity for LNG exports," Graves said.
In a separate move, Kennedy and three other senators reintroduced a bill, the Natural Gas Export Expansion Act, to expedite approvals for LNG exports to countries with which the U.S. does not have free-trade agreements. The goal is to free up more exports for more European countries amid the Ukraine crisis.
In a statement, Kennedy said some companies wait up to a year for non-free-trade LNG permits. That wait is usually 45 days for free-trade permits.
"I introduced this bill to align the quicker timeline of countries that have free-trade agreements with others that would like to rely less on Russia," Kennedy said. "And that's good for Louisiana, because LNG exports sustain Louisiana jobs, promote America's energy independence and reduce global emissions."
The environmental and economic outlook
U.S. natural gas has long been championed by industry advocates as a "cleaner" source of energy than coal as the globe lumbers toward renewable energy. However, environmental advocates say LNG is marginally cleaner than coal and isn't worth the multibillion-dollar investments in recent years.
Along with mounting ecosystem concerns, environmental advocates fear long-term volatility in natural gas prices once demand for U.S. LNG dries up following the Ukraine war's end.
Three advocacy organizations — Public Citizen, Friends of the Earth and Bailout Watch — released a report in February that claims the LNG industry took advantage of the Ukraine crisis to lock in 44 long-term export deals in 2022, compared to three in 2020 and 15 in 2021.
Last year was an "anomaly" because European natural gas prices were higher than Asian benchmarks, said Tyson Slocum, energy program director for Public Citizen, a nonprofit consumer advocacy organization in Washington. Asia likely will regain its spot as the top market for U.S. LNG exports as European demand shrinks.
Slocum said a planned LNG export buildout in Mexico, as well as the likely return of Freeport LNG — the Texas terminal that halted production after its June explosion — will draw even more natural gas away from the U.S.
"Anytime you've got more capacity coming on that is exporting U.S.-produced gas, that is less gas that is available at reasonable prices for domestic needs," Slocum said.
The industry's argument about regulatory holdups also doesn't hold weight, Slocum said. On average, federal approval of an LNG terminal takes about three years, and that's been the standard for a half-decade.
"I've seen absolutely no change from Obama to Trump to Biden in terms of the regulatory review of liquefied natural gas export terminals," said Slocum, who closely tracks the nation's oil and gas regulatory process.
Allaire, the retired engineer, said he fears the industry will rush to overbuild itself, leaving abandoned plants should the price difference between U.S. and foreign natural gas converge over time. That gap — with American gas being far cheaper than European or Asian gas — has driven much of the U.S. LNG interest in recent years.
"What's going to be the incentive to pipeline this gas to a liquefication plant, liquefy it, put it on a ship and send it overseas?" Allaire said. "They'll just shut these places down."
Anne Rolfes, director of the Louisiana Bucket Brigade, said Europe doesn't need more LNG because the continent generated more power from wind and solar this winter than natural gas.
"Louisiana is boxing itself into the technology that is volatile and that is poised to be used and needed less and less and less," she said.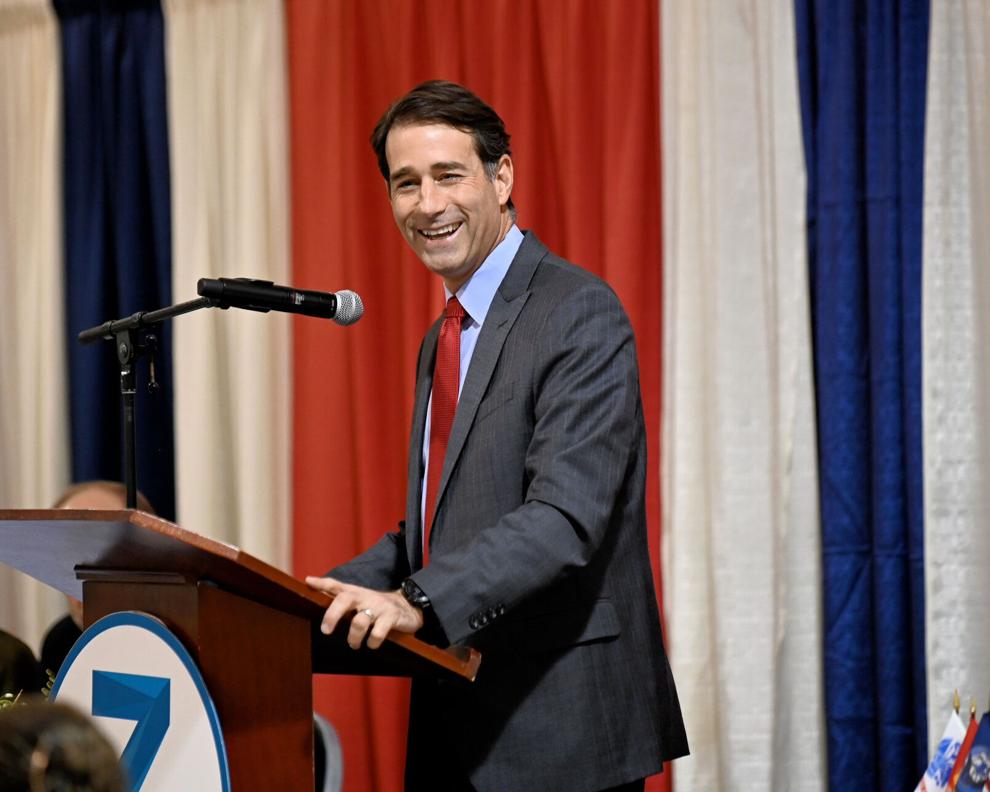 Graves, the Baton Rouge Republican, said LNG projects shouldn't be given "carte blanche" approvals. However, he said LNG companies have an incentive to build their expensive facilities in a way that offers greater shoreline protection from storms.
Both Graves and Kennedy said the LNG buildout can lead to greater state revenue for coastal restoration and storm protection, along with jobs for population-strapped areas like Cameron Parish.
Kennedy argued Europe, and the rest of the world, "can't buy U.S. LNG fast enough."
"Anyone who is concerned about the impact of weather and climate on our state should support efforts to get more clean LNG to market and put the revenue that comes from that to use for Louisiana families, our economy, and our ecosystems," he said.