Ponchatoula still holds the title of Louisiana's strawberry capital, but the sweet fruit's future here looks less than rosy.
Farmers in Livingston and Tangipahoa parishes are growing fewer acres of the crop than ever, as an aging group of growers and an increasingly risky business is shuttering family farms.
While 265 farmers planted 915 acres of strawberries across the two parishes in 1988, a fraction of that number — just 26 farmers — planted 188 acres last fall, according to the LSU AgCenter. 
Local farmers and officials say the crop will not disappear, but the acreage is likely to continue shrinking.
"You have some promise the business can exist. But in terms of the amount of people in it and the acreage, it continues to come down," said Kenny Sharpe, the county agent for Livingston Parish.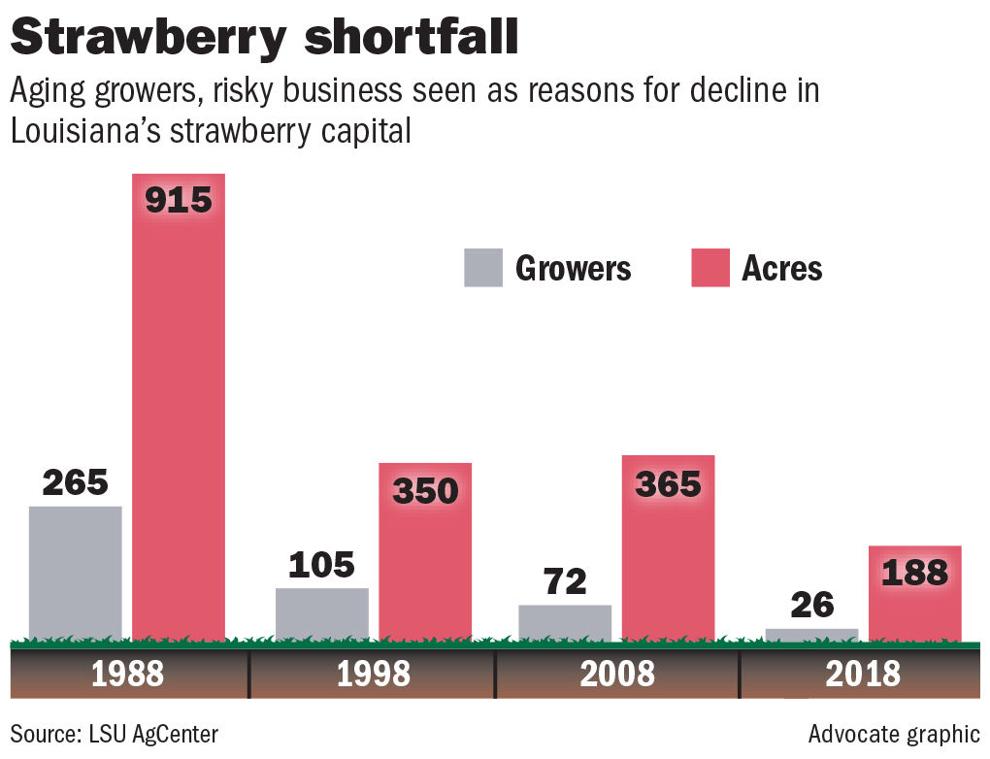 The strawberry industry in the Florida Parishes dates to the 1800's when immigrants from Hungary and Italy began planting in what would become known as "Louisiana's berry belt." 
In 1924, growers planted some 14,420 acres of strawberries on farms ranging in size from five to 20 acres, according to The Louisiana Strawberry, a 1984 book by Ginger Romero. They sold their berries to local associations, who shipped their produce up the railroad and across the country.
The industry peaked in 1931, Romero wrote.
Now, most Louisiana strawberries stay within the state, supplying grocery chains and farmers markets in Louisiana, with a few traveling to Mississippi and Arkansas. But it still holds an important place in the area's cultural heritage.
The berry is "kind of our identity" in Tangipahoa Parish, said Carla Tate, executive director of Tangi Tourism. The Strawberry Festival, coming up on April 12-14 remains the largest and most vibrant of the parish's festivals.
"We still have the best strawberries, and hopefully, it will continue, and we don't have to face that issue of it (strawberries) going away."
Growers and local officials remember a more vibrant industry just 30 years ago. 
"Those were the good 'ol days," said Charlie Martin, the former mayor of Springfield.
Martin's father-in-law, William Abels, then the principal at Springfield Elementary School, planted a field of them each year. They were among the dozens of families who continued to plant berries, many as a side-hustle.
Abels would tend the berries when he was off work, Martin said, especially in the summer, and often recruit family members to help pick and sell. 
"My father-in-law would knock on our door and tell us, 'Time to pick strawberries!'" Martin said. He recalled once bringing flats up to Mississippi for friends in his hunting club, too. "We would try to sell as many as we could."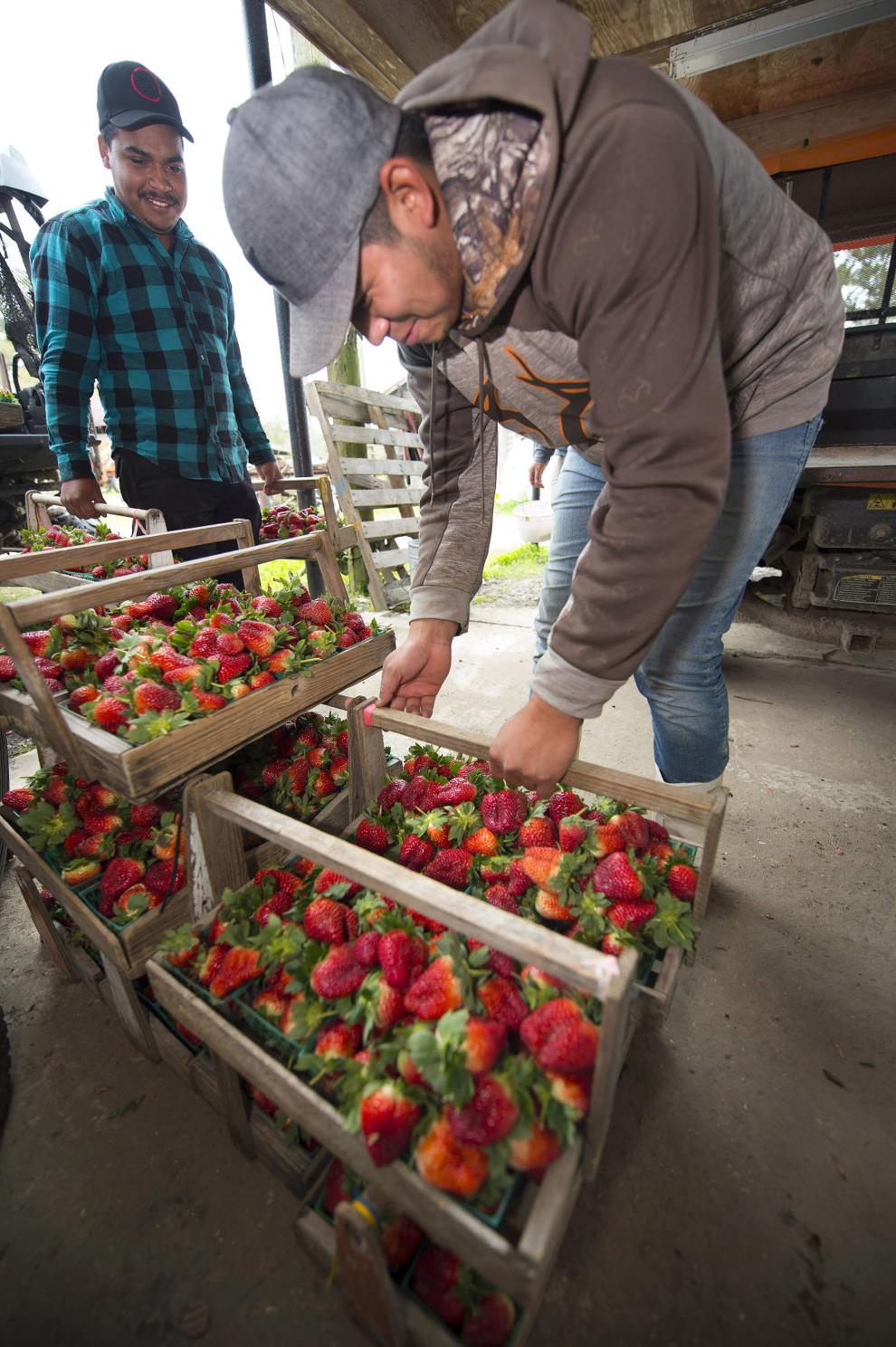 Other berries went to an association in Springfield that sold to companies using them for jam.
But when Abels died, no one in the family had the interest or ability to take the farm over, and it lays vacant now, Martin said.
Sharpe said the story is the same for many families who once shared in the strawberry business.
The early shrinkage of the strawberry industry came down to marketing and labor.
As it became harder for farmers to find locals willing to farm the berries, they relied more on expensive migrant workers who came here on special H2A temporary agriculture visas.
There are no longer associations that purchase and ship large quantities of berries grown in Louisiana. Instead, growers must establish their own set of buyers, through farmers markets or relationships with grocery stores, Sharpe said. 
"Those were the two things that were most problematic earlier on," Sharpe said. "You couldn't get 'em picked, and you couldn't get 'em sold."
More recently, farmers have faced tough competition for land with developers, who want to build subdivisions in southern Livingston and Tangipahoa parishes, Sharpe said.
"A developer is willing to pay a lot more than a farmer for a 100-acre lot," he said.
Ponchatoula has been the site of disputes recently over rapid home building, often in the floodplain.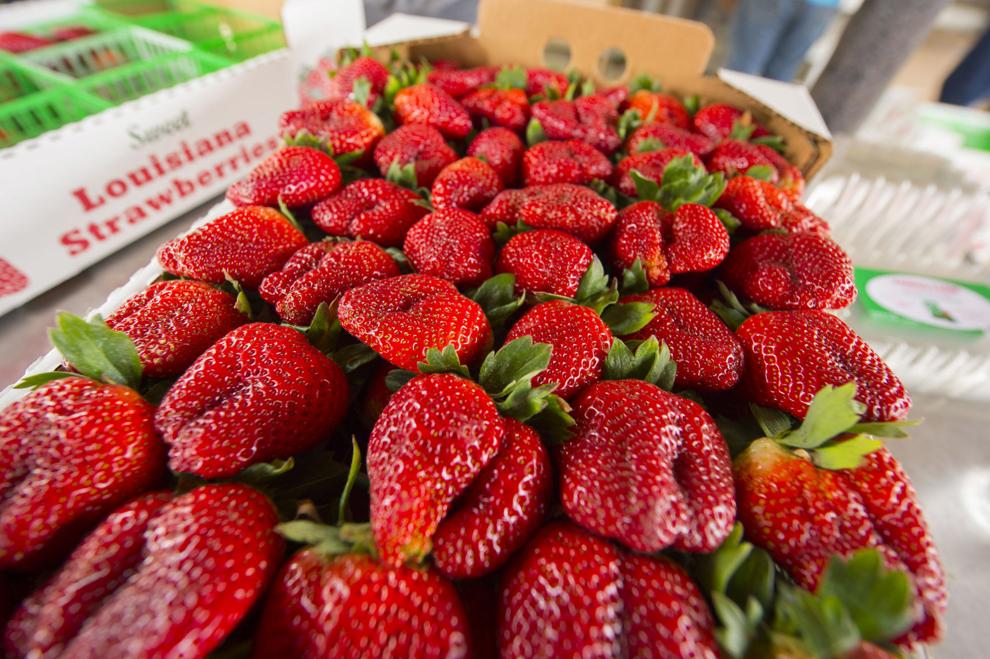 The largest farmer remaining in the business is the Liuzza family, which owns two large farms with 60 to 70 acres of strawberries near Independence.
Joey Liuzza farms with his dad, Anthony. He said the farming tradition began in his family four generations ago, when his relatives immigrated from Sicily and put their farming skills to work.
The family has survived where others have not by diversifying into growing many different vegetables, tourism and even a dirt-moving business. 
But Liuzza said he is facing competition from California, Florida and Mexico, who flood the market with cheaper strawberries. He's trying to set up a business he could pass on to his kids, if they want it.
"We're raising our kids on the farm, and if they want to do it and are able, we'll keep them in business," he said.
One farmer is jumping into the fray, however.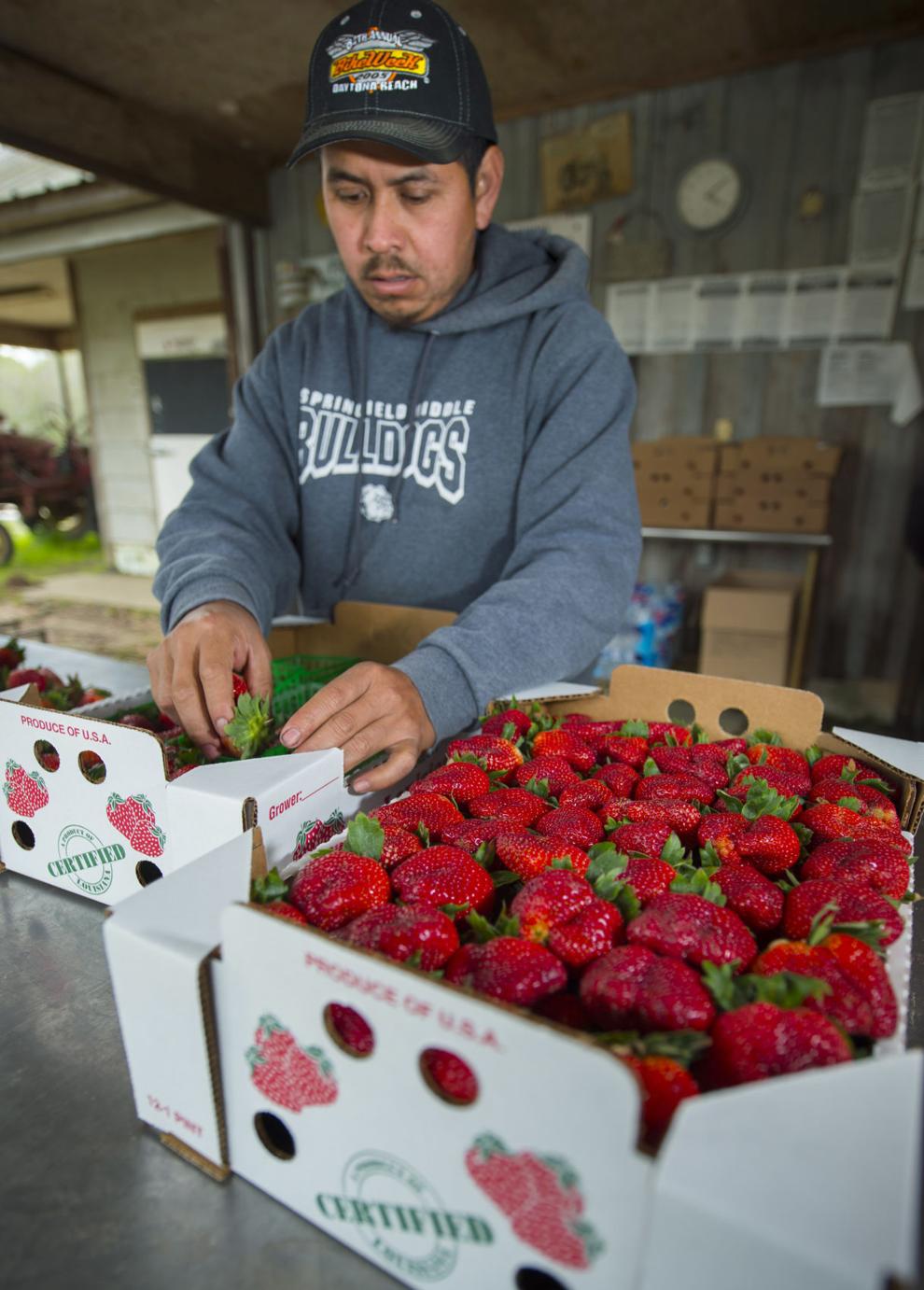 Trey Harris began leasing a five-acre farm in 2017 from the Blahut family in Springfield. The Blahuts, who are elderly, retired from the farming business after their crop was wiped out by the March 2016 flood.
Harris, who owns a seafood store in downtown Ponchatoula, said he got into the strawberry business, because he saw an opportunity to sell them at his store, and he had a relationship with Rouses Supermarkets, which were willing to market his berries.
Harris said the Mexican farm workers, who picked the fields under J.C. Blahut, have come back to the farm and showed him the ropes about how to grow strawberries. 
He acknowledged that it's a risky business, between the weather and the heavy investment, but he's excited to see where it goes.
Harris said it has been a successful season so far, with more berries this year than at the same point in 2018.
"I love it," he said, acknowledging, "I'm blessed because this isn't my only business."