Laine Hardy is coming home to Louisiana, and the Livingston native will be celebrated Tuesday night with a parade and concert in his hometown.
Hardy was named Sunday one of three finalists on the hit ABC TV show "American Idol," each of whom will be honored in a trip home.
The parade will begin at 5:10 p.m. at the Livingston Post Office, located at 29728 South Frost, and ends at the entrance of the Livingston Parish Fairgrounds at 19869 Fairgrounds Road.
PARADE ROUTE
*Will travel down 63 to 190. Left on 190. Will finish at *ENTRANCE* to LP Fairgrounds
Immediately following the parade, expect a concert headlined by Livingston Parish's Laine Hardy starting at 6:30 p.m.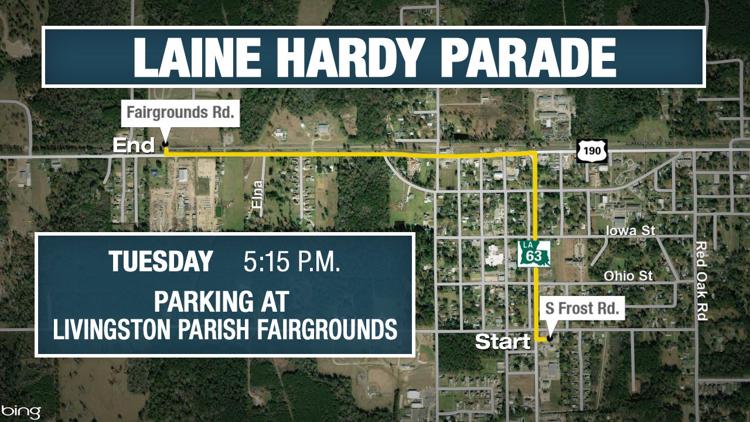 ---
PARKING NOTES
Please park at the Livingston Parish Fairgrounds & walk to line the route. (Fairground gates will open at 3pm to allow parking prior to parade.)
Florida Blvd entrance will be the ONLY entry into the fairgrounds.
Deputies will be on site to direct for parking
There will be NO PARKING along the route - Hwy 63 or Hwy 190
---
Can't see video below? Click here.
---
The weather forecast Tuesday calls for a picture-perfect day with sunny skies. The high temperature will be in the low 80s.
There's no rain in the forecast.
Hardy is the first southeast Louisiana contestant to have a hometown visit.
The 18-year-old will be competing against Alejandro Aranda, Pomona, California; and Madison VanDenburg, Cohoes, New York, in the May 19 finale during which one of them will be named the winner.
Hardy competed on the ABC reboot of the reality singing competition series last season, but was eliminated at the end of the first rounds in Hollywood. He accompanied friend Ashton Gill on guitar for her audition this season, and ended up auditioning himself.
He's already advanced farther than any other Louisiana contestant in the show's history.
More info to come.