ST. GABRIEL — The city Planning and Zoning Commission recommended Wednesday two procedural steps that could clear the way for an $87 million rail-and-warehouse facility in a residential area in this east bank Iberville Parish municipality.
But the panel placed conditions on the 450-acre Railport operation that would prevent the handling of hazardous materials, prohibit nighttime rail operations, and bar rail traffic blocking Bayou Paul Lane, a key residential road, during morning and afternoon rush hours.
The unanimous vote from the five-member commission — with one person absent — to recommend a rezoning from residential to light industrial and to recommend variances allowing the project to be closer to neighboring properties and River Road sends the project to the City Council next week for a final vote.
Those votes and a separate final vote by the Planning Commission to divide the site from a larger 3,000-acre tract came after a nearly two-hour hearing during which residents aired their concerns about rail traffic, the materials the project's future warehouse tenants would handle, how the city would hold Railport or future owners to commitments not to bring in hazardous materials, and the long-term implications of the rezoning on nearby land also set aside for homes.
Several residents, some of whom grew up in the area and had careers in industry, suggested that St. Gabriel already has enough industrial land and operations. 
"And if you heard some passionate people tonight, it's just because all of us have grown up around here. We live in industry. I got my badge," said Laura Comeaux, who lives off La. 75. "We work in industry. I work in the chemical plant. I'm not afraid of chemicals, like other the lady said, but we have our fair share of industry here. We have paid our dues as citizens of this town." 
While most residents and others who spoke, including retired U.S. Army Lt. Gen. Russel Honoré, opposed the plan, some also spoke in favor, saying the project would provide the kind of industrial jobs that had supported the older generation.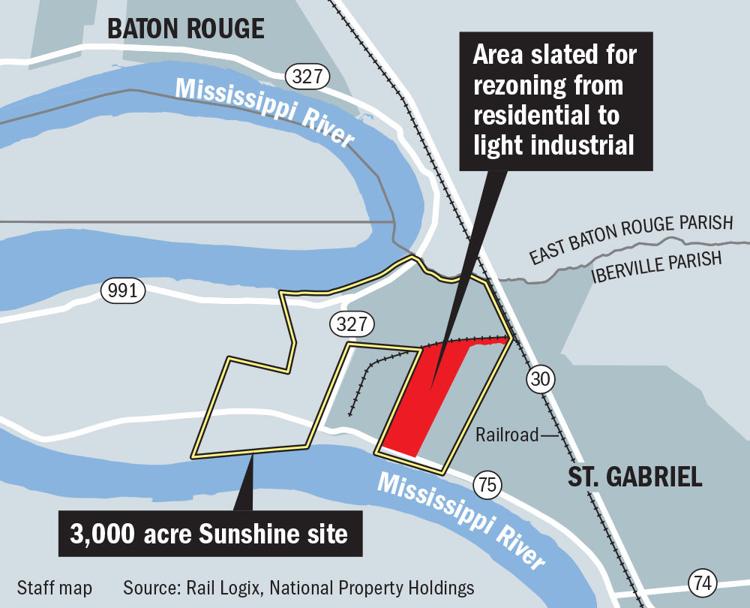 The project would mix more than 2 million-square-feet of warehouse space with a rail yard on agricultural land between La. 30 and River Road. The series of parallel tracks could hold more than 2,800 rail cars at a time once both phases are built and would tie into the nearby Canadian National Railway line.
Rail Logix and commercial developer National Property Holdings, two firms out of Houston, are behind the proposal. 
Backers say as many as 1,650 of the rail cars would hold plastic pellets produced in the region's chemical plants, but none of the cars or proposed warehouses would hold hazardous materials or require smokestacks. The combination of rail operations and future warehousing would create as many as 120 jobs of a variety of skill levels. Sites are being offered for purchase or lease. 
Chris Senegal, a business consultant working for Rail Logix has said the river corridor between Baton Rouge and New Orleans has a need for this type of facility where plants can hold their empty rail cars and stockpiles of pellets.
Backers of the project are offering the town a $250,000 grant for a community enhancement project, promising to hire locally and say just the rail facility alone would add $100,000 per year in tax revenue.
On Wednesday company officials promised they would not allow the project's future tenants to accept hazardous material and agreed to a condition that would allow the city to inspect the future facility for compliance.