Brandon Williams left Zachary with the intention of making "a stir" in a Los Angeles parking lot.
The cooking personality commonly known as Chef B — a successful caterer, private chef and culinary arts instructor — has recently expanded his brand to the Food Network after his debut appearance on "Supermarket Stakeout: Greeks, Sweets, Open-face Eats."
Televised cook-offs — equal parts drama, competition, and culinary performance — made an initial splash in the early 1990s with the Japanese show "Iron Chef." The concept was sampled and replicated over the next decade as the Food Network sought to tease and satisfy the American palate for competitive food prep.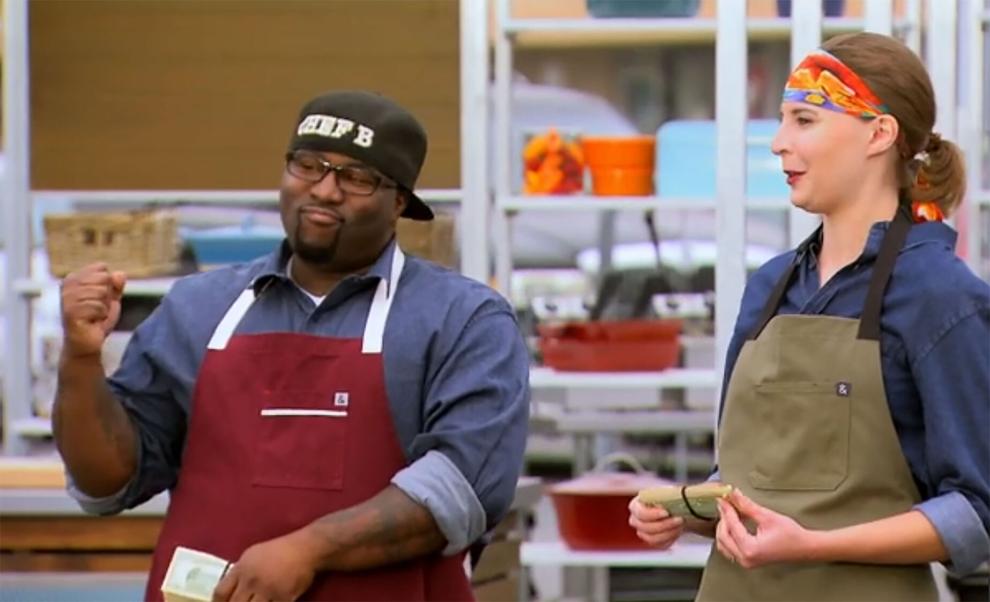 The Food Network has been the backdrop to stardom for cooking legends Bobby Flay, Guy Fieri and Paula Deen. So, when talent scouts came sniffing for the talented Zachary resident, he had one thought: this must be a joke.
A Food Network casting agent sent a direct message to Williams and he avoided the inquiry like mixed vegetables in gumbo.
"They first reached out to me at the beginning of March of last year," Williams recalled. "I didn't respond until the end of April, because I really didn't believe it was them, right?"
After months of COVID restrictions, the "Food Network prank" came knocking two more times. "They reached back out to me again in August of last year asking me if I was still interested because they had plans to start filming the show again," he said.
Williams landed a chef's position with L'Auberge Casino that was quite promising. When the cards lined up in his favor, he had to choose between the L'Auberge position and television stardom. He took the gamble and agreed to become a contestant on "Supermarket Stakeout."
Chef B declared "I'm Cajun-Creole, baby" but like a catfish swimming in a different bayou, Williams had to reinvent himself for the show that stews together cooking skill and parking-lot luck. Celebrity chef Alexandra Guarnaschelli hosts the show that pits four chefs in a competitive pop-up kitchen outside a grocery store. Each round is assigned a theme and the chefs "stalk" shoppers as they leave the store and make attempts to buy ingredients from the strangers' grocery bags.
The skill challenge was easy. Williams trained in his nanny's kitchen before his classic gourmet training at the Louisiana Culinary Institute. Lady luck was not as kind when the chef was left to create a fruit-themed dessert with Fig Newtons and a box of Fruity Pebbles.
Williams showed the artistry of his gourmet training in the first round themed "It's Greek to Me." He took a bag of mystery items and created Honey Roasted Baklava. All the shopping and cooking was done in the parking lot and even when the ingredients were unfriendly, Williams got very high marks from the judges for presentation and creativity.
Learning to cook
Life has been preparing Williams for this moment starting from his childhood summers spent in his nanny Selena Howard's kitchen to his training at the Louisiana Culinary Institute. Since his 2018 graduation, the institute has opened some notable doors for his craft from Louisiana-based ventures to the feeding the celebrity guests of the Masters Tournament at the Augusta National Golf Club.
Williams' mother was a letter carrier when he was a little boy, and when he wasn't in school, he was one of six or so children in Howard's in-home day care. Nanny Howard soon discovered that the youngster had an interest in cooking, so she started teaching him to cook and hours watching cartoons was replaced with hours watching "Great Chefs" on the Discovery Channel. His TV heroes were Paul Prudhomme and Justin Wilson — "I guarantee!"
Howard taught her little charge to cook red beans and rice, succotash, and other Louisiana favorites that helped to embed Cajun-Creole in Williams head.
"So, my nanny became more like my grandmother and my mother eventually didn't pay for her to watch me anymore," Williams said. "My mom would pay her to try to get me back."
The tables turned when Williams was 13 and Howard lost both legs to diabetes. As a teenager, he helped her during the summer months and cooked meals that she supervised from her wheelchair.
"She gave a lot of knowledge and she planted the seed," Williams said. "I don't think she ever thought that it would turn into this. But if she was still alive, I'm pretty sure she would be totally excited about my life and career."
That dream didn't fall together like the perfect entree. Williams was stirring and cultivating the dream while working in another field. He admits that he didn't see much of Zachary in his family's early years living there. He was working full time as truck driver for a local industrial company and attending culinary school full time. He slept in his car during this time so he could be close to school.
"I moved in Zachary in 2013 and I would leave my house at 5 or 6 in the morning," he said. "I wouldn't come back home too close to midnight and I did that for years."
When his company found out he was not getting a full 10-hours break between driving shifts, they gave him two very generous options, but both meant the end of his culinary training. The third choice was the step of faith. "So, February 8, 2017, I went to work and by midnight, they sent me home," Williams said. "I haven't been back to work since then."
'Right place at the right time'
Choosing the chef's life started a series of events that put Williams in the right places at the right time.
"Once you transition from being a cook to a chef, this is a lifestyle change," he said. "I made those sacrifices, because I was able to see that if I commit to this, it could pay me not just financially, but it could give me peace of mind as well."
Williams was recruited to join the team of chefs used at the Masters Tournament and had the opportunity to cook for celebrities, including Tiger Woods, Phil Mickleson and Condoleezza Rice. "I was kind of like a nobody, right, but the way God works is amazing," he said. "I happened to be in the right place at the right time."
Being in the right place has given Williams a second title he serves with chef. Williams finished culinary school in 2018 and secured a position at Broadmoor High School as a culinary arts instructor. The ProStart program offers classes and a certification program for high school students that prepares them for the workforce immediately after graduation.
"Once they graduate, they can go straight to the industry, and they don't have to get minimum-wage jobs," Williams said.
Chef B the entrepreneur, the educator, and the father are the same professional. The television opportunities, the catering business and Chef B. Foods all inspire and offer an example to his students and his six (five daughters and one son) children. The business plans include a Chef B cookbook and revolutionary restaurant model that matches health, safety and culinary excellence.
"It's a lot of things I'm working on — I'm very ambitious," he said. "I want to turn this into a conglomerate that will change my community; I want to help it out as much as possible."
The vision for Chef B. Foods is to feed families physically and financially.
"I want to have the responsibility to make sure these families eat," Williams said. "I also want a business that provides a steady payroll to people in the community that give them jobs and allows them to be able to take care of their families and feel good about being a productive member of society."