Some daily activities, such as grocery shopping and dining at a restaurant patio, can vary in the risk associated with contracting coronavirus, according to Ochsner Health.
On Monday the medical center shared a chart classifying behaviors in one of three categories: low risk, moderate risk and high risk.
Can't see image below? Click here.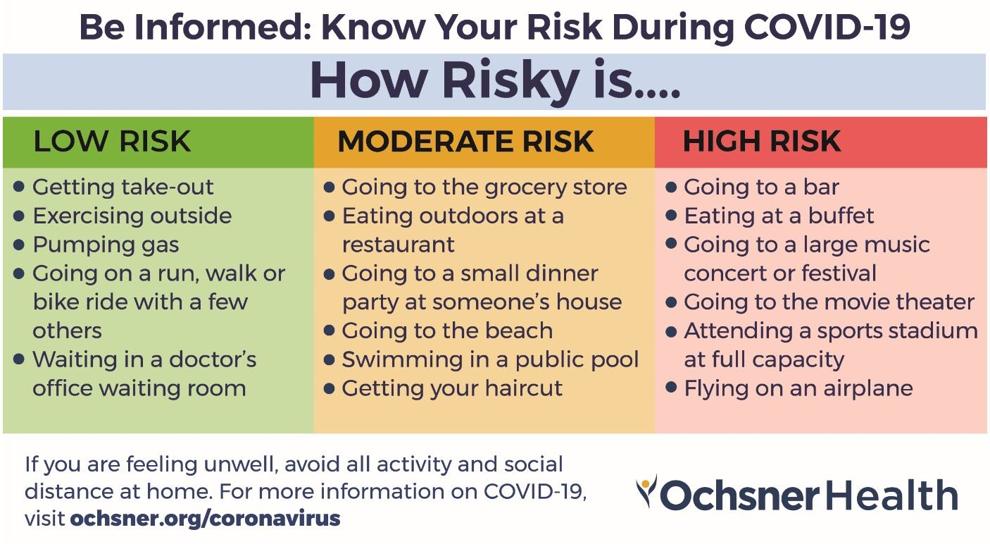 Some activities identified as low risk include getting take-out, exercising outside, pumping gas and waiting at the doctor's office. 
Going to the grocery store, eating outdoors at a restaurant and swimming at a public pool fall in the moderate risk category. 
Visiting a bar, a concert or a movie theater, eating at a buffet or flying on an airplane come with the highest risk of catching and spreading the coronavirus.
Coronavirus cases continue to surge across the U.S. and in Louisiana as people venture out to bars, restaurants and other businesses that were closed down for months due to stay-at-home mandates. As of Monday, Louisiana health officials confirmed 94,892 coronavirus cases and 3,462 deaths associated with COVID-19.