When Gov. John Bel Edwards lifted Louisiana's mask mandate at the end of April, he warned that loosening restrictions wasn't a "one way street" and that he would reimpose the rules if COVID-19 came roaring back.
On Monday, as hospitals statewide buckled under an unprecedented surge in patients, Edwards followed through on his word.
Schools, businesses, universities, churches, and any other indoor public settings in Louisiana will require a face mask for entry beginning on Wednesday, under a proclamation Edwards signed that expires September 1.
"It has become extremely clear that our current recommendations on their own are not strong enough to deal with Louisiana's fourth surge of COVID. In fact, nobody should be laboring under the misapprehension that this just another surge," Edwards told reporters Monday in announcing the order he had already signed. "This is the worst one we've had thus far."
Gov. John Bel Edwards' Emergency Order, 137JBE2021, that reinstates Mandatory Masking indoors for everyone over the age of 5 years.
The return to restrictions comes as the pandemic enters a new stage defined by the delta variant, a highly contagious strain of COVID-19 first identified in India that now accounts for most new cases in Louisiana. On Monday, the state reported 11,109 new confirmed and probable infections of COVID-19. More than 2,000 of those cases were among children.
The three coronavirus vaccines available in Louisiana continue to provide immense protection against the delta variant. Those who are fully vaccinated are 25-times less likely to get hospitalized or die from COVID-19, and eight-times less likely to get infected in the first place, said Dr. Joe Kanter, the state health officer.
But recent data suggests that unlike previous strains of COVID-19, when a fully vaccinated person gets infected with the delta variant, they can be just as contagious as unvaccinated people.
Hospitalizations for the coronavirus in Louisiana have spiked to never-before-seen levels, breaking the previous high set in early January, Go…
"While vaccination reduces one's chance of becoming infected with COVID-19, if you are fully vaccinated, and you do become infected with COVID-19, you can still relatively easily transmit the virus to other people," Kanter said.
"This is new with delta. And this is why with delta, unfortunately, when we are in a surge, which we are now, it is not enough to say you only need to mask if your unvaccinated," Kanter added.
The delta variant has ripped through Louisiana in recent weeks, and hospitals statewide are buckling under a tsunami of COVID-19 patients – the vast majority of which are unvaccinated. Doctors from several Louisiana hospitals facing an acute shortage of staff pleaded with the public on Monday to take up mask-wearing.
Hospitalizations soared on Monday to include 1,984 patients, and Edwards said that Tuesday's update will top the previous record set on Jan. 7, during the virus's third wave, when there were 2,069 people hospitalized. The vast majority of patients are unvaccinated.
Click HERE on this a link to see the slides being used during the press conference.
The number of coronavirus patients in Louisiana continued to increase at an astonishing speed over the weekend, with 244 more people hospitali…
"I cannot in good conscience sit by while our hospitals lose the capacity to deliver life-saving care to COVID patients and non-COVID patients alike," Edwards said.
At Our Lady of the Lake Regional Medical Center in Baton Rouge, the number of COVID-positive patients stood at 155 on Monday – accounting for nearly a quarter of the hospital's capacity. The facility welcomed a 33-member disaster strike team from the federal government on Monday, which will be capable of staffing six additional ICU beds.
"These are the darkest days of our pandemic. We are no longer giving adequate care to our patients," said Dr. Catherine O'Neal, a professor at LSU and the hospital's chief medical officer.
The updated order means that students will have to mask-up when they return to the classroom in the coming weeks, side-stepping a patchwork of local decisions that emerged in recent weeks in lieu of a directive from the governor. The mandate will apply to anyone in grades K-12, as well as students at colleges and universities.
A federal strike team of doctors and nurses arrived at Our Lady of the Lake Regional Medical Center in Baton Rouge on Monday to provide back-u…
"We can't send children back into schools unvaccinated and unmasked. Quite frankly, we need the safest possible setting for them, so that we can have as many children physically present, in person, in our schools as possible," Edwards said. "It's vitally important that we protect our children, especially those who are too young to be vaccinated."
Dr. Mark Kline, physician-in-chief at Children's Hospital New Orleans, called the delta variant an infectious disease specialists "worst nightmare" and said that every pediatric facility in the state is "absolutely full." He said half of the children in his hospital were "perfectly healthy" before contracting COVID-19. There hasn't been an open intensive care bed at his hospital in weeks.
"I am as worried about our children today as I have ever been," said Kline, a pediatric infectious disease specialist.
Kline said that the moral thing for adults to do is get vaccinated, if only to protect Louisiana's children.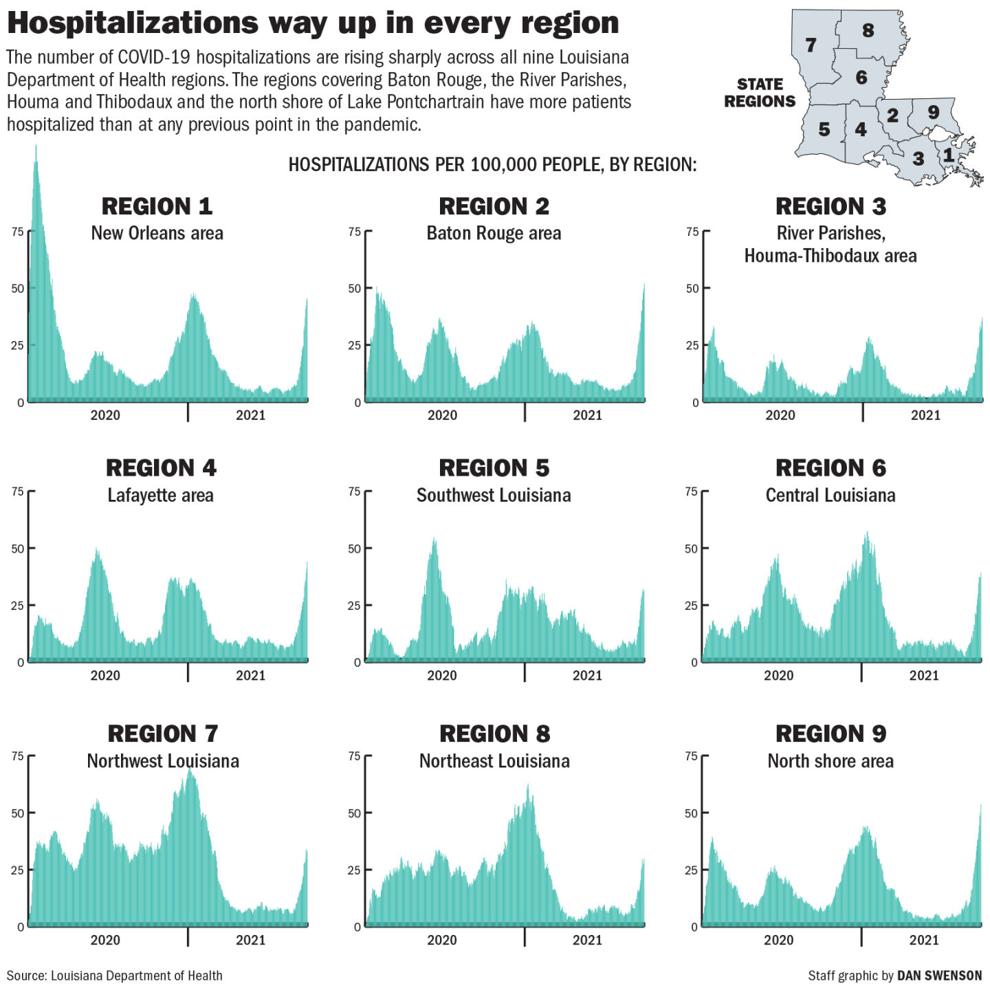 Over the seven-day period ending Friday, 90.4% of new COVID-19 cases, 89.3% of hospitalizations and 85% of deaths were among those who were not fully vaccinated, according to the Louisiana Department of Health.
Edwards' order was met with support from Louisiana's business community. He was flanked at his press conference by representatives from the state's restaurant and oil and gas industries.
"Our healthcare members have reported this week that COVID-19 cases are rapidly increasing due to the Delta variant, especially in younger and unvaccinated populations," Stephen Waguespack, head of the powerful business lobbyists, Louisiana Association of Business & Industry, said in statement moments after Edwards made his announcement.
"This troubling trend must be addressed, especially as our students head back to school, businesses get back on their feet, and Louisiana families return to normal after the pandemic shutdown. For these reasons, we recommend compliance with the executive order and urge anyone not yet vaccinated to consult with their doctor about doing so," Waguespack said.
The COVID crisis is back, just as schools are reopening, football season is approaching, and the economy is beginning to gather steam.
The National Federation of Independent Business, which represents small business, also asked for compliance.
"Small business is taking the pandemic seriously, and we encourage them to follow today's executive order. Our members understand that the sooner this virus is brought under control, the sooner we can avoid an economic downturn because of it," Dawn McVea, NFIB state director for Louisiana, said in a statement.
"At this point it is unquestionable that universal masking has proven to be an effective strategy to reduce community spread of COVID-19," Kanter said. "Is masking perfect? Of course not, nothing is. Will it prevent COVID 100% of the time? Of course not. Is it highly effective when employed at the community or statewide level? Absolutely."
For those who remain skeptical of vaccines, or the importance of masking up in this moment, Edwards asked: "Do you give a damn? I hope you do. I do."
"I've heard it said often: Louisiana's the most pro-life state in the nation. I want to believe that. It ought to mean something. In this context, it ought to mean something," Edwards added in closing. 
Drawing on millions of dollars in federal COVID-19 relief money, Louisiana is offering the state's 1,700-plus public and private K-12 schools …