Amy Francioni's new life in Texas began in quarantine.
Here in The Heights, a hip neighborhood northeast of downtown Houston, she hasn't left her two bedroom apartment for nearly two weeks.
Her roommate fetches her groceries. She does virtual workouts in the living room, hoping for a summer of normalcy. She video chats friends for company. She waits to start her new job when she's finally allowed to leave.
This isn't exactly the sort of start a 26-year-old imagines when she finishes grad school at Southeastern Louisiana University — especially when she feels as healthy as the people she can see from her window.
But she's a self-described "rule follower," and, on March 29, Texas Gov. Greg Abbott issued a coronavirus-centered executive order that required travelers entering Texas from Louisiana to quarantine for 14 days or return to Louisiana.
The penalty for violators was up to a $1,000 fine or up to 180 days in jail.
"So..." Francioni said from her apartment. "I'd rather not do that."
Abbott's order drew criticism from Louisiana law experts and residents due to its questionable interpretation of executive powers, lack of transparency with enforcement plans and border checkpoints and its focus on Louisianans in a time of crisis.
The Texas order also included air travelers from the states of California and Washington, plus the cities of Atlanta, Chicago, Detroit and Miami.
Gov. John Bel Edwards did not enforce similar restrictions for travelers entering Louisiana from Texas — although Texas' positive cases (2,552) neared Louisiana's (3,540) on March 29 — and he said in a news conference that there were no such checkpoints when Louisiana services aided Texans during Hurricane Harvey in 2015.
Meanwhile, the information Texas officials relayed to Louisiana State Police and Edwards has been inconsistent with what's actually happening on the border.
State Police spokesman Capt. JB Slaton said Wednesday his office has yet to receive an update beyond what he received from Texas Department of Public Safety officials over two weeks ago, which said Texas state troopers would be stopping every fifth car at screening stations along the border.
The Advocate's eyewitness account revealed troopers were stopping every passenger vehicle entering Texas.
Texan critics question misuse of government resources at the Louisiana border, when Texas still ranks near the bottom of the nation in coronavirus testing — third to last among all states, according to PolitiFact.
On Monday, Abbott "rescinded and terminated" his order to forcibly quarantine Louisiana travelers "in its entirety" — a move that was part of Abbott's larger initiative to reopen Texas in phases.
Louisianans like Francioni can freely enter Texas again starting Friday.
According to the old order, Francioni's return to somewhat normal life would've still been Friday; but Abbott's newest order appears to release her from quarantine immediately.
"Any mandatory self-quarantine already in effect as a result of these executive orders," Abbott wrote Monday, "to the extent applicable to travelers from the City of New Orleans or the State of Louisiana, is terminated immediately as of the effective date of this executive order."
Officials from Abbott's office and the Texas Department of Public of Safety did not return phone calls and emails seeking clarification.
Francioni has decided she's not budging until Friday.
"I made it this far," she laughed.
Her new life began on the dawn of April 17, when she packed her Hyundai Santa Fe to the brim, said goodbye to her parents and their Baton Rouge home, then drove toward Texas.
Francioni's mother kept calling: "Have you gotten there yet?"
No, Mom. Not yet.
Her brother, who worked nights, also checked in.
I'm almost to the border.
Tucked inside Francioni's purse was a form she filled out before leaving, one sheet of paper that essentially said she was moving to Houston for a career in speech pathology.
"I was definitely worried about what would be at the border," she admitted.
It helped that one of her friends had made the same trip the day before. But her friend was only making a day trip, and the troopers had waved her through knowing she was coming back.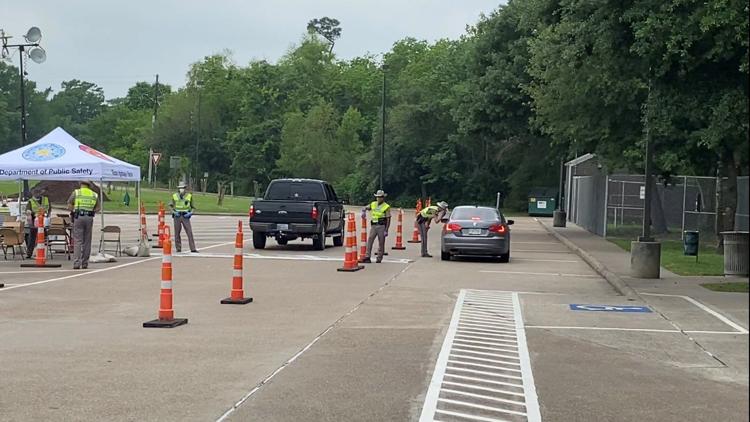 Francioni's stuffed Santa Fe coasted over the I-10 bridge on the Sabine River, and when she approached the Texas visitor's center exit, she saw solar traffic signs that said "CMV TRUCKS LEFT LN" and "PSGR VEH RIGHT LN."
A squad car was parked at the exit. Francioni turned into the visitor's center parking lot, which was split off into two lines — "like the Chick-fil-A drive-thru line," she said. There were two state troopers near the end of both lines, each wearing a mask and gloves.
The trooper who approached Francioni's window was "extremely nice," she said, and he told her she'd need to fill out a form since she planned to stay in Texas for an extended amount of time.
She withdrew the form from her purse.
"Oh, you already have it all filled out?" the trooper said. "Thank you! You can go on your way."
Francioni continued to Houston, unpacked and hunkered down — stuck in a place that feels like "an Airbnb that I can't leave," waiting to start her new job on Monday.
She's never ventured farther than her mailbox, her car, her trash bin.
Since the Texas Department of Public Safety was never clear about its enforcement plans — officials told The Advocate the department "does not discuss specifics" — Francioni was always anxious that a state trooper would show up at her door.
She thinks "there has to be" a "little fear involved" with the enforcement. If Texas officials were more exact, people could find a way to be more elusive.
Turns out, all Francioni's received is a phone call.
A sheriff's office called a few days after she arrived, she said.
"We're just wondering if you're still quarantined at this location and if you're still there," the officer told her.
"Yep," she replied. "Haven't left."
"He's like, 'Thanks, bye!'" Francioni said.
The call left her confused.
What good did that do? Did they ping the location on her phone? What if she had lied? 
Since then, no officer has directly visited her door.
Francioni understands there are inconsistencies.
She said it doesn't really make sense that people who live in Texas but work in Louisiana have been able to pass freely back and forth, while people like her must quarantine for 14 days or face fines and jail time.
She has questions about quarantine accountability if people like her are only getting phone calls — people who, unlike her, may not be "rule followers."
All of that may be true, but, in a time of crisis, she's weighed those grievances against the possibility that Louisianans like her can contribute to the deadly spread of a virus that every government in the world has struggled to control.
Perhaps if it were a different era — when there wasn't the technology and resources to deliver essential goods straight to your doorstep, when there weren't electronic devices that instantly connect you to the people you love — her quarantine may have been much harder.
"Is it really all that bad for me?" Francioni said. "No. I mean, is it annoying? Yes. But I'm OK with it. I don't think that it's been a super exciting experience, but if two weeks at my apartment doing nothing helps to save people, I'll do it."
So, once Francioni's time is up, once the quarantine order is lifted, once she's finally free to leave her apartment and start her new life, what will be the first thing she does?
"I'm just looking forward to going out into the sun," Francioni said. "Just going for a walk."