Gov. John Bel Edwards said Thursday while he will consider new White House guidelines that call for the closure of gyms and rolling back indoor dining capacity, he is "not of a mindset" of adding new restrictions yet following an order Monday mandating face masks and closing bars. 
The latest White House report sent to governors, which was reported by the Center for Public Integrity, identified Louisiana as one of 18 states in the "red zone" for cases, and one of 11 states in the "red zone" for test positivity. 
It also included a set of recommendations for Louisiana, including closing gyms in hot spots, mandating the use of masks in "all current and evolving hot spots," limiting indoor dining to 25% and decreasing the gathering limit to 10. 
The report came on Tuesday, a day after Edwards' order mandating face masks, shutting down bars and limiting gatherings to 50 people went into effect. Vice President Mike Pence and Dr. Deborah Birx, coordinator of the White House coronavirus task force, were in Louisiana Tuesday promoting school reopening and discussing Louisiana's latest moves to limit the spread, and the two offered up support for Edwards' latest moves. 
Edwards said he is "not of a mindset" to add new restrictions so soon after his latest order, even after receiving the report the next day. 
Still, the recommendations indicate the White House views Louisiana in the same light as some of the states seeing the worst coronavirus trends in the U.S., and that more restrictions could be on the horizon if the latest changes don't stem the tide of new cases. 
"The things that were emphasized Monday by Dr. Birx and the vice president dealt with masks, limitations on crowd size and closing bars," Edwards said. "We will certainly take a look at these other things too and see if those are additional steps we have to take."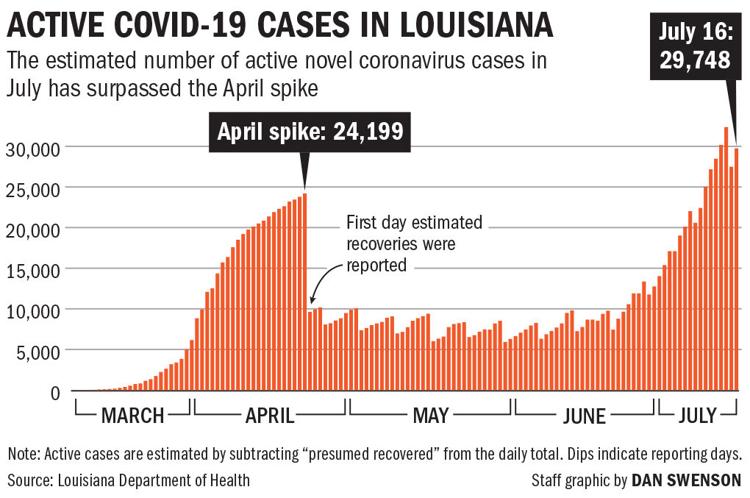 Edwards, a Democrat who has warded off challenges from GOP lawmakers to his restrictions, has largely followed the White House guidance for reopening since the pandemic hit. Before halting the reopening amid a spike in cases earlier this month, the governor was following "gating criteria" that suggested reopening begin only after seeing sustained decreases in cases, COVID-19-like illnesses and hospitalizations. 
That "paradigm" is now changing, said Dr. Alex Billioux, assistant secretary for the state's Office of Public Health. For instance, the state closed bars but left other Phase 2 businesses untouched, and is now mandating masks after learning more about the virus. 
Health officials believe it will be some time before the state sees any potential positive effects of mandating masks statewide, among other changes. That's because there are lags between when someone is infected and when they test positive--and perhaps more importantly, when they may show up at a hospital. 
After what officials suspect was hosts of gatherings and parties across the state for the 4th of July, Edwards said he expects to see spiking numbers from the holiday showing up in the coming days. 
Louisiana added 2,280 cases and 24 deaths Thursday, with 10% of all tests coming back positive – a higher rate than the state was seeing during the start of reopening in May. Over the past seven days, the state has added 10,422 tests, a nearly 250% increase from the same period a month ago. 
The state currently has the highest number of coronavirus patients in hospitals – 1,401, a slight uptick from the day before – since May 7th. That number has more than doubled in the past month. 
Edwards has said his primary concern with restrictions is making sure hospitals have enough beds, staff and supplies to deal with the number of patients coming to their facilities. And given the lags in infections, Edwards said it will be "too late" if the state waits until it starts to see that is about to happen before adding more restrictions. 
"This is like a huge ship and you've got to start turning it long before you think it's necessary to start turning it in the right direction before it's too late" 
Louisiana has been hit particularly hard by the pandemic, on multiple fronts. The state is third in the U.S. for cases per capita, and has seen an outsized death toll. Meanwhile, the state's unemployment rolls have swelled to historic levels. 
Edwards on Thursday announced an up to $24 million rental assistance program to help people who can't pay their rent, after he resumed evictions last month. 
The federal government set up surge testing sites in three U.S. cities recently, including Baton Rouge, that aim to deploy 60,000 tests to try to flood the community with tests and catch infections. But only around 21,000 people have taken advantage, and while the sites were scheduled to end on Saturday, Edwards said they'll be extended until tests run out, and deployed in Lake Charles and the Acadiana region, both of which have been hit hard by the virus of late.