ORANGE, Texas — The sign is the first thing you see.
At the base of the Sabine River bridge on Interstate 10, the solar traffic board reads a directive. "CMV TRUCKS LEFT LN." It flashes. "PSGR VEH RIGHT LN."
Midway across the bridge, you leave Louisiana and enter Texas. There's road work two miles ahead, an orange traffic sign reads, but you won't reach there without getting stopped — not if you're in this Mercury Grand Marquis on this Wednesday afternoon.
No, while the freight trucks and tankers zoom down the left lane, the Marquis exits right, slowing down until its wheels hit the first speed bump in a visitor center filled with a dozen Texan squad cars.
Welcome to what Texas Gov. Greg Abbott and the state's Department of Public Safety are calling a "screening station," a government operation, intended to slow the interstate spread of coronavirus, that regulates westbound travel and orders visitors into mandatory quarantine.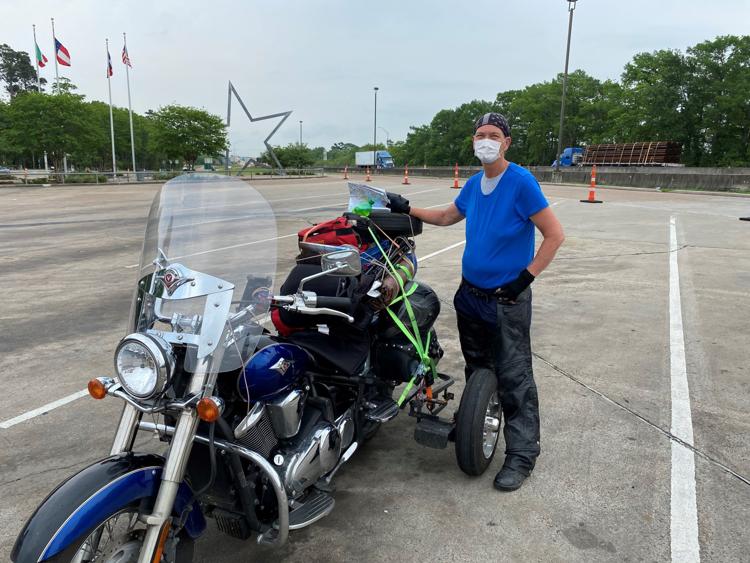 The Texas side of the Louisiana border is dotted with state-sponsored screening stations. Other locations include the Sabine Lake Causeway Bridge and the Interstate 20 crossing. Abbott, a Republican, formed them with an executive order on March 29, and, since then, there has been widespread confusion and concern regarding just how these stations operate.
Texas officials have been publicly vague about their enforcement plans, and the information relayed to Louisiana State Police and Gov. John Bel Edwards, a Democrat, has been inconsistent with what's actually happening on the border.
On Monday, Edwards said "it's my understanding that they're pulling over every fifth vehicle from out of state going into Texas." State Police spokesman Capt. JB Slaton said Friday the Governor's statement remains the most recent update received from Texas law enforcement.
In the three hours The Advocate spent at the I-10 screening station midday Wednesday, every passenger vehicle was funneled into the visitor center.
Texas state troopers on site directed questions to Orange County's DPS office. The office sent an emailed statement which said "the department does not discuss specifics related to its operational plans regarding enforcement," adding DPS was "increasing its presence" on the border and that travelers "be prepared to stop."
The vehicles coasted down the ramp: A purple Jeep. A dirt-covered white Toyota Spectra. A hulking black Mercedes-Benz Sprinter.
They separated into pairs, divided by a line of traffic cones that led to four state troopers wearing cowboy hats, surgical masks, neon yellow traffic vests and disposable gloves.
The Grand Marquis rolled to a stop. The driver's side window rolled down. A trooper approached.
"How're you doing?" the trooper said, his voice muffled by the mask. "So, I'm with the highway patrol right here for an executive order from the Governor, OK? What brings you to Texas?"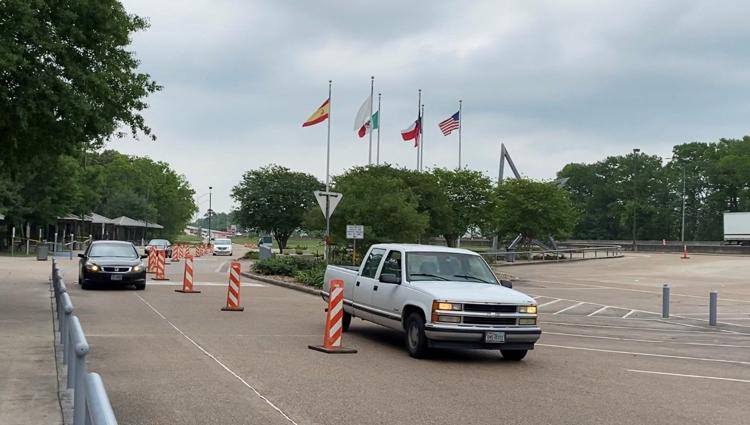 If you were someone Abbott deemed an essential worker, this was the moment you'd present the letterhead given to you by your company for transit. Essentially, since your business required travel into Louisiana, you were allowed to enter Texas. You'd turn right, exit the visitor center and move along.
Anyone else turns left, where another group of troopers requires that you fill out a form. At the bottom is a space for the address where you'll be self-quarantining for 14 days or the duration of your time in Texas, whichever is shorter.
Abbott's executive order states DPS agents "will conduct unannounced visits to designated quarantine locations," and those found in violation are subject to a fine of up to $1,000 or up to 180 days in jail.
Edwards and Louisiana State Police have been aware of the Texas quarantine requirements from the beginning. Edwards outlined them in news conferences on both March 31 and Monday.
Abbott's intent appears clear, although his office did not respond to phone calls made by The Advocate: Louisiana has the sixth-most coronavirus cases in the U.S., according to the Centers for Disease Control and Prevention. Any unnecessary westward travel would jeopardize Texans (Texas has the 11th most cases).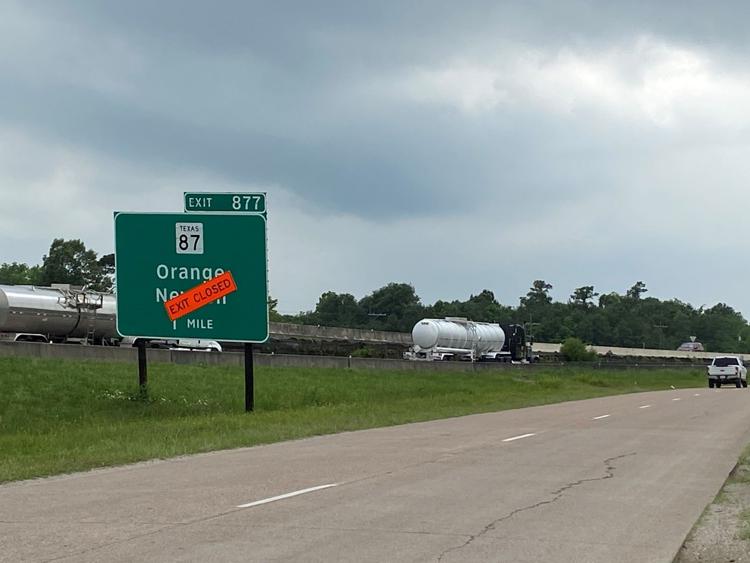 Interstate transit is usually high: 2,777 Texans cross the border to work in Calcasieu and Cameron parishes, according to the American Association of State Highway and Transportation Officials and the U.S. Census Bureau.
Even with the new screening stations, a substantial number of visitors are entering Texas. DPS said it has collected 14,825 travel forms from March 28 to April 7.
"I'm asking people to stay home anyway," Edwards said Monday. "I'm asking people to stay home and not engage in unessential travel. That is what the Texas governor is asking. I'm not going to come up here and pretend to be upset with the Texas governor. I'm just not, but we are communicating and I have not been deceived at all."
Still, Edwards' latest information from Texas officials that every fifth car is being stopped at the border is inconsistent. DPS officials did not respond whether they've updated Louisiana officials as of press time.
Similar border regulations have been implemented by governors in Delaware, Florida and Rhode Island, according to the Associated Press.
Such actions have sparked controversy. Governors who declare a state of disaster can make certain executive orders, including controlling "ingress and egress to and from a disaster area"; but law experts have said it's uncertain whether such broad wording allows governors to infringe upon a citizen's Fifth Amendment "right to travel" and force travelers to quarantine.
While those issues can be debated, Baton Rouge attorney Everett Baudean said the Texas government's lack of transparency about its enforcement policy is more disturbing.
"I don't think it can really be debated that doing something secretly is never what a government should do — especially when it's a policy that affects its own citizens directly," said Baudean, the Libertarian candidate last year for southeast Baton Rouge's state Senate District 16. "It's one thing if they say we've got to be secret about troop movements in Afghanistan for the purposes of the mission; but when it's secretive about restricting the rights of its own citizens, that's a big problem and I don't really see how that's controversial."
According to locals, the stoppages began Sunday — a day before Edwards addressed the situation.
Charles Borel lives in Orange, Texas, and works at a chemical refinery in Louisiana.
He said his mornings have been normal this week: he wakes up, gets dressed and drives to work, unstopped, into Louisiana. The Governor's Office hasn't yet considered installing a screening station on the state's borders, spokeswoman Christina Stephens said.
On the way back, Borel's pickup truck funnels into the I-10 visitor center, he flashes his paperwork to the state trooper, and he returns home.
It's a five-minute difference, he said. And well worth it.
"I'm not a bootlicker that's gonna do whatever the government says," Borel said. "But when it comes to things like this, you use common sense and err on the side of good judgment."
Down on the Sabine Pass, just under Port Arthur, Texas, Christa Eckert shoved fistfuls of shrimp into plastic bags.
She lives in Johnson Bayou and crosses the causeway bridge nearly every morning into Texas, where she works at the bait and tackle shop overlooking the water.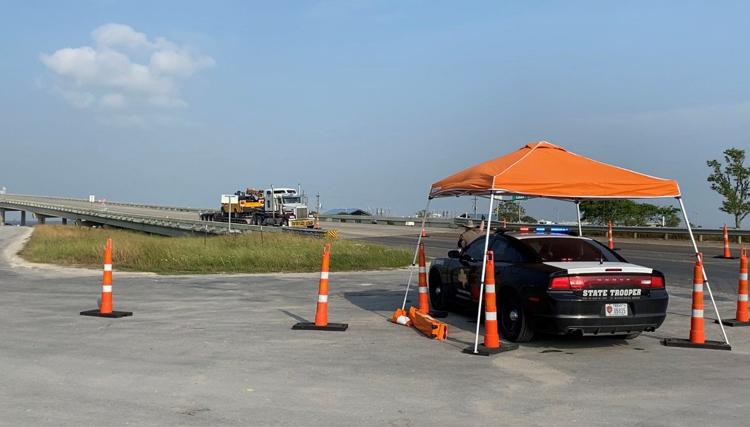 The one state trooper manning the small screening station at the base of the bridge has seen Eckert so often, she said, he just waves her toward the passageway to her shop.
Eckert said her mother has pancreatic cancer. She lives in Austin and can't leave her home. Eckert has questioned how her mother will obtain groceries and medicine, but, even so, she likes the precaution of the screening stations.
"To me, it's a courtesy thing," Eckert said. "If you knew someone that had it, I would prefer for you to self-quarantine, and they're kind of making you."
The wall clock showed 5:15 p.m.
Across the border, workers at the industrial plant in Grand Chenier climbed into their trucks.
The trucks coasted down the bridge into Texas.
Some drivers flashed paperwork at the state trooper.
He waved them through.