Louisiana on Tuesday released new data on the ages of Louisiana's nearly 200 positive cases of the new coronavirus, or COVID-19, showing a significant portion of cases are among people 60 or older, and nearly half are between the ages of 40 and 59.
While Louisiana has still tested few people--531 at the state lab with more coming online through private labs--the data provides the first demographic glimpse of the state's 196 confirmed cases of the virus.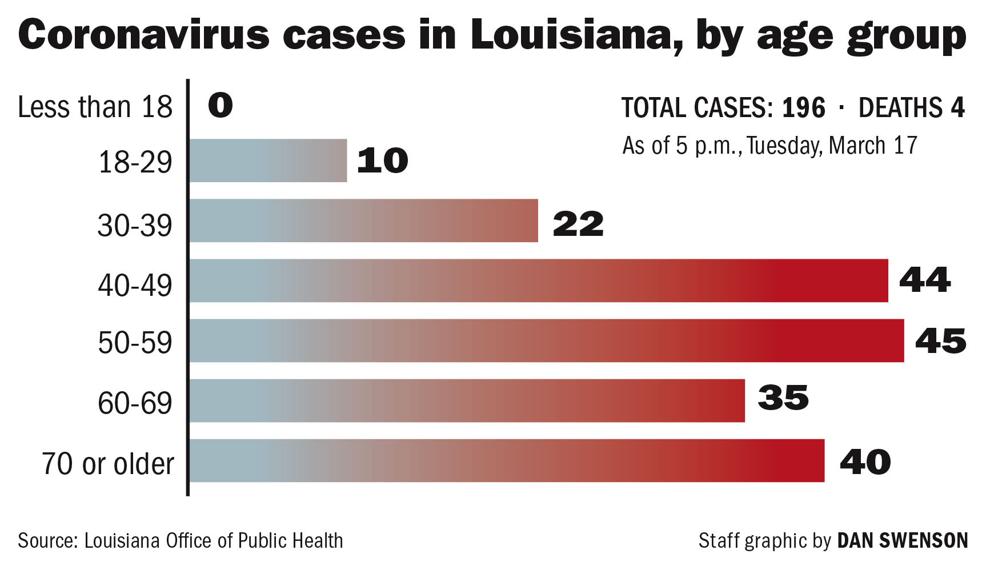 Of that total, 164, or about 84%, are over the age of 40. That includes 75 patients--more than a third--who are 60 years old or older.
Louisiana officials say the small number of tests conducted so far means the state's cases are not representative of who has the virus. In fact, Gov. John Bel Edwards said this week that health officials believe the virus is already present in many people--including younger people--throughout the state. It's not clear how many people from each age group have been tested for the virus. 
State officials have also repeatedly warned that the elderly and those with underlying health conditions are most at risk of severe illness or death from the virus. Of the state's four deaths so far related to COVID-19, one patient was 53 years old, one was 58, one was 80 and one was 84.
Ten of the state's confirmed cases are in patients ages 18-29, and 22 are age 30-39, according to LDH figures.
"The first age at which we start seeing more serious complications related to exposure is age 60," Edwards said during a Saturday press conference in Baton Rouge about the virus. "When you get to 70 it's even more pronounced and when you get to 80 and above it's obviously even more pronounced."
Officials for the past week have warned the elderly and sick to stay away from crowds. But in recent days, the state has stepped up its restrictions considerably, with Edwards shutting down K-12 schools, bars, casinos, gyms and curtailing restaurants' operations, among a slew of other changes aimed at stemming the spread of the virus.
Even still, the state expects to see an explosion of confirmed cases in the coming days, simply because testing for the virus is ramping up. While the state has only tested 531 people so far at its sole lab, commercial labs have begun testing larger numbers of people, including at 400 in the first two days of a drive-through testing site in Baton Rouge that ran out of test kits.
In recent weeks, testing has been limited to a relatively small group of people, including mainly those with severe cases and those who are known to have come into contact with a patient confirmed to have coronavirus. 
Here's a full breakdown of the age ranges of Louisiana's 196 confirmed cases, which is available at the Louisiana Department of Health website.
10, or 5.1% are 18-29
22, or 11.2%, are 30-39
44, or 22.4%, are 40-49
45, or 22.9%, are 50-59
35, or 17.8%, are 60-69
40, or 20.4%, are 70+