Archie Williams stepped out of the 19th Judicial District courthouse and into the sunshine Thursday afternoon surrounded by relatives and lawyers — his first taste of freedom after more than 36 years in prison for a crime he didn't commit.
Williams wore a black suit with a purple shirt and matching plaid tie. He smiled nervously at the cameras gathered on the courthouse steps and then described the bittersweet feeling of the moment: He's relieved to be free again but struggles to leave behind other innocent people serving time for wrongful convictions in Louisiana prisons.
"I'm not free until they're free," he said.
Williams was convicted in 1983 for the rape and stabbing of a woman at her home in the Hundred Oaks area of Baton Rouge after the victim identified him in a photographic lineup presented by investigators. Eleven of 12 jurors were convinced of his guilt and a judge sentenced Williams to life without parole.
---
Can't see video below? Click here.
---
Improvements in evidence technology have since allowed investigators to match fingerprints from the scene to another man, Stephen Forbes, who committed several other rapes around that time and later died in prison.
Prosecutors didn't oppose a recent request from Williams' attorneys for additional fingerprint testing. And after receiving the results, both sides filed a joint motion to vacate his conviction.
"The print matches are powerful evidence that Stephen Forbes committed this crime and Archie Williams did not," 19th Judicial District Commissioner Kinasiyumki Kimble said in announcing the exoneration. "In light of this evidence of his factual innocence presented to this court … Mr. Williams should not and will not remain in prison for his conviction of this crime."
Upon hearing those words, several of Williams' relatives quietly burst into tears and embraced each other inside the courtroom. His family had traveled from California, South Carolina and Tennessee to welcome their loved one back into freedom.
"I believe in the truth and that the truth should be found in justice. That truth should shine forth brightly within our lives," Kimble said, addressing Williams in her remarks. "But it doesn't. Truth often gets pushed away for the sake of personal agendas and such. … This moment is evidence that whatever faith you held onto — along with the faith of your family and the undaunted resolve of your lawyers — none of it went unnoticed."
Once the hearing ended, Williams exchanged hugs with his relatives and dozens of attorneys who had worked on his case over the years, including East Baton Rouge public defenders and lawyers with the Innocence Project, a nonprofit dedicated to fighting wrongful convictions.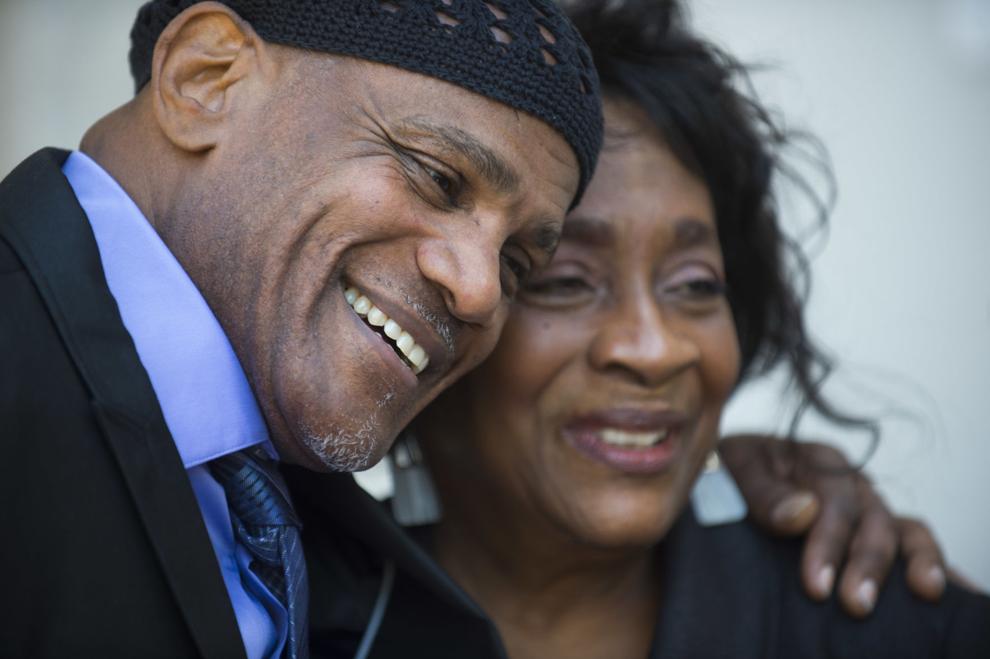 While waiting for the elevator, Williams paused to take his first selfie.
He was 22 years old at the time of his arrest. Now 58, he plans to spend time with family and do whatever possible to help other innocent people still behind bars.
Advocates argue Williams' case "boldly underscores the urgent need" for states to expand laws governing post-conviction relief to include access to fingerprint databases that can provide enough evidence to vacate a person's conviction. All states now allow post-conviction DNA testing but most fail to similarly address advancements in fingerprint technology.
"Once a person is convicted, the criminal laws are rife with vast, insurmountable procedural hurdles intended to favor finality over truth," said Vanessa Potkin of the Innocence Project. "While we have come a long way in allowing convicted people access to evidence for DNA testing, we (still) have a long way to go."
DNA testing was applied in Williams' case in 2009 and produced a DNA profile matching the victim's husband, which wasn't meaningful because she had already disclosed having sex with her husband before the rape occurred. Additional fingerprint testing was also completed in 2009 but didn't show any matches, according to court documents.
But the national fingerprint database was expanded in 2014. Investigators ran the prints from Williams' case through the expanded database last week, which resulted in the Forbes match and prompted the motion to vacate.
"This is the right, honest, ethical and now factual thing to do," East Baton Rouge District Attorney Hillar Moore III told Williams during the hearing. "You are factually innocent, wrongfully convicted, and on behalf of the state, we apologize that you have suffered this."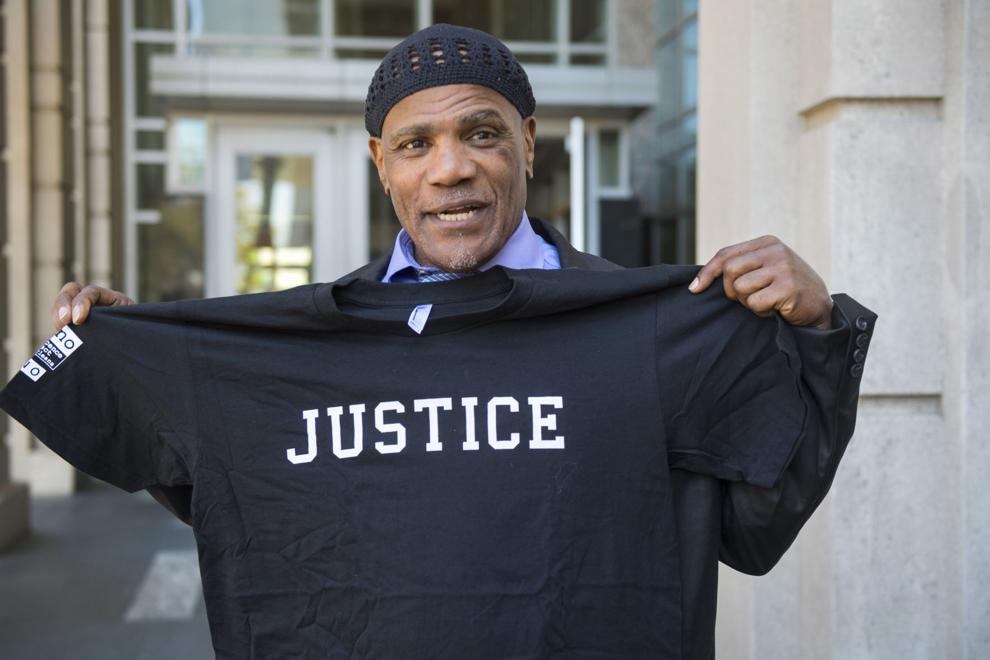 The trial
When Williams was convicted in 1983, the jury deliberated more than five hours and then returned with an 11-1 verdict, finding him guilty of aggravated rape, aggravated burglary and attempted first-degree murder.
Advocate coverage of the trial notes that the victim picked Williams out of a photographic lineup about one month after the attack. It wasn't the first lineup she had been shown that included Williams, but it was the first time she identified him as her attacker, according to Innocence Project attorneys.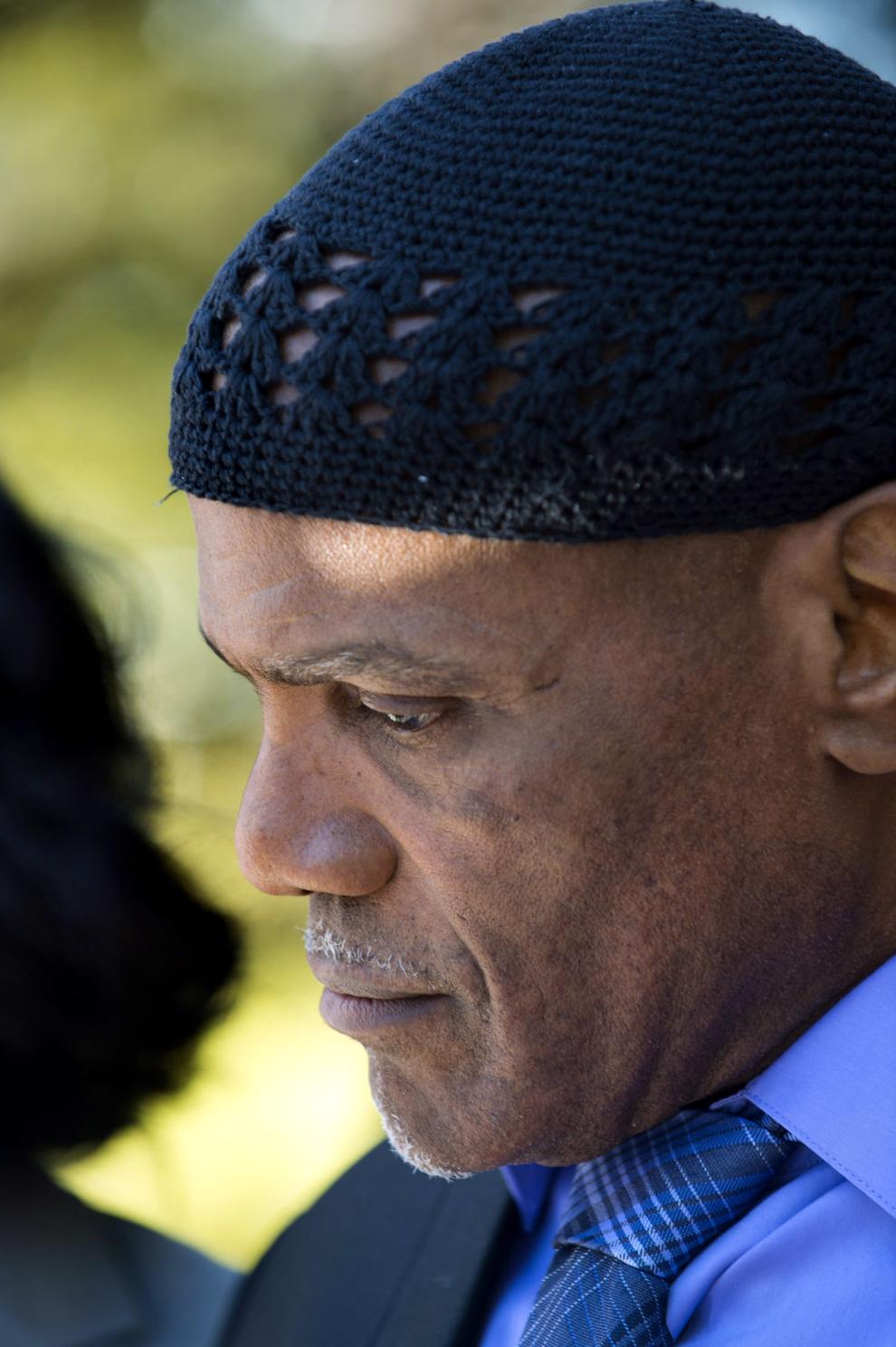 Several people also testified during the trial that Williams was asleep at home when the rape occurred, providing details about their schedules that all converged on that point — including which soap opera was on television at the time the woman was attacked.
Arguments also focused on different descriptions of the attacker provided by the victim and her friend, who witnessed part of the crime when she dropped off the victim's daughter at the house after school.
Kathleen Richey, the public defender who represented Williams at his trial and later served as an East Baton Rouge juvenile court judge, raised issues then that became central to the case in the decades that followed.
"Fingerprinting, blood typing, scientific evidence and discrepancies in description is what this case boils down to," she told the jury. "I have no doubt (the victim) believes she has identified the right man. And I have no doubt that she's wrong."