People who are arrested in East Baton Rouge Parish, but can't afford their bail, typically spend more than a month sitting behind bars before they're even charged with a crime.
The pretrial system in the state capital moves slowly and continues to clog the jail, putting East Baton Rouge at the top of the list for detaining the most local inmates among Louisiana's six most populous parishes.
Factoring in population, the parish jails people at a rate of 381 for every 100,000 residents — the second highest in that group of parishes, after only Caddo. That's a far higher rate than for New Orleans and Lafayette and well beyond the national average of 229 per 100,000 people, according to the 2017 U.S. Bureau of Justice Jail Inmates report.
About 1,500 of the jail's 1,700 local inmates are pretrial detainees: people awaiting a resolution of their criminal cases.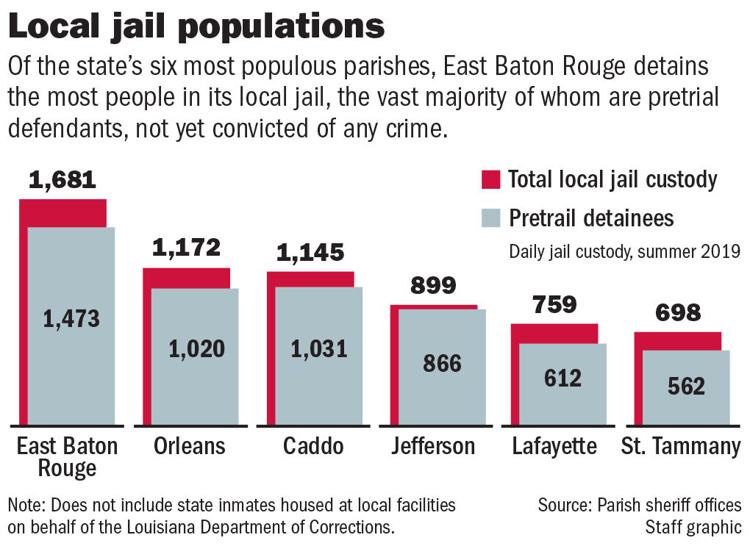 These figures have activists and many public officials asking questions.
"We have to ensure the system that we operate is humane and reinforces the dignity of the people involved," said East Baton Rouge Parish Assistant District Attorney Mark Dumaine. "We're doing neither at our Parish Prison."
Most of the inmates in East Baton Rouge Parish Prison are poor and black. They're held for weeks before being charged with a crime — waiting for prosecutors to decide if they will move forward with a case — often after arrests for nonviolent or misdemeanor offenses, advocates say.
While many of the nation's urban regions, including New Orleans, have taken measures to reduce their local jail populations, the system in Baton Rouge has continued to operate in a way Dumaine calls "fundamentally wrong." Criminal justice reform advocates and a growing number of public officials blame the outsize jail population here partly on inefficient court procedures and the current bail system. The list of players in the system is long: the district attorney's office, the public defender, judges, all the law enforcement agencies that make arrests in the parish, the clerk of court and the East Baton Rouge Sheriff's Office, which runs the jail.
Calls for action seem to be gathering momentum. Over the past few months, parish leaders and activists have turned a critical eye on the jail and the systems that funnel dozens of people into its custody on a daily basis.
"We just cannot sit here every day and not be responsive," said state District Judge Don Johnson, who is pushing for certain reforms. "People have gotten tired of the system not working effectively, and people want change."
'Don't get lost in there'
On April 27, Willie McGhee found himself back in Baton Rouge's jail. He was accused of stealing lighters and iced tea from a Walmart that officials said he was already banned from entering.
Struggling for decades with addiction, it was a point in the cycle that McGhee knew well. He said he expected it to go as it had before: He would sit in jail for weeks, unable to make his relatively low bail — $3,000 this time — while waiting for prosecutors to review the case, then immediately plead guilty if charged with a crime and serve whatever was left of a short sentence.
McGhee, 58, had struggled with homelessness for some time, but his stints in jail wouldn't lead to substance abuse or job training services.
"It's a circle of entrapment," McGhee said. "You're losing out on life. Life is just passing you by."
A new team in the East Baton Rouge public defender's office is working to transform how low-income people are detained before trial so offende…
Within the first two days after his arrest, McGhee stood before Judicial Commissioner Nicole Robinson via a video call with about 30 detainees who also could not make their bail. He could not ask questions during the quick, first-appearance hearing. 
"Don't get lost in there," Robinson told the newest lot of orange jumpsuits from a closet-like room in the 19th Judicial Court. "Make sure they know you are there."
Some of the people who cycle in and out of East Baton Rouge Parish Prison each week are accused of violent crimes, but many others are there for drug arrests, violating probation conditions or not paying traffic tickets.
"Wealthy people don't sit in jail. … This is a poor people's system, a mental health system and an immigrant system," said the Rev. Alexis Anderson, a local advocate for jail reform. "We're walking around here pretending like this is anything even remotely close to justice."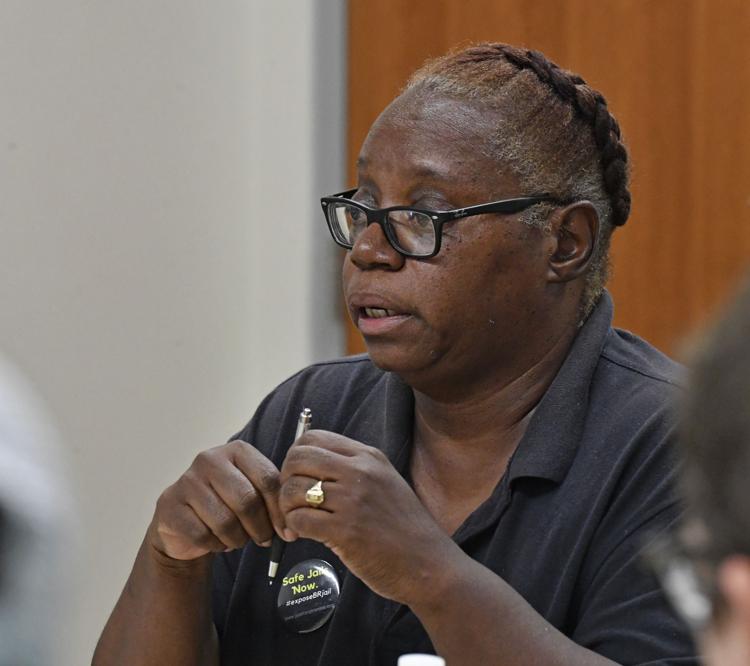 After learning their bail amount and whether they are deemed poor enough to get a public defender, most defendants will have no court hearings until their arraignment, where they are expected to enter a plea of not guilty or guilty. The arraignment typically occurs five to 12 weeks after an arrest, the time frame in which prosecutors can also decide to drop charges, releasing defendants after they have already spent weeks in jail. 
On average, inmates at Parish Prison who have yet to be convicted of a crime are held for about two months, approximately 55 days. Data provided by the sheriff's office did not break down the average length of stay by type of offense, so it was impossible to determine average stays for people accused of nonviolent or minor offenses compared to those jailed on high bonds or without bond for serious crimes such as rape, murder and armed robbery.
"We have to do triage," said Lindsay Blouin, the deputy chief district defender for the Office of the Public Defender, describing how her attorneys approach their dozens of new clients each day, typically trying to focus on the most vulnerable in jail: those with mental illness, under 25 or with substance abuse issues. Blouin said the office has 46 full-time and contract attorneys who in fiscal year 2019 worked almost 15,000 cases — an average of 321 per lawyer.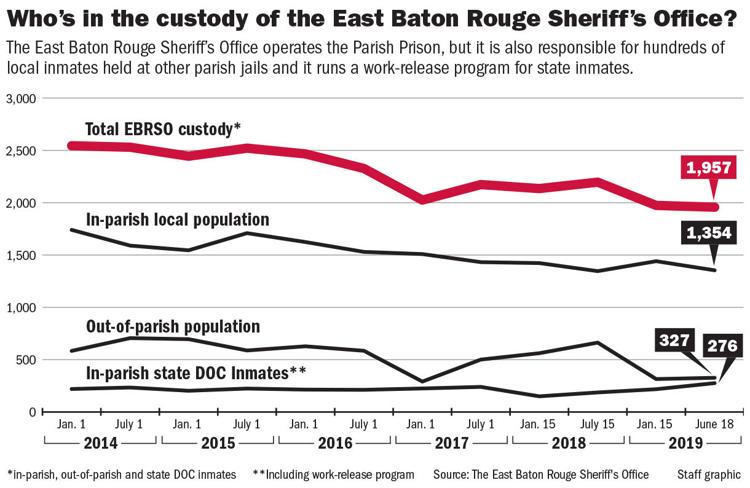 Almost 2,000 inmates are in the custody of the sheriff's office on a typical day. In addition to those awaiting trial, about 300 convicted state inmates are serving time at the jail, mostly through the parish's work-release program, and a couple of hundred local prisoners are serving shorter sentences for minor crimes. Parish Prison's typical population of about 2,000 is well above its physical capacity, which is currently set at 1,550, said Parish Prison Warden Dennis Grimes. 
Consistently, the sheriff's office pays to farm out hundreds of inmates to beds in other parish jails, costing East Baton Rouge Parish millions of dollars each year. In 2018, the parish spent about $5 million to house inmates in other parishes, records show, some more than three hours away. As of this summer, about 300 inmates were held at out-of-parish jails each day. 
Grimes said the work-release program is only operable with state inmates and involves a relatively small, stable population housed in a separate 250-bed facility on the jail's property. He said it's the local inmates who keep the jail's population so high, but noted he has no command over law enforcement arrests or court decisions. 
"The jail is kind of stuck in the middle," Grimes said. "The jail has no authority to release somebody."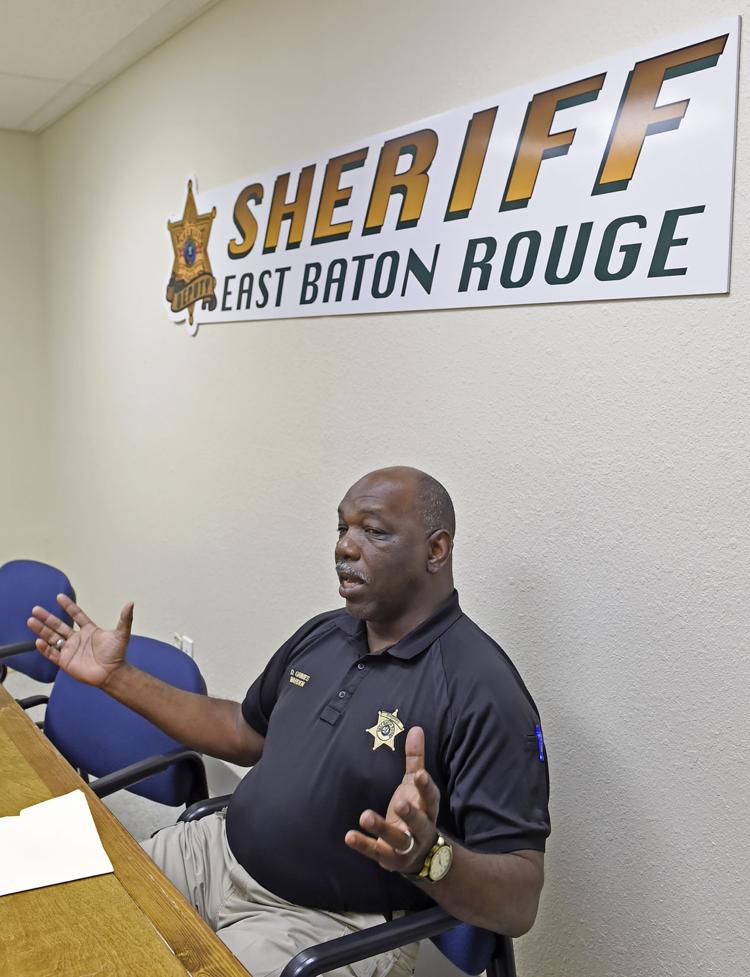 Grimes also pointed out that his jail once housed even more inmates — the daily population has dropped by about 500 people over the past five years. But many still feel efforts to reduce the inmate count have fallen short. 
"The local justice partners here are very aware that we have a very high population when compared to like-size counties and parishes, but there has been no real steps up until recently," said Chris Csonka, a project coordinator in Baton Rouge for the MacArthur Foundation, a national group that financially supports changes in criminal justice systems.
One of the more recent local initiatives paid off for McGhee.
After he sat for 20 days in East Baton Rouge Parish Prison without any hope of making bail, the national nonprofit The Bail Project posted his $3,000 bail. For the first time in his life, McGhee is awaiting his court proceedings while outside a jail cell — which research shows increases the likelihood of charges against a defendant being dismissed or reduced. Proponents for the money bail system, however, argue that judges consider a person's criminal history when setting bail and that overall it's effective at getting people to show up in court.
Since his mid-May bailout, McGhee has lived in a substance-free home, sponsored by a pastor and his wife, where he receives job training and constant support.
"A lot of people don't need to go to jail, especially people doing misdemeanors or not violent crimes," McGhee said one August morning as he sat at the kitchen table of the home in Ethel, a community in East Feliciana Parish.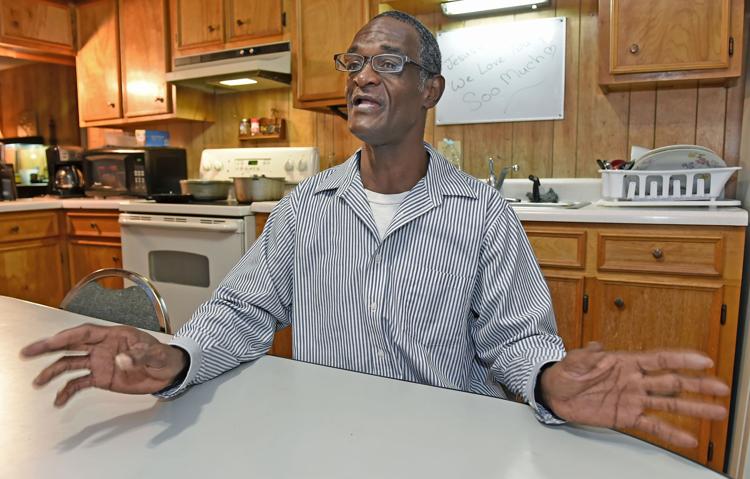 It's been almost five months since his arrest. He has yet to be formally charged with a crime.
'The right thing to do'
Hoping to begin to address the issue, the East Baton Rouge District Attorney's Office has developed a new process to quickly review criminal cases in time for a 72-hour arraignment — greatly shortening the current five- to 12-week wait.
Within three days, everyone arrested for a crime would be heard in court. In most cases, defendants would find out then whether they are being formally charged with a crime or if their case is being dropped.
Dumaine said that change alone could speed up the court process by eight weeks on average — greatly shortening jail stays, which would decrease the Parish Prison population and save the local government about $2.3 million a year, he predicts. 
"We're putting a big burden on ourselves when the law says we don't have to, but we think it's the right thing to do," said District Attorney Hillar Moore III.
Moore said his office reviewed practices across the country, determining that filing formal charges within 48 hours is the "gold standard" for prosecution. That's more than 20 times faster than Louisiana law dictates and his office has done.
The East Baton Rouge Parish Metro Council approved a nearly half million dollar budget supplement Wednesday for the District Attorney's Office…
The state law supposed to ensure the right to a speedy trial allows prosecutors 45 days to file formal charges for a misdemeanor, 60 days for a felony and 120 days for any offense that carries life in prison, like murder and aggravated rape, for people held continuously in jail. After those deadlines, attorneys can begin filing motions, meaning time in jail can drag on months longer until a disposition of the case for those who can't afford to make bail.
Moore and his team determined 48 hours would not be immediately feasible in Baton Rouge, but believe 72 hours is possible once they get commitment from all the relevant players.
"This affects everybody and everything we do," Dumaine said. "We're speeding up the whole system."
Historically, attorneys with the public defender's office — which represents the majority of defendants who cannot make bail — don't see a case until the arraignment hearing months after an arrest. While recently the office's new "bond team" has improved how quickly they jumped on such cases, the faster arraignments would allow both prosecutors and defense attorneys to begin working cases even sooner.
Dumaine says the new system will take a lot of effort by his office, as well as by police and judges. Since November, he has worked with local law enforcement to speed up the arrest process and get paperwork to prosecutors immediately. Moore said that as of late August, about 50 percent of arrest documents were coming in quickly enough for a 72-hour system, and local law enforcement agencies said they're doing their part to provide reports as quickly as possible. 
In 2013, David O'Quin, a 39-year-old schizophrenic artist, was tied to a chair at the East Baton Rouge Parish Prison for the better part of tw…
Blouin, Baton Rouge's deputy district defender, called the 72-hour arraignment proposal a "significant improvement," but not one without risk. She said prosecutors will need to avoid "over-charging" defendants simply to meet the new deadline. She also said such a change would be most successful alongside a full pretrial services department — which Baton Rouge doesn't have but other jurisdictions like Houston have implemented — to help defendants address underlying issues that landed them in the criminal justice system. 
But getting the criminal court judges to agree to the new system has proven the largest hurdle, as they have repeatedly tabled the discussion since January. In early August, the new arraignment setup was again on the judges' meeting agenda before being removed days before the possible vote.
"We're pretty much underway with the exception of the judges' vote," Moore said.
Judge Johnson has said he supports the change, especially because it would give everyone their next court date upon arrest, both those in jail and those who post bail. 
"We've had an open-ended system when we've released you from jail," Johnson said, noting that system delays and complicates the court process. Sometimes defendants don't receive notices or they need to be tracked down months later, he said. 
However, he said it's been a challenge figuring out how the new process could affect judges' schedules, made more difficult by a large number of recent judicial retirement announcements.
Sheriff's Office officials said they have no immediate issues with the change in court procedure. But Grimes, the warden, and Sheriff Sid Gautreaux say their most pressing challenge is the jail's 1960s-era building, which they say is structurally unsafe and unsuited for useful new technology. So far, their attempts to get money to build a new jail have been unsuccessful. 
Though most officials agree a new jail is needed, many of the current efforts are aimed at reducing the number of people incarcerated there — which has been Csonka's focus in Baton Rouge through a MacArthur Foundation grant. 
A new pre-trial diversion program received a boost in funding Wednesday to help pay for continued efforts to place qualified offenders in trea…
In the last few months, he has helped establish a pretrial diversion program that identifies candidates who could be released on a non-monetary bond into treatment and is working to start a criminal justice coordinating council to bring together all the important players. He said he supports the faster arraignment process and hopes to pursue a pretrial risk assessment tool to help inform judges who is safe to be released from jail without having to post a monetary bond.
"There are a lot of ways that the system can be improved," Csonka said. "The good news is that I know there are several individual entities working on that."
Csonka said he hopes that within a year, if progress continues the jail population could be cut by 20 percent.
These efforts also fall in line with parish plans to form and operate a new 30-bed mental health center, which leaders hope will also help relieve some burden on the jail, which has become one of the few places for local authorities to take those struggling with mental illness and addiction.
Voters resoundingly passed a new parish-wide tax at the end of 2018 to support such a facility. Officials hope that once the center opens, it will be able to serve about 5,000 people a year. 
Calling for reform
While leaders try to fundamentally change the system's operation, a group led primarily by a few women is trying to get the public focused on shortcomings at the jail.
Anderson and the East Baton Rouge Parish Prison Reform Coalition have met for more than a year, trying to bring more attention to Parish Prison. The group was born primarily in response to a string of deaths in the jail — 27 people have died there since 2012, most after unresolved medical issues or by suicide — but they have extended their goals to improving the entire court system.
"I get upset more days than not," Anderson said, who spends many mornings with their "court watch" team observing the initial hearings where new detainees learn their bail amount. "At least now nobody's making the assumption no one is watching."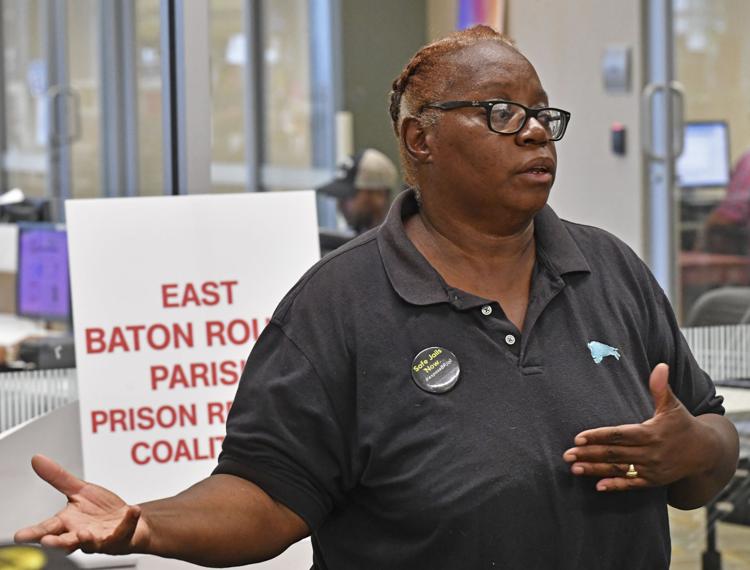 Linda Franks, one of the jail reform coalition's organizers, became involved after her son Lamar Johnson died at the jail in 2015. Johnson was picked up on outstanding warrants for writing bad checks and within four days was found dead in what officials classified as a suicide.
"It's just a horrible place, and I think that we can do better — I know that we can," Franks said.
She wants immediate change, contending officials can't wait to improve conditions at the jail or the system that feeds it only after a new one is built.
Andrea Armstrong, a Loyola professor focused on incarceration who recently toured the jail, said while the facility is in bad shape and of poor design, construction of a new one won't solve the larger issues.
"A bad physical plant certainly decreases the safety, but a new building doesn't necessarily solve all the problems that we see in troubled jails," she said.
Dumaine and Moore say they hope parish leaders will soon come up with the funding needed for a new jail. But in the meantime, they hope to help decrease the jail's daily population so a new parish prison can be built to an appropriate size.
"Every community needs a jail, and it has to be healthy and well-functioning," Dumaine said. "Our community has a jail: it's not healthy, nor is it well-functioning. We're harming ourselves, we are harming our community. … It's wrong."
Staff writer Lea Skene contributed to this report.