PORTLAND, Ore. — Perhaps no part of Oregon feels less like Louisiana than this city's South Waterfront district, where rush hour could be mistaken for a scene from "Back to the Future."
Commuters whiz along in light rail and crowded bike lanes before packing into an aerial tram that soars 500 feet over Interstate 5 to the affluent community of Marquam Hill. The city calls this the "most transportation-diverse" intersection in the country — a bustling monument to Portland's renowned progressive streak.
For the last 120 years, Louisiana has had an unusual and long-standing allowance for split jury verdicts in felony cases.
It's a reputation Portlanders come by honestly. This is a city of composting, backyard chicken husbandry, coffee snobbery and counterculture. Seven in 10 Portland voters backed legal marijuana when it passed in 2014.
But many Portlanders are blissfully unaware that their state is more akin to Shreveport than Seattle when it comes to a fundamental American right. Oregon for 84 years has shared a constitutional quirk with Louisiana that allows criminal trials to be decided by nonunanimous juries.
In every other state — and the federal court system — juries must reach unanimous verdicts in felony cases, whether convicting a serial arsonist or acquitting a low-level drug dealer. A single holdout can deadlock a jury in most American courtrooms.
That is not the case here, to the shock and chagrin of many locals.
It's an unlikely kinship for states that diverge on everything from politics to topography — and an increasingly unwanted distinction in this drizzly corner of the Pacific Northwest.
Louisiana, for all its cultural allure, has a less than endearing national reputation when it comes to criminal justice and incarceration. The associations are not lost on Oregonians.
"It puts us in the same category as Louisiana, and people don't like that," said John Hummel, district attorney of Deschutes County, one of Oregon's largest. 
Hummel is among a small group of Oregon district attorneys who have called for the law to be changed to require unanimous verdicts. A campaign to place a measure before state voters in 2020 is building here, and, for its supporters, Louisiana has served as an expedient foil.
The push to require Louisiana juries to return unanimous verdicts has resulted in some unusual alliances in Baton Rouge, with Tea Party Republ…
Maybe not for much longer, though. A bill has been moving forward in the Louisiana legislature for a referendum on split verdicts, and a House vote on the measure, the last and biggest hurdle to getting on the ballot, is expected this week.
It could turn out that Oregon — where the split-verdict law owes its existence not to Jim Crow, but a different strain of ethnic hatred — soon stands alone.
"It would just be salt in the wound if Louisiana changed the law before we did," said Thomas Freedman, a Portland defense attorney who has frequently challenged the constitutionality of split verdicts. "Even the possibility of that has created a stir here."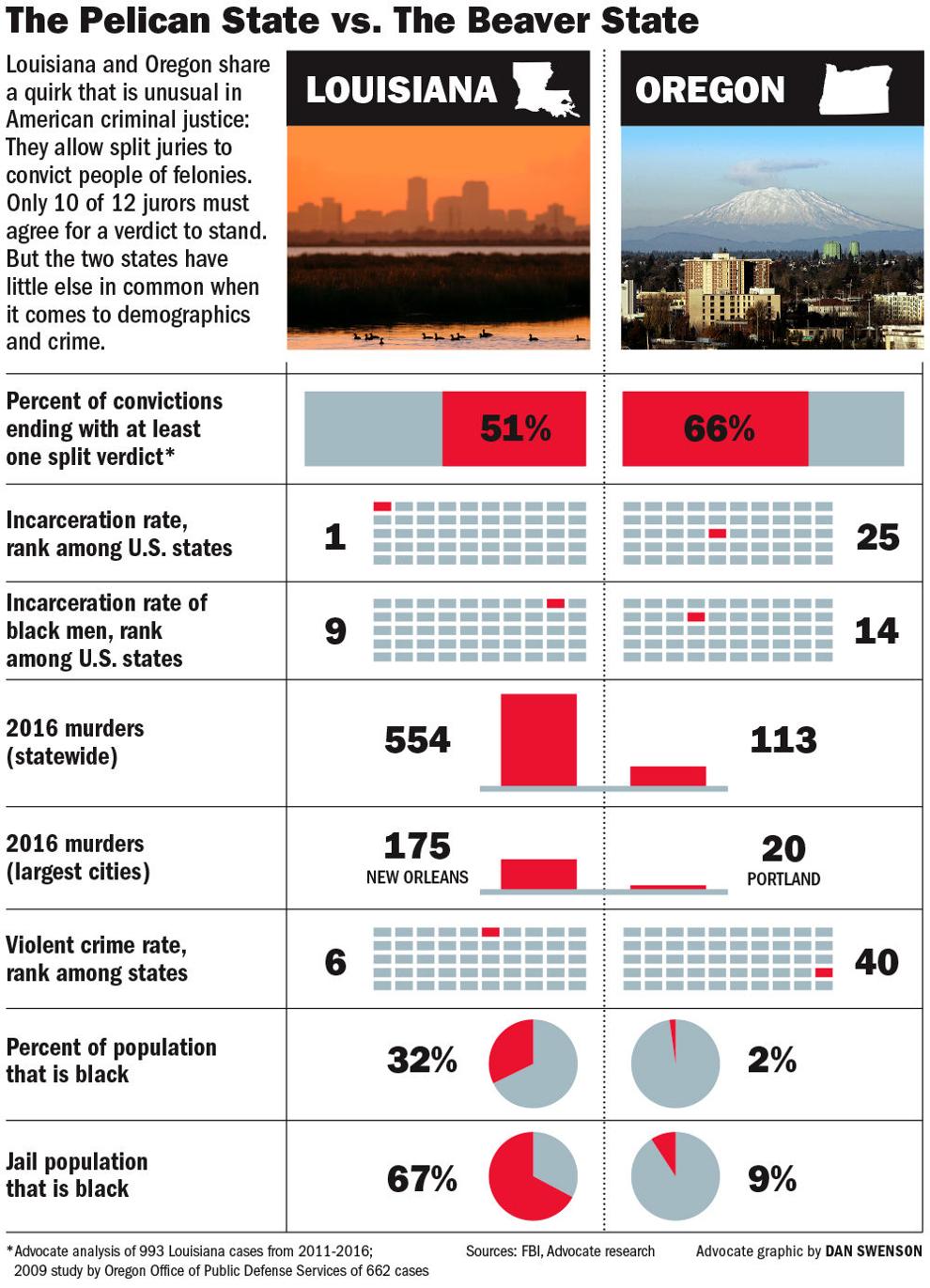 Racial origins
Oregon and Louisiana adopted nonunanimous verdicts decades apart and under disparate circumstances. But both states' laws originated in a climate of ethnic hatred. While Oregon and Louisiana seem to have little in common on the surface, the split-verdict debate has touched on troubling parallels in the states' histories.
Louisiana's law was enshrined in the state's 1898 constitutional convention, called to "perpetuate the supremacy of the Anglo-Saxon race" by diminishing the voice of black voters. Oregon legalized split verdicts in 1934, when voters approved a ballot initiative just months after a sensational murder trial that outraged Portland and raised fears of "unreasonable jurors" sabotaging the criminal justice system.
Can't see video below? Click here.
Louisiana's politicians, perhaps leery of opening the law to constitutional challenge, were careful to avoid overtly invoking a racial motive when discussing the move to split verdicts. That was less true in Oregon.
There, the concerns stemmed from the refusal of a single juror to convict Jacob Silverman of murder in the "gangland" shooting death of Jimmy Walker — a slaying authorities described as retribution for the earlier shooting of a speakeasy owner friendly with Silverman.
The body of Walker, an ex-convict, was found in rural Columbia County. Also slain was Edith McClain, who had been posing as Walker's wife.
A single holdout refused to convict Silverman of murder after 17 hours of deliberations, prompting a compromise in which the jury found him guilty of manslaughter. Silverman ultimately was sentenced to three years in prison, far less than the 15-year maximum, and ordered to pay a $1,000 fine. The judge attributed the lenient sentence to the circumstantial nature of the state's evidence.
The fallout came swiftly. The Morning Oregonian editorialized that "the vast immigration into America from southern and eastern Europe, of people untrained in the jury system, (had) combined to make the jury of twelve increasingly unwieldy and unsatisfactory." The Oregonian later published a cartoon of a mobster in a speeding car with a sign on the door that read, "Hung Juries."
"Ultimately, conviction will have to be made possible with less than a unanimous vote of the 12 jurors," the newspaper wrote. "But that change will not be made until miscarriages of justice have become so flagrant that the people cannot deny them. The public is so attached to the present safeguards thrown around defendants that it will not make the change willingly, and, as far as Oregon is concerned, the reorganization will require an amendment to the state constitution."
Aliza Kaplan, a professor at Lewis & Clark Law School, wrote in 2016 that the state had been "simmering with anti-immigrant xenophobia" at the time — a period of deep recession in which Oregon had embraced a powerful Ku Klux Klan and "the bigotry and fear of minority groups."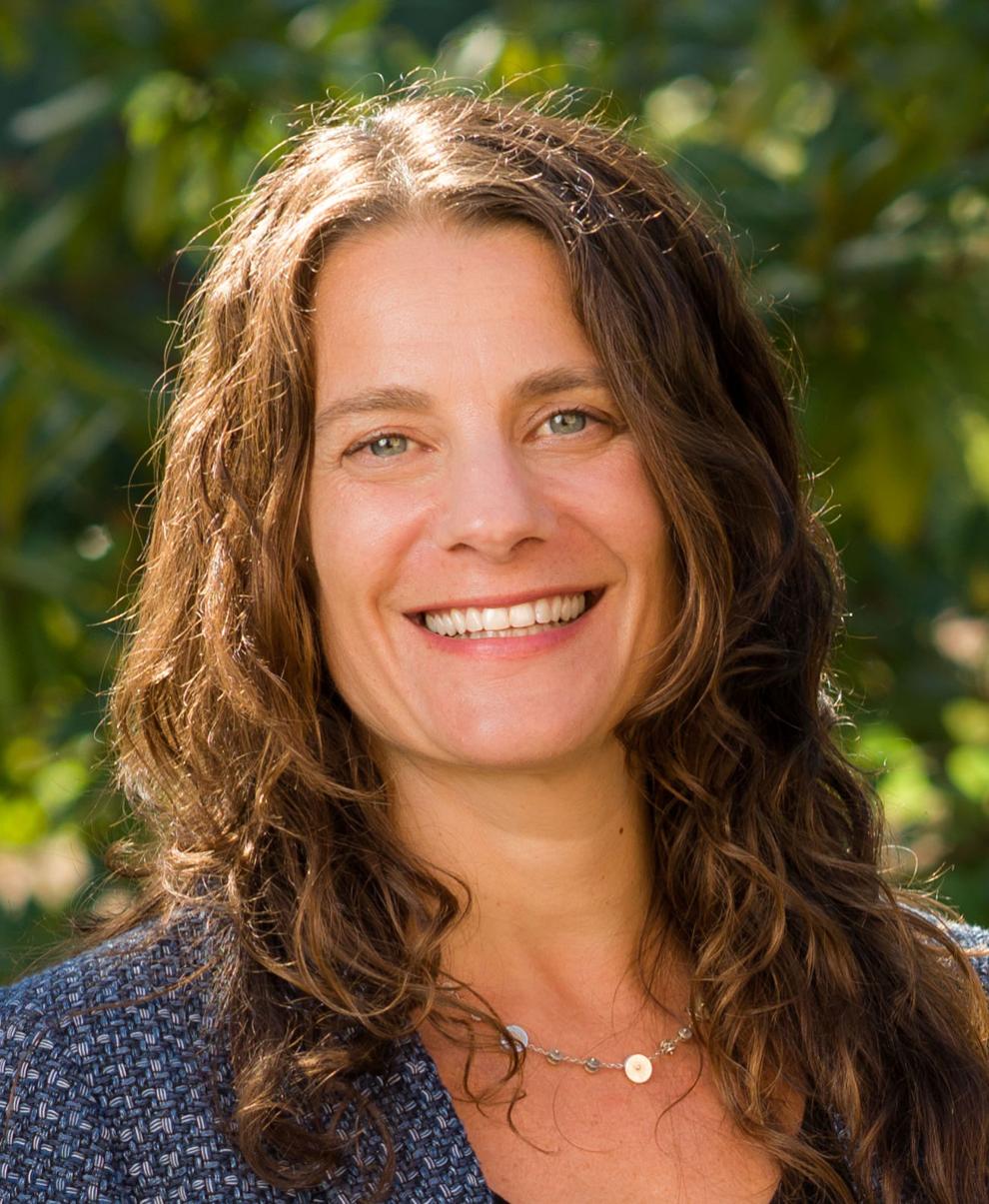 "Oregonians became angry that a Jewish man accused of killing a Protestant was spared a murder conviction and death sentence because a single juror held out for manslaughter," Kaplan wrote.
Weeks after Silverman was sentenced, the Oregon Legislature referred a constitutional amendment to voters that faced almost no opposition. It was later approved by 63 percent of the electorate.
Much like Louisiana, the state had required unanimous juries for more than 70 years before the abrupt change.
'Institutionalized racism'
Kaplan says the split-verdict law is an extension of Oregon's "history of institutionalized racism" dating to its 1859 admission to the Union, when it became the only state with an "exclusion law" written into its constitution that prevented blacks from settling or owning property.
Today, Oregon's population is just 2 percent black, to Louisiana's 32 percent, the second-highest percentage in the country.
If Oregon's black population is tiny, supporters of a change to the split-jury law see troubling signs of disparate treatment in the data. Though black people comprise just 2 percent of all Oregonians, they are 9 percent of the prison population. The result is an incarceration rate for black men that's on par with Louisiana, and nearly twice that of Georgia and Mississippi.
"A lot of people think of Portland and Oregon and how progressive we are, and in a lot of ways we are," Kaplan said. "But I would say that, at least within criminal justice, we are not that way at all on a lot of issues. There are a lot of things in our criminal justice world that are more like Southern states than you would imagine."
The states also differ wildly when it comes to crime. Oregon's violent crime rate is half that of Louisiana. Portland, the state's biggest city with 640,000 residents, had 20 homicides in 2016. New Orleans, with a quarter-million fewer residents, had 175.
Oregon's split-verdict system has received more attention in recent months than at any other time in its history — in part because of the debate unfolding more than 2,000 miles away in Louisiana, where the Legislature is considering a bill that would allow voters to require juries to return unanimous verdicts.
If nothing else, the discussion has educated many Oregonians who had been in the dark about the state's unusual law. Those in favor of reform, from the halls of the Oregon Legislature to the hipster microbreweries of the Willamette Valley, often frame the question in the same way: "Do we really want to be like Louisiana?"
"This is a dubious terrible distinction for both Oregon and Louisiana," said David Rogers, the executive director of the American Civil Liberties Union of Oregon. "This is not the way we want to distinguish ourselves in the country, and if Louisiana went forward and did the right thing here, it would put a lot of pressure on Oregon."
The movement to change the law in Oregon gained unexpected momentum in January, when the state's district attorneys association came out in favor of repealing the split-jury law. But the association reversed itself weeks later.
Still, several prosecutors have spoken critically of split verdicts, including Rod Underhill, the district attorney in Portland, who said earlier this year that the law appeared to be "premised in racism" and anti-Semitism. Some of Underhill's counterparts around the state go further, saying the law undermines the credibility of the criminal justice system.
As in Louisiana, some lawmakers are agitating to change the law with or without the DAs' support, though the effort is not quite ripe. State Sen. James Manning Jr., a Eugene Democrat, has called on Oregon to "join the other civilized states" in requiring unanimous juries. He told The Advocate he plans to introduce legislation to do that next year.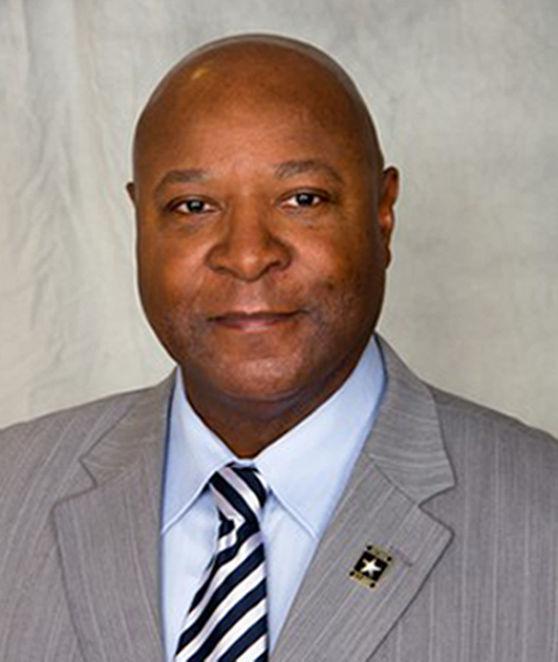 "I was in Louisiana," Manning, a black Army veteran once assigned to Fort Polk, told lawmakers during a committee hearing this year. "And I know what it's like." 
A dearth of data
The debate surrounding split jury verdicts here has taken place without the benefit of much data.
The Advocate, over the past year, analyzed nearly 1,000 jury trial convictions in Louisiana and found 40 percent came over the objections of one or two holdouts. As common as split verdicts are, they occur even more frequently when the defendant was black. The analysis made clear that split verdicts have an adverse impact on African-American defendants, who are overrepresented in the state's massive prison population but underrepresented on juries.
As one of just two states remaining that doesn't require unanimous juries for felony conviction, a New York Times editorial argues it's time f…
The newspaper's analysis also found that black defendants were more likely to be convicted in split jury verdicts than white ones, and that black jurors were significantly more likely to dissent with a split verdict than white ones.
No comparable studies have been conducted in Oregon to measure potential discrimination, Kaplan said.
But the state does have some data on the frequency of split verdicts. The Oregon Office of Public Defense Service published a report in 2009 that examined 662 jury verdicts over a two-year period. The researchers found that jury polling only occurred in about two-thirds of those proceedings; of those cases, 65.5 percent included a split verdict on at least one count. (In The Advocate's sample of 993 cases, 51 percent included a split verdict on at least one count; 40 percent were convicted by split juries on all counts.)
When the U.S. Supreme Court last considered nonunanimous verdicts — upholding the systems in both Oregon and Louisiana in 1972 — prosecutors pointed to a dearth of statistical data. They said the challengers had failed to make a statistical showing of "injustice or unfairness," and that split verdicts were "less fictitious" than the "illusion" of unanimity.
"Unanimity is commonly an artificial condition among contentious, varying individual human beings," the state's attorneys wrote. "People are not unanimous unless they are forced to be."
One of those attorneys, Jacob Tanzer, then Oregon's solicitor general, told The Advocate that he never considered whether the law discriminated against minorities. His central argument, he recalled, was that a vote of 10 of 12 jurors served as a "sufficient barrier" against prosecutorial error and also fulfilled the Sixth Amendment purpose of "interposition" between the state and the accused.
"I did not do historical research into the reasons the practice had been adopted," said Tanzer, who later became an Oregon Supreme Court justice. "Of course, were there historical evidence of intent to discriminate, I should have looked for it, but it was more than equally the responsibility of defense counsel to have done so. The state public defender in the Oregon courts did not do so, but on reflection should have."
The U.S. Supreme Court sided with Tanzer in Apodaca v. Oregon, finding that the Sixth Amendment does not mandate unanimity in state jury trials even though that standard is required in federal court. The high court has since shown little interest in revisiting its decision on split verdicts.
'A gray area'
Critics of nonunanimous verdicts contend that Oregon and Louisiana, in changing their laws, abandoned the notion of guilt "beyond a reasonable doubt." If a sixth of a jury believes the defendant is not guilty, they say, how can the threshold for a conviction have been met?
Advocates for changing the law here point to the case of Olan Williams as illustrative of the problems with split verdicts. Williams, who is black, was convicted by a 10-2 vote in 2016 of first-degree sodomy.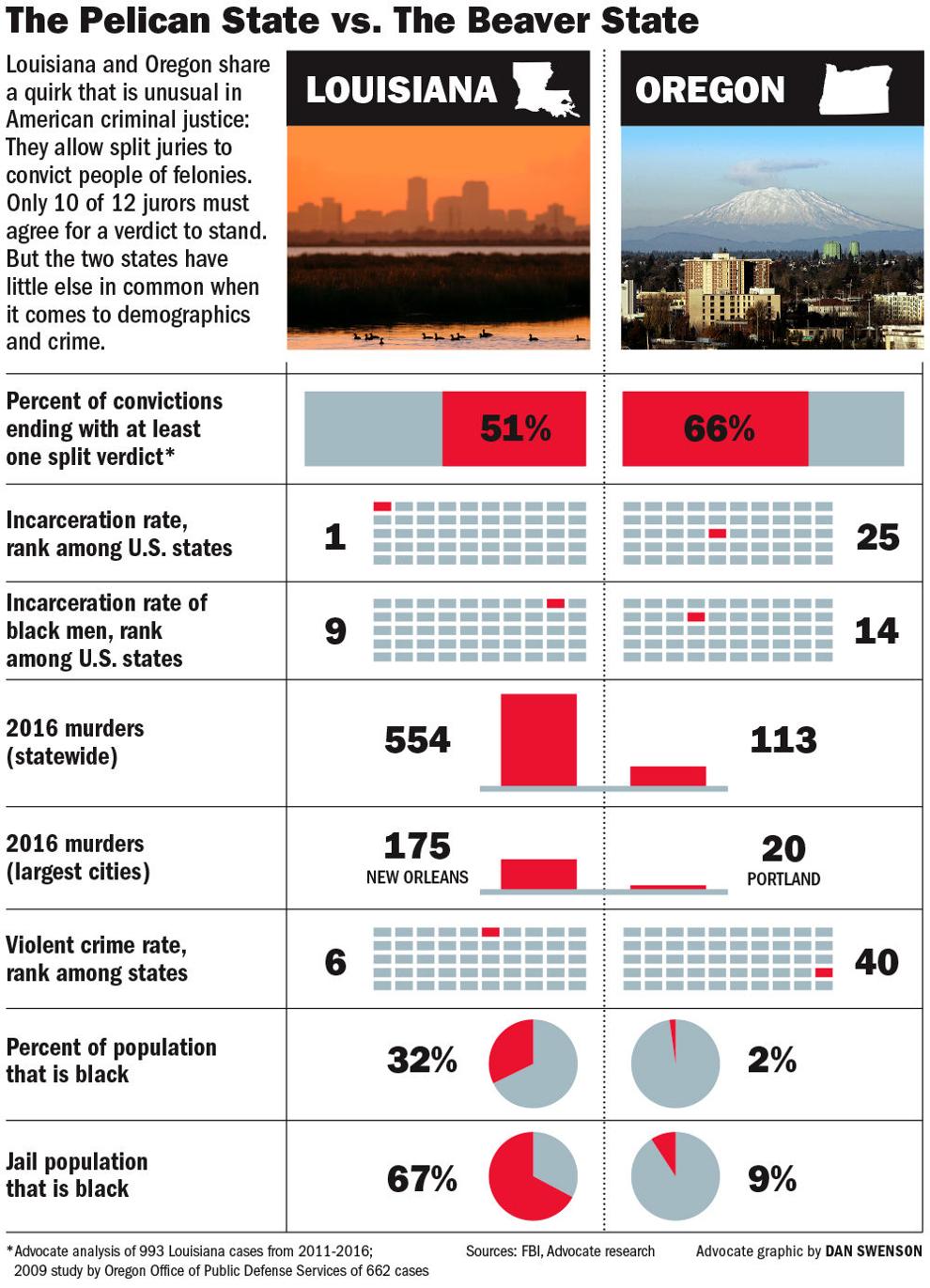 One of the dissenting jurors was Cashmita Singleton, the lone black juror on the panel. Singleton told The Advocate she had doubts about the victim's testimony, which she described as shifting and inconsistent.
Jurors had reached a 9-3 deadlock following several hours of deliberation, with Singleton and another juror refusing to change their votes, despite intense pressure from other jurors, including one woman who began standing on a couch in the jury room. Another holdout abruptly switched her vote to guilty after the court clerk came in to ask when the panel would be back the following day. That woman explained that she could not continue deliberating because of her child care arrangement, Singleton said.
"I just put my head down, and that was it," Singleton said in an interview. "Clearly, if two people don't believe a person is guilty, there has to be some level of doubt. Everyone who has a say in that person's fate should agree on the outcome. There shouldn't be a gray area."
On the Louisiana Senate floor this month, one lawmaker shared a dirty little secret about a calculation some prosecutors make when deciding wh…