Less than 36 hours after his release from prison, Steve Perkins sat in front of a class of law students, giving them advice.
Perkins hadn't been in a traditional classroom in more than four decades, yet here he was as evidence that youthful offenders once sent away for life could be rehabilitated — even after killing someone.
"In the '80s, even though there was no hope (in Angola), I still bettered myself," Perkins told the students. "I didn't want to just be the same naive kid that had a murder charge that was in for life."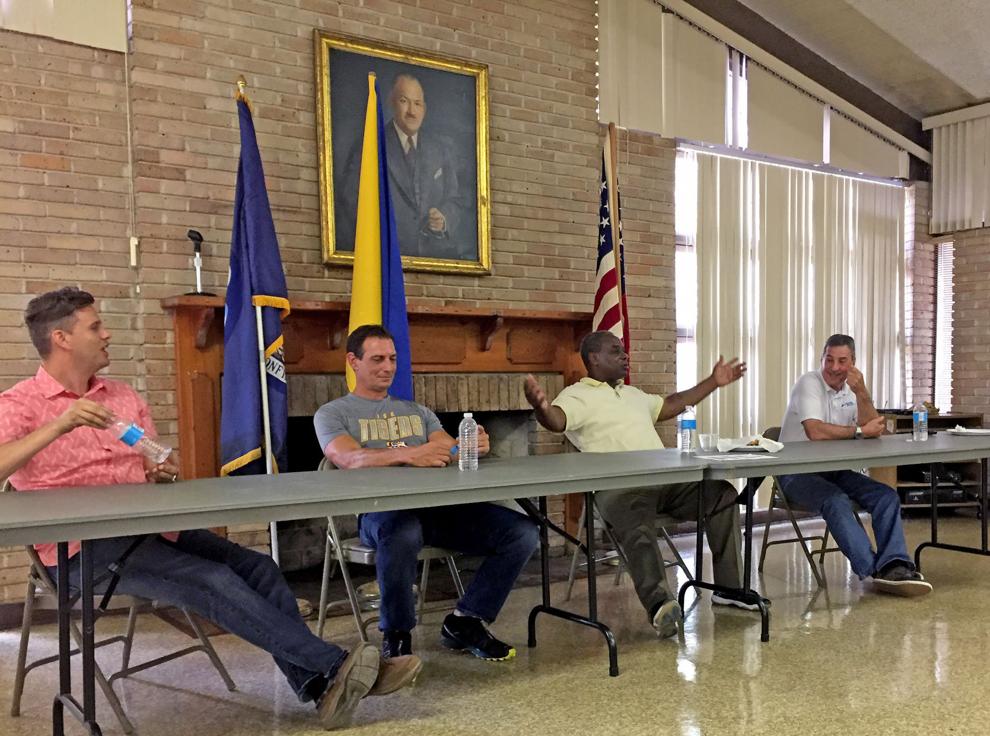 Recent U.S. Supreme Court decisions have declared that, except in extremely rare cases of "irreparable corruption," youthful offenders should not be sentenced to a life behind bars, deserving a meaningful opportunity to win their freedom. Justices found that juveniles are inherently different from adults, with diminished culpability and a greater capacity to rehabilitate.
Louisiana had about 300 prisoners like that, placing the state third nationally, behind Pennsylvania and Michigan, in the number of juvenile offenders serving terms of life without parole. Under a new state law, about two-thirds have since received new sentences that include an opportunity for parole, but many of the remaining cases languish.
The effort to win their release has gone slowly, which had brought Perkins to the LSU Law Clinic. He was one of a few with first-hand success, able to advise student interns how to support their future clients — other so-called juvenile lifers convicted of murders committed when they were 17 or younger.
After spending a half-century serving life without parole for a murder committed as a teenager, Henry Montgomery is now preparing for a parole…
The law clinic, along with Baton Rouge-based nonprofit Louisiana Parole Project, aids juvenile offenders through the entire parole process, helping to illustrate the inmate's development throughout their time in prison and then prepare a reentry plan.
Perkins went before the Louisiana Parole Committee on July 31, hoping to demonstrate his growth since shooting and killing a grocery store clerk at age 17. He had a negative risk factor — the lowest the committee had seen — only one disciplinary infraction in the last decade and earned the prison's highest trusty status. In 1987, well before education and rehabilitation courses were mainstream at the state's maximum security prison, Perkins earned his GED. The panel declared him a stand-out candidate for a second chance.
"I am not a religious person, but doing this work makes you believe in redemption," said Perkins' attorney, Bob Lancaster, who directs the LSU Law Clinic. "(It) demonstrates the power that individuals have to change their lives."
Since the Supreme Court in early 2016 once again ruled that Louisiana was — and had been for decades — unconstitutionally sentencing juveniles…
Freedom after 44 years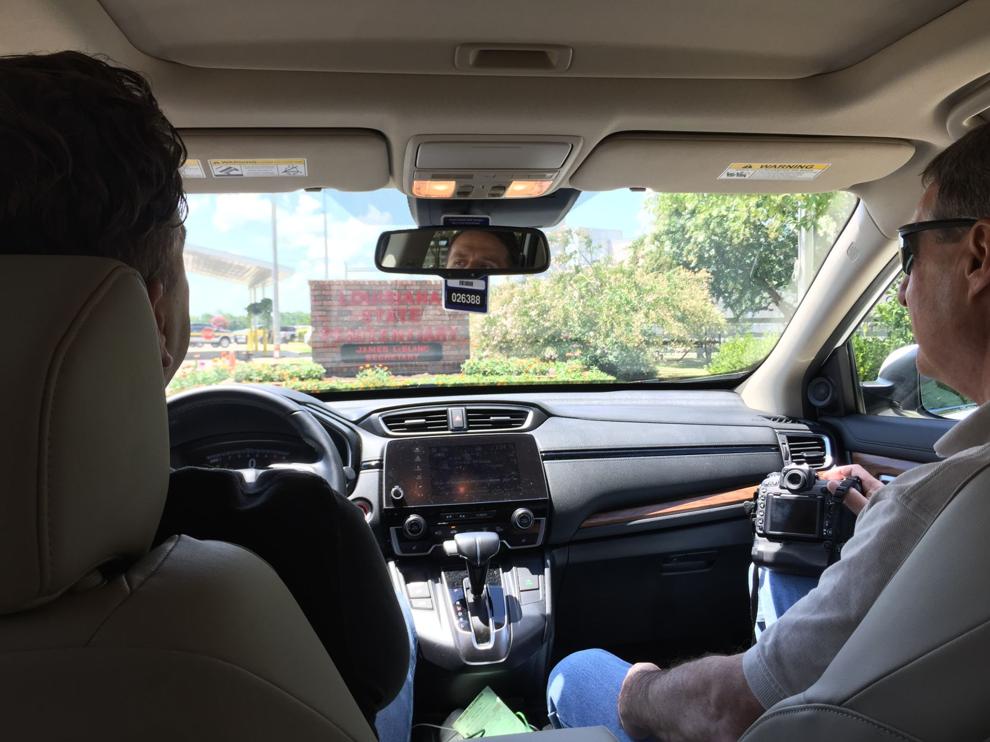 Two weeks after Perkins was granted parole, Andrew Hundley and Kerry Myers, the executive and deputy directors of the Louisiana Parole Project, sat in an idling SUV outside the front gates of Angola. They knew exactly what to expect as they had both left the maximum security prison within the last two years: Myers on a commuted sentence for a murder that he has always maintained he didn't commit, and Hundley as the state's first juvenile lifer re-sentenced and granted parole after the 2016 Supreme Court ruling that found mandatory life without parole for youth offenders was retroactively unconstitutional.
Moments later, Hundley greeted Perkins with a handshake that quickly turned into a hug, then helped him carry the large white trash bag and a manila folder he carried — together holding all of the possessions to Perkins' name. Myers snapped photographs of Perkins' first steps as a free man in 44 years.
On the drive back to Baton Rouge, Myers evaluated Perkins' know-how for seemingly average tasks often foreign to juvenile lifers institutionalized since they were teens: applying for jobs, filing taxes, learning about email, acquiring health insurance, setting up a bank account.
"There's a lot I don't know," Perkins said.
Hundley was quick to reassure him. That was why he, Myers and their team at Louisiana Parole Project were there on this first day. And they would be there over the next few weeks and as a continued resource for years to come.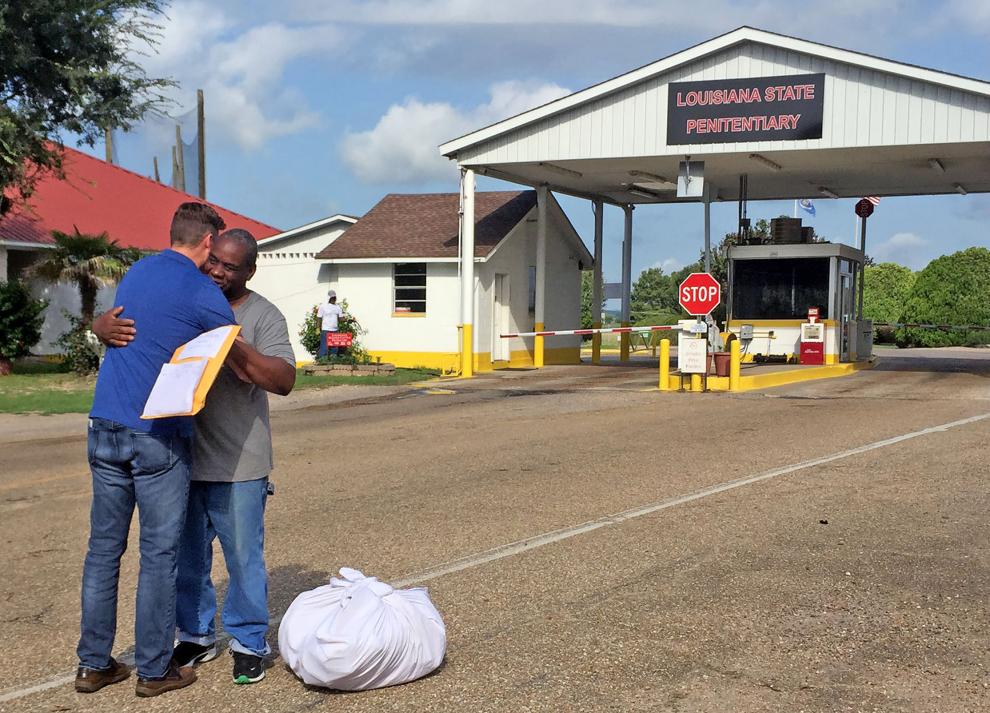 Others 'no less deserving'
By of the end of September — more than two years after the most-recent Supreme Court ruling on juvenile offenders — 31 of Louisiana's juvenile lifers had parole hearings. Eight were denied, while 23 won their release.
The first of those was Hundley, who entered prison for a murder committed at age 15. Benefiting from the Supreme Court's ruling on fellow inmate Henry Montgomery, Hundley, then 34, left prison in the summer of 2016 after serving 19 years. Montgomery, who is in his 70s, was still incarcerated after more than five decades in prison. He was denied parole in February.
All of Louisiana's juvenile lifers had been imprisoned on murder convictions that had carried mandatory life without parole sentences; all had been 17 or younger at the time of the offense and just under half were 15 or 16, according to the Department of Corrections. More than half had already served over 20 years in prison; three quarters were 35 or older. Almost 80 percent were black.
So in many ways, Hundley was an exception. He was young. He's white. Louisiana's justice system had responded relatively quickly, first acknowledging the decisions from the Supreme Court that said children who commit even the most heinous crimes can be rehabilitated.
About 300 Louisiana inmates spending their lives in prison for murders committed as teens are turning to the courts after the Legislature fail…
But Hundley also knew he was different in other important aspects. His family was able to hire a private attorney for his resentencing and parole hearing. His parents and sister still supported him. He had a community in the free world ready to embrace him. From behind bars, he had completed college courses and found success in mainstream service and leadership organizations.
"Being told that I was paroled was a very bittersweet feeling for me," Hundley said. "So many of my friends, so many people I considered brothers, I grew up with … were no less deserving than I was.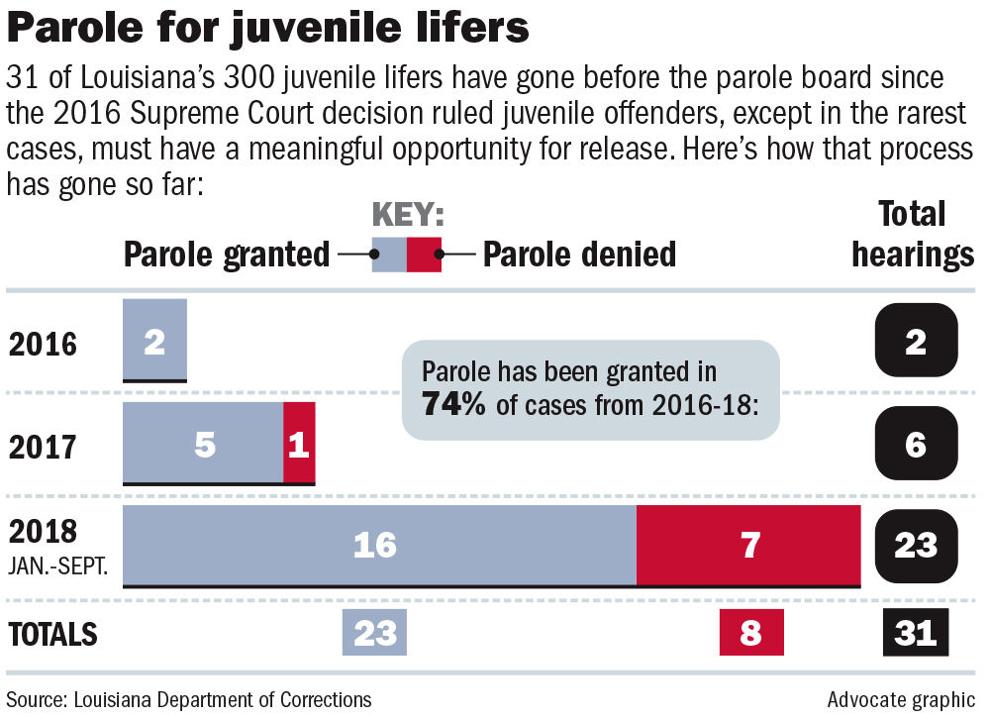 So just weeks after he reentered free society, Hundley collaborated with Lancaster and Keith Nordyke, the attorney who had represented Hundley through his parole process, to ensure that each juvenile lifer in Louisiana would have the same support and opportunities he had, together forming the Louisiana Parole Project.
1974 deadly robbery
Perkins was 17 when he and a friend robbed the Southside Grocery in old south Baton Rouge, just blocks from his childhood home. During the heist, Perkins shot 32-year-old Rita Decuir, a mother of four. The teens made out with $30.
Within months, Perkins was convicted of first-degree murder and initially sentenced to death. But after Louisiana's death penalty procedures were declared unconstitutional, he was given a life term. In 1977 at age 19, he was sent to Angola.
Louisiana's prosecutors believe about one-third of prisoners serving life for murders they committed as juveniles should be denied a chance to…
Perkins had been caught on the wrong path since junior high, emulating older peers in his neighborhood, picking fights, skipping school and committing burglaries.
"Having two older brothers making a name for themselves out in the streets, me being the baby brother, I felt like I had to follow in their footsteps, so that led me to start hanging out, skipping school, stealing just to be in," Perkins wrote about his childhood.
Perkins spent his first three years in a segregated cell block because "he looked too young" for the general prison population, his attorneys wrote in his parole packet. When he did join the main prison, Perkins often turned to violence to prove his manhood, and to survive.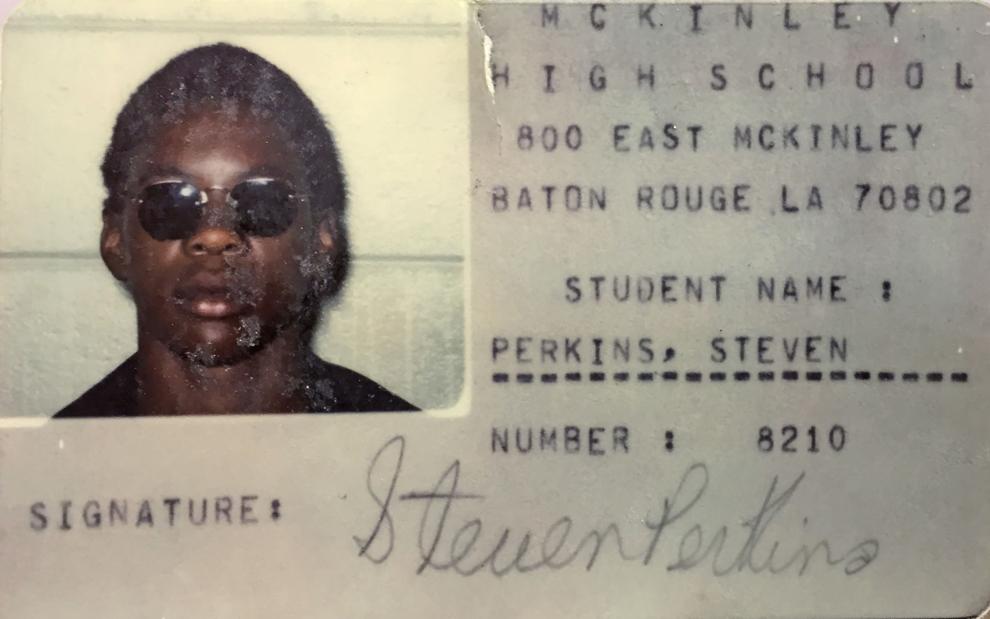 But by the late 1980s, his disciplinary infractions began a sharp decline. He started going to church. A high school equivalency diploma and EMT and CPR certifications followed. Then in 2016, when the possibility of a second chance became real, he wrote to a judge about his case.
"What I did was wrong and I'm deeply sorry for being responsible for the death of another person," Perkins wrote. "I was a kid and I did not know anything about the importance of another person's life, nor was I a responsible individual. But Sir, I want you to know that I am someone that can be a productive citizen."
Decuir's widower opposed Perkins' release.
"A 32-year mother was taken away, leaving a husband and four loving children," Alvin F. Decuir Sr. wrote in a letter with Perkins' recent court filings. "We have forgiven convict Perkins for the crime he committed but cannot agree to place him on the streets, unemployed, derelict, with no friends and bad habits."
The parole committee is asked to consider victim opposition when taking up case, but for youthful offenders, it is also to "give great weight to the fact that youth are less responsible than adults are for their actions," according to the board's updated guidelines after the Montgomery decision. And when he was granted that supervised freedom, it was on the condition that he be released to the Louisiana Parole Project, which has served all but one of the other paroled juvenile lifers.
"All of (our clients) are successful," Hundley recently told the parole committee. "We will be with him every step of the way."
Francis Abbott, the executive director of the Louisiana Board of Pardons and Parole, praised Louisiana Parole Project's work with the juvenile lifers, but also other long-serving prisoners known at '40-year lifers,' sentenced in the 1970s with the opportunity of parole but who subsequently saw that chance taken away. None of its more than 40 clients have re-offended.
"We have some level of confidence in the work that they do," Abbott said. "I think if the Parole Project took on all parole cases the outcome would be positive, the things they target as needs for these offenders are risks that are rampant across all reentry."
Reentry with the Louisiana Parole Project 
Perkins sat in the Louisiana Parole Project's downtown office in late August with a pair of reading glasses on his head. The day's task: developing a budget with Michelle Carriere, a retired Capital One employee and Louisiana Parole Project board member.
"It's not going to be that bad," Carriere said.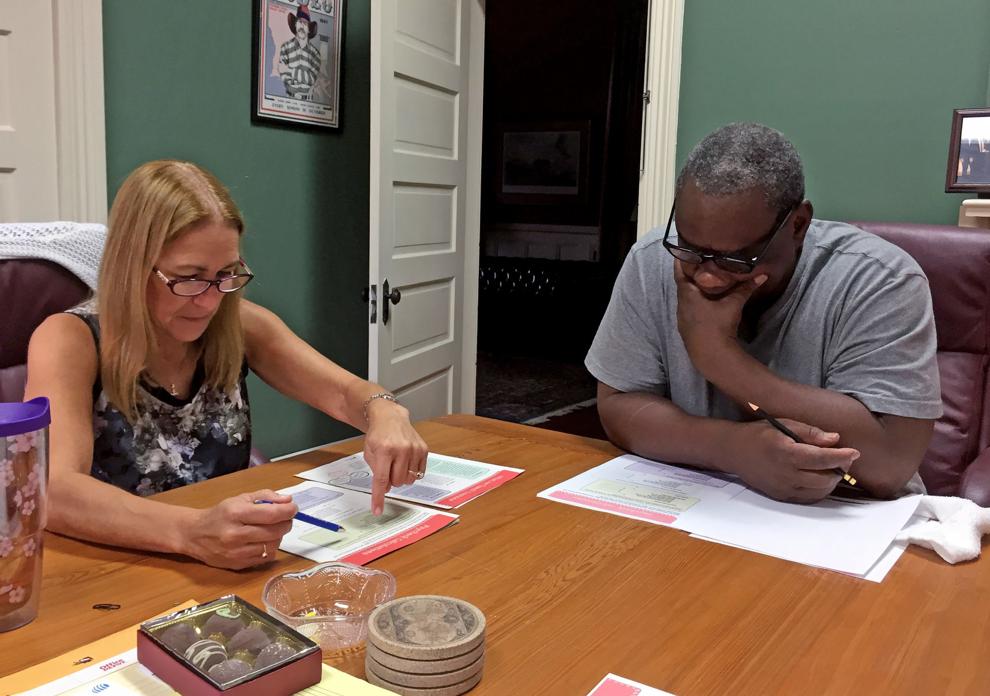 Perkins hopes to buy a used truck and one day open a shop to sell handmade, wooden furniture. They went over deposits and car insurance and financing. She talked to him about taxes. Then she asked him to distinguish between potential "wants" and "needs" — and he showed some brief frustration.
"All this is new to me," Perkins said. "I can't say this is a 'need' because I don't know. I'm not familiar. I was a juvenile, I never experienced nothing like this."
So they back up. And slowly, with the help of Parole Project reentry director Steve Amort, Perkins fills out a blank budget based on a potential salary. He catches on to using a calculator, his first time.
"After you've been gone that long you need a program like this," Perkins said. "They had to let us out, but they were just throwing us out — but this program here, it's amazing."
Earlier that week, Perkins had already met with a financial literacy adviser to review banking, a human resources professional for mock job interviews and a criminal justice professor to discuss law enforcement interactions. He filled out job applications and completed driving school. Hundley took him to Walmart, where the toothpaste aisle became a lesson on branding and marketing.
In the coming days, there will be sessions on social norms and stress management and meals with peers from the community.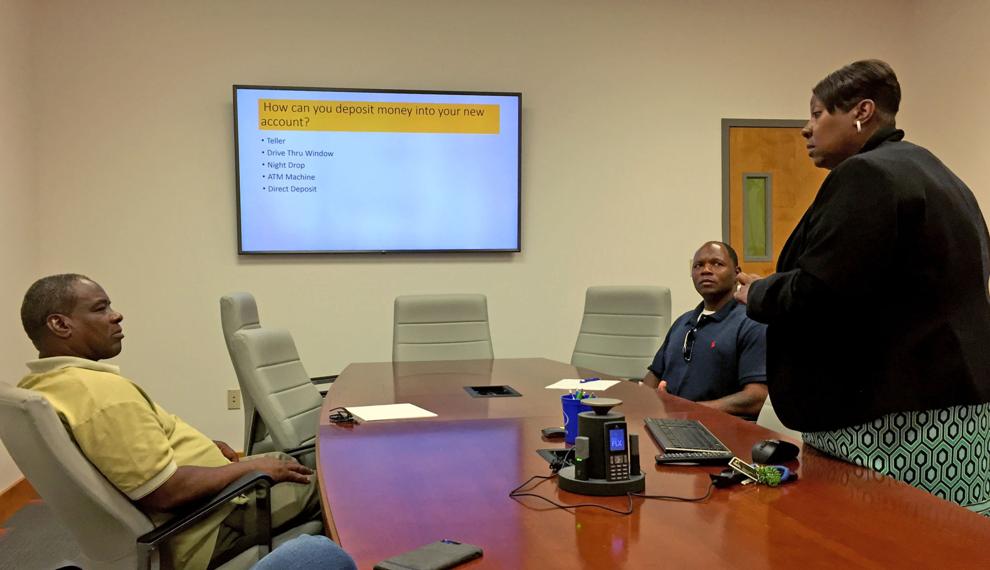 "These are incredibly high-stakes individuals ... because they're all murder cases. The public is not going to tolerate failure," Nordyke said. "These folks are coming out having never learned to be self-sufficient, they've never had to scramble for a paycheck, they've never gone grocery shopping. ... Our job is to teach those skills. If we don't, failure becomes a much higher option."
'For the ones that come behind'
After about a month in transitional housing where Perkins lived in a complex with other former inmates, he prepared to leave his one-room apartment painted an absurd pink and green. (Hundley picked the colors himself — watermelon and frolic green, he said —for an immediate "shock to the senses" for client's first days out of prison.)
Perkins had plans to move back into the home where he grew up, but this time it will just be with his now 81-year-old father; his mother died years ago, as did a brother, but three other siblings, who all live nearby, will be frequently in touch.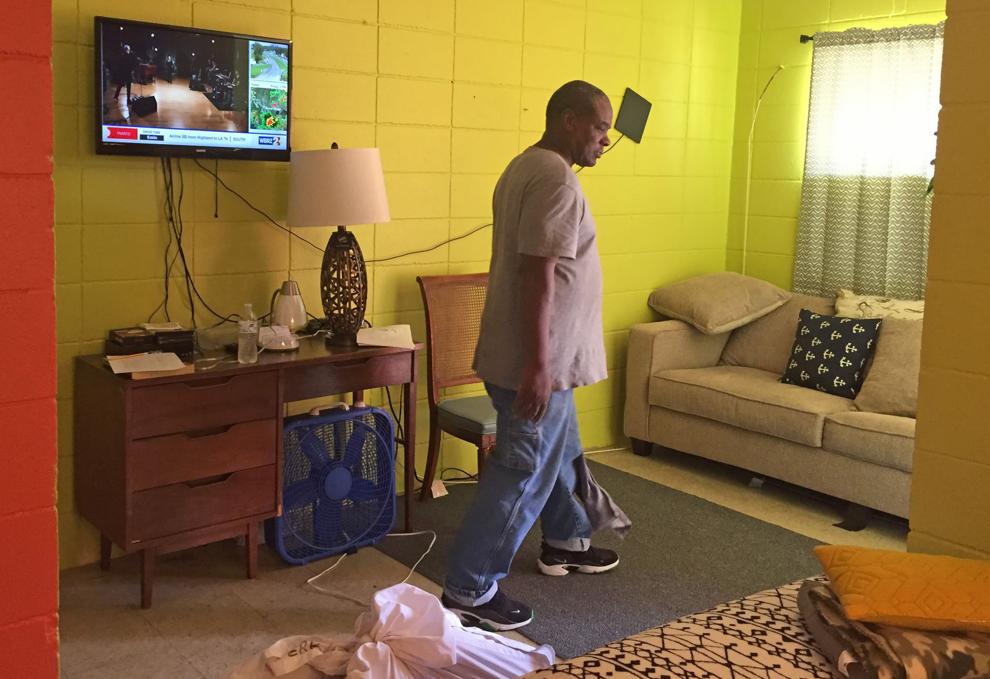 His focus right now is to find employment. So far, it hasn't been easy: struggling with transportation, finding a decent wage or simply feeling prepared.
"Whatever door opens for me, I'm going through it," Perkins said. "They're going to be very impressed with my work ethic; I'm not doing this for me, I'm doing this for the ones that come behind me."
His niece recently interviewed him for a school project on criminal justice reform. He's attended churches with different friends and family members each Sunday to find the right one. At a lunch with a community member, he was asked to speak to a youth group.
"I would love to," Perkins always responds. "I appreciate it. I appreciate you."
And he does, gushing about an evening drive with old friends, headed nowhere in particular. Or cutting his father's grass. Or tasting a steak fajita for the first time, after learning how to pile the ingredients inside a tortilla.
When an Ascension Parish jury found 17-year-old Jeffrey Lively guilty of second-degree murder, President Ronald Reagan was still in his first term.
The Louisiana Parole Project individualizes each of their client's reentry like they did with Perkins, spending more time on cell phones for older clients and explaining online dating to younger ones. Some quickly move back with family after a week of the non-profit's intensive step-down transition program, or others move to a long-term supportive housing program in Opelousas that assists in job placement.
As each one moves forward with the safety net of the Louisiana Parole Project, board member C. Geron "Gee Gee" Hargon counts that as one less person in the state's care and one more contributing to the economy.
"The cost benefit is just kickass," said Hargon, a longtime Baton Rouge businessman who readily admits he never thought about inmates until recently. With about 40 such inmates successfully released, who they estimate cost the state on average about $38,000 a year, that's about $1.5 million already saved, he said. He points out the program turns the men from "tax burden to tax payer."
A year since the state passed massive criminal justice reforms, much of the focus has been on Louisiana newly shedding its notorious title as …
But what will come next for the new nonprofit is not clear. The grant that funded their work will run out at the end of the year and they are still waiting to hear back on new funding, including the Department of Corrections' community reentry grants.
Hundley often glances at the whiteboard in their office, where they have listed the almost 20 juvenile lifers scheduled for parole hearings through the end of 2018, and many more 40-year lifers, newly eligible parole. Then, the more than 20 juvenile lifers sitting in prison, eligible for parole and without a hearing date. And many others still waiting to get their new sentences after prosecutors filed to deny their chance of parole.
"The work we have to do continues," Hundley said. "I see myself as an example of the power of second chances, but there's no doubt in my mind that if (others) got the same opportunity that I received, that they would excel also."