Louisiana has dropped to fifth in the nation for the state's rate of gun-related deaths — down from fourth last year, according to new data from the U.S. Centers for Disease Control and Prevention. 
The most recently available numbers from 2018 show that 991 people in the state died from firearms at a rate of 21.27 per 100,000 residents.
Last year's ranking of fourth in the nation, while still within the top five, was a better position than the state has held in some time. For years, Louisiana hovered in the top two spots, finally dropping to third in 2016. 
Louisiana now ranks behind Missouri and in front of Alaska for its gun deaths rate, while Mississippi and Alabama rank one and two in the nation for gun deaths, respectively.
But, according to Peter Scharf, a crime expert at the Louisiana State University School of Public Health, people shouldn't be so quick to celebrate the apparent drop. 
"It may be a little premature to 'hurrah,'" Scharf said. 
From the way gun deaths are counted and investigated nationally to the homicide number decreases among the state's largest cities, the rate could be attributed to many things, none of which spell out a clear understanding of what the newest data could mean for Louisiana. 
Despite the improved status, Louisiana still ranks well above the national firearm death rate — a standing it has maintained for the past 10 years. Data show the state's homicide and suicide rates are consistently higher than the country's rate for both. Louisiana's gun homicide rate of 10.75 per 100,000 is well above the national rate of 4.43 per 100,000.
The state's rate of gun deaths has also remained relatively steady, continuing on a slow uptick across the decade with the occasional fluctuations.
Louisiana's firearm-related deaths have hovered in the 800s for years, spiking in 2017 at 1,008 before dropping below 1,000 deaths in 2018. In other words, Louisiana's gun deaths, by the raw numbers, are generally increasing — though they are doing so in slight increments that sometimes oscillate between years.
Scharf emphasized that the information provided by the CDC only measures reported deaths rather than actual deaths. Furthermore, between states — not to mention between local jurisdictions — there may be a difference in how these deaths are measured, investigated and classified. 
"If you don't count it, you can't rate it," Scharf said. "The data is colored because of differential counting and differential investigations." 
Scharf explained that a national registry of shootings would ensure every single state counts gun deaths in the same way, allowing for consistent data that might provide a more complete picture of gun violence in the country.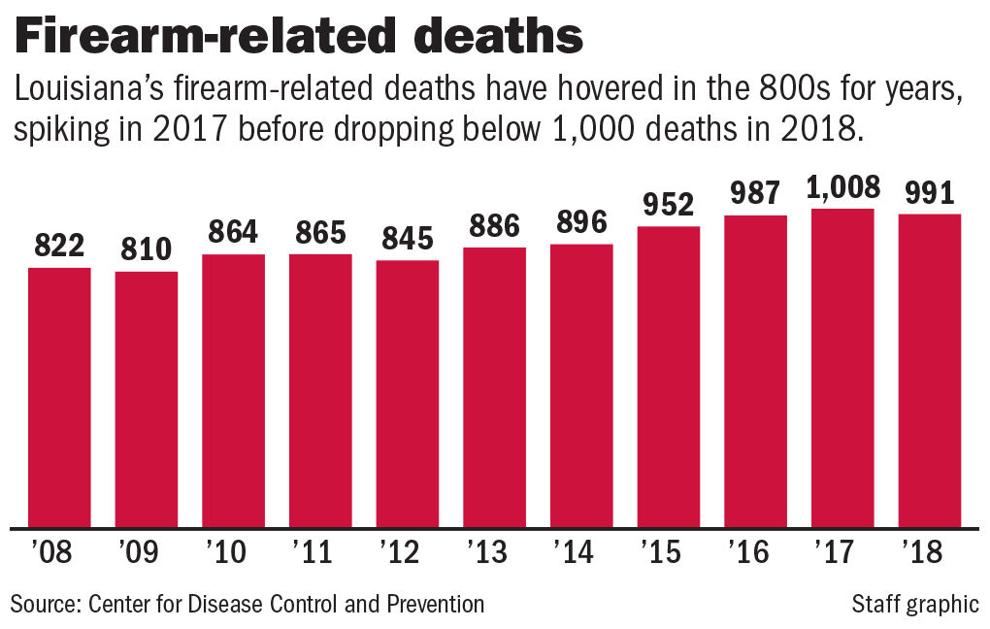 The deaths tracked by the CDC include firearm homicides, suicides, unintentional shootings and shootings where the cause was undetermined. Of Louisiana's gun deaths, roughly half were homicides and half were suicides, with just 12 ruled unintentional. Another handful were undetermined.
Scharf also pointed out that the change of homicide rates in a few cities can drastically alter a state's ranking; the rank itself has little to do with the gun violence in other, more rural parishes. Homicides in New Orleans, for instance, were down in 2018, and decreased again in 2019, which Scharf said may further depress the state rate.
"The state rate is an illusion," Scharf said. "It's really a series of cities that are more or less effective at controlling gun violence. New Orleans statistically wipes out the rest of the state. As long as New Orleans was going to the sky...the state rate was going crazy." 
Though the contrast is less stark, the state's suicide by gun rate is also higher than the national average, with Louisiana's rate measured at 10.02 per 100,000, while the national rate is 7.47 per 100,000.
Young men bore the brunt of gun deaths in the state, with 841 men killed to only 150 women. People between the ages of 20 and 24 had the highest number of deaths in the state at 146, but the 25 to 34 age range also saw deaths in the low hundreds.
In the United States, the total number of people killed by gunfire was 39,740, a slight decrease from 39,773 in 2017. The country's gun death rate also went down to 12.15 per 100,000 people from 2017's gun death rate of 12.23 per 100,000.
The states with the lowest gun death rates in 2018 were Rhode Island, Massachusetts, Hawaii, New York and New Jersey.
East Baton Rouge Parish's gun homicide numbers in 2018 were counted at 80, while the entire state of Rhode Island's gun deaths — including suicides, homicides and unintentional shootings — came up to only 37. East Baton Rouge Parish has a population 440,956 people, while Rhode Island has 1,057,315 residents.
Scharf said that, whether the numbers available now are close to accurate or not, the gun violence outlook for the state is uncertain at best. 
"No matter how you look at it, it's still damn scary," he said.