The ACLU of Louisiana released a report Friday it hopes will serve as a blueprint for the state to further reduce what it calls Louisiana's over-reliance on incarceration, mapping out specific reductions to certain sentences that, coupled with prison alternatives, the organization believes could cut the state's prison population in half by 2025. 
The report also outlines initiatives the ACLU hopes can combat racial disparities in Louisiana's criminal justice system, like ending the over-policing of communities of color and pretrial detention based on money bail.
"We still have a huge problem with incarceration in Louisiana," said Alanah Odoms Hebert, the ACLU of Louisiana executive director. "We're not where we need to be."
ACLU's road map focuses primarily on non-violent offenses — including drug offenses, burglaries and public order offenses like disorderly conduct and obstruction of law enforcement — by significantly reducing time prisoners serve, and greatly increasing the use of alternatives to prison, like mental health services, substance abuse or vocational training. By cutting average time served by up to 60 percent and admissions to prison by up to 60 percent, the ACLU estimates the state could save up to $800 million in the next five years and bring the state's prison population to below 20,000. The Department of Corrections has not seen numbers that low since the early 1990s.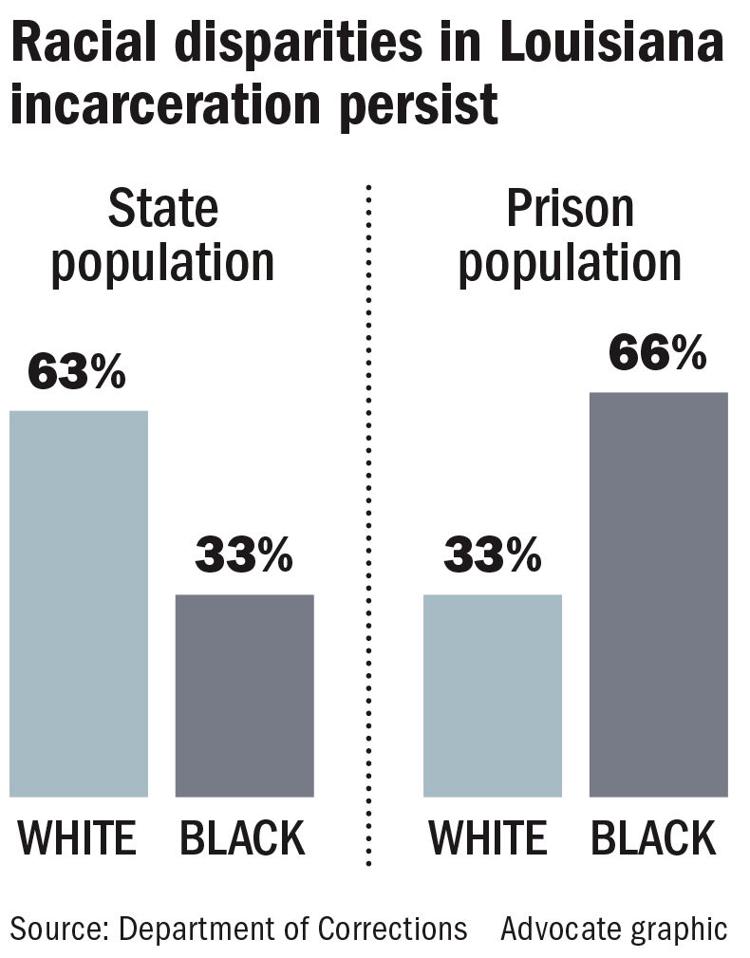 Hebert acknowledges that the report echoes many of the principles key to the state's comprehensive criminal justice reform package passed two years ago by state lawmakers, which have already helped the state shed its reputation as the nation's top incarcerator and invest millions back into reentry and diversion programming. But she said the ACLU recommendations go much further by looking at additional reforms to sentencing structures for repeat offenders and some violent crimes, and challenging state leaders to reevaluate their role in this system. 
"Further progress will be up to Louisiana's voters, policymakers, communities and criminal justice advocates to continue the urgent work of ending Louisiana's obsession with mass incarceration," the report says. "The ACLU's Campaign for Smart Justice is committed to transforming our nation's criminal justice system and building a new vision of safety and justice."
The report is a part of the nonprofit's nationwide effort to reduce incarceration by 50 percent in all states by and address racial disparities in the justice system. 
Louisiana leaders announced Wednesday their plans for spending much of the $8.54 million earmarked from criminal justice reform savings, with …
And while the Louisiana report provides the state a pathway to having only 18,000 state prisoners by 2025, Hebert notes there are many avenues the state can take to reach this goal. Her team found revamping drug and property crimes to be most immediately impactful, but Hebert said other lasting changes can come from revamping Louisiana's habitual offender statute, which increases sentencing enhancements when someone already has a criminal record, as well as abandoning mandatory minimum sentences.  
"(Mandatory minimums) remove a judge's ability to deal with each person as a person and to deal with each case as unique facts or circumstances," Hebert said.
But officials with the state Department of Corrections and the Louisiana District Attorneys Association were hesitant to jump on board with the ACLU's blueprint, despite agreeing with much of the report's ideas, like reducing incarceration and stopping the cycle of incarceration. Natalie Laborde, a DOC spokeswoman, said they remain most focused on the reforms Louisiana already has in place and do not want to jump ahead before those changes can be fully evaluated. 
"We did some really big changes in 2017, and I think it's important for us as a state to give that time to take some effect," Laborde said. She noted the corrections department's first annual report that will include data from a full year with reforms in effect is still forthcoming, expected in June.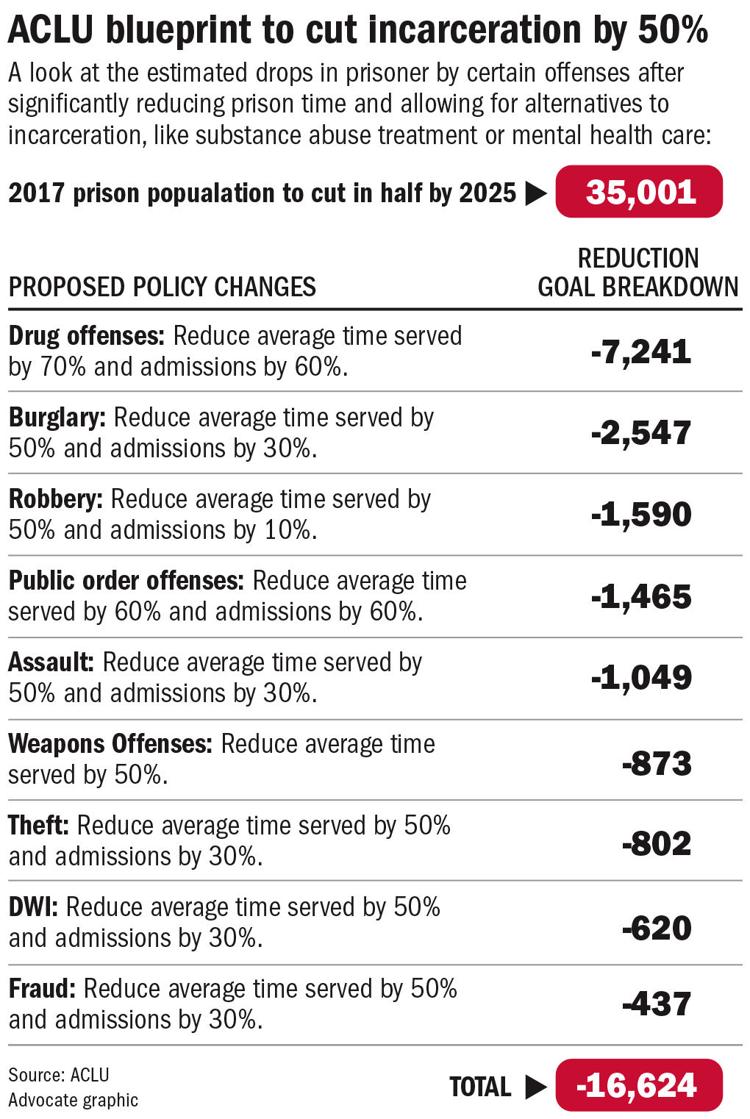 Pete Adams, the executive director of the Louisiana District Attorneys Association, questioned why the ACLU would come out with this report based on data from before the state's comprehensive reforms went into effect, as all the numbers referenced were from 2017. He also said he found the blueprint unrealistic, but hopes when the organization moves forward on actual proposals, they will meet with them and all stakeholders, like was done with the successful reform package two years ago.
"To suggest a 50 percent reduction in incarceration when we don't know the crime rate … is just disingenuous," Adams said. "If we could cut crime 50 percent at the same time, that'd be wonderful. Crime drives incarceration, that's the way it works, unfortunately."
But Hebert explained that the ACLU report is a blueprint, and she does not expect most of their recommended changes to be made this year, or even the next. But, she said she hopes the report can give people a motivation to stay focused on these important issues. 
A year since the state passed massive criminal justice reforms, much of the focus has been on Louisiana newly shedding its notorious title as …
"We want to reduce incarceration in Louisiana," Hebert said. "But we also want to make sure we're reducing racial disparities as well. … Incarceration really is impacting certain communities in Louisiana."
Hebert said she wants to ensure Louisiana does not become a state that makes strides in prison reduction, but ignores the racial disparities of the system, like New Jersey did in the early 2000s.
In 2017, about two-thirds of the prison population in Louisiana was black, while black people make up only a third of the state's total population. The year earlier, one in 23 black men in the state was incarcerated. 
"Racial disparity is so ingrained in the system that it cannot be mitigated by solely reducing the scale of mass incarceration," the report says. It recommends shifting money from law enforcement to community initiatives, fighting statutes like gang sentencing enhancements that disproportionately affects people of color and addressing potential racial bias in prosecution or access to diversion programs. 
With many supporters calling it an "historic achievement" for Louisiana, Gov. John Bel Edwards signed 10 bills into law overhauling the state'…
And though Laborde recognized the numbers the ACLU put forward are ambitious, she called it a great goal for the state. She noted that with the progress Louisiana has made in the last five years  — since 2012, the state has reduced the prison population by about 8,000, down from about 40,000 — a goal to slash the current incarceration rate in half is no longer out of the realm of possibility.  
"It's a lot more realistic than it's ever been in our state's history," Laborde said.