Five years ago, an unusually bloody summer forced Baton Rouge leaders into a scramble to stem a homicide rate that was outpacing Chicago's.
The violence, having intensified after Hurricane Katrina, reached levels that gave pause to prospective businesses eyeing a move to the region. Long overshadowed by the bloodshed of New Orleans, crime in the capital city was making an ignominious name for itself.
Against that dire backdrop, law enforcement set out on a counterintuitive mission of reaching out to the same young criminals they historically had rounded up and thrown in jail. A handshake before handcuffs. A knock on the door that did not involve a search warrant.
The anti-gang initiative, known as the Baton Rouge Area Violence Elimination program, focused on the city's most dangerous neighborhoods and relied as much on wonkish analysts as savvy street cops to identify several hundred young people deemed most likely to kill — "trigger-pullers" — or fall victim themselves to the city's unrelenting gun violence. It was a data-driven, "Moneyball" approach to community policing modeled after Operation Ceasefire, a nationally acclaimed strategy that called for offering juvenile delinquents an alternative to a life of crime.
East Baton Rouge District Attorney Hillar Moore released a lengthy defense Wednesday of the …
A year after it launched, proponents declared the effort a success, winning the attention of police and prosecutors around the country, and drawing some to Baton Rouge to study the program's success. But if the program began as a fairy tale, blunting the scourge of violent crime across the city, it has ended in embarrassment and a cloud of uncertainty surrounding significant shares of grant dollars left unspent. It's also undeniable that over the almost five-year course of the initiative, BRAVE officials also fell short of their goal of coaxing about 100 to 125 young people into the program, ending up with 65 clients taking advantage of services to help them stay clear of crime.
East Baton Rouge Parish's homicide tally is now back in the news, creeping steadily toward the 84 people killed in 2012, again prompting pledges from police and political leaders to find new strategies to curb violence on the streets. Even after the U.S. Department of Justice this summer rejected a request to extend the program — leaving nearly $1 million in untapped dollars — some want to move forward on BRAVE without the feds, saying they believe a new iteration can be successful. 
Mayor-President Sharon Weston Broome has so far taken much of the blame as the $3 million program expired in September. Controversy has swirled over a series of last-minute, relatively small grants made by Broome's administration, with critics saying some went to the mayor's political cronies. 
But a review of thousands of city-parish emails and interviews with local officials shows that major problems with BRAVE — the lack of coordination that led to Baton Rouge failing to spend crucial grant money and failure to comply with federal reporting requirements — started before Broome took office earlier this year. Instead, troubles began when Mayor-President Kip Holden's administration was in charge of the program. 
The city-parish's sloppy reporting about BRAVE spending and the program's effectiveness triggered warnings from the federal government more than a year before the Justice Department decided not to extend the grant. Federal authorities warned Holden's administration in February 2016 — and again in August 2016 — that its progress reports on the program were missing critical details.
The disconnect between the city-parish and other BRAVE officials was only exacerbated by the change in administrations at the beginning of this year, as the city-parish missed a Jan. 30 deadline for a progress report. The Justice Department responded by freezing BRAVE funds until the city-parish finally submitted the overdue progress report more than three months later, in early May. 
"It makes me very sad," said Cecile Guin, a professor of research at LSU who tracked the performance of the program. "What the general public thinks is there was a bunch of money misspent, and the good of the project is overlooked."
Almost lost in the finger-pointing are questions about the program's effect on violent crime and whether it improved police relations in the black community, a particularly critical issue as Baton Rouge is still recovering from the fatal shooting of Alton Sterling and the decision by federal prosecutors not to bring civil rights charges against the officers involved. For their part, prosecutors who worked on BRAVE described the program as an unequivocal crime-fighting success, saying it brought law enforcement together and ushered in a more sophisticated approach to policing that will continue even without a federal grant.
The Louisiana Legislative Auditor's office will investigate the contracts issued under the B…
Former Police Chief Carl Dabadie Jr. said officers developed hundreds of new "street contacts" through the program's outreach, a network that helped detectives disrupt a pattern of score-settling shootings through peer pressure and persuaded the community to reject a culture of violence. Dabadie also credited LSU with analyzing crime data and identifying so-called hot zones, allowing the Baton Rouge Police Department to cut back on "wasted man hours."  
"When you're looking for a needle in a haystack, I can't tell you how valuable that was," he said. "You didn't have very many people accept BRAVE services, but what we did have was people putting their guns down."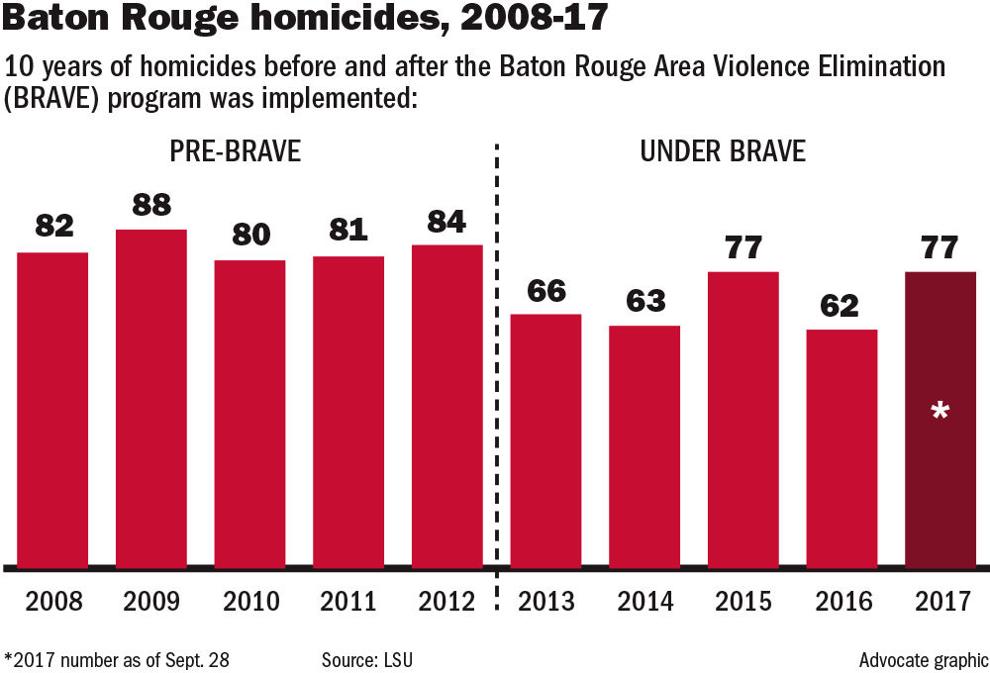 Mark Dumaine, the chief of administration for District Attorney Hillar Moore III, said the program has been "colored by a grant reporting and grant administration issue." He and Moore maintain they had no idea the city-parish had been failing to report certain data, even after the feds froze the program's funding because of noncompliance.    
"I really feel like this town is throwing the baby out with the bathwater," Dumaine said. "And it's not fair to the program or to the thousands of man hours that have been put into BRAVE." 
While some black community leaders agreed that they saw some positive changes with the initiative, others are skeptical that people in the most crime-plagued neighborhoods have seen real, sustained improvements. 
"BRAVE has really been a major disappointment to me," said the Rev. Conway Knighton, pastor of St. Mary Baptist Church on North Acadian Thruway, who supported the program at its inception. "Its ultimate goal was to reduce the crime rate in those (ZIP) codes that was high in crime — 70802, 70805. Now every time you see the news or pick up a paper, you see that didn't happen."
He said he still presides over many young people's funerals and still sees poor relationships between police and residents. 
"I just know it did not make its way into the community," Knighton said. 
After four fatal shootings between Tuesday and Friday of this week, the number of homicides …
'A huge difference'  
The furor surrounding violent crime in Baton Rouge had reached a fever pitch by mid-2012. Billboards popped up around the city calling attention to the city's rising homicide rate, which dominated the political discourse. Mike Walker, a parish Metro Council member at the time, mounted a mayoral campaign against Holden based on the premise that crime was out of control.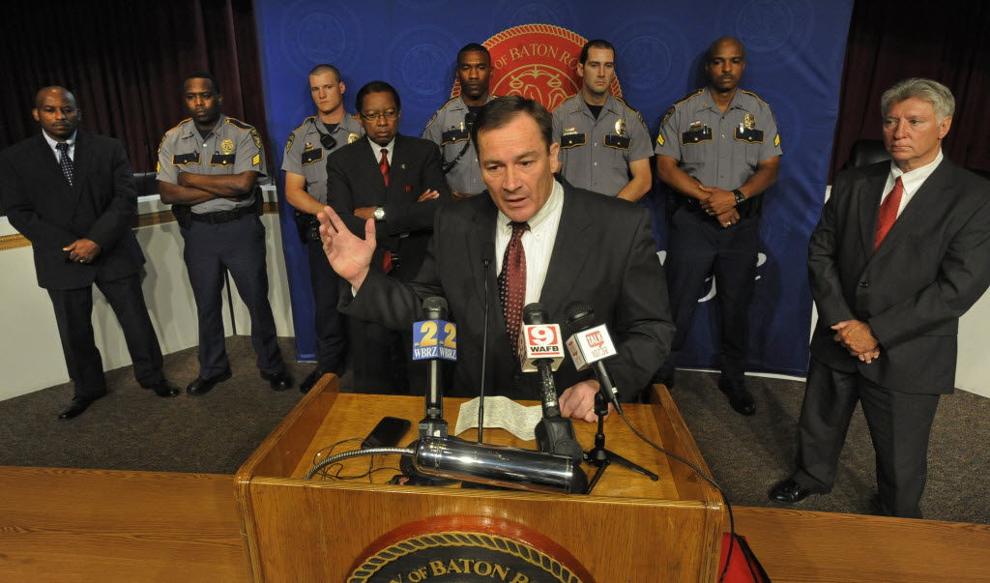 Law enforcement leaders focused on "hammering down the tallest of the nails," having determined that a disproportionate amount of crime could be attributed to a small number of young men. Authorities also determined that more than half of the city's killings involved violent street gangs, or "groups," the term Moore prefers because they lack the organization of criminal enterprises in larger cities. 
Guin's team at LSU applied for federal funding in spring 2011 but didn't receive it. Yet that process allowed officials to refine their proposal the second time around, and by early 2012, they had put into place mapping and social-networking capabilities that strengthened their pitch to the Justice Department.
Guin and Moore became sold on the Ceasefire model championed by renowned criminologist David Kennedy. The program was based on the premise that violence is rooted in a "group dynamic" and that it can be significantly reduced when law enforcement, citizens and social service providers offer gang members alternatives to a life of crime. It generally targets 12- to 24-year-olds known to be associated with gangs, a demographic that local officials determined to be 900 times more likely than other citizens to kill or be killed.
Two-and-a-half years after Baton Rouge launched a crime-fighting experiment aimed at convinc…
Funded by an initial $1.5 million grant, BRAVE originally focused on the 70805 ZIP code, which is north of downtown between the Mississippi River and Airline Highway. It later expanded, with the help of an additional $1.5 million grant, to include the adjacent 70802 ZIP code, which stretched the target area south down to LSU. Taken together, those two ZIP codes typically account for roughly half of the city's killings.
Law enforcement began inviting dozens of youths to semiannual "call-ins" at the 19th Judicial District Courthouse — essentially "come to Jesus" sessions warning juvenile delinquents that violence would not be tolerated and that their entire groups would be taken down by police the next time a shooting happened. Moore since has acknowledged that this "hammer" was not used as frequently and effectively as it could have been, though several local and federal prosecutions stemmed from BRAVE-related crackdowns.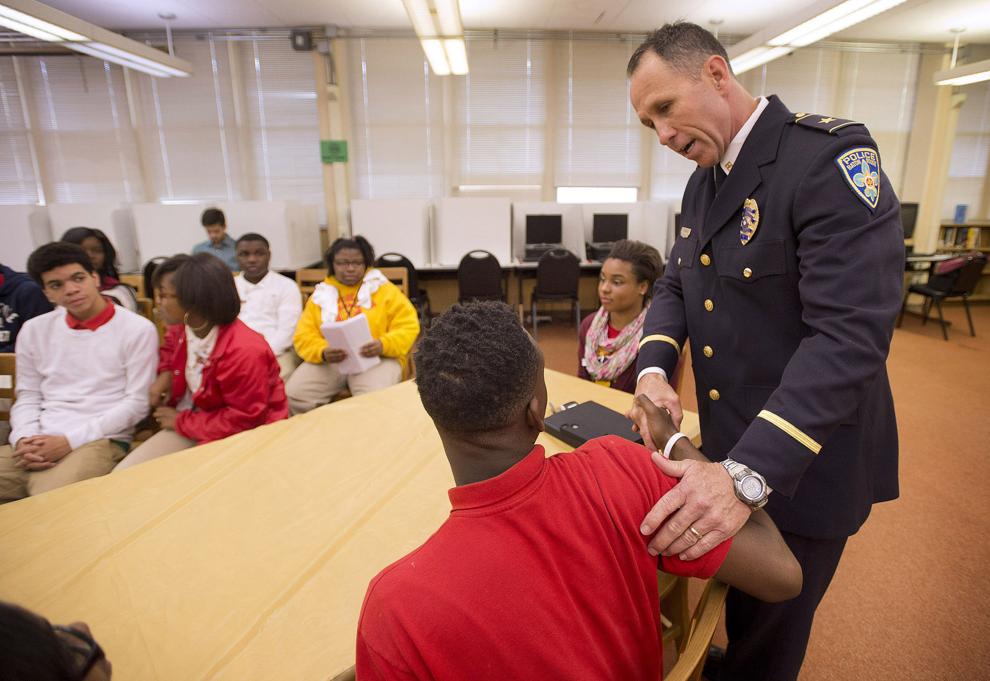 The program had an almost immediate impact, reducing killings and other violent crimes far beyond the borders of the targeted neighborhoods. Many of the changes were "not something you could measure with an instrument," Guin said, such as the interactions between police officers and community members at BRAVE events. "It's almost like the public announcement that law enforcement was going to do something differently had an effect," she said.  
Drastic reductions in violent crime occurred within months. Authorities credited BRAVE with stemming gang-related slayings across Baton Rouge, cutting the homicide tally from 84 in 2012 to 63 in 2014, a 25 percent decrease. Robberies parishwide fell from 637 in 2012 to 384 in 2014 — a 40 percent decrease — with the rate plummeting in both the 70805 and 70802 ZIP codes. During that time, aggravated assaults in the 70805 area dropped 36 percent.
"We made a huge difference," Dabadie said. "You had all these agencies standing in a unified front." 
An alleged member of the violent Gardere-area "Big Money Block Boyz" street gang pleaded gui…
But that progress soon ran up against the law of diminishing returns. The warning — and offer for help — that authorities extended to the city's gangs became old hat, and BRAVE officials at one point ran out of new gang members and convicts to invite into the program. The city's homicide rate began to climb again in 2015 but remained below pre-BRAVE levels, though authorities blamed that spike on a cluster of double and triple homicides. 
Killings in East Baton Rouge Parish fell again last year, from 78 in 2015 to 62 in 2016. That tally included 45 slayings within the city limits, the second-lowest number of killings recorded in Baton Rouge since 1989. 
Law enforcement officials noted it is hard to evaluate what caused last year's decline in killings, citing the tumultuous summer in which thousands of residents were displaced by devastating flooding. Alarmingly, every category of violent crime increased last year in 70805, a trend that LSU in a report said "may be a reflection of decreased police presence due to civilian unrest (following the Sterling shooting) and the severe strain on law enforcement because of the flood."
In one of Baton Rouge's most violent neighborhoods, Police Chief Carl Dabadie knocked on doo…
"You will never completely get rid of groups or gangs. It's a matter of making them less violent," Moore said. "You still have all the drivers of crime — education, poverty, race. We have all of those issues, and I don't care what program you have or how much money you throw at it. If you don't change all of those violent crime drivers, you're going to have an issue."  
Even before homicides began to spike again this year, the limitations of BRAVE were on display in the case of Nakeydran Williams, a troubled teenager who attended one of the call-ins because he was "tired of being tired," Moore said. "Everyone was sympathetic to him. He was getting ready to get enrolled at Baton Rouge Community College and needed a car. People wanted to help him." 
A short time later, just five days after he turned 16, Williams opened fire at a crowded birthday party and rap concert inside the Baker Civic Club, killing three youths and wounding a fourth victim in a melee that stunned the community. He pleaded guilty to the March 2014 slayings and was sentenced to 40 years behind bars. 
"I called David Kennedy and said, 'How in the s*** does this happen?'" Moore said. "He said, 'It means you're focusing on the right people. Some of these guys are going to reoffend.'"
Administrative issues 
For its first few years, the administration of BRAVE ran relatively smoothly.
But a federal financial report that tracked the program's spending from late 2012 through 2016 shows more than $1.69 million of the $3 million in funding had not been used by the end of last year. And the program was serving fewer youth than proposed, with the Justice Department saying the goal was 150 participants. 
Moore and his office said they tried to reach 20 to 25 youths a year in their work with BRAVE, but they acknowledged falling short.
"There was always an issue of kids accepting services," Moore said. "They're skeptical; they're afraid. And then ones who did come in, they often failed because of drug tests or they'd get back in trouble."
A report released late Monday from Mayor-President Sharon Weston Broome's office shows a num…
Figures LSU provided to the District Attorney's Office show that BRAVE worked with 65 youths and 39 of their family members. But they say the program was more widespread than that, as 212 youths attended call-ins and thousands of people attended BRAVE community events — including Gas for Guns, Beat the Heat, community roundtables and more — every year.
Bishop Raymond Johnson, of Living Faith Christian Center on Winbourne Avenue, led a coalition of more than 20 clergy and faith-based members — most from churches in 70805 and 70802 — who originally pledged their support to "provide alternatives to violent criminal offending" to the targeted youth, the approved grant application reads.
The grant plan said "approximately 20 community service providers will be organized to plan services for youth opting out" of the criminal lifestyle. But Johnson said his church's services, and almost all of the other community-based churches, were not utilized. At the time BRAVE began, his church was offering a free GED program, legal services and mentoring, he said.
"I was available and thought we would be considered. We were qualified to do all of those (services), and we have a good track record," said Johnson, who did host a couple of BRAVE events over the years and attended call-ins as a religious mentor. "We were not considered a viable partner."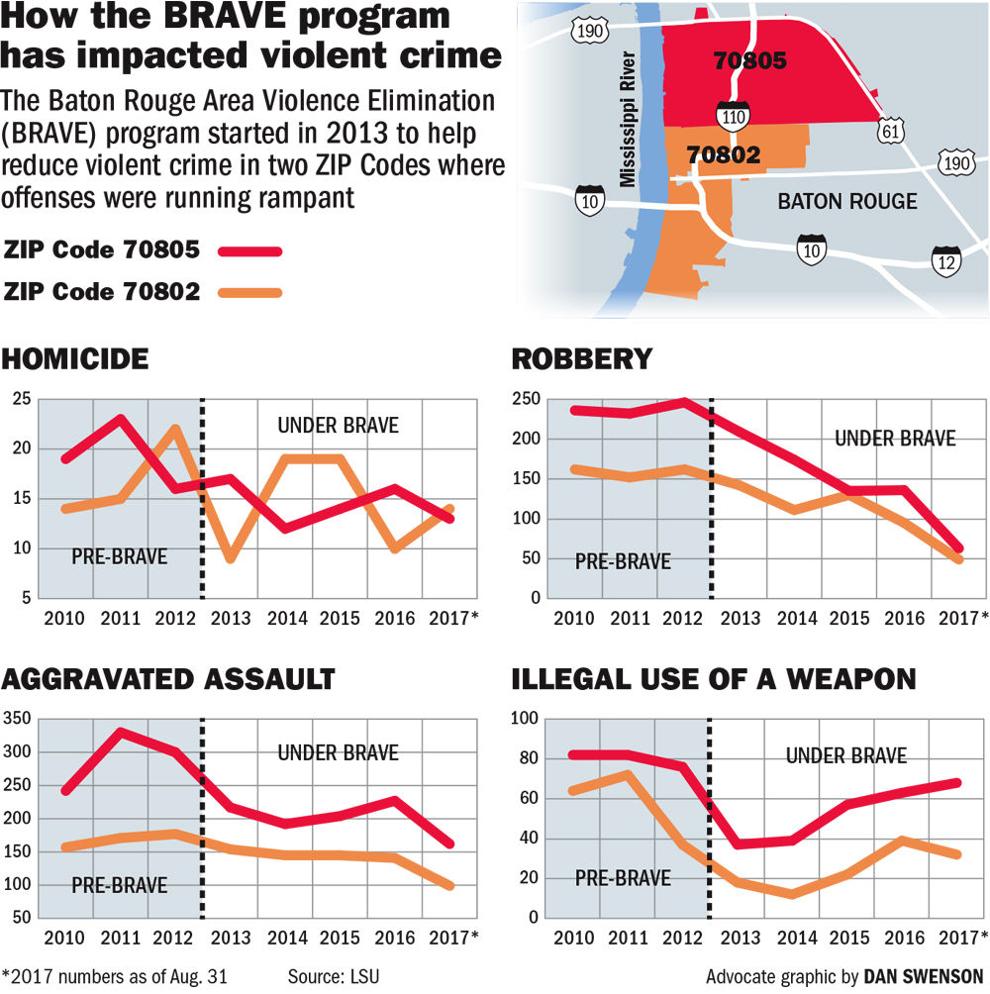 LSU received the largest chunk of BRAVE funding — more than $650,000 for coordinating "all research activities" — and spent all of that money. Guin said the university's role was to gather data, gauging whether the program was implemented as proposed and whether it was a success. LSU published annual reports on the program's progress, but its researchers also played an integral role in identifying and tracking gang members, often by using social media.
Still, the money for BRAVE's nonlaw-enforcement services was not spent as intended. Less than a fifth of the $634,840 budgeted for Family and Youth Service Center, Capital Area Human Services District, Hope Ministries and Louisiana Sports Network's work with the program was spent by the end of last year.
The $125,000 originally intended for LSU's work on the Baton Rouge Area Violence Elimination…
Roxson Welch, executive director of the Family and Youth Service Center, recalled how it took more than a year for her nonprofit to be reimbursed for money it fronted for BRAVE. She described her center's role as "flow through," with employees helping direct BRAVE clients to the resources they needed.
"We had a lot of trouble getting paid for a long time," Welch said, noting that they finally received money after Broome took office. "It got a little scary because it went for a while."
The center's reporting shows it served 65 youths throughout their time working with the program, though its goal was 75. Only 10 BRAVE clients were active in the second quarter of this year.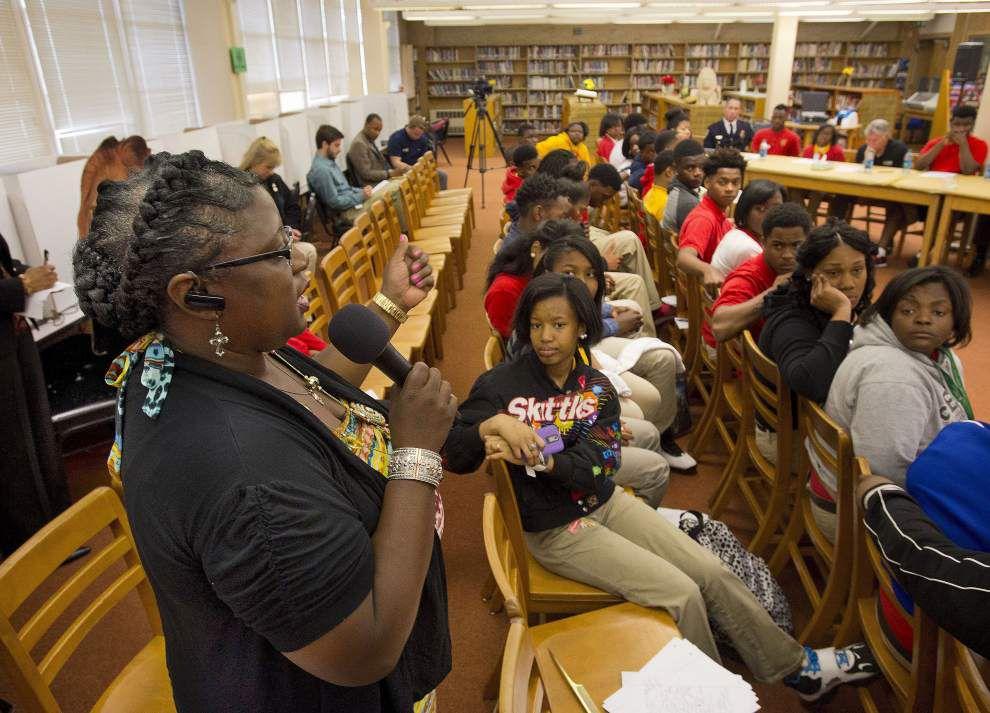 Capital Area Human Services was expected to provide substance abuse, mental health and other similar services to BRAVE participants. That agency reported 21 BRAVE clients had used its services through September this year. Their expected number of participants was 75.
Jan Kasofsky, executive director of Capital Area Human Services, theorized that participation was lower than expected because treatment was voluntary and teenagers often do not seek substance abuse and mental health services unless ordered to. Kasofsky said those who did use the services were Medicaid eligible, so her agency was reimbursed through Medicaid rather than by the grant.
The federal financial report also shows that more than $217,000 to hire a new juvenile services specialist remained unspent by the end of 2016. Those who worked with BRAVE in Moore's office described the inability to hire somebody into this position as their "biggest frustration administration-wise," saying they had trouble receiving Metro Council approval.
U.S. Sen. John Kennedy has asked the Department of Justice to investigate whether city-paris…
Another headache was transportation. Though the Family and Youth Service Center was budgeted to provide it, Welch said she made it clear that her agency was incapable of doing so and said she thought the money would be spent elsewhere.
For a few years, Healing Place Serve, affiliated with the church of the same name, provided transportation and case management through BRAVE, but its $214,839 budget eventually was drained. City Hall administrators tried multiple times to redirect more money to the nonprofit to hire more drivers. In October and again in November 2015, two former city-parish administrators asked the Metro Council to increase the group's budget to nearly $345,000.
At the time, Healing Place Serve reported transporting 22 youths and said 59 BRAVE clients and their families had used their services over a few years.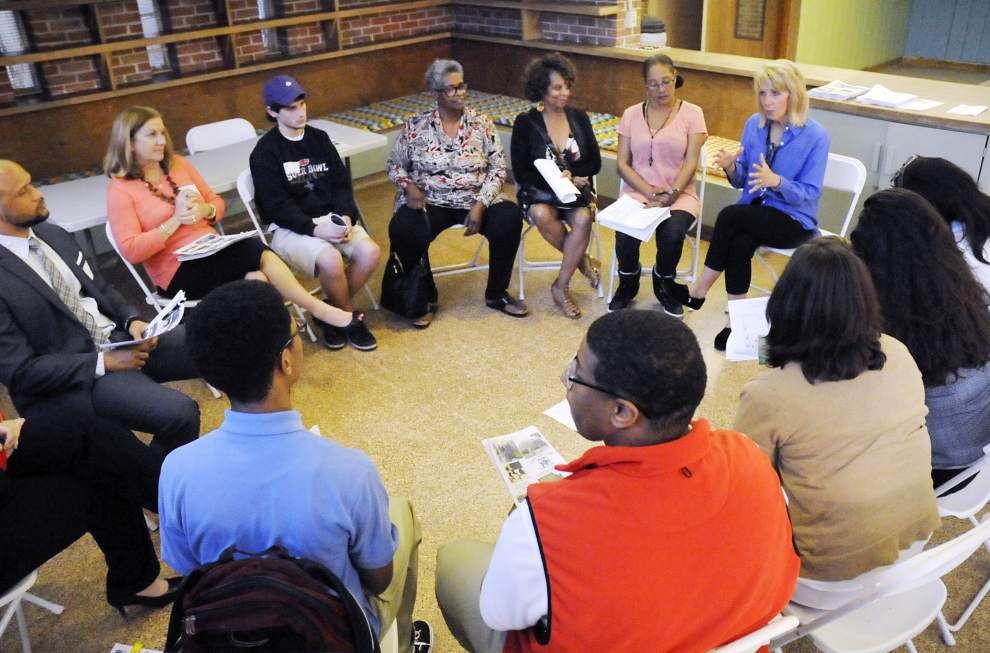 But Metro Council members refused to approve the contract. Council members from north Baton Rouge said it was unfair to direct so much money to Healing Place — a nonprofit tied to a majority-white church — when predominantly black churches in 70805 and 70802 could also do the job. The former City Hall administrators warned in 2015 that rejecting the contract with Healing Place Serve would mean BRAVE participants would have no way to attend the programs.
In February 2016 and again in August 2016, the Justice Department emailed City Hall officials saying progress reports for BRAVE were missing components that were supposed to explain whether youths were accepting the services offered to them and to highlight the grant's accomplishments. The city-parish then missed a Jan. 30 progress report deadline. The Justice Department responded by freezing the program's funds until the city-parish finally submitted the overdue progress report more than three months later, in early May.
Carmen Santiago Roberts, the program manager in the federal Office of Juvenile Justice, cited those problematic reports in a July 2017 email about DOJ's decision not to extend the grant.
One of Mayor-President Sharon Weston Broome's top deputies and first hires is resigning from…
James Gilmore, Broome's former assistant chief administrative officer, wrote in one email that the reporting had been so sloppy that "the feds are even considering asking for sign-in sheets and further documentation for all of the BRAVE clients we served."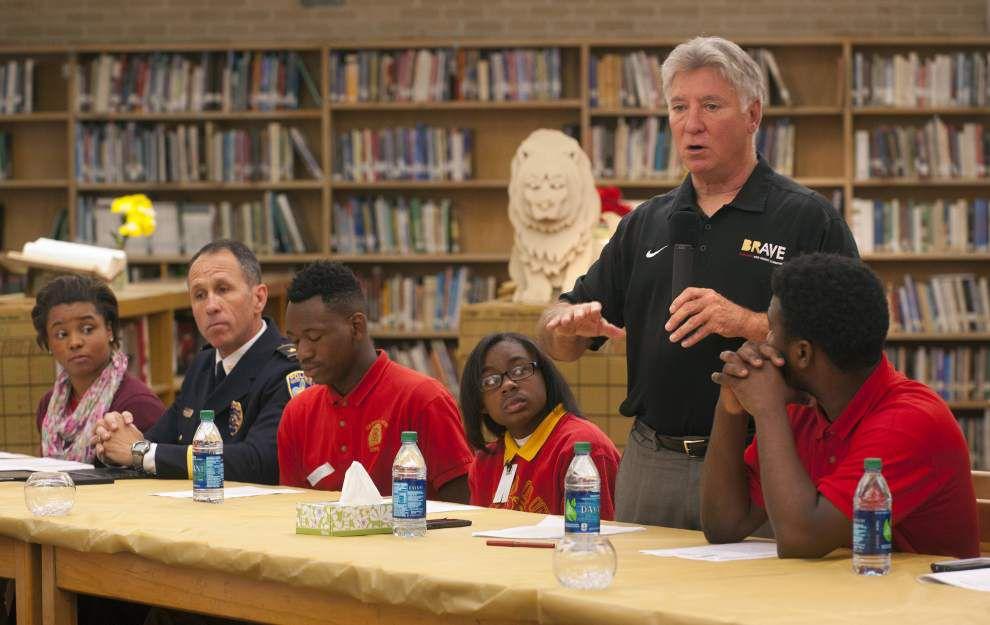 He went on to question the veracity of an invoice he received from a BRAVE contractor that claimed mentoring services had been provided from 8 a.m. to 5 p.m. — hours the youths should have been in school.
"A student being mentored 40 hours a week, during school hours? I am denying those invoices," Gilmore wrote in the email. "Let's not talk about the youth that was in our juvenile center for four days, though the invoice says they were being mentored at the same time."
LSU and City Hall officials blamed each other for the reporting problems. Guin wrote in an email that the university was routing BRAVE data to City Hall, but the information was never reaching the feds. But LSU was not collecting the necessary data that the Justice Department started requiring in 2016, according to an email sent by then-grants coordinator Tamara Sabine.
The Louisiana Legislative Auditor's office will investigate the contracts issued under the B…
Justice Department concerns kept landing in email inboxes for Sabine and Holden. After Broome took office, she replaced Sabine with Joyce Plummer. Broome's administration would not make Plummer available for an interview for this story. They also did not allow an interview with Gail Grover, who still works for the city-parish and who oversaw much of BRAVE under Holden until the end of his administration.
Sabine declined to comment for this article.
Holden defended how the program worked during his tenure and said the reporting problems that began under his employees were not communicated to him, despite DOJ warning emails having been sent to his account.
"I do not micromanage every department that I have," Holden said. "I have hundreds of offices in the Mayor's Office."
Next steps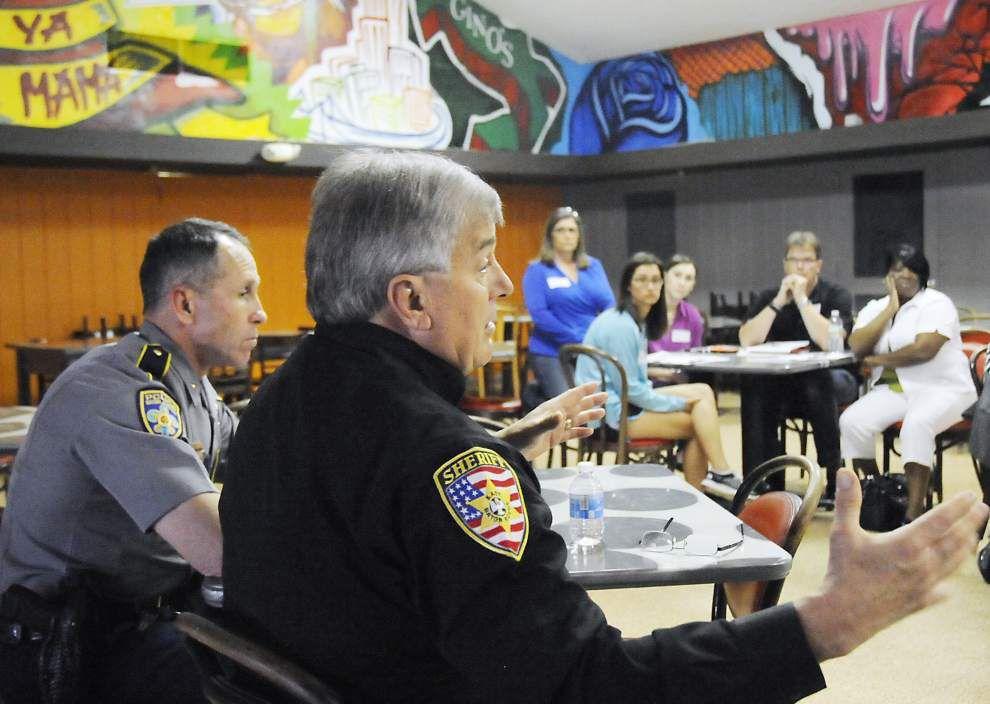 With the grant's impending expiration — something that has always been on the horizon, regardless of the success of the program — BRAVE leadership formed a nonprofit that could function without the federal dollars that have been propelling it forward.
BRAVE Inc., approved as a 501(c)(3) organization in October 2015, is still aligned with the mission of BRAVE to target young group members. It is led by a board of directors that includes many who have long been with the program, such as Baton Rouge police Lt. Herbert "Tweety" Anny; Moore and Dumaine from the District Attorney's Office; and Jim Llorens with the Broome administration. Jeff Leduff, a retired Baton Rouge police chief who now runs a security company with his son, serves as board president.
Leduff said the nonprofit's first act will be to "re-market" the program to make people believe in BRAVE's work again, and with that campaign will be a simultaneous fundraising push.
"What we have to do is get our community behind the concept that we can save people," Leduff said. "We can't throw these kids away, y'all; we just can't."
The federal government has denied a request by city-parish officials to extend funding for t…