As deadly shootings spike, the city's police chief says his investigators believe more violence may be in store amid an increase in gang activity.
At a press conference Thursday — called in the wake of public outrage over last week's shooting death of LSU senior Allison Rice — BRPD Chief Murphy Paul said police intelligence suggests there are currently eight gangs operating throughout Baton Rouge.
To tackle the problem, he said the department will focus on "micro-areas" with higher crime rates. He told residents of those districts that they should expect heavy law enforcement presence in coming weeks.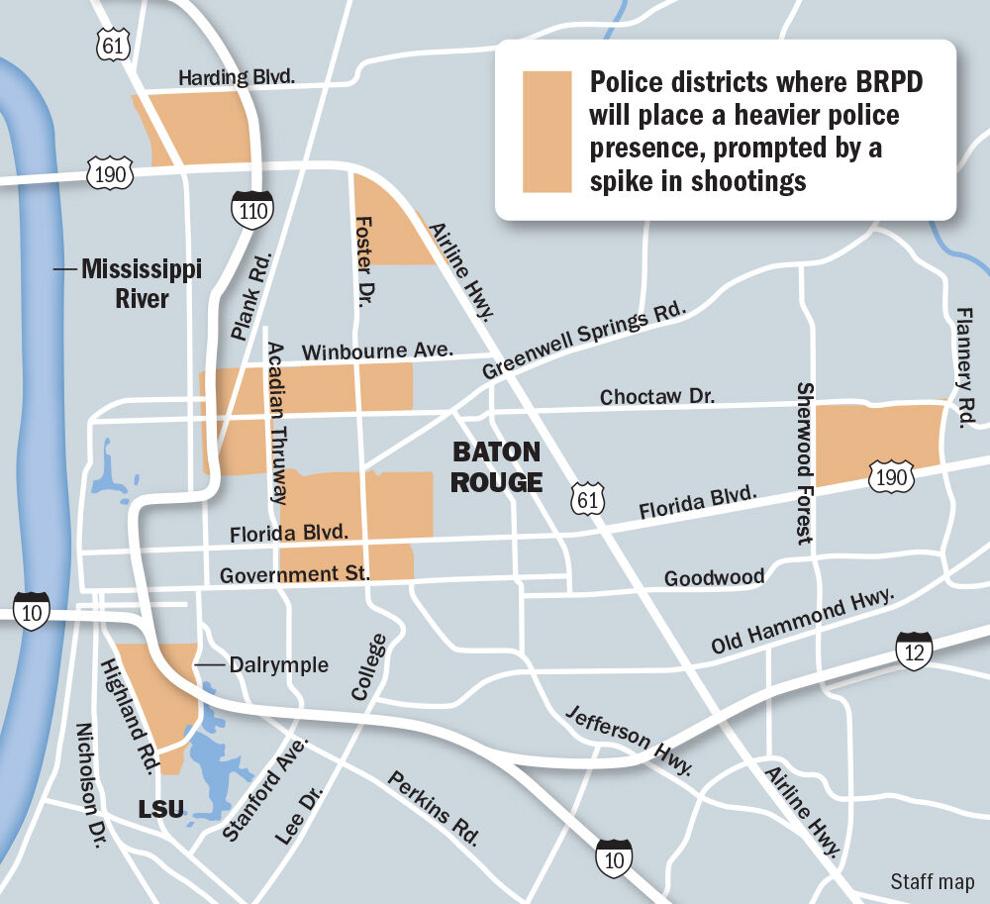 "Violence is looming," Paul said. "My idea is that a more informed community is a safer community."
During Thursday's briefing, Paul and Mayor-President Sharon Weston Broome both expressed frustration with the number of shootings committed by people recently jailed for previous crimes, as was the case in an Aug. 25 nonfatal shooting on N. 19th Street.
Paul said the suspect in that incident, identified by police as Luke Simmons, 39, was arrested last year in the shooting death of 41-year-old Lance Robertson, but had since been released on bond. 
Police say Simmons is now wanted on several new counts, including attempted second-degree murder.
"In many of these incidents, we are seeing the arrests of the same individuals who have already been arrested for other serious crimes," Broome said. "We cannot turn a blind eye to continuous offenses of the same group of individuals."
A string of shootings
Rice's killing Friday spurred an outpouring of sympathy and public outrage, renewing calls for action as Baton Rouge grapples with years of record-high homicides.
Police have released few details about what happened, saying only that they arrived in the 1500 block of Government Street around 2:30 a.m. to find Rice dead from multiple gunshot wounds inside her vehicle, which had come to a rest just a few yards away from a train crossing. Family members say the 21-year-old marketing major was driving home after meeting a friend at a nearby bar.
BRPD have said the evidence suggests the killing was a "random act." And Paul and other BRPD leaders say intense interest in the case has caused "misinformation" to arise — for example, a rumor on social media that it the shooting was part of a gang initiation. 
"There is zero indication that was the case," said Lt. Kevin Heinz, commander of the violent crimes unit. 
Rice's death marked the start of a particularly violent week for East Baton Rouge Parish. 
Monday night, an escalating family dispute over a car in Baker ended in two people dying in gunfire.
On Tuesday, local rapper Stanley Wright, 33, was killed in what deputies believe was a gang-related shooting at an apartment complex on Sherwood Common Boulevard. 
Then, hours before Thursday's press conference, area law enforcement responded to at least four different early morning shootings.
Baker resident Keandre Williams, 25, was killed at an apartment complex on West McKinley Street around midnight, and another person was wounded on Azalea Park Avenue around 1 a.m. Gunshots later rang out on Voss Drive and Underwood Drive; no one was injured, but the two incidents appeared to be related, Baton Rouge Police said.
"It has traumatized all of us"
During Thursday's briefing, Mayor-President Sharon Weston Broome said her office is working tirelessly to bring justice to the growing list of Baton Rouge families touched by gun violence. 
"Over the last two weeks, it's very clear we've seen an influx of incidents," Broome said. "If an incident has occurred in your neighborhood, it has traumatized all of us."
She pointed to her administration's efforts to reduce crime by strengthening the city's law enforcement, mental and behavioral health services. 
"People want to see these cases solved and to achieve justice," Broome said. But, "public safety requires a whole government, whole law enforcement, whole judicial, and a whole community approach."
The parish's homicide rates have dipped slightly from the record-breaking numbers seen in both 2020 and 2021. But they still remain much higher than they were in previous years.
As of Sept. 22, there have been 78 killings in East Baton Rouge Parish, compared to 79 by the same date in 2020, and 101 in 2021.