East Baton Rouge Parish District Attorney Hillar Moore III is pleased that it appears  the number of domestic violence killings in the parish will be down substantially in 2018 compared with last year. But he knows the problem isn't going away, and his office is employing new strategies to address it.
There have been seven domestic violence-related homicides so far in 2018, Moore said, which is half the number in 2017. Still, he said, that's seven too many.
In the past few weeks alone, there have been several highly publicized domestic violence cases in the Baton Rouge area, including the slaying of Stefanie Vallery at the hands of her estranged husband, according to police, and the arrest of Tevin Scott after he terrorized the mother of his child three separate times since February.
And in the beginning of December, Carl Thompson II was sentenced to 45 years in prison for shooting his then-girlfriend six times, leaving her paralyzed and in a wheelchair.
Authorities are searching for a Baton Rouge man accused of stabbing his wife to death and injuring two other relatives Sunday evening in a vio…
In Louisiana, the problem of domestic violence is especially pervasive.
The Violence Policy Center ranked Louisiana second in the nation in 2016 for the rate of women killed by men — the most recent year for which data is available.
For the 21 years the center has conducted the study, Louisiana's rate of men killing women has remained consistently well above the national average.
Mariah Wineski, executive director of the Louisiana Coalition Against Domestic Violence, suspects that domestic violence homicides statewide might be even higher than reflected in the number because the study doesn't include men killed by men, women killed by women, and multiple offender and victim situations.
"The homicide numbers for Louisiana are incredibly depressing, and they paint a picture of how far we have still to go in order to truly address domestic violence in our state," Wineski said.
The East Baton Rouge Parish District Attorney's Office has been working for several years to address lower tiers of domestic violence before contentious interpersonal relationships result in another homicide statistic. The office handles roughly 3,000 domestic violence and dating violence cases each year.
Moore sees the issue as both caused and compounded by the multitude of other problems the state faces.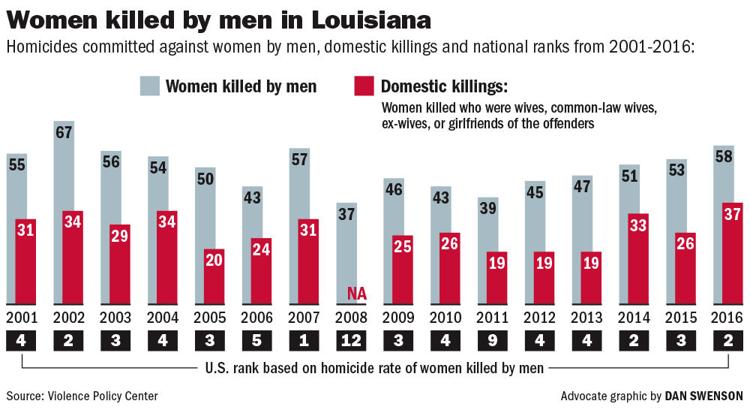 "We're either at the top or the bottom of every list," he said. "Education, poverty, racial issues, health care — you name it. There's no doubt that that's why we are where we are."
While Louisiana's highs and lows reveal potential underlying causes of domestic violence in the state, the accuracy of current data reporting on cases of domestic violence remains murky.
To understand domestic violence, the incidents have to be reported. And that does not seem to be happening with any consistency in Louisiana or across the nation, according to a number of advocates and experts.
Researchers have found that domestic violence disproportionately affects women, with black women bearing the most severe burden of fatal and nonfatal abuse nationally. However, gaps appear when looking at who experiences domestic violence across demographic groups.
"The stats are skewed," said Melanie Fields, chief domestic violence prosecutor in East Baton Rouge Parish. "It's terribly underreported by men, by Hispanics, by our LGBTQ community and by the wealthy."
Moreover, as Madeline Robertson, of the Governor's Office on Women's Policy, points out, some forms of domestic violence go unreported because they are not recognized as abuse.
According to the National Coalition Against Domestic Violence, domestic violence plays out in a pattern of control, whether that be through physical and sexual assault, or other abusive behavior. However, lesser-known indicators of abuse, such as threats, emotional and psychological abuse, and controlling a partner's finances also fall into the same category.
Robertson fears that there may be a public misconception of what abuse looks like, preventing cases from even being acknowledged by victims.
"If it's not bruises on the skin, we don't pay attention," Robertson said.
Five days before a Baton Rouge man fatally shot his ex-girlfriend, then himself, a judge signed a yearlong restraining order against him — str…
The district attorney's team faces similar challenges with reporting. Throughout the past year, they have worked to capture data from domestic violence arrests through the Intimate Partner Violence Intervention program. Abuse extends beyond battery, and sometimes law enforcement does not classify certain crimes as abuse.
"We're trying to get an idea of how much is actually domestic violence-related," Moore said. "I think that we're missing a lot."
For example, a tire-slashing could qualify as an act of domestic violence if it is a coercive move by a perpetrator to frighten a victim, but it may not show up in a database that records incidents of domestic violence. With clearer data, Moore said, a clearer picture will emerge for his office to develop more effective intervention strategies to help victims.
Crunching the numbers also allows authorities to parse the signs of abuse to act as an educational tool.
"Sometimes we have to educate even victims who have been so embroiled in that power and control, they don't even realize it because they've lost themselves," said Fields, the prosecutor in Moore's office who works on domestic violence cases.
This silence that surrounds domestic violence, steeped in the secrecy of abuse and intimacy, has presented problems for advocates trying to prevent it.
"Stigma sets the tone," Robertson added. "It writes the narrative."
Monica Alfred, community outreach and education director for the Iris Domestic Violence Center, knows firsthand the anxiety and pain surrounding domestic violence. As an abuse survivor herself, her insights as a survivor inform her work.
A shelter for victims of abuse, Iris operates from a location that is kept secret. For the women and children temporarily housed there, security is vital, and they require the strict anonymity disappearing into the shelter grants them.
"A lot of survivors don't know what to do," Alfred said.
Baton Rouge law enforcement, community and human services leaders met Wednesday with academics from the National Network for Safe Communities,…
Many of these women and families have nowhere else to go, without relatives in a position to keep them safe, or perhaps any relatives at all, Alfred said, and they lack the financial resources to rent a hotel room or relocate.
Unlike isolated cases of sexual assault or harassment, domestic violence often involves long-term relationships where the abuser is also an intimate partner or family member. When women finally leave abusive situations, they are leaving boyfriends, husbands or even their own fathers.
Furthermore, many survivors don't understand or don't want to admit they are in abusive situations, Alfred said, and they experience shame and guilt when they finally do.
"Domestic violence is personal," Alfred said. "You have to come up against someone you love. Just the idea of getting through it — it takes years."
Moore sees this problem frequently. The District Attorney's Office estimates it receives dismissal requests for approximately 80 percent of all domestic violence cases, where, according to Moore, many victims are either coerced into dropping the charges or are terrified of retaliation.
The District Attorney's Office has implemented a policy over the years that requires any victim dropping charges to meet confidentially with a victim assistant coordinator behind closed doors to talk through the dismissal.
This opportunity often provides much-needed context that reveals a pattern of abuse and can allow the prosecution to move forward without implicating the victim through "evidence-based prosecution" — something that does not require a witness to take the stand to testify personally and face to face against their abuser.
Other community resources, like Twahna Harris' nonprofit The Butterfly Society, seek to change toxic mindsets about domestic violence through education.
Harris is also a survivor of what she describes as "dating violence." Her own experience led her to form the organization in 2014 to serve East Baton Rouge and surrounding parishes.
Harris' goal is to inundate the community with education because she feels the conversation surrounding domestic violence has long been stifled. It has been challenging to transform perspectives on domestic violence, she said, because for so long abuse has been seen in the community as a personal and family issue.
"The mindset was, 'What happens in our four walls, stays within our four walls,' " she said.
To fight this silence, Harris is working to bring dating and domestic violence education into schools, churches and local businesses to teach people "to become advocates and not bystanders."
"Being silent about this is no longer allowed," she said. "It's no longer tolerated. Women are dying, and they're dying every day."
Harris sits on the Governor's Domestic Violence Prevention Commission, which works with the Office on Women's Policy to determine how best to address domestic violence in Louisiana.
By partnering with advocacy organizations, the commission seeks to find solutions for women who feel they do not have a way out.
"People don't run to domestic violence," Harris said. "They wake up in it."
Wineski agrees. As director of the federally designated umbrella organization for all domestic violence-related service providers across the state, she sees the bigger picture when it comes to prevention tactics.
"You can see domestic homicides coming a mile away many times if you just are willing to pay attention," she said.
Wineski cites limited resources for victim assistance, inadequate batterer intervention programs and a criminal justice system that fails to hold offenders accountable as obstacles to domestic violence prevention across the state.
"Every time that you have a crack in the system, you have victims falling through those cracks," she said.
In East Baton Rouge Parish, initiatives by Moore's office to curb the number of domestic violence cases each year include specifically assigned victim assistant coordinators, support groups for domestic violence victims and a focused community response, from advocacy groups to law enforcement.
For 2019, the District Attorney's Office will partner with Catholic Charities to provide free counseling for all victims of violent crimes. In addition, a Family Justice Center is slated for the coming year with a $750,000 grant for victim services from the state's reinvestment after the passage of the criminal justice reform package in 2017.
Wineski views these types of improvements as just the beginning to "prioritize domestic violence" as a state.
"When we're putting our money where our mouth is, and actually doing the work, then we will see a reduction in our homicides," she said.