A Baton Rouge police officer won't face criminal charges for the 2017 fatal shooting of Calvin Toney after an investigation revealed the man had grabbed the cop's stun gun and ignored repeated commands to stop resisting during a struggle that lasted several minutes, District Attorney Hillar Moore III announced Wednesday.
The struggle began when the man immediately tried to flee his McClelland Drive apartment after opening the door and seeing officer Darrell Carter along with a Department of Child and Family Services caseworker, who had requested a police escort to interview Toney because his criminal history included a previous child abuse conviction, Moore said. As Toney tried to run away, the officer grabbed him by the sweatshirt and the two started fighting.
Moore said his office ultimately ruled the shooting justified, finding insufficient evidence of criminal wrongdoing to present the case to a grand jury. He said prosecutors reached that conclusion based on several factors, including that the officer used the proper continuum of force and gave verbal warnings before resorting to deadly violence.
Toney, 24, was pronounced dead on the scene.
Carter was placed on administrative leave pending an internal affairs investigation, but was later cleared and is now serving in the department's uniform patrol division. He received no discipline but instead was awarded a medal of valor for his actions during the encounter.
Toney's death came one year after the officer shooting of Alton Sterling outside a Baton Rouge convenience store, which ignited nationwide protests about police brutality. It was a time of heightened mistrust between residents and local law enforcement, and the shooting on McClelland Drive opened old wounds.
"These cases are never easy. In fact they're very difficult, very emotional," Moore said during a Wednesday afternoon news conference. "This is a serious matter and we treat it as such."
Louisiana State Police investigated the shooting and turned over the results to local prosecutors, per normal protocol for such incidents.
Moore's office spent almost two years reviewing the evidence, piecing together body camera and surveillance footage along with witness statements and 911 calls to compile a more thorough account of what happened. That account adds to the information released almost immediately after Toney's death, when officials sought to dispel rumors the man was shot while handcuffed.
A child abuse investigation linked to Calvin Toney led authorities to his home Monday night, setting the scene for what law enforcement offici…
Moore said Wednesday the DCFS worker specifically mentioned Toney's criminal history when requesting police escort. The woman wanted to question Toney for a child abuse investigation involving his girlfriend, who had recently been arrested after her toddler son was hospitalized for burns. It's standard procedure for investigators to interview all household members in such cases, but this one was unique because Toney himself had been arrested in 2012 and accused of child abuse against his baby daughter. The victims' injuries in both instances were eerily similar.
Moore was careful to emphasize that Toney himself was facing no new child abuse accusations when authorities showed up at his apartment. Body camera footage shows Toney opening the door and allowing Carter and the caseworker to enter, then quickly attempting to run away and leave them inside the apartment.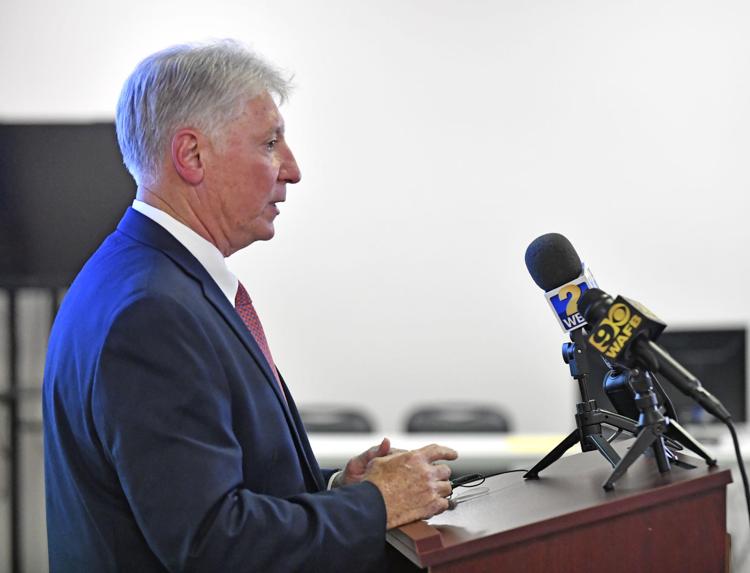 During the ensuing struggle, Carter tried to use his Taser twice, but the device was deployed at close range and wasn't effective, according to the written report Moore's office released Wednesday. Carter's body camera fell off his uniform while the two men were wrestling but audio continued recording for the entire encounter.
At one point after the second stun gun attempt, Carter got Toney pinned on the ground and tried to handcuff him, ordering him to "put your hands behind your back." The officer's language became increasingly aggressive, telling Toney to "get on the ground b****" and calling him "dog" and "motherf*****" multiple times. Toney responds: "I can't breathe."
But Moore said Toney still wouldn't stop resisting. Carter then felt the man tug on his gun, so the officer dropped his Taser to secure his firearm, according to the report. Then Toney grabbed the Taser.
"You want me to go on and shoot you? Then, let go. Drop the Taser," Carter is heard saying on the recording. "Put your hands behind your back. You reached for my Taser. If you go for that Taser again, I'm telling you, that's deadly force."
A bystander is then heard telling Toney to just "let that man cuff you up, cuz."
Carter said in an interview with investigators that Toney raised the stun gun to the officer's head and asked him to "tell my momma and my sisters I love them," according to the report. Just the beginning of that statement is heard on the body camera recording.
Around that time the DCFS caseworker and another witness both place separate 911 calls, reporting to dispatchers that Carter needs backup.
"Officer Carter stated in his interview that due to Toney ignoring commands, tugging on his gun, grabbing his Taser and screaming to tell his mother he loved her — he believed Toney was going to try to immobilize him with the Taser and kill him," the report states.
Toney ultimately lunged at the officer and pulled the trigger on the Taser. The sound of the Taser deploying its electric current is heard on the recording just moments before one gunshot, which struck Toney in the chest but didn't immediately cause him to become incapacitated.
Toney ran a short distance after being shot, but Carter and another officer caught up to him and placed him in handcuffs. Carter then tried to get the man to talk to him while waiting for medical crews to arrive, and Toney said a few phrases in response, expressing surprise that the officer who shot him is black, and then adding: "Man, I hate cops."
He was pronounced dead soon after EMS arrived and State Police started their investigation.
A later analysis found evidence of both Carter's and Toney's DNA on the Taser.
The investigation "did not reveal anything which constituted probable cause for criminal charges against Officer Carter," Moore wrote in his report.
Toney had been sentenced to probation in the 2012 child abuse case, and in the months before his death had obtained his GED and entered the workforce, two accomplishments his family pointed to as evidence the young man had turned his life around. His relatives questioned whether police really needed to shoot him.
Relatives have since filed a wrongful-death lawsuit in federal court, naming as defendants the city and its police department. The complaint alleges, among other things, that the department has failed to hold its officers accountable, instead "condoning and encouraging officers in the belief that they can violate the rights of persons such as the decedent in this action with impunity." The case is ongoing.
Toney's girlfriend, Naima Kimber, ultimately pleaded guilty last year and was convicted of cruelty to juveniles. She was given a suspended sentence of eight years in prison and placed on probation. The conditions of her release included complying with all orders from DCFS, attending parenting classes and avoiding corporal punishment of children. It's unclear what happened to the injured child as DCFS can't comment on neglect or abuse investigations.
Moore said he had met with Toney's family members Wednesday and presented them with his findings.
"We understand they're hurt. We're sympathetic to them," Moore said. "However, we have to do our job as prosecutors."
Two Baton Rouge police officers involved in separate fatal shootings in 2017 were awarded the medal of valor Wednesday for their actions durin…