Gov. John Bel Edwards says he's hopeful a surge of protesters expected at the state Capitol in the next week will stay peaceful, even as law enforcement agencies braced for violent chaos, with the FBI reportedly girding for armed protests in all 50 state capitals through Inauguration Day.
A spokeswoman with the FBI's New Orleans field office said the agency was preparing along with state and local police for an "armed call to action protest" scheduled at the Louisiana State Capitol. Louisiana State Police, meanwhile, said they were anticipating "protests," plural.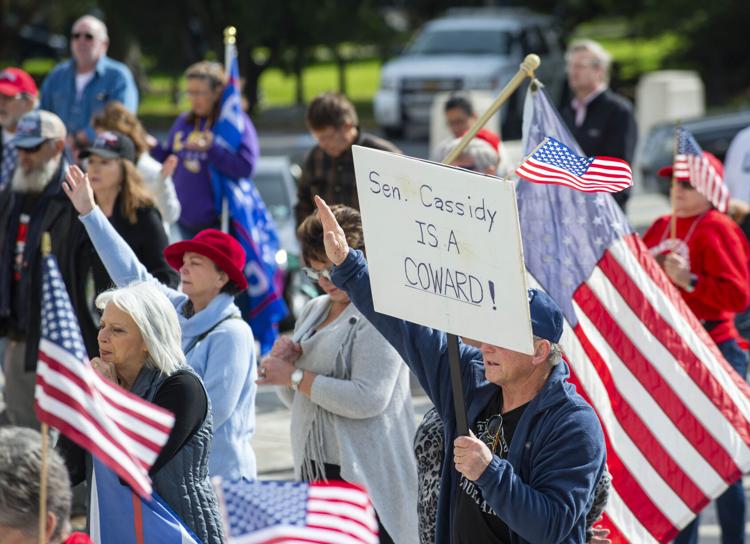 Though state officials offered no firm details, law enforcement appears to be keying on a descent on the Capitol on Sunday or Wednesday, the day President-elect Joe Biden is to be sworn in as president after months of legal challenges, vitriol and, finally, a violent insurrection on Jan. 6.
The specter of a political powder keg igniting at the seat of state government in Baton Rouge had Louisiana and federal authorities tight-lipped about who they expect to show up beyond the few dozen steady demonstrators who have come to the Capitol regularly since November to rail in peace over President Trump's loss.
Jacques Berry, a spokesman for the Division of Administration, said none of the organizers of the pro-Trump rallies at the state Capitol have filled out requests to hold events there, and none had been filed for the weekend.
Edwards said his administration is communicating with "federal partners" and "monitoring the situation."
"I just put a call out to the people of Louisiana who are intending to participate that we'll protect your right to do it. At the same time, we're asking you to make sure you follow the law," the governor said Tuesday. "We'll remind you as you gather that you're doing so during a pandemic. And there's no doubt that last week's event at the (U.S.) Capitol became a superspreader event."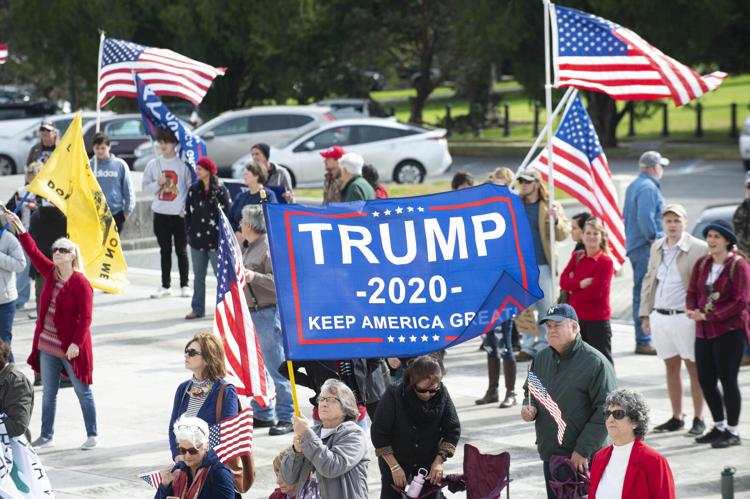 State Police are coordinating with the East Baton Rouge Sheriff's Office and Baton Rouge police, along with the Department of Public Safety Police, for the expected crowds, officials said.
Baton Rouge police spokesman Geno McKneely said the department would have uniformed officers, mounted patrol and some undercover officers present, "just to be there and make sure everything is good for everyone."
The FBI said in a statement that its efforts would be "focused on identifying, investigating and disrupting individuals that are inciting violence and engaging in criminal activity."
Edwards was quick to note that the protesters who have demonstrated outside the Capitol on previous weekends have done so "with no lawlessness, no property damage, no violence. And certainly we expect that will continue. We hope that will continue."
Trump supporters, in varying numbers, have turned out to the State Capitol every weekend since Biden won the election to show support for the president. 
The Military Times reported Wednesday that some governors had begun activating their states' National Guard soldiers, in addition to thousands of National Guard troops mobilized to Washington D.C. for security around the Jan. 20 inaugural.
But Edwards' office gave no indication Wednesday that the governor was ready to deploy National Guard troops in advance of Louisiana protests. A spokeswoman said he would do so "if it becomes necessary."
Edwards said he was "angry and saddened" by what he saw in the carnage and destruction at the U.S. Capitol last week, counting himself stunned during a week that he called a "difficult and dark one for our country."
"It's beyond anything any of us should ever expect to see in the United States of America," he said. 
Attorney General Jeff Landry, a top Republican in Louisiana and one of the governor's frequent sparring partners, came out this week with a stern rebuke of his own, for what he described as "despicable" violence at the U.S. Capitol last week, while cautioning against similar violent antics at U.S. statehouses.
Landry sits on the board of the Rule of Law Defense Fund, an arm of the Republican Attorneys General Association, which he led last year. Media reports have outed the fund for sending out robocalls promoting the "March to Save America," which morphed into a Capitol riot. The bloody, haphazard insurrection bid left five people dead and members of Congress cowering.
Landry issued a statement two days after the attack, expressing outrage and saying he was unaware of the robocalls. But he also broke this week with the larger national group of attorneys general over signing on to a condemnation of the violence.
On Twitter on Tuesday, Landry equated the U.S. Capitol mayhem with "the violence, destruction and looting in our nation last summer," referring to nationwide protests against racial injustice.
Elsewhere, a pro-Trump rally is scheduled for Saturday in Lafayette, with organizers billing it as a peaceful gathering, though the Ambassador Row shopping center has declared its parking lot off limits to the group.
Another sort of protest is being planned in New Orleans for Jan. 20, organized by an anti-Trump group that took to the streets four years ago in a demonstration that ended with vandalism and 15 arrests.
Malcolm Suber, one of the organizers of the "J20 Nola" rally and march to Duncan Plaza downtown, said he was less concerned with violence at the planned march next week than with the politics in Washington.
"We're going out there because we don't believe the Democratic Party is the answer to the Trump administration and the working class people in this city," Suber said.
He said the group wants a third party for workers and doesn't trust Democratic Party leaders to fight what he described as the "menace" that led to the Capitol riot.
"They knew the menace was coming before last Wednesday and certainly didn't do anything to ask Capitol Police, the FBI, or the National Guard to prepare, as they prepared for the Black Lives Matter movement," he argued.
Suber, also a leader of the Take 'Em Down NOLA movement that fought to remove Confederate monuments from the cityscape, said he expected a big police presence as usual around the demonstration.
In the push to remove the monuments, opponents camped out and "brandished their weapons at our events" while "threatening to drown us in blood many times," he said. But no major violence erupted.
"We kept our militancy," Suber said, "not trying to play for the cameras and have a 60-second report on CNN."