Three years ago, the Louisiana State Police Commission received a dire warning from a trooper who claimed that racial hostilities had reached a "boiling point" among the agency's rank and file.
The anonymous letter, copied to media outlets around the state, said that minority troopers, though few in number, were "suffering mightily" under Mike Edmonson, the agency's longest-tenured superintendent.
Black employees had been "largely ignored" for decades at State Police, the writer added, and were less likely to be promoted than their white counterparts.
A few weeks before the letter was mailed, State Police records show, a black trooper in Lake Charles complained that his white colleagues on the SWAT team had referred to him as "Django" — a nickname that State Police brass later determined "was not intended to be racially derogatory." Django was the lead character in the 2012 film "Django Unchained," a fictional story of a freed slave exacting violent and righteous vengeance on his tormentors. 
"Louisiana State Police is suffering from low morale, racial tensions and unfair treatment statewide," the anonymous letter claimed. "You have dedicated troopers risking their lives in a very dangerous world, and they are faced with internal hostility and biases from their superiors."
The Edmonson era has ended, and the new administration has taken steps to change the cliquish culture at State Police. But the new superintendent, Col. Kevin Reeves, has faced mounting criticism for the glaring lack of minorities and women serving in upper-level management positions. 
All 10 State Police majors — and all nine of the agency's troop commanders around the state — are white men. Of the agency's 22 captains, only three are black and one is female.
In Reeves' inner circle, one of five lieutenant colonels is African-American.
The rank and file is more diverse, but hardly representative of Louisiana: About one in six troopers is black, and just one in 25 is a woman.
"I encourage you to be very diverse when you're hiring, because I think it really impacts the community," state Rep. Dustin Miller, D-Opelousas, told Reeves during an appropriations hearing this spring. 
Miller, who is black, added that he has "had some experiences with some troopers that I promise, if I wasn't a professional, it could have gotten ugly."
Like many law enforcement agencies, the Louisiana State Police has long struggled to recruit a force that reflects the demographics of its constituents. The overwhelming majority of troopers are white males, even as the agency has expanded its policing presence in places as diverse as inner-city New Orleans.
The agency in 2016 added a permanent contingent of troopers, known as Troop N, that patrols the French Quarter and the Central Business District. Those troopers are not bound by the same federally monitored reforms that govern the New Orleans Police Department, and they have had a series of high-profile run-ins with African-Americans, who in some cases have accused them of using excessive force. 
"There can be no such thing as 'community policing' if our law enforcement agencies do not reflect the diversity of our communities," said Jim Craig, a local civil rights attorney who recently settled a lawsuit that claimed State Police troopers racially profiled a young black student.
The lawsuit accused troopers of a pattern of racial discrimination against black people in the French Quarter. 
"For too long," Craig added, "we have allowed these agencies to remain the preserve of white men."  
'Not reflective'
After Mississippi, Louisiana has the country's second-highest proportion of African-American residents, at 32 percent, but blacks make up just 16 percent of the 1,063 commissioned State Police troopers, according to state figures.
The agency also falls far below the national average of female representation in law enforcement, with women making up a paltry 4 percent of state troopers. 
Samuel Walker, a professor emeritus at the University of Nebraska at Omaha and an expert on police accountability, described that rate as "impermissibly low." Women make up about 13 percent of law enforcement nationally but are better represented in larger, municipal forces.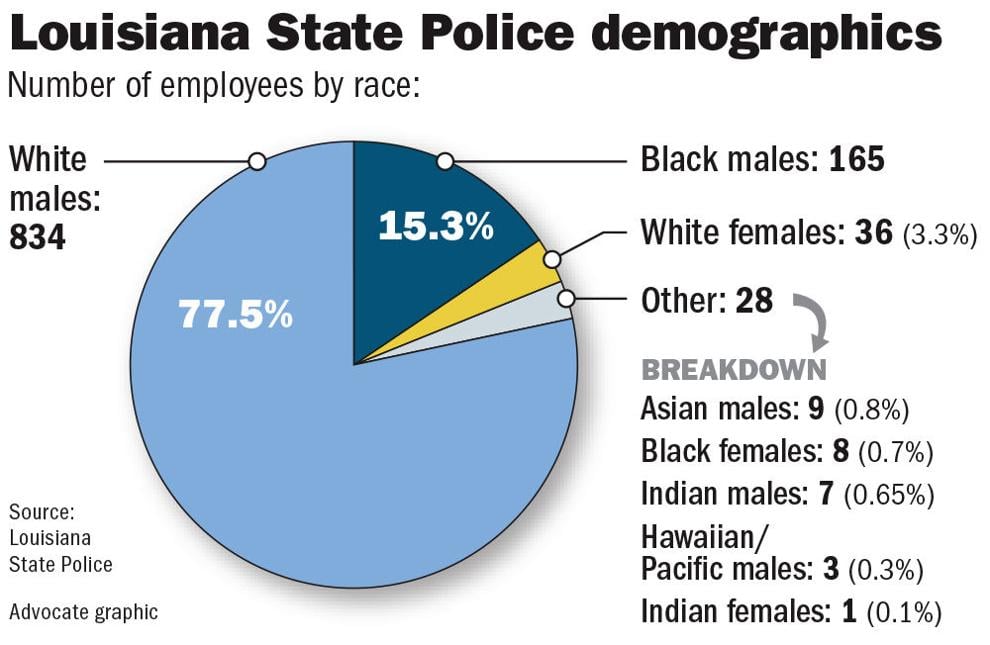 "It's hard to police when your department is not reflective of your surroundings," said a veteran black trooper who spoke to The Advocate on the condition of anonymity. "I never thought that, in 2018, we'd still have a culture of minorities not having a voice or being able to speak out about diversity issues without being blackballed." 
Reeves denies that race or gender has factored into hiring or promotions since he took the helm of the agency in March 2017. He succeeded Edmonson amid a series of scandals engulfing State Police, including one involving a group of troopers who charged taxpayers for a so-called "side trip" they took to Las Vegas and the Grand Canyon while driving to a conference in California. 
Reeves said he has redoubled recruiting efforts over the past year, adding that he would like to see a higher representation of minority and female troopers — demographics he refers to collectively as "our protected classes."
"I really do believe that our process is a fair process," he said in an interview. "We're trying to fill the positions in State Police with the most competent and best leaders that we have. We think the citizens deserve the best law enforcement officers we can get."
Recruiting a diverse force has bedeviled the State Police for decades. As early as 1975, the agency faced allegations of discriminatory hiring practices. That year, Louisiana's population was about 30 percent African-American, but just 1.5 percent of state troopers were black.  
The U.S. Justice Department investigated the agency in the 1990s and essentially accused it of institutionalizing a good-old-boy network. The inquiry found a pattern of employment discrimination and alleged that black and female troopers had been "subjected to derogatory, racist and sexist comments" by "colleagues and supervisors without appropriate action by responsible officials."
The feds took particular exception to the agency's entrance examination, noting that 66 percent of white applicants passed the test between 1991 and 1996, compared with 25 percent of black applicants.
The State Police agreed to a settlement in which the agency set aside $1 million to pay black applicants who had failed the test. The state also agreed to hire 18 qualified black cadets from a pool of those who failed the test during that period.
"We understood that our numbers were not reflective of the community," said Terry Landry, a state lawmaker and one of three African-Americans to serve as superintendent of State Police, a position he held from 2000 to 2004. "But as we continued with our recruitment of minorities, we found this wasn't only a problem for the Louisiana State Police but a national problem." 
It also has been a challenge for other Louisiana law enforcement agencies, including the Baton Rouge Police Department, which for decades has failed to comply with a federal consent decree requiring it to diversify its ranks. Despite intense recruiting efforts, the BRPD remains overwhelmingly white in a city that is 55 percent black. 
The Justice Department threatened four decades ago to cut off funding to nearly three dozen cities in the state, from Monroe to New Iberia, if they did not diversity their police and fire departments. Today, only Baton Rouge and Alexandria remain subject to that litigation, according to court records. 
'The way it is'
Landry said a confluence of factors tend to hobble the recruiting of minorities, including some that are unique to State Police. For one, he said, State Police historically have had little presence in inner cities, which contain the highest concentrations of potential minority recruits.   
"You compound that with some of the poor relationships between the African-American communities and the police, and it makes it difficult to recruit someone," he said. "We did everything humanly possible, sending troopers to schools and inner cities. We believed every trooper should have been a recruiter." 
Recruiting women also has been a problem, and a number of female troopers have sued the agency over the years alleging sexual harassment and discrimination. One of them, Genny May, a former U.S. marshal who became the highest-ranking woman ever to serve in the State Police, claimed a decade ago that she had been wrongly denied promotions throughout her career due to the agency's "systemic exclusion" of women. 
"They don't want to change things because they like it the way it is," said Kathy Spillar, the executive director of the Feminist Majority Foundation, who oversees research for the the National Center for Women & Policing. "The State Police run a paramilitary operation, and frankly they don't think women should be in law enforcement." 
Women are especially underrepresented in state police forces around the country, Spillar said, because rookie officers are often asked to relocate after passing the academy. This can be particularly difficult for women who have children in school or are single parents.
That's regrettable, Spillar added, because research has demonstrated the tempering effect women have in law enforcement, particularly when female officers are partnered with males. 
"Women have a very different communication style, and they're better at de-escalating situations long before they become violent," she said. 
The Louisiana State Police finds itself at a crossroads, not only with Edmonson's ouster but also the recent retirement of nearly 10 percent of the agency. Reeves, the superintendent, said he has been encouraged by the diversity of the last several academy classes, which have consistently included minorities and females.  
But he noted the agency has a far smaller pool of cadets to choose from than at the beginning of his career. A generation ago, there were anywhere from 1,000 to 2,000 qualified applicants for any given academy class, Reeves said, a number that has shrunk to around 250 in recent years.
Fewer people, regardless of race and gender, want to become state troopers.
"Some young people are not making very good choices early in life that prevent them from having a career in law enforcement," Reeves said, referring to drug use and run-ins with law enforcement. "We find that disturbing."