Two IHOP employees were on a smoke break around noon Tuesday, hanging out in the sunshine outside the Siegen Lane restaurant, when two masked men pulled up in a car, hopped out and started shooting.
One of the workers collapsed in the IHOP parking lot while the other ran for help. Their assailants fled the scene before first responders arrived, officials said. 
The shooting occurred during the lunch hour, a busy time for the shopping center and its cluster of adjacent restaurants along a major retail corridor in Baton Rouge.
The first victim was rushed to the hospital by ambulance but later died. The second was hospitalized in stable condition, according to the East Baton Rouge Sheriffs Office, which is investigating the shooting. Their identities won't be released until officials first notify their closest relatives.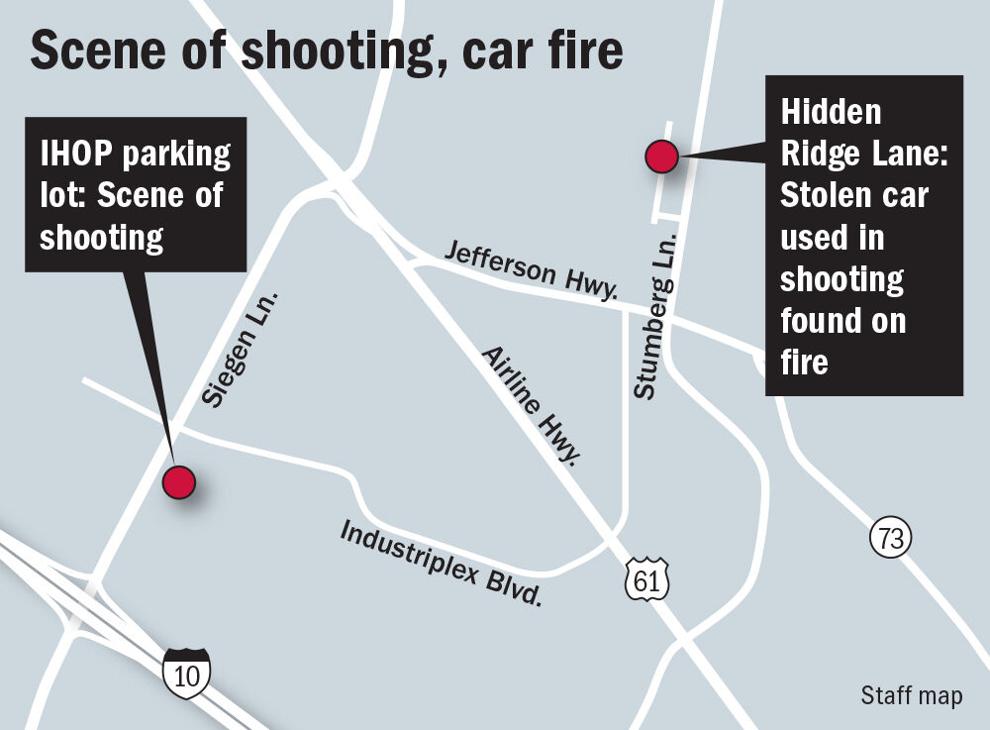 The stolen car involved in the shooting was found on fire in a nearby subdivision a short time later, on Hidden Ridge Lane off Stumberg, officials said. That burned-out car matched descriptions from witnesses and surveillance footage of the shooting.
Residents in the neighborhood shared similar experiences, saying they were in their homes when they heard a popping noise — like a firework — and looked around to make sure everything was OK. When they peered outside, they saw a blue sedan engulfed in flames, with broken windows.
They called emergency services; firefighters arrived while they were on the phone.
One neighbor, who asked to withhold her name, said she saw the car and ran back into her home, sobbing as she called 9-1-1.
"I thought someone was in the car at the time," she said.
Some residents said the suspects hopped a nearby fence and ran toward the Parkview Oaks neighborhood, off of Jefferson Highway.
Police launched a manhunt that stretched well into Tuesday afternoon, with several law enforcement agencies assisting and a a helicopter searching the area from overhead.
East Baton Rouge sheriffs deputies are investigating a shooting at the IHOP on Siegen Lane that left two people injured this afternoon, one in critical and the other in stable condition. It appears the shooting occurred behind the building near a back door. @theadvocatebr pic.twitter.com/LjyyO8nB2l

— Lea Skene (@lea_skene) May 25, 2021
In a plea for the public's help finding the suspects, officials described them as two Black men wearing red-and-white bandanas over their faces, one with red pants and the other with light-colored pants. 
Detectives say they have yet to determine a motive.
Deputies remained at IHOP for at least three hours after the shooting, focusing their investigation on the back door of the restaurant and the employee break area just outside.
An overturned chair sat in the grass, surrounded by evidence markers by several shell casings. 
A woman who works at the nearby VISION4LESS store, behind the IHOP in an adjacent strip mall, said she heard her colleagues screaming and immediately hid when she realized what was happening. Inside were three or four customers who joined employees taking shelter.
"I thought I was gonna die," Tabatha Sanchez said from the scene Tuesday afternoon. "We all did. It was panicked and chaotic. My heart is still beating from it."
Police helicopters are still circling overhead as part of a search for the suspect, and Sheriff's Office deputy vehicles are lining the streets surrounding the neighborhood. pic.twitter.com/gG87gmu8i3

— Lara Nicholson (@Laranicholson_) May 25, 2021
After a few minutes of hiding, Sanchez and her coworkers peeked outside. She said they saw a man run out of IHOP, the back of his white shirt drenched in blood. He hopped in a car and fled the scene, Sanchez said.
Her coworker showed reporters a video of him fleeing. 
Officials said that person is the victim who survived the shooting. Not realizing he had been shot, he tried to leave before calling 9-1-1 from a short distance away.
An ambulance picked him up from there. 
A security guard for the shopping center said he got to work not long after the shooting. This was not a typical day on the job, he reflected. Mostly, he said he deals with panhandlers in the parking lot and other minor issues. He expressed relief that police responded as fast as they did, though he hoped to learn more about what happened. 
The shopping center contains a bunch of big retail stores and eateries, including Super Target, Petco and fast-food chains. The IHOP lies between an Olive Garden and Whataburger that become especially busy around lunchtime. 
Employees of nearby VISION4LESS said their location, next to an Army National Guard office, turned out to be a lucky one: Several soldiers ran outside upon hearing the gunshots. Employees thanked the soldiers for springing to action.
The past several months in Baton Rouge have seen an unprecedented spike in gun violence. But scenes like Tuesday's — bullets flying in broad daylight outside an IHOP, employees targeted at their workplace — are unusual.
However, the East Baton Rouge murder rate remains higher than ever after a record-breaking 2020. 
New video of car fire @WBRZ pic.twitter.com/08naLmK2v0

— Bess Casserleigh (@BCasserleigh) May 25, 2021