Three people were killed and another injured in a quadruple shooting late Wednesday on Gus Young Avenue in Baton Rouge — a shocking display of violence that added to the larger spike in homicides starting the beginning of this month.
The victims were all men older than 35 who were shot late Wednesday night outside a Baton Rouge convenience store.
Johnell Davis, 42, and Berman Hudson, 39, were found dead in the 4800 block of Gus Young Avenue just after 9:30 p.m. Wednesday, said Baton Rouge Police spokesman Sgt. L'Jean McKneely Jr.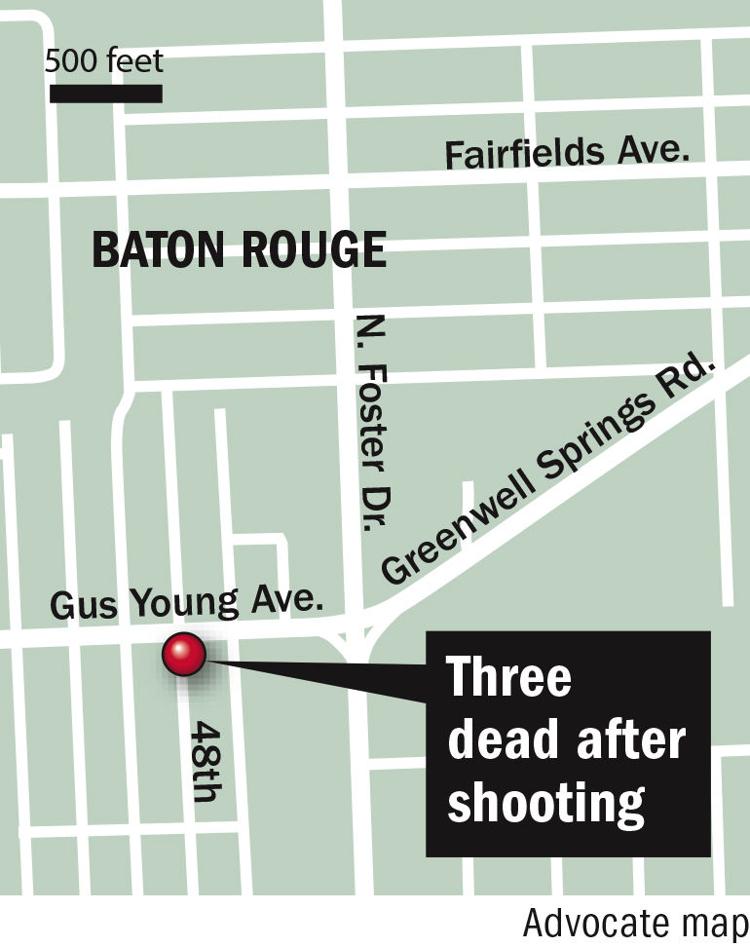 Two other men injured in the shooting were taken to a local hospital, where one of them, Willie Kinchen, 38, died on Thursday, McKneely said. 
The shooting occurred outside the Ragusa Deli and Meat Market, where Kinchen had worked for the past five years. He was "one of those people everyone knew" in the neighborhood, his former coworkers and some store regulars said. He had grown up in the neighborhood and often hung out with friends outside the store during his breaks, they said. And they agreed he was tragically "in the wrong place at the wrong time Wednesday night."
"He was just a people person, very respectful and friendly to everyone — really like a peace maker. He didn't entertain drama," said Wanda Thomas, the deli manager and a close friend of Kinchen. "I can't imagine he was the intended target. … It just hurts. It's hard to know that he's gone. A good, innocent person whose life was taken behind foolishness."
Thomas said Kinchen's job involved mostly cleaning and maintenance at the store. She said she was expecting him to survive because he was initially hospitalized with injuries, which had her thinking about how to celebrate once he returned to work. 
"I was planning a party for him, looking forward to Thanksgiving dinner since he would come to my house for holidays and things like that," she said. "This is the season to be thankful and enjoy family. … Now we're just hurting."
A family member of Hudson — one of the two men pronounced dead on the scene — said his relatives are grieving after the tragic and senseless event. He said Hudson lived in a house just blocks away from the store and would often hang out there.
"It's messed up, man. But this ain't the first killing I've seen at this store," the man said, declining to be identified by name. "I just hate to see innocent lives taken like this. They're casualties of war. It shouldn't be that way but that's what it seems like out here."
Can't see video below? Click here.
At the scene late Wednesday, a body could be seen on the ground in the parking lot of the meat market. The body was between two parked cars. Some onlookers said they had seen another body inside one of the parked vehicles, but it was not clearly visible. 
About 40 people bundled in coats gathered behind the police tape Wednesday night as temperatures dipped near freezing. Police had both directions of traffic on Gus Young Avenue shut down and cordoned off businesses along the block.
Jabare Thomas, 41, stood outside with neighbors. He said he was in his house on North 48th Street, just down the block, when he heard gunfire. 
"I thought it was fireworks at first," Thomas said, noting that he heard at least 10 gunshots. He said that area has become progressively more dangerous in recent years, completely changed from when he grew up.  
"Now, … you be scared to walk through here," Thomas said. Three people were shot and injured in almost the exact location in July 2016. 
Crime scene tape is seen early Thursday, Nov. 15, 2018 near where a body was on the ground in the parking lot of the Ragusa Deli and Meat Mark…
After Thomas spoke with a reporter, an older woman commented that she was glad he spoke up.
"See something, say something," she said.
The woman spoke in line with the message Baton Rouge Police Chief Murphy Paul has been sending the capital city's residents since he was named the city's top cop: community cooperation. He consistently asks and thanks the community for their support and tips. Paul declined to comment on the recent rise in deadly violence on Thursday, but plans to address the issue Friday morning at a press conference.
With the three killings from Wednesday's shooting, the number of homicides this year in East Baton Rouge Parish have surpassed the pace of killings from 2015 — the second most murderous year in the last six, according to records maintained by The Advocate. The homicide count this year still remains below 2017's record-shattering year of violence, when 106 homicides were recorded, but the last two weeks have left a concerning trend. 
In the first 14 days of November, 10 people have been killed. That spike in violence follows a relative peaceful October, when only one homicide occurred. 
McKneely said Thursday morning that police have not determined a motive or suspect in Wednesday night's shooting. He asks anyone with information to contact the Violent Crimes Unit at (225) 389-4869 or Crime Stoppers at (225) 344-7867.