Almost a month after Buck Hornsby was hit by dozens of shotgun pellets as he exercised out by the edge of his property along La. 63 near Clinton, he no longer walks that once familiar path.
The lone survivor of the four possibly connected shootings, all of which happened within a 25-mile radius in the Bluff Creek area since July, Hornsby said he's since altered his morning workout routine. And after the latest of the fatal shootings Monday — also of a middle-aged man in his front yard — the 47-year-old said he's feeling even more grateful to be alive.
"This is becoming more and more real every time — what's going on in our small community," Hornsby said Tuesday. "Man, you can't even walk out of your house without worrying that there could be a serial killer out there."
Baton Rouge-area law enforcement are investigating a shooting Monday that killed a camp rang…
East Feliciana and East Baton Rouge Sheriff's offices are working together with State Police and the FBI to investigate the four shootings, three of which were fatal, both "individually and collectively," said East Feliciana Sheriff Jeff Travis.
Though Travis said they are still considering the possibility that two or more of the cases are connected, he said they are not yet calling the shootings the work of a serial killer.
"The harder you work the (better) chance you have of solving the case, and that's what we're doing," Travis said.
But the string of shootings has left residents in Bluff Creek and its surrounding area on edge, Hornsby said.
"Everybody's just real concerned," Hornsby said. "This kind of stuff is not supposed to happen here."
Travis and other area officials also said the recent violence has been out of character for the region.
"We don't have a lot of homicides," said District Attorney Sam D'Aquilla, who prosecutes in both East and West Feliciana parishes. "It's really way out of line, we haven't seen any crimes like that -- senseless crimes."
Not seeing the video below? Click here.
For the year after Travis took office as the parish's sheriff in July 2016, there was not a single shooting homicide, he said. One man's June death was ruled a homicide after he died of his injuries from a fistfight, but until early July, Travis said there was nothing like this spree of shootings.
On July 8, 62-year-old Thomas Bass was fatally shot outside his house on La. 960, however further up the driveway where officials do not believe it was a drive-by shooting.
Then on Sept. 12, Hornsby was shot, but survived with dozens of shotgun pellets still in his body.
Carroll Breeden, 66, was fatally shot in a drive-by shooting a week later on Sept. 19 in front of his Pride home on Pride Port Hudson Road. Family said he was near the roadside spraying weed killer.
The most recent victim was Brad DeFranceschi, 48, who was fatally shot Monday outside his house near the side of La. 63. A neighbor said he had been trimming weeds not long before the incident.
In the last five years in East Feliciana Parish, the annual homicide count has never surpassed two, according to data from the 20th Judicial District Court and The Advocate records. There was not a single homicide reported in 2016.
However, just in the last four months, there have been two homicides in the primarily rural parish. Breeden's homicide happened just over the parish line in East Baton Rouge Parish.
"Most of our crimes involve a fight, or domestic disturbance, it's usually people who know each other," D'Aquilla said. "This is just random acts of violence."
D'Aquilla noted that there are occasionally other shootings where people aren't killed, but are injured or targeted. Still, in those incidents the motives are relatively apparent, which isn't the case with these shootings, he said.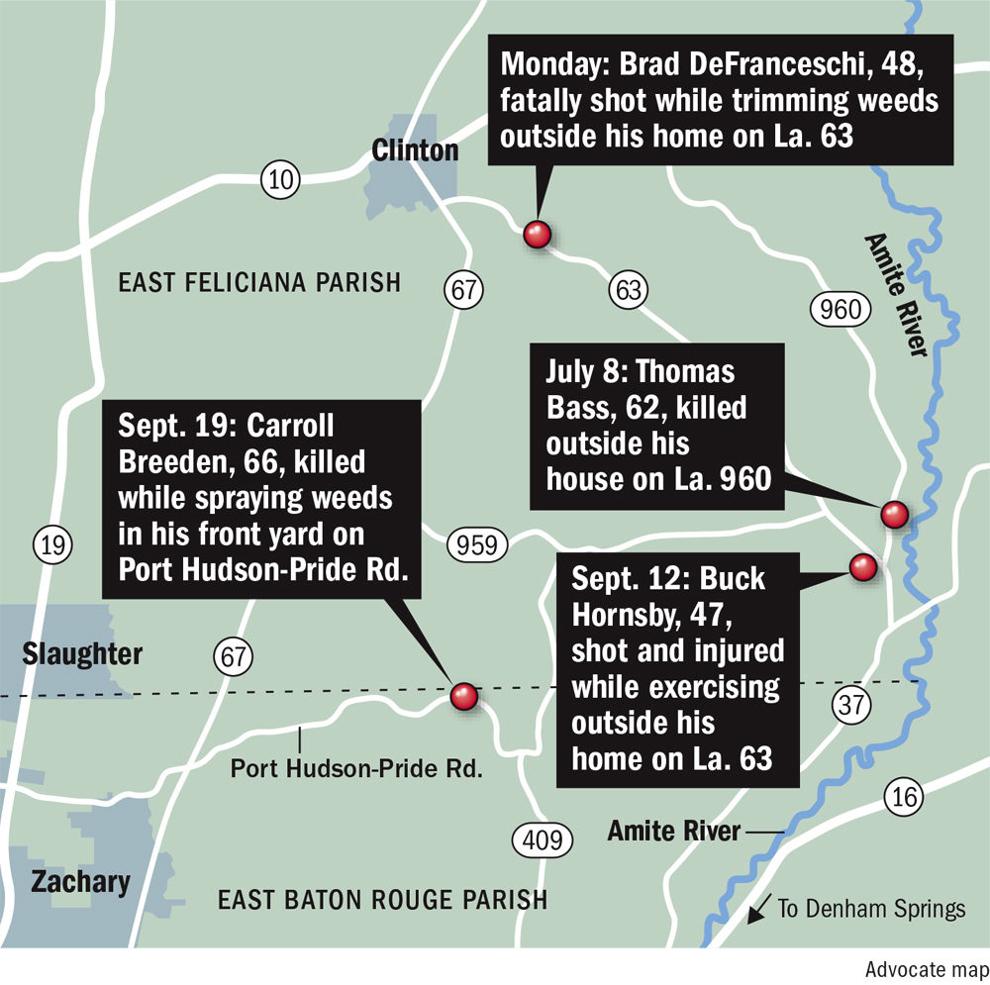 Breeden's daughter-in-law Stephanie Breeden said she's hopeful the investigators get to the bottom of this, because Monday's news was traumatic for their family.
"We just don't want it happen for anyone else," Stephanie Breeden said. "I could hope that they're all linked just for the sake of minimizing who they're looking for."
She said she was fearful Monday just waiting for her son to get off the school bus after hearing the news about DeFranceschi.
"I know that there's no answers right now, but given the similarities, of course our hearts immediately go out to the DeFranceschi family for what they have to go through," Stephanie Breeden said. "It hurts to know someone else had to suffer the same thing."
On Tuesday afternoon, East Baton Rouge Sheriff's deputies responded just a couple miles from where Carroll Breeden was shot to reports of shots fired from a "light-colored" vehicle. But, later on, investigators determined that shots weren't actually fired at all, said spokeswoman Casey Rayborn Hicks.
Travis on Monday said officials were searching for a small, white car in connection to the fatal shooting outside Avondale Scout Reservation on La. 63 that morning, and later an East Feliciana Sheriff's official used the term "light-colored" to describe the car.
Baton Rouge-area law enforcement are investigating a shooting Monday that killed a camp rang…
Clinton-area resident Walter Bradley and his partners at his grass cutting business now take turns providing lookout for one another and carrying a gun after they heard about the four men who were shot around East Feliciana Parish, as there have been reports that two were doing yard work when attacked.
"I'll watch them while they weedeat and they'll watch me while I'm cutting," said Bradley. "Needless to say, I'm going to be packing."
Bradley has a concealed carry license, but said feeling the need to have a gun while mowing a lawn, "shouldn't have to be that way. It's crazy."
He knew DeFranceschi as a ranger at Camp Avondale, where DeFranceschi lived on the property. Bradley's cousin lives at the front of the grounds and worked with him. Bradley also said he knows Hornsby and Thomas Bass.
"You have a murder every now and then (around here), but not opportunists like this," Bradley said. "They know it's a rural area and they catch them alone."
Norwood resident Shekita Harris said she hopes for a resolution soon in the shootings.
"I think it's just uncalled for," said Harris, while sitting in her car at a Clinton strip mall. "Something needs to be done about it. Something like this doesn't happen around here."