Armed with DNA evidence taken from shell casings left behind when a 59-year-old black man was gunned down last week, Baton Rouge police Tuesday arrested a 23-year-old white man they had previously questioned in that killing and another that followed two days later — both characterized by police as possibly racially motivated.
Kenneth James Gleason also was accused Tuesday of targeting the only black family on the block where he lives, firing from a short distance at their front door last week but injuring no one during the attack.
Corey Anderson, 22, was watching Netflix in his bedroom early Sept. 11 when he heard gunfire.
Police had first taken Gleason into custody Saturday for questioning in what they called "brutal murders" but were unable to muster enough evidence to arrest him in the two homicides.
Authorities did, however, hold Gleason briefly over the weekend on drug possession counts, but he was soon released on bail. Officials then booked him Monday on an earlier, minor theft from a bookstore, but he again posted bail.
Hours later Tuesday morning, Gleason was arrested in the two homicides and the shooting, a culmination of a multi-agency investigation that used video, tips from local businesses, witness statements and detective work. Authorities said the key evidence came from "touch DNA" found on casings gathered by police on Florida Street, where Bruce Cofield was shot dead the night of Sept. 12 while on the side of the road. The DNA matched a swab taken from Gleason. 
Not seeing the video below? Click here.
"Had there not been a swift conclusion to this case I feel confident this killer would have probably killed again," said Baton Rouge Police Interim Chief Jonny Dunnam. "It could have potentially created a tear in the fabric that holds this community together."
Gleason's attorney Chris Alexander said that his client "vehemently denies guilt."
"We look forward to full vindication," Alexander said. He is representing Gleason in the drug, theft, homicide and shooting arrests, he said.
The Florida Street shooting was connected Friday to the fatal shooting of 49-year-old Donald Smart, who was gunned down Thursday night on Alaska Street while walking to his overnight shift at Louie's Cafe. Ballistics from both killings were put into the National Integrated Ballistic Information Network (NIBIN) and linked to the same 9mm handgun, East Baton Rouge District Attorney Hillar Moore III said.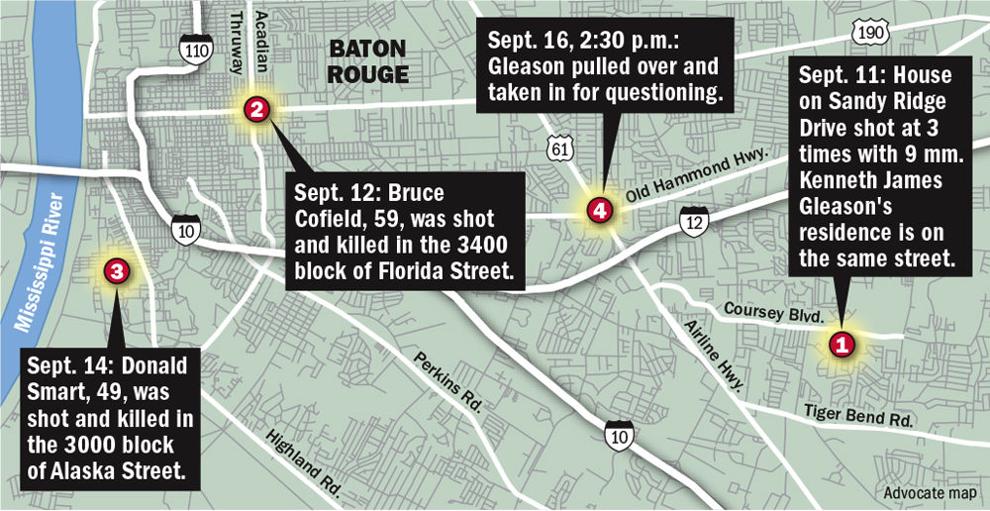 Police called both shootings apparently random in nature, as Gleason had no known connection to either victim.
In the shooting from the 3400 block of Florida Street around 10:30 p.m. Sept. 12, witnesses told police that a white man wearing tactical gear in a red car had committed the crime, Moore said.
Two nights later, around 11 p.m. at 3014 Alaska Street where Smart was gunned down, two witnesses told police the shooter had been a white man in a red car.
At both locations, police were able to find some relevant video but it was of little use, Moore said.
However, law enforcement determined Friday that the two men were killed in the same manner, alleging that Gleason shot at the pedestrians while in his car, then exited once they fell to the ground. He then stood over the victims while continuing to fire shots, Moore said.
"It appears to be cold, calculated, planned, and (against) people who were unarmed and defenseless," Moore said. As the prosecutor makes his decisions about what charges to seek at a grand jury, Moore said he will "strongly consider" pursing a death penalty case.
As police worked the case over the weekend, they pulled together strands of information that became newly relevant to their unfolding investigation, as well as gathering new evidence that hadn't been discovered.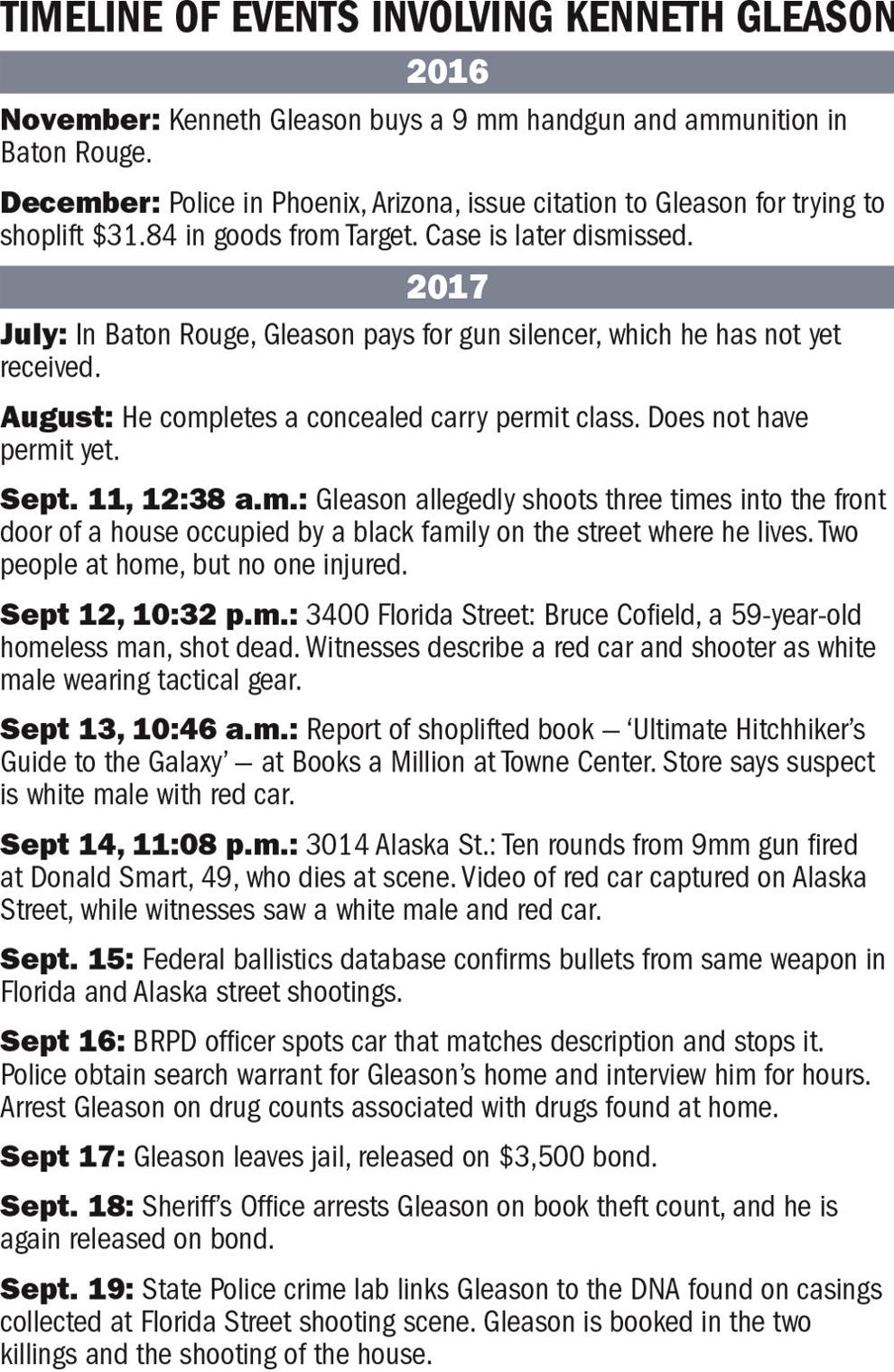 Eventually, they gathered together several complaints or witness statements that involved a white man and a red car. Not only did this match witness statements from the shootings, but other, seemingly minor complaints received by law enforcement last week. 
On Monday, Sept. 11 — the day before the first killing — the East Baton Rouge Sheriff's Office received a call from a Jiffy Lube employee saying they saw someone putting a gun in nearby bushes, though no weapon was recovered by deputies. The description given was a white male in a red car.
Later that night, three bullets pierced through the front door of a home on Sandy Ridge Drive, the street where Gleason lived with his parents. Sheriff Sid Gautreaux said the shots were fired from a close range, and the black family who lived there said the bullets flew through their entire house, with at least one exiting a back window. No one was hurt, though two residents were home. 
The next day, Custom Security, a local surveillance company, alerted law enforcement that in a parking lot they were monitoring it appeared a man was taking his license plate off his red car and putting a gun in his trunk. No one immediately responded to that call, Moore said.
That night, Sept. 12, Cofield was killed.
On Wednesday, Sept. 13, about 10:30 a.m., deputies responded to a call about a stolen book from Books a Million in Towne Center. The report indicated that a white male in a red car came into the store and took the book "The Ultimate Hitchhiker's Guide to the Galaxy," Moore said. No one was immediately arrested.
The next night Smart was killed. Ten rounds were fired, Moore said.
On Friday, the day police matched the bullets from the Smart and Cofield shootings as coming from the same gun, law enforcement working together at the Violent Crimes Unit at State Police headquarters also received two videos that allowed them to better target a specific red car.
A state law that took effect in 2009 making it easier to subject serial killers to the death…
Custom Security was able to provide footage of the man taking a license plate off a car, which also showed the man using duct tape to cover an American flag sticker and dealership emblem on the back. The car also had a dent in the back bumper. A Walgreens a few blocks from the Florida Street shooting also provided video of a red car driving by around the time of the shooting, Moore said.
A Baton Rouge Police officer stopped a red car with the same dent in the bumper and American flag Saturday afternoon and took Gleason into custody. As detectives questioned the 23-year-old, the State Police crime lab and other officials continued to work the evidence.
Early Tuesday, the crime lab reported the clinching information: DNA matching a swab taken from Gleason was found on the casings taken from the Florida Street shooting. A ballistics analysis also determined that the casings from each of the three shootings — all different kinds of ammunition — were all fired by the same weapon, Moore said. No gun has been discovered, although the prosecutor said Gleason purchased a 9mm handgun in November 2016.
"It's incredible the amount of work that was done on this case so quickly," Moore said, adding it is particularly remarkable to find DNA on a fired shell casing. He credited Baton Rouge's crime lab and scene technicians for being able to find and process the evidence.  
Gleason was booked Tuesday on two counts of first-degree murder, two counts of illegal use of a weapon, two counts of attempted first-degree murder and aggravated criminal damage to property.
But Moore emphasized that investigators are still working to process more DNA evidence from the two other crime scenes, and have "more work to do."
Moore and other law enforcement officials said the arrest was only possible through the Violent Crimes Unit, which was established in 2011 to bring together the Baton Rouge Police, the Sheriff's Office, State Police, the District Attorney's Office and federal agencies. 
"It's a perfect example of what cooperation and collaboration can do when we're trying to fight crime," Gautreaux said. "It's an invaluable tool."
BATON ROUGE, La. (AP) — A 23-year-old white man arrested Tuesday was accused of killing two …