A 28-year-old Baton Rouge man accused of killing and dismembering his parents, and trying to dissolve their bodies in an acid solution at their Tennessee home over the Thanksgiving holiday, was arrested Tuesday afternoon outside his Nicholson Drive apartment.
Joel Michael Guy Jr., 28, is being held at the East Baton Rouge Parish Prison as a fugitive from Tennessee, where he's wanted on two counts of first-degree murder in the deaths of his parents, said Maj. Michael MacLean of the Knox County Sheriff's Office.
Guy Jr. stabbed 55-year-old Lisa Guy and 61-year-old Joel Guy Sr. several times, then dismembered their bodies and tried to dissolve their remains with a homemade acid-based solution, MacLean said. Tennessee deputies found the couple's bodies scattered across multiple rooms of their home outside of Knoxville on Monday afternoon after his mother's worried coworkers reported she'd missed a scheduled meeting, MacLean said. Inside the home, deputies found a "horrific, very gruesome crime scene" as well as signs of a struggle.
Photos: See Tennessee crime scene, Baton Rouge apartments where suspect was arrested in gruesome killings
A Baton Rouge man accused of killing and dismembering his parents at their Tennessee home over the Thanksgiving holiday was arrested Tuesday at his East Baton Rouge Parish apartment.
Neighbors neither heard nor noticed anything amiss at the house, MacLean said, though deputies found a dog kept in an upstairs room "incessantly barking." Authorities believe the couple were killed sometime between Friday and mid-day Saturday.
"When we entered, it was very obvious what we had," MacLean said.
Joel Guy Jr., whom the sheriff's office believes at one point attended LSU before reportedly withdrawing last year, spent Thanksgiving with his three sisters at his parents' house. MacLean said Guy Jr., who was apparently unemployed since dropping out of school, arrived in Tennessee on Wednesday and left the state on his way back to Baton Rouge on Sunday, after spending at least a night in the home after dismembering his parents.
He placed their bodies in a mixture of drain cleaner, hydrogen peroxide, bleach, sewer line cleaner and other chemicals, MacLean said. Investigators suspect Guy Jr. may have tortured his parents before killing them but, MacLean said, there are no obvious signs of torture and the condition of the bodies will make it difficult to determine.
Agents from the FBI and the East Baton Rouge Sheriff's Office placed Guy Jr. under surveillance after the crime scene was discovered, MacLean said, and arrested him at 3:45 p.m. Tuesday as he walked toward his gray 2006 Hyundai Sonata sedan in the apartment complex's parking lot.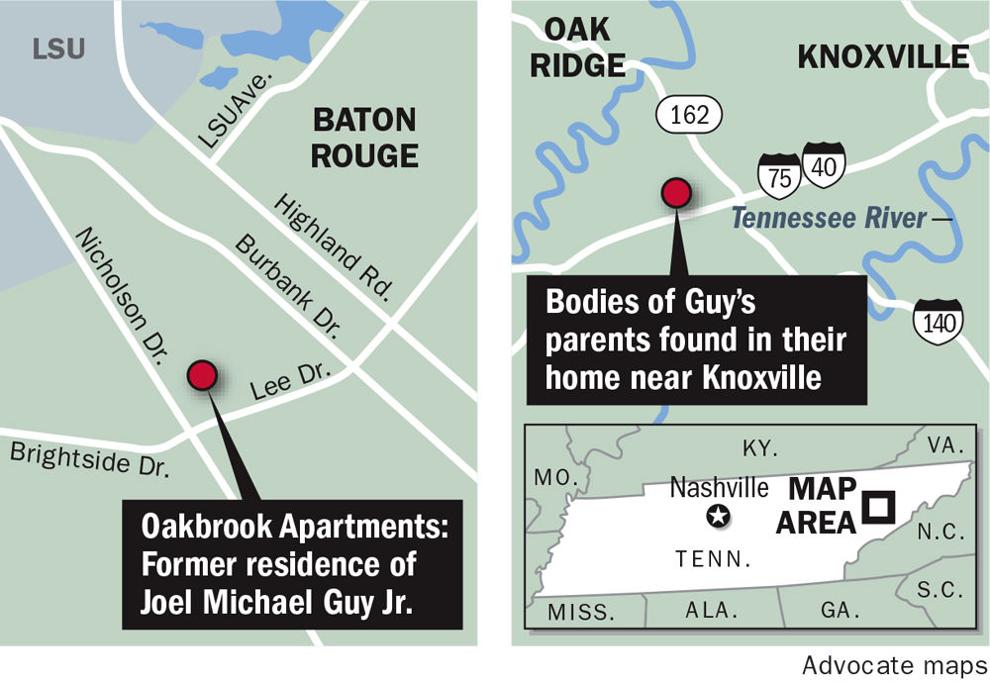 MacLean said Guy Jr. has so far refused to speak with authorities and that his motive in killing his parents remains unclear. But MacLean said the parents — who had been paying many of their son's bills while he lived in Baton Rouge — were "in the process of encouraging him to fend for himself" and planned on talking to him over Thanksgiving about cutting off some of their support.
His three sisters, who all live in Tennessee and spent Thanksgiving day together at the parents' home, told detectives that nothing seemed unusual during the holiday, MacLean said. The women said they expected their brother to head back to Louisiana on Friday and were surprised he stuck around through the weekend.
Guy Jr.'s parents had just sold their home and were in the process of moving to a grandparent's former house in nearby Surgoinsville, Tennessee, before they were killed. The couple were last seen alive with Guy Jr. as they prepared to move a boat to their new home, MacLean said.
Joel Guy Sr.'s sister, Rene Charles, told the Kingsport Times-News that the couple were planning on retiring to the small town in mountainous northeast Tennessee. Relatives said Guy Sr. had also recently been laid off from an engineering job in Knoxville.
"We were going to have Christmases together again," Charles told the newspaper. "We were just fixing to have all of us back together again."
Can't see the video? Click here.
The couple had already completed the sale of their home before their deaths. MacLean, the sheriff's office official, said one of the new owners arrived at the house Monday evening as deputies processed the gruesome crime scene.
An LSU spokesman, Ernie Ballard, said Wednesday afternoon he didn't have any record of Joel Guy Jr. being enrolled at the university. When asked if Guy Jr. had ever attended LSU, Ballard said, "I have no information to provide about that individual."
People who live near Guy Jr. at his Nicholson Drive apartment complex described him as quiet, rarely communicating with neighbors. MacLean, of the Knox County Sheriff's Office, said Guy Jr. lived in the apartment alone but at one point had a roommate who's already spoken with authorities.
Karie Holton, who lives in the apartment below Guy's at the Nicholson Drive complex, said his door was open Tuesday night and police were there. Holton and her roommate talked to two Tennessee detectives.
Dual Yelverton, who lives in the apartment next to Guy's, called his former neighbor "very reclusive."
"He never really acknowledged us," Yelverton said. "He'd take his trash out and that's it."
Not seeing the video below? Click here.