On New Year's Day last year, Asha Davis was shot to death in her apartment. Police say the nursing student and mother was killed by her boyfriend.
It was impossible to know at the time, but that first killing of 2017 was a start to what would become the most murderous year in known history for East Baton Rouge Parish: reaching what authorities believe are unprecedented levels of domestic violence-related homicides, reversing progress in certain crime-plagued areas and further stretching already manpower-strapped law enforcement agencies.
"It's definitely been a tough road for us," said Asha Davis' brother, Kenneth Davis. "She was kind of the centerpiece of everything who kept everyone laughing, and now she's not there anymore."
And in the year of grief — where his family kept an extra watch over Asha Davis' now 11-year-old son and tried to follow the ongoing legal proceedings of the man charged in her slaying — Kenneth Davis said he's also watched as so many other brothers, sisters, mothers and children in the Baton Rouge area have joined them in the unwanted bond of loss.  
"I've been seeing it a lot," Kenneth Davis said. "It's definitely hard. My prayers go out to those families as well."
Following the lowest year for homicides in a decade, East Baton Rouge Parish rebounded in 2017 with a historic high of 106 killings, easily toppling the former record of 96 homicides in 2007.
The number of parishwide homicides — defined by the FBI as intentional, not justified nor accidental, killings — increased by 70 percent from 2016, when 62 homicides were counted. And looking even beyond that one-year jump, 2017 still marked a 50 percent increase from an average of the previous five years.
The numbers are based on records kept by The Advocate and confirmed with local officials. They include all 2017 incidents that led to a death ruled a homicide. In one of the 106 cases, a man was shot in December but died in 2018. Historical data are from the FBI's Uniform Crime Reports, which rely on local agencies to provide their statistics. 
Driving the 2017 increase were homicides from within Baton Rouge city limits, accounting for 82 percent of the parish's total. The city's 87 homicides were a 58 percent increase from the past five years' average of homicides counts. The city's homicide rate in 2017 ranked above that of Chicago's: 38 per 100,000 residents in the Red Stick, compared with the Second City's 24.
Nationwide, the majority of the largest cities, including Chicago, saw a decline in homicide rates in 2017 based on initially available data, which University of Missouri-St. Louis criminology professor Richard Rosenfeld said makes Baton Rouge further stand out.
"I have not seen a spike of this magnitude in other places," Rosenfeld said.
But crime analysts and law enforcement officials say despite closing out 2017 with five homicides in the final weekend, the killings now may be on a downward trend.
New Orleans-based crime analyst Jeff Asher said violent crime, including homicides, began to rise in the middle of 2016 in Baton Rouge and continued on that path through the majority of 2017. But those numbers had, in the past few months, begun to fall.
"You had this surge in gun violence that appears to be slowing down," Asher said. "Because the surge itself happened all of a sudden and the slowdown happened all of a sudden, I wouldn't begin to draw a conclusion for what that means for 2018 other than that the last couple of months appear to have been an improvement."
However, pinpointing exactly what led to either the recent improvement in crime or the yearlong high homicide count remains up in the air for both local leaders and crime experts. With so many possible factors that could impact the city's violence, as well as little comprehensive data already available on the year, Rosenfeld said all that can be shared thus far are speculations, with reasoned support.  
Former interim Baton Rouge Police Chief Jonny Dunnam and East Baton Rouge Parish District Attorney Hillar Moore III have continued to cite the social disorganization theory for the uptick in killings. Looking back at Baton Rouge's difficult summer of 2016 — the police shooting of Alton Sterling, the ambush that killed three law enforcement officers and then the August flood — the local leaders say this chaos could have spurred the violence the region felt through 2017.
However, Dunnam also noted throughout the year that many more of the homicides in the city were drug-related, a possible effect of the national opioid epidemic, which has not spared Baton Rouge.
Rosenfeld said he has seen the growing drug market affect homicide rates in other similar cities, but he also suspects that an element of the 'Ferguson effect' might be at play in Baton Rouge. 
The so-called "Ferguson effect" — a theory that came to describe the alleged retreat of police officers from their day-to-day duties, such as after the 2014 police shooting of Michael Brown in Ferguson, Missouri — has been applied to a variety of cities that experienced a similar officer-involved incident against a black resident. On July 5, 2016, Alton Sterling, a 37-year-old black man, was fatally shot by a white Baton Rouge police officer, sparking citywide protests.
"There are two versions (of that theory). One had the police withdrawing from communities," Rosenfeld said, which he finds the less compelling argument for Baton Rouge's killing spike. "(The other is) where the disadvantaged, minority community is withdrawing from police, (they're) less likely to cooperate with police, less likely to be a witness in a crime ... and perhaps more likely to take matters into their own hands — that could bump up the homicide rate."
Dunnam also has discounted the first version of the theory, saying he has seen no evidence arrests have decreased or his officers are not working proactively. He also said community involvement improved in recent months, a change he surmised came from residents becoming "fed-up" with the violence.
"I think the public honestly stepped up," Dunnam said in early December. "(They) started coming forward with information that helped us solve a lot of these homicides and get these individuals that were committing these crimes off the street."
In 2014, Baton Rouge Police Department homicide detectives worked 53 homicide cases. At that time, there were 17 officers in the unit.
Moore said he also believes the recent, and quite public, end to the Baton Rouge Area Violence Elimination program, an initiative aimed at changing the path of youth in groups or gangs, could have contributed to the rise in homicides this past year.
A large portion of the parish's homicides occurred in the 70805 and 70802 ZIP codes, the areas targeted by the recently dismantled BRAVE program. Forty-five percent of all parish homicides happened in the two areas.
The portion of homicides in those two areas increased almost twofold from 2016, when only 24 percent of the parish's homicides were in those two ZIP codes, according to records maintained by The Advocate.
Moore said the high-profile and controversial end to BRAVE was known across communities, which could have given residents the impression that authorities were less dedicated and less effective in combating violence. At its inception in 2012, BRAVE had overwhelming support from the community, and the program's first two years brought a noticeable improvement in the city's crime. However, by 2015, incidents of violent crime began to creep back up while the number of youth participating in the initiative was puttering out.  
"I do think the end of BRAVE has to do with some of what we're seeing," Moore said. "Just the way it ended, and the public opinion surrounding that … was disappointing to see."
The U.S. Department of Justice this summer rejected a request to extend the program — leaving nearly $1 million in untapped dollars — as local officials scrambled to explain the lack of coordination and failure to comply with federal reporting requirements that resulted in so much money left unspent.
Many people involved with BRAVE, including Moore, touted the program as a success and said they regretted that some of its achievements were overlooked at the end of its tenure. Moore and other community leaders have formed a nonprofit they hope can continue some of the work. 
But many of the homicides in East Baton Rouge also came from circumstances that don't quite fit into a larger narrative. Fourteen of the cases were related to domestic violence — an amount officials have called remarkably high even in a state that consistently has one of the highest proportions of such deaths — and three slayings police said stemmed from two separate men accused of serial killings.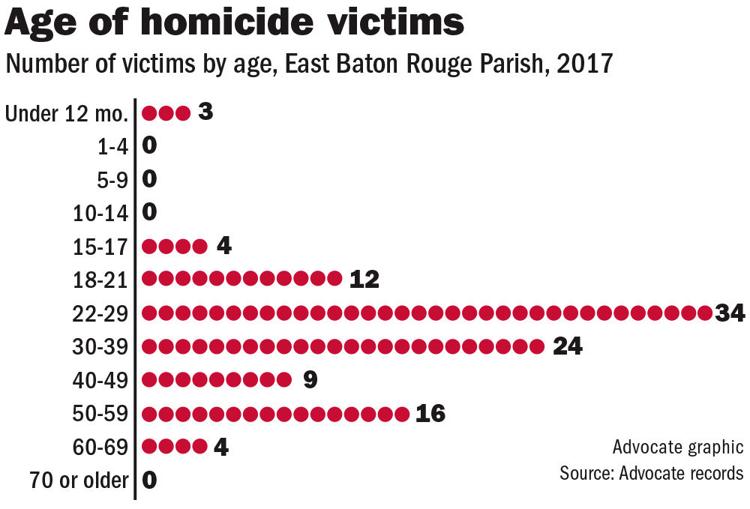 Three babies less than a year old and one 15-year-old were killed in 2017, compared with 2016 when no one younger than 17 was killed. Victims 50 years or older also spiked, with 20 killed last year, compared with seven in that group from 2016.
Nineteen homicides were outside city limits, with 14 handled by the East Baton Rouge Parish Sheriff's Office, one by the Baker Police Department and four by the Zachary Police Department. Since 1990, the Zachary Police Department has never worked more than two homicides in a year, according to FBI data.
"We've never really had this before, but hopefully it's a cycle of violence that doesn't continue," said Zachary Police Chief David McDavid. He said he believes the majority of the homicides involved outsiders bringing violence into Zachary from different areas, but he said he hopes joint agendas from regional leaders can solve the issue together. 
"I just feel like we need to really wake up and see what the root cause of all this is, talk about it, then (do something)," McDavid said. "I think we can stop this (together)." 
The biggest group of the parish's homicide victims in 2017 were black males between the ages of 17 and 36, a demographic that made up 47 percent of the homicides in 2017, compared with 44 percent in 2016.
Of the homicides that occurred last year in the parish, 54 percent have been marked cleared, a designation that means an arrest — not a conviction — has been made in the killing, or the perpetrator has died. Baton Rouge police, who handled a majority of the parish's cases, cleared just below 50 percent last year, more than 10 percentage points below the national average. The Sheriff's Office, which handled significantly less homicides, solved almost 80 percent of its cases. The Zachary and Baker police departments cleared all of their 2017 cases.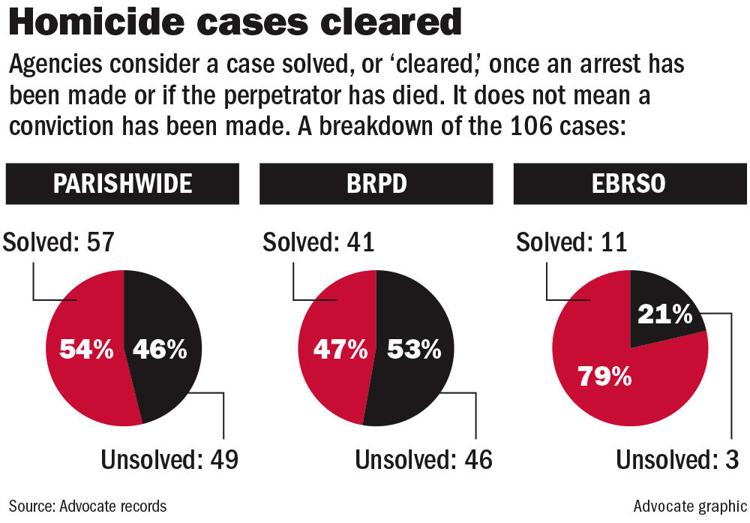 Both the Baton Rouge Police Department and East Baton Rouge Parish Sheriff's Office struggled with manpower shortages throughout the year, but only at the city department did it affect the homicide division, shrinking its detective corps during the historic rise in homicides.
The slaying of Carla Lee's 18-year-old son in May is one of the 49 cases in the parish that remain unsolved. She said she hasn't gotten an update from Baton Rouge police detectives since it happened.
"It's heartbreaking because no justice has been done," Lee said. "They have so many murders. … They just happen too fast, too many, too fast. ... It's understandable (they have not solved Lee's case), but it's still unacceptable."
Bryant "BJ" Lee Jr. was fatally shot May 13 outside a party near Southern University, the school the former McKinley High starting quarterback was set to attend come fall. His mother doesn't forget that date and can quickly count exactly how long it's been since she lost her son: Next Saturday will be eight months to the day.
"I just miss his presence, his voice," Carla Lee said, trailing off into quiet tears. "I just miss him. … Some days are terrible, (but) we're coping."
East Baton Rouge Parish Mayor-President Sharon Weston Broome recently appointed former State Police Lt. Col. Murphy Paul as Baton Rouge police chief. In Paul's first public address as chief, he called himself an optimist, a description he lived up to as he responded to 2017's homicide numbers with a hopeful message for 2018. Paul said he plans to build community-police relations, which he thinks will improve witness cooperation and domestic violence issues.
In a recent statement from Paul on the spike in homicides, he said the department will attempt "to change the culture of violence in Baton Rouge" by continuing crime initiatives and meeting with fellow local leaders about other efforts.
In the meantime, Asha Davis' sister has made her own promise to do her part, working to create a space supportive for local women — in honor of her sister. 
"We started a group, just basically like a sisterhood, a fellowship, where we can discuss issues we go through," said Measha Davis, Asha Davis' younger sister.
Miquel Angel Lopez stayed in his bedroom for more than 10 hours Sunday with the body of an ex-girlfriend he had stabbed to death, Baton Rouge …
Measha Davis said she knew her sister was struggling with physical and verbal abuse before her slaying, but she didn't know how exactly to help then. Armed now with more knowledge of the issue and her family's experience, she said she hopes her group can now provide that help for someone else. 
Thailand Brooks, Asha Davis' boyfriend, was indicted on a second-degree murder charge in June. He pleaded not guilty, and his lawyer Thomas Damico said officials have the wrong guy. Damico said there is no evidence that ties Brooks to the crime.
But the Davis family is still waiting for justice, something they say will come from a conviction. 
Wearing a black shirt adorned with a colorful elephant and inscribed with the words 'For Asha,' Measha Davis spoke of the monthly meetings she's held since March, which have consistently drawn about 15 women. The gatherings are meant to create a circle of trust among the women, Measha Davis said, especially for women who might be struggling with domestic abuse.
"A lot of people have been through different experiences," Measha Davis said, "and they can help one another."