The last time Rae Ann Gruver saw her son Max, he enveloped her in a hug that she'll treasure forever. 
The "gentle giant," as she called him, towered over her at almost 6 feet 2 inches tall, so he rested his chin on her forehead and she locked her wrists around his waist. In that moment, they both closed their eyes and smiled, standing in the parking lot of LSU's South Hall dorm, Max's new home for the year.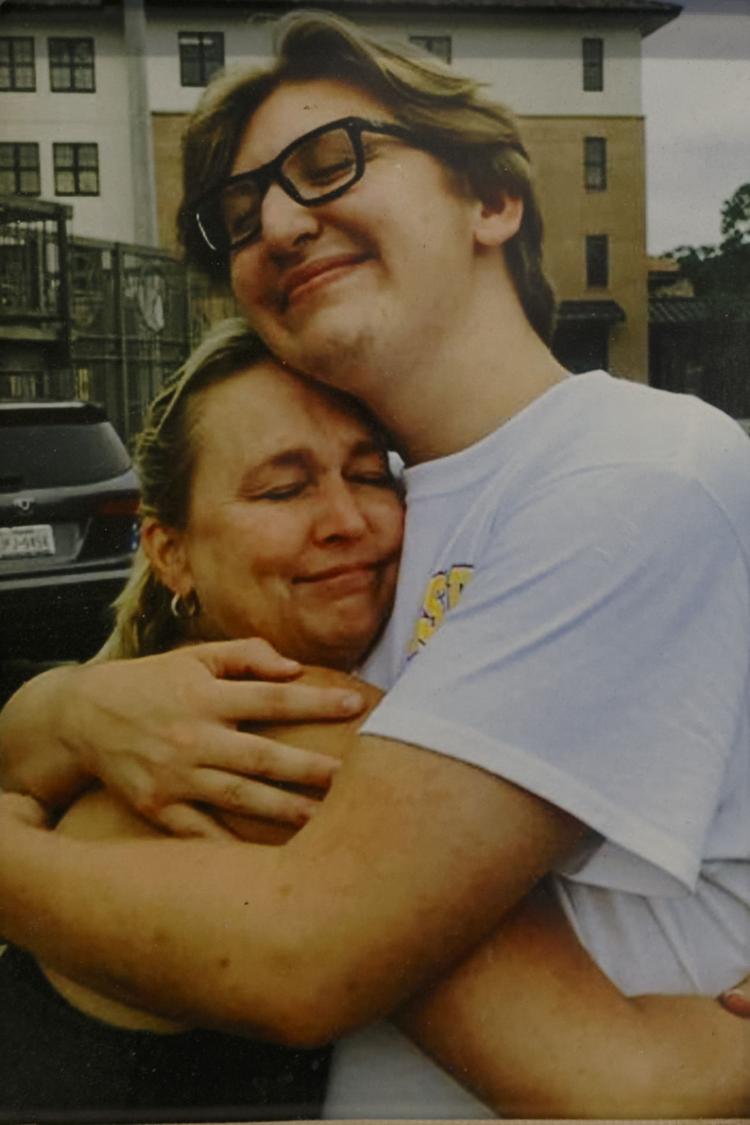 The day had gone so smoothly, Rae Ann said. Earlier, the two went to The Chimes with Max's dad, Stephen Gruver. Max had gone to that restaurant just outside campus every time he'd visited Baton Rouge, ahead of making his final decision to attend. He fell in love with the blackened alligator and fried catfish. Stephen said he felt certain Cajun food helped influence his son's decision to attend LSU.
They moved Max, their oldest child, into his dorm, chatting with his new roommate's family. Stephen and Rae Ann packed up their car and prepared for the eight-hour drive back to their home in Roswell, Georgia. They were full of tears, but also optimism.
"He was excited. He was happy, honestly he was really happy," Rae Ann said tearfully in an interview at her home in Roswell, Georgia. "I dropped him off and I knew my son was happy. And he wasn't nervous. He was just ready to go meet people. It was the next chapter of his life. I honestly felt like this was going to be Max's prime, he was finally coming into his own."
Max moved in to LSU on Aug. 15 to start his freshman year and his journey into adulthood. He died only one month later following what police described as a fraternity initiation at the Phi Delta Theta house, among people he had hoped would become his friends and brothers. The 18-year old freshman now joins the ranks of at least three other college students across the country who died in 2017 while allegedly being hazed or drinking heavily with their fraternity brothers.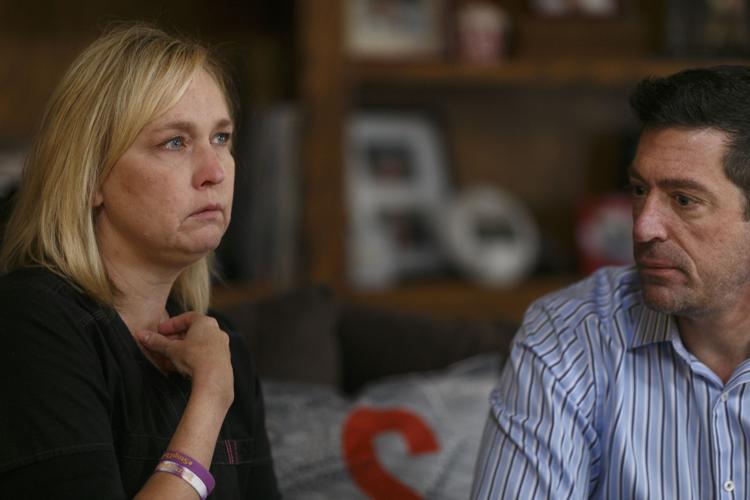 Police say Max was forced to chug 190 proof alcohol when he incorrectly answered questions about the fraternity's history in a game dubbed "Bible Study" — just another insult to the devout Catholic family. He had an eye-popping blood alcohol level of 0.495, about six times the legal limit to drive. 
Four days before Christmas, Rae Ann and Stephen Gruver invited an Advocate reporter to their home to talk about the recent death of their son. Max's siblings Alex, 16, and Lily Kate, 13, were not present for the interview.
Usually, at this time of year, their cozy, two-story home on a hill would be decked out with Christmas decorations, including two huge trees covered in ornaments made by their three children. Steve puts up an inflatable snowman in the foyer. As the oldest, Max graduated to helping his parents wildly string colored lights all over the living room and kitchen as proof to his siblings that Santa's elves had arrived causing mischief. 
This year, the traditions were too hard to bear. "I didn't want to pull it all out, it's all of the kids' decorations and stuff since they were babies," Rae Ann said. "It's just too hard."
So the house is unadorned for the Christmas season. An orange pumpkin, a remnant of the fall, still sits at the front of the house along with two flags: one for Clemson University, Rae Ann's alma mater, and an LSU flag for Max.
It's only been three and a half months since Max died, and the couple is still consumed with grief. His friends, too, have returned home to Roswell for a winter break without Max, saying they can't believe he was lost this way.  
Max's loved ones wanted to speak publicly in an effort to prevent hazing on college campuses from taking anymore lives. They believe Max was killed, saying he would never have voluntarily consumed that much alcohol. They want prosecutions, as well as substantive changes in laws and policies at LSU and around the country. 
"It's not something you will ever get over. The sadness has taken over at this point," Rae Ann said. "I don't want any family to ever go through this."
'An informed choice'
Max made something of an unexpected choice to attend LSU. He didn't know anyone his age in Baton Rouge. His best friends were mostly attending Georgia universities and his high school sweetheart Blakely Willard was going to Florida State. His close friends suspected he'd go to Clemson like his mother.
But Max grew interested in LSU's mass communication program. In high school, he took a journalism class, which was one of his favorites. And he wrote two or three articles a week for a Brooklyn-based lifestyle and sports website called DefPen.com.
He wrote articles about the NBA primarily, without receiving a paycheck, because he was fanatical about sports and wanted the exposure as a writer. He had an encyclopedic knowledge of sports stats and players, and was constantly tweeting about his favorite teams, like the Atlanta Hawks, and the latest national sports news. He aspired to be a sports writer, but as college approached he warmed to the idea of broadening his horizons into political journalism. At LSU, he set his sights on a political communications degree.
On Oct. 25, 2016, Max tweeted a photo of himself with his LSU acceptance letter. "LSU Bound? #LSU21" Someone on LSU's official twitter account responded "Congrats! We hope you choose to be an LSU Tiger!" 
LSU bound? #LSU21 pic.twitter.com/rXfVMvJ8Za

— max gruver (@mgruver12) October 25, 2016
Max dove head first into life at LSU. He did Stripes, a four-day retreat before school starts to learn about student organizations, meet other freshmen and learn the campus. Before school started, he was already chatting on social media with other students.
He ultimately decided he wanted to join a fraternity as a way to get involved and meet new people. 
The family didn't take the decision lightly. They pored through the university's materials about the fraternities, looking at their average GPAs, philanthropy and other accolades. 
When Max landed on Phi Delta Theta, the Gruvers were happy. It was a smaller fraternity, and the national organization proudly touted its policy banning alcohol in the house and strong stance against hazing. 
"We said, 'Oh, wow, Max has made a really great choice, an informed choice," Rae Ann said. He told them he thought he might be pledge class president.
In a move to honor their lost loved one, Maxwell Gruver's family is taking a stand against hazing and urging young adults to be responsible an…
Max's friends said he was the opposite of the stereotypical hard-partying fraternity brother, making the news of his death all the more unbelievable.
"Of all of the people from our school, Max Gruver was at the bottom of the list of people I would have thought this could happen to," said Meghan Henry, a close friend.
He wasn't known to drink or party much in high school, instead preferring to hang out with his best friends at his house. Before he left for college, Max spent his free time driving his his dark green Jeep Wrangler, listening to music — his favorites were Kendrick Lamar, J. Cole and Kanye West — and playing NBA 2K with his friends and his brother on the XBox in the basement, said childhood buddies Anna Hummel and Zach Strauss.
His family was close knit. His brother Alex was his best friend. Last summer they played on the same recreational baseball team with Max catching and Alex pitching. They won the championship game. 
He drove his sister Lily Kate to school when he was in high school and her middle school was right next door, and coached her basketball team.
"They are the closest family I've ever seen," Willard said.
Parents loved him, all of his friends said, because of his good guy reputation and ability to converse easily with adults.
Willard, his girlfriend since 9th grade, recalled a time a group of her friends was going to a "rowdy" beach for spring break and her friend's mom asked for Max specifically. 
"I remember her telling us, 'Well you guys can't go unless Max goes with you,'" she said. 
"He was always so sweet, always looking out for other people," Willard said. "I don't want his legacy to be what happened to him because that's just so uncharacteristic of him. It was a shock to everyone about how it happened, because that's not who he was."
Dave Miller, who oversees the regional basketball league for the Catholic school system, recalled one year when there were no parents who volunteered to coach the middle school girls' basketball team — the team Lily Kate played on — so Max volunteered. He was the only teen to coach in the league, and he had to get special board approval. 
Miller laughed about how Max showed up to the games dressed in a suit and tie, like NBA coaches, while the volunteer dads dressed down in jeans or sweats. 
Since the death of LSU fraternity pledge Maxwell Gruver in September, the university's Greek organizations have been under increased scrutiny.
"Max is the kind of kid I'd want my daughter to date, that's how good he was," Miller said. "That kind of thing, it shouldn't happen to any kid. But especially not Max." 
Now, the Gruvers are part of a club that Stephen said "they didn't want to be in but are grateful to have."
Jim and Evelyn Piazza introduced themselves to the Gruvers at Max's funeral. Their son, Tim Piazza, attended Penn State and died in what prosecutors have described as a gruesome hazing incident earlier this year at a frat house where he was pledging.
Rae Ann said she's also grown close to Debbie Debrick, whose son Dalton died of alcohol poisoning while pledging at Texas Tech in 2014; Cindy Hipps, whose son Tucker died at Clemson in 2014 in an alleged hazing incident on a bridge, falling to his death; and Kim Burch, whose son Nolan died at West Virginia University in 2014 from alcohol poisoning.
"They have been a big support to us and understand what we are feeling and going through," Rae Ann said. "We are able to share our feelings with them."
'His legacy'
As painful as it is to talk about Max, they said advocating on his behalf gives them a mission and way to reconcile the death of their son. They've started the Max Gruver Foundation to combat excessive alcohol consumption, bullying and hazing in college. They've mailed out 30,000 silicon wristbands that say "#FlyHighMax" and "Stop the Hazing."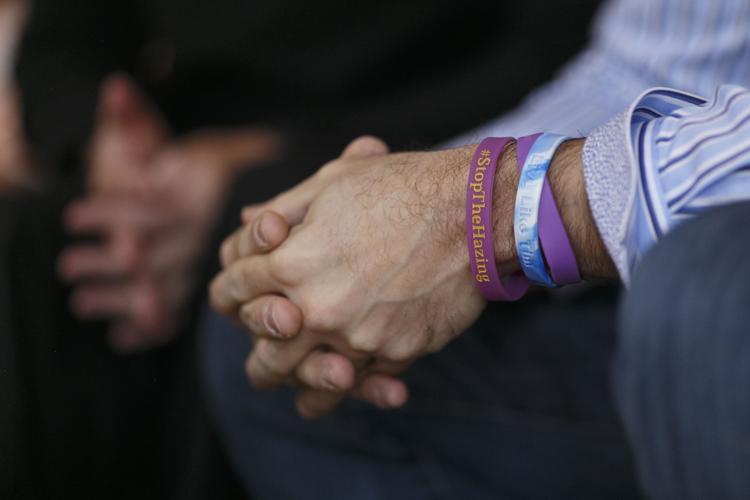 "It's for our son," said Stephen, who wears three iterations of the wristbands. "It's his legacy and it's what he would have wanted. We feel like had he survived he would have done great things with his life. He was a good, strong character with a good soul, and he was a very positive kid." 
They have researched the hazing deaths of students all across the nation and the laws on the books in virtually every state and come up with a list of changes they want to see implemented across higher education institutions. 
First of all, they want transparency. Fraternities and sororities should be forced to disclose their history of indiscretions and penalties. Parents and students should be able to find out easily if the organization has a long list of suspensions for hazing or drinking infractions, they said. Transparency would also compel fraternities to clean up their own acts. Membership could decline if fraternities were disclosing numerous infractions.  
Less than a year before Max died, Phi Delta Theta had been temporarily suspended for complaints about hazing and drinking. 
"If we'd known that, we wouldn't have picked that fraternity," Stephen said.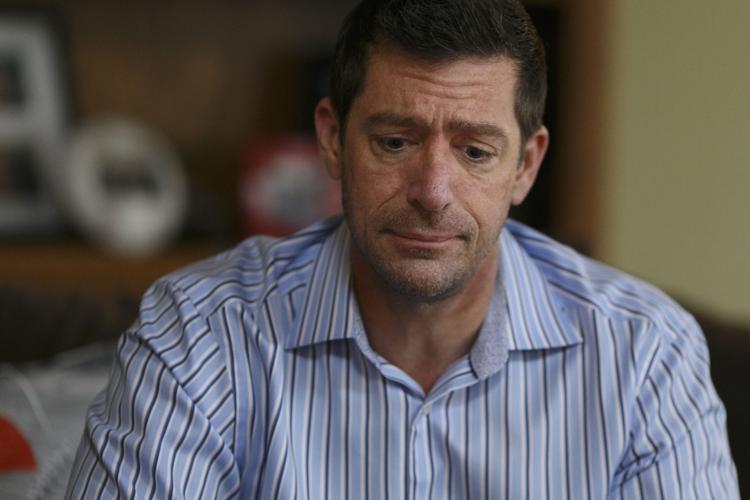 The Gruvers also want medical amnesty for students calling to report dangerous situations. Stephen said students reporting a medical emergency like their son's shouldn't be discouraged from calling because they're concerned they could get into trouble for drinking. 
He also said the legal penalties should be strengthened to make hazing a more serious offense across the nation. He noted that at LSU and Phi Delta Theta already have policies banning hazing. He said it's not enough to have a policy if no one is there to police it. 
"The schools need to do a better job of enforcing these rules and the fraternities need to do a better job of enforcing their own policies," he said. 
They both stressed that ending Greek life is not their objective. Rae Ann was in a sorority. But they want schools to be proactive in evaluating the student organizations. 
After Max died, Phi Delta Theta's national headquarters pulled the fraternity from campus. LSU President King Alexander has frozen many aspects of Greek Life pending a review by a task force that will give recommendation at the end of January. 
Ernie Ballard, a school spokesman, said the school is considering all ideas, "most especially those of the Gruver family." He noted that transparency and medical amnesty — for individuals, not organizations — have both been discussed at the task force meetings. 
He also said that Gov. John Bel Edwards and Alexander have talked about stricter legal penalties to combat hazing, but are concerned it could have a deterring impact in students reporting bad behavior. 
"Every university struggles with the balance of amnesty and penalties," Ballard said. "If too many conditions are applied to amnesty, students begin to discount the value of the amnesty. If the amnesty is too broad, habitual offenders may not be held accountable." 
Sean Wagner, chief operating officer for Phi Delta Theta national organization, said the fraternity is taking Max's death seriously and is currently doing a review of all health and safety initiatives. 
"We will share these plans in the coming months, but we know for sure that change will come in the following areas: bystander and new member education, parent communication and involvement, volunteer and adviser support, recruitment and further policy education," he said. 
Wagner also said in his statement that the fraternity hopes the students responsible "are prosecuted to the fullest extent of the law."
As for the Gruvers, they too want the students who were involved to be held responsible. Asked if they believe Max was killed by his peers, they answered in the affirmative. But they don't believe they can get justice for their family. 
"When it comes to justice, it's how to make things equal," Stephen said. "It really can't happen. The only thing for justice to happen is for us to have our son back. There is no justice."
Ten men were arrested for their alleged roles in the hazing at the fraternity. One man was arrested on a felony count of negligent homicide, while all of the men were booked on a misdemeanor count of hazing.
A state grand jury in Baton Rouge has been looking at the case, a process East Baton Rouge District Attorney Hillar Moore III has said will continue into January. Attorneys for the arrested men — almost all LSU students and fraternity members — have denied that their clients broke the law or participated in hazing. 
"Max was a part of the fraternity; he was their friend," Franz Borghardt, a lawyer for Sean Pennison, said the day of the arrests.
When asked about the family's hope that prosecutions move forward, Borghardt said the Gruvers "continue to be in our thoughts and prayers. We are patiently waiting for the education and justice systems to take their respective courses."
John McClindon, an attorney for Matthew Naquin, who LSU police identified as an aggressive instigator in the drinking game and booked with negligent homicide, said he'd withhold comment about the Gruvers' belief that their son's friends killed him.
"I don't think it would be appropriate for me to respond to that particular allegation. We should let the grand jury hear all of the evidence, apply the law, and render their decision," he said.
In 2013, LSU's chapter of Pi Kappa Phi hosted an event for its new member class called "Big Brother Night." At that gathering, LSU would later…
Holding on to Max
When Max was a sophomore he started wearing glasses — black, rectangular, plastic rimmed Ray-Bans that called to mind Superman's alter ego Clark Kent. 
It was part of his look, his friends and family said.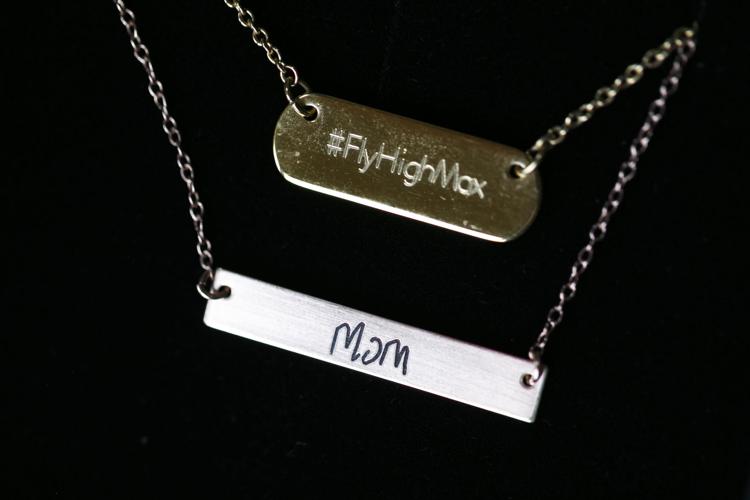 When he died, Rae Ann put her own prescription in his glasses. Now she wears them, along with a necklace Willard gave her that has an etching of Max's handwriting that says "Mom." 
It's been a tough few months. Thousands of people in the community packed the red brick church for his funeral and have been supplying the family with a steady stream of meals. 
Still, Rae Ann said she can barely bring herself to do menial errands like go to the grocery store because it's so hard to talk about what happened with her neighbors. 
They plan to continue with their advocacy for Max. They want to create a format for a presentation that can be shared at the high school level. Meanwhile, Max's friends are hoping to continue to spread the word at college campuses, sharing his story and asking students to sign pledges.
In the weeks right before Max died, Rae Ann and Stephen downloaded SnapChat on their cell phones to communicate with Max on his preferred platform. The smartphone app lets people message and send photos that disappear. 
Rae Ann and Max were exchanging SnapChat messages the night before he died. 
"We both said to each other that we loved and missed each other," Rae Ann said, choking up. "And of course, it's in a SnapChat so you can't keep it. But you know. I know it's there."