The number of minority teachers is shrinking in Louisiana's public schools even as the ranks of minority students in its classrooms keeps growing — a trend some find worrisome and believe needs to be addressed.
The imbalance primarily involves white teachers far outnumbering the number of black teachers in schools with a predominantly black student population. And it's caught the attention of the state's Department of Education, which is ramping up its efforts to recruit more teachers of color amid a statewide teacher shortage.
The problem, educators say, is that the lack of diversity can have an impact on student performance when kids in the classroom aren't seeing enough adults inside the schools with whom they can identify and relate.
Pointe Coupee Parish is among the districts that illustrate what's happening. Black kids comprise nearly 60 percent of the student population versus the 35 percent of white students who attend public schools in the district. But the demographics are almost the reverse for the parish's educators, 66 percent of whom are white while only 31 percent are black.
"I think it's statewide," said Kevin Lemoine, schools superintendent for Pointe Coupee Parish. "When you start looking at schools in school districts with populations of high minority/high poverty, you're going to see those same numbers."
And Lemoine is right.
Data from the Louisiana Department of Education shows that 74 percent of the state's approximately 47,000 public school teachers are white while only 22 percent are black. According to the latest student enrollment counts published by the LDOE, black kids make up 43 percent of the state's student population, and the ratio of white students was approximately 44 percent, as of Oct. 1, 2017.
From 2002 to 2017, the percentage of public school teachers of color in the state dropped from nearly 30 percent to 22 percent, according to data from the state education department.
That snapshot of what's happening statewide is mirrored, to varying degrees, in districts throughout the Baton Rouge Metro area.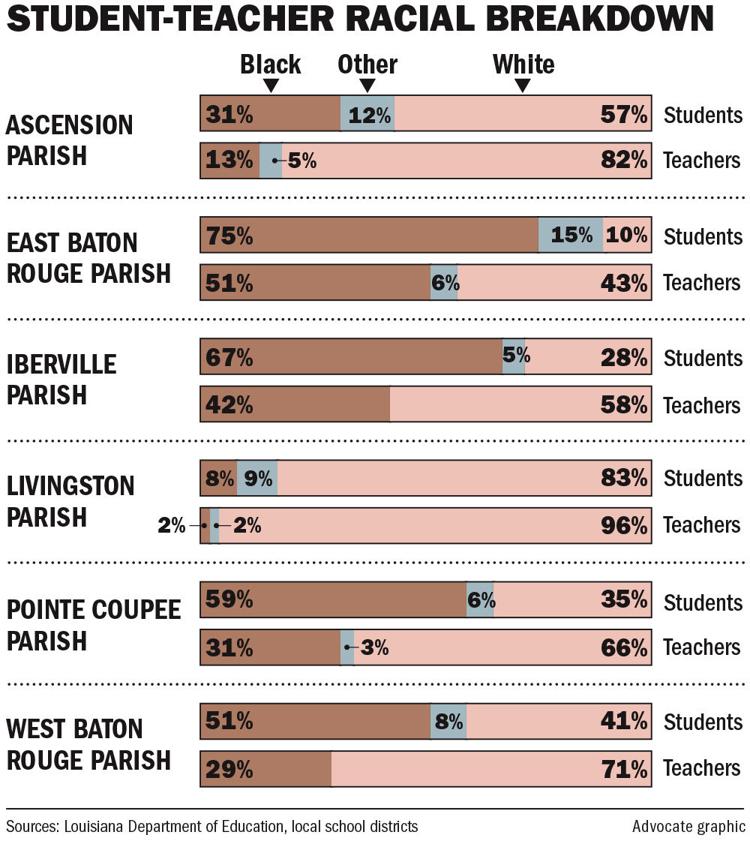 West Baton Rouge Parish is a district with a student population that is 51 percent black and 41 percent white. The racial ratio of teachers, though, is 71 percent white and 29 percent black.
In Iberville Parish, white teachers comprise 58 percent of the parish's educator workforce, and black teachers make up 42 percent. Black kids hold majority status in the parish's student population at 67 percent, while the district's white student count stands at approximately 28 percent.
In East Baton Rouge Parish, the state's second largest school system, 51 percent of the teachers are black and 43 percent are white. But the student population is 75 percent black and only 10 percent white.
Local superintendents and those in higher education blame the current teacher shortages on the state's rigorous standards for aspiring educators as well as the lower pay rates Louisiana teachers earn out of college. They say state officials need to address those two major issues if Louisiana wants to seriously tackle the diversity issue regarding teacher demographics.
"We've focused on quality so much over the last ten years that quantity has suffered," Lemoine said. "Somebody has to take a hard look at this through the Board of Regents and Department of Education and say: 'What are we going to do about these teacher shortages?' In particular, about the African-American teacher shortage."
The number of teachers entering the profession in Louisiana is declining, and state lawmakers may launch a study on just why it is happening.
Lemoine had to confront the imbalance in his teaching demographics after two black representatives on the parish's School Board pushed for answers on whether he was making a concerted effort to hire more black teachers.
Pointe Coupee Parish School Board President Chad Aguillard, who is black, said he and fellow board member Tom Nelson, who also is black, had received questions and concerns about the racial imbalance between student and teacher demographics from the public.
"I personally believe, in order for students that attend our schools to feel the most welcomed and be the most productive, there needs to be a teaching staff reflective of who they are," Aguillard said.
Since Feb. 1, the district had 34 teachers apply for jobs in Pointe Coupee Parish. Of the 34 applicants, only two were African-American, Lemoine said.
"I'm one that believes there are not enough African-American males in schools (and) we need those mentors," Lemoine said. "We need examples of accessible folks who have gotten degrees and came back to be in our profession."
National research has shown that a students' race, ethnicity and cultural background significantly influence their achievement, and that kids are better equipped to succeed in an increasingly diverse society when they're taught by teachers from a variety of cultural backgrounds and ethnicities.
Verjanis Peoples, director for the School of Education at Southern University, adds that teachers of color often serve as "cultural brokers" for minority students and are more willing to work in schools that are harder to staff.
"They can communicate better. We find that our black teachers are more compassionate. They have patience to work with children who look like them," Peoples said. "It heightens [students] self-esteem when they see people in the classroom that look like them. They don't feel so isolated."
Peoples' research found that graduates from Southern University and Grambling State University, two renowned historically black colleges in the state, once provided nearly 50 percent of the state's public school teachers.
But that has changed.
According to figures from the state's Department of Education, aspiring teachers from both predominantly black universities have only made up 3.6 percent of the graduates who have received undergraduate degrees in education between 2011-2016.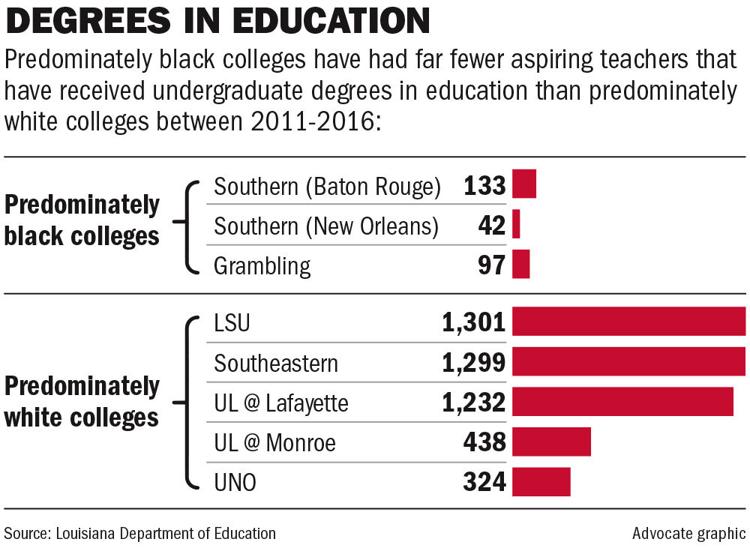 Peoples said many of her students feel the field of education in Louisiana has become too highly regulated, which has made it increasingly difficult to obtain a degree.
To even get into education programs in Louisiana, students must have a 22 on the ACT or pass the national teaching exam known as PRAXIS I.
"The average ACT score for students in Louisiana is probably an 18," People said. "The 22s are not choosing to come into teacher education. And they're telling me it's because of the salary, too. They can go into engineering and start off making double the salary they would make teaching. So, why do this?"
Peoples added, "And then to graduate, they have to pass PRAXIS II and have a 2.5 grade-point average. You can graduate in nursing or engineering with a 2.0, and without having to pass any tests."
Lemoine echoed Peoples' sentiments, adding that many aspiring teachers are taking alternative routes to enter the classroom, like getting hired at charter schools that aren't required to follow the same accountability standards that the state forces on public schools.
"It's frustrating. I can't hire them but they can go work for a charter school," he said. "Charters have the autonomy to hire uncertified teachers." 
The state is standing by its requirements for aspiring educators. In fact, Sara DeLano, executive director of LDOE's Educator Workforce, said Louisiana is transitioning toward the implementation of a yearlong student teaching mandate that aspiring educators will also have to complete before they receive their full teaching license.
That's in addition to partnering with the Council of Chief State School Officers on a nationwide campaign to diversify the education workforce.
"The mismatch, in terms of teacher diversity as compared to the diversity of students, is not unique to Louisiana," DeLano said. "This is something we feel is important in Louisiana and something we see states across the country really focusing in on."
Louisiana is joining eight other states within the group's network as they pursue the goal of revising, enacting and removing state polices geared toward addressing the specific challenges involved with diversifying their pool of educators and ensuring all teachers have the ability to learn from and respectfully relate to students of color by 2020. 
DeLano said the state has also launched the recruitment campaign, Be A Teacher Louisiana, to address the overall shortage in teachers and is building more awareness about the racial imbalances between student and teacher populations.
A $5,000 pay increase for teachers in Pointe Coupee Parish hinges on just one thing: persuading voters to approve a 10-year, 10-mill property …
As for Lemoine, his efforts to diversify the teaching staffs in Pointe Coupee Parish include lobbying the state's Department of Education, Board of Regents and Legislature to change teacher certification requirements.
He's also adamant about getting parish voters to support efforts to raise teacher pay through millage increases which he feels are essential in attracting certified minority teachers, as well as white teachers.
"It's difficult to attract teachers, especially the minority teachers, because they're not there," he said.