Public school districts in the Baton Rouge area regained some of the ground they lost a year ago in Louisiana's academic rankings due to major changes that year in how the state calculated school and district letter grades.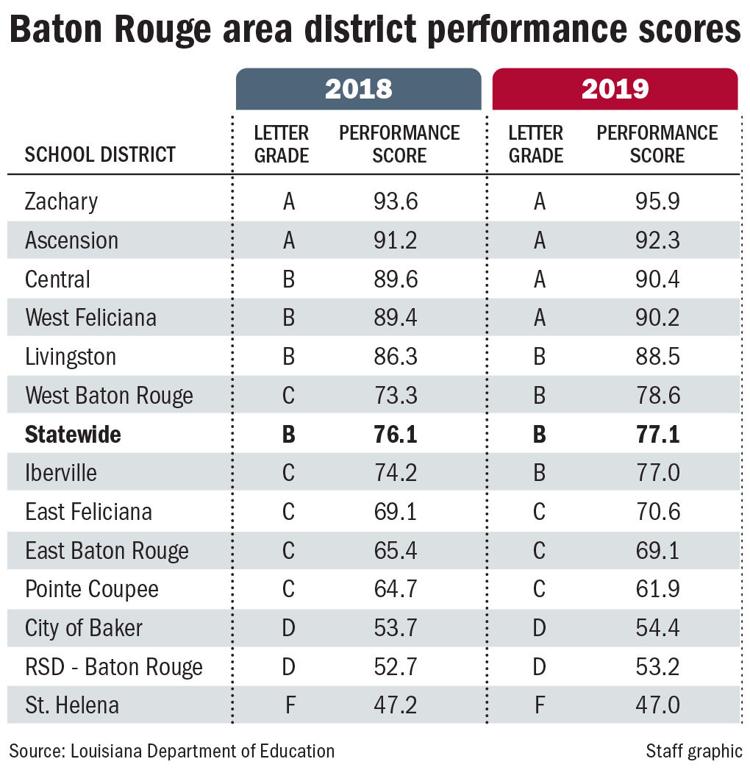 According to annual school academic results released Wednesday, four of the state's top 10 public school districts are in the capital region: Zachary, Ascension, Central and West Feliciana. 
Last year, Zachary and Ascension Parish were among the only four school districts in the state to earn an A under the new, tougher system. This year, nine earned top letter grades, with Central and West Feliciana Parish moving up from B to A grades. Livingston Parish, which in the past routinely earned A grades, grew as well but not enough to land an A.
Meanwhile, East Baton Rouge, Iberville and West Baton Rouge parishes improved substantially, greatly outpacing the state as a whole, which grew 1 point. Iberville and West Baton Rouge grew enough to move from C to B letter grades. That's a first for Iberville since districts began receiving letter grades. East Baton Rouge Parish, the state's second-largest school district, still has a C.
Locally, only Pointe Coupee and St. Helena parishes declined overall.
Nearly half the public schools in Louisiana – 44 percent – require sweeping improvements and about 45,000 students attend F-rated schools, sta…
Many individual schools grew along with their districts. Forty schools in the capital region have A grades now, up from 33 last year. Many more schools went up a letter grade as well.
The rankings are part of district report cards for 71 school systems for the 2018-19 school year, which ended in May. The district scores were accompanied by school report cards for 1,293 individual public schools across Louisiana. The state also released annual ratings, or performance profiles, for 1,533 child care centers.
The report cards size up how public schools are doing academically. The grades are largely based on standardized test scores for students in elementary and middle schools. At the high school level, the report cards also measure graduation rates and the rigor of academic coursework.
The schools are graded on a 0-150 point scale and receive letter grades of A through F.
This year's report cards, like last year's, give more weight to individual student growth than was given in the past: 25 percent for elementary and middle schools and 12.5 percent for high schools. Previously, such growth was awarded a weight of only 7 percent.
The Louisiana Department of Education on Wednesday released closely-watched school performance scores and letter grades, showing school and di…
Student growth, as measured by a complicated statistical process known as value-added modeling, covers all students. Last year, improvement only among struggling students counted.
The state is placing such a value on growth that schools are also receiving a progress rating and a special progress letter grade. High schools also earned additional letter grades for their graduation rates, strength of diploma and student performance on the ACT college placement exam.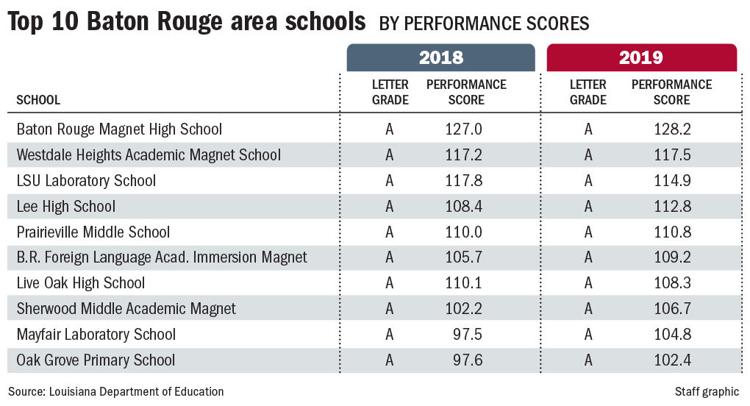 Louisiana's school accountability system will continue to get tougher through 2025 as part of a seven-year plan approved by the state board of education in 2017.
Baton Rouge Magnet High School continues as the highest-performing public school in the Baton Rouge region and it ranks sixth statewide. Howell Park Elementary in Baton Rouge was the lowest-performing school in the region, with an F grade and a school performance score of only 32.2 points out of a possible 150.
Fifty-seven schools in the nine-parish area are low performing enough to have been labeled in need of comprehensive intervention. That's nine fewer than last year, thanks to school closures and other changes. East Baton Rouge Parish school system's share of those schools declined from 38 to 33.
About two-thirds of those 57 local schools improved overall and 14 are considered on track to be rid of the label in a year. Twelve of those 14 fast-improving schools are East Baton Rouge Parish schools.
State School Superintendent John White made special mention Wednesday of East Baton Rouge Parish, which grew 3.7 points overall. White pointed in particular to improvement at 12 of 14 schools that are part of the district's federally funded Innovation Network. Among other changes, all of them last year rolled out new Tier 1 curriculum that the state rated highly, in part for its alignment with state academic standards.
"It's not just that they've adopted a highly rated curriculum," White said. "It's that they've taught the teachers how to use it."
East Baton Rouge Parish Superintendent Warren Drake noted there was improvement at all levels, with 18 schools climbing a letter grade. He said credit goes to the educators in those schools.
"Where the rubber meets the road is the people in the classroom, it's the leaders in the schools," Drake said.
Zachary continues to top state rankings as it has for years. Zachary earned 95.9 points out of 150 under the new system. That's 2.9 points higher than last year but almost 20 points lower than the score it received under the old formula.
Eighty percent of the school districts in Louisiana improved.
The second most improved district in the state was West Baton Rouge Parish, which jumped 5.3 points. Its score of 78.6 surpassed the statewide score of 77.1.
Superintendent Wes Watts said that in addition to working to improve all students, West Baton Rouge has worked to get students earlier on the path to a career.
"If we help them improve a little bit, then we're doing our job," Watts said. "That's giving kids a chance."
In 2016, voters in West Baton Rouge approved a $90 million bond and a small property tax hike to build a new school high school in Brusly, give teacher raises and upgrade its existing campuses. Watts said Wednesday's results show those funds have led to results.
Port Allen High, for example, earned a B for the first time, growing 14.3 points, the most of any school in the capitol region.
"It's great for taxpayers to see their investment was not misplaced," Watts said. "It was worth it and we're seeing the benefit."
The Iberville Parish school district improved 2.8 points to 77, just a tenth of a point behind the state.
Iberville School Superintendent Arthur M. Joffrion Jr. said the new B letter grade shows the significant strides Iberville has made in recent years. For instance, East Iberville High School in St. Gabriel, which has a B as well and grew 5.6 points, saw 100% of its senior class graduate for the first time since the school opened, he said.
"It signifies to the community that our school system is improving," Joffrion said. "It validates that we are doing the right work and truly making a difference in the lives of our students."
Last year, Madison and St. Helena parishes were the only districts in the state to earn an F grade. Madison Parish improved across the board, the most in the state, and it now has a D letter grade. St. Helena, by contrast, remains an F. Its score of 47, the lowest in the state, is two tenths of a point worse than its score a year ago.
Staff writer Youssef Rddad contributed to this story.
Trouble seeing the chart above? Click here.