Spread out on one side of the football stadium and wearing masks under overcast skies, about 450 Southern University Baton Rouge students  Friday received their degrees at an outdoor, in-person college commencement ceremony.
There were no handshakes with President Chancellor Ray Belton. But after queuing six feet apart, the Fall 2020 graduates received their diplomas off to one side, then climbed the stage and crossed to applause of parents and friends, some pausing for a photo next to, sort of, Belton.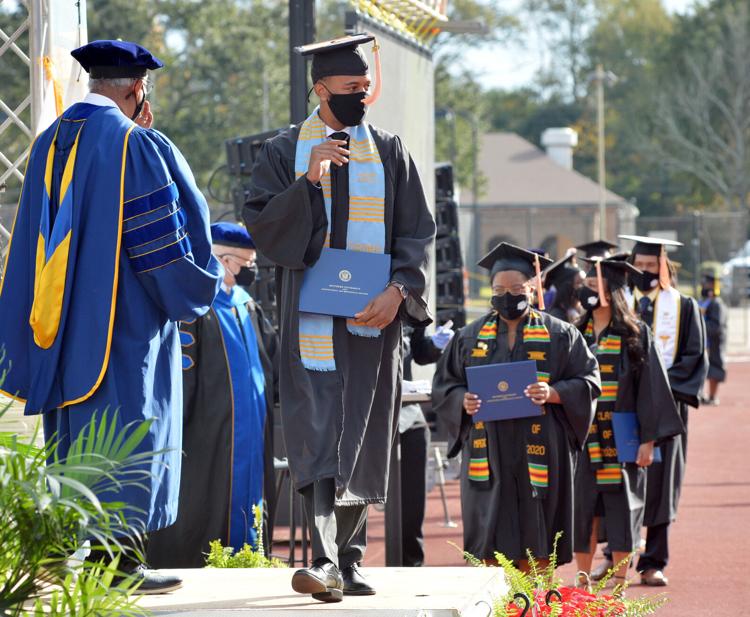 Chief student marshal is Erysse Green, of Antioch, Calif., was the first one. She graduated with a bachelor's degree in psychology and a 3.9 grade point average.
It was a different ceremony, as many said both on stage and off, in that the numbers were limited to four family members each and everyone had to have their temperature taken before entering A.W. Mumford Stadium, where the Jaguars play football. Still three hours long, fewer were in attendance than usual.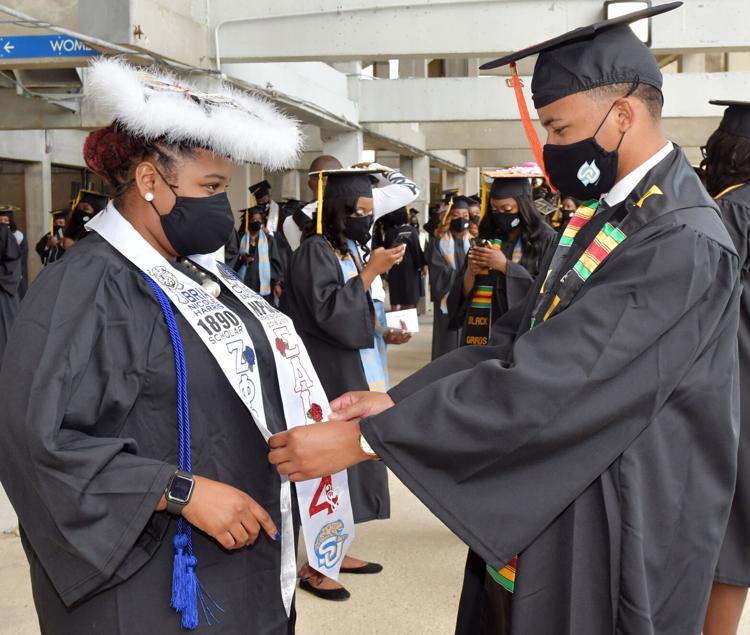 Students were seated several feet apart in a fenced off area of the stands at about the 50-yard line, rather than bunched together in the basketball arena. As the graduates marched in, officials said from the podium on the field: "Remember, please, please, help us maintain compliance."
"We did it," Belton said, opening the event after the graduates were seated. He commended the Student Government Association for working out the protocols and procedures necessary to hold the ceremony in-person, rather than on video as was initially planned.
LSU plans to hold its outdoor, in-person Fall 2020 commencement next week on Friday, Dec. 18, in Tiger Stadium. Baton Rouge Community College will host a drive-thru pinning ceremony for graduates of the Nursing and Allied Health Division on Monday from 12 p.m. – 1 p.m. in the parking lot of the BRCC Frazier Campus.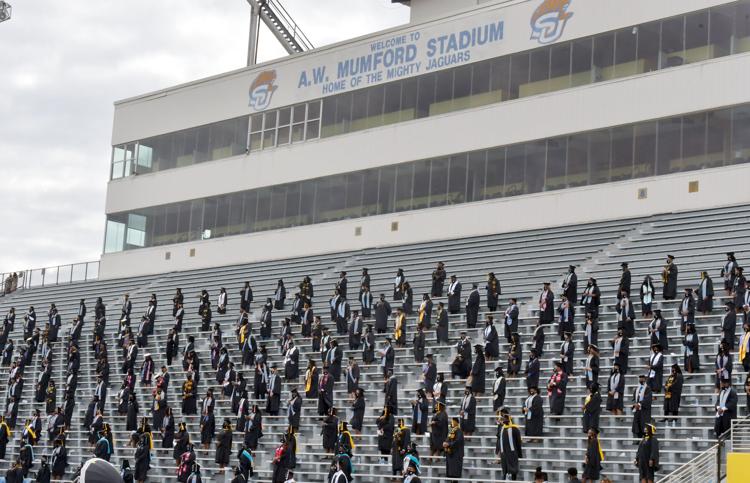 Franciscan Missionaries of Our Lady University will graduate more than over 70 students on Saturday during an outside graduation in the Liberal Arts and Science Parking Lot at 5345 Brittany Dr., in Baton Rouge, starting at noon.
Louisiana Higher Education Commissioner Kim Hunter Reed, an alumna, also alluded to the pandemic in her commencement address to Southern's graduates.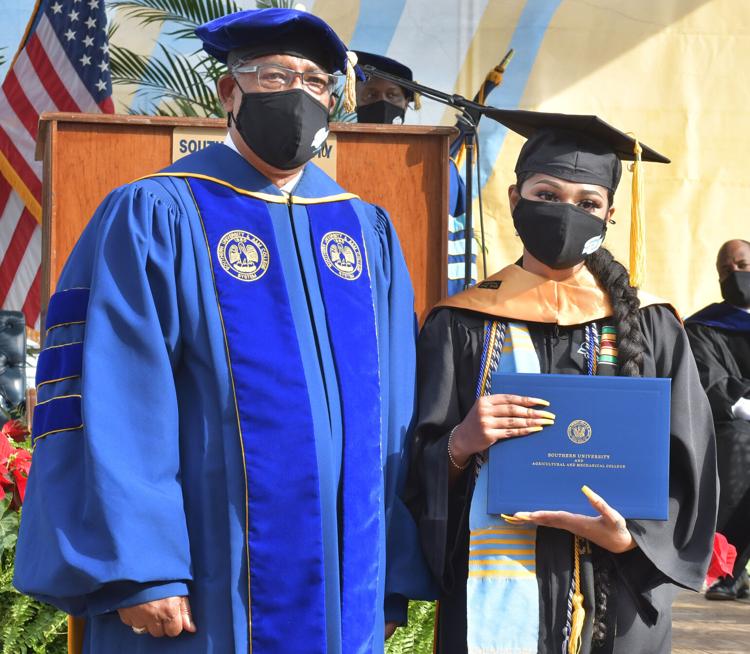 She noted March 9 as the day the first confirmed case of coronavirus. She reviewed all the various obstacles, such as switching abruptly to classes being held over the Internet and sending many of the students home before continuing classes some in-person, some online, and some a mixture of both.
"You masked up, you marched on, and you made it happen," Reed said.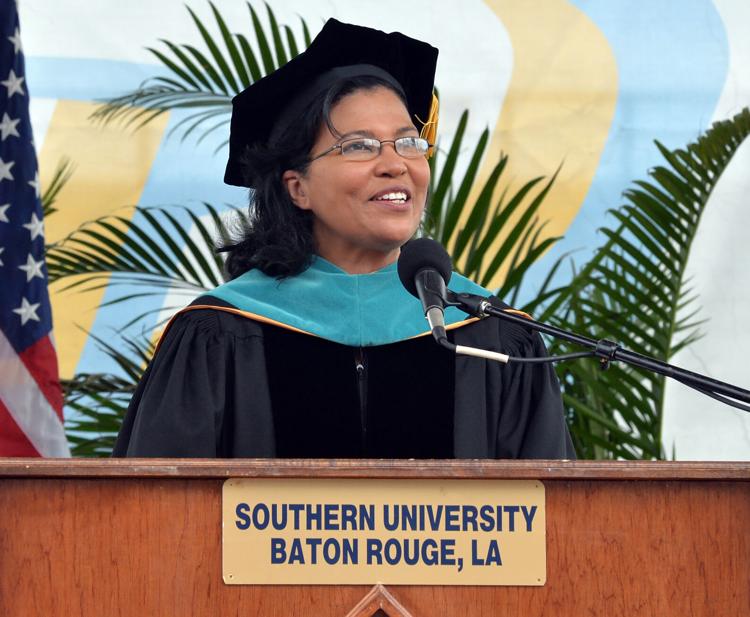 Reed also pointed to May 25 when George Floyd was killed by a Minneapolis police officer.
"The shock and the outrage caused the world to join us in demanding a recognition that Black lives matter," Reed said. "It is a complex, interesting and diverse world that we launch you into."
Reed, who's in charge of all the state's colleges and universities, closed by reminded graduates the Vice President-Elect Kamala Harris, like them, graduated from an historically black college and university. And she recalled that two Louisiana people of color, U.S. Rep. Cedric Richmond and diplomat Linda Thomas Greenfield, will hold high level positions in the incoming Biden administration.