In 2013, LSU's chapter of Pi Kappa Phi hosted an event for its new member class called "Big Brother Night." At that gathering, LSU would later allege, fraternity brothers quizzed the pledges, imposed consequences when they answered incorrectly and forced them to chug alcohol.
The hazing described by university officials strongly resembles what Phi Delta Theta brothers called "Bible study," a game that police say ultimately led to the death of 18-year-old Maxwell Gruver on Sept. 14. An autopsy found that Gruver died with a blood alcohol level of 0.495. Police say he was forced to repeatedly swig 190-proof liquor at an initiation event whenever he slipped up answering questions about his fraternity's history.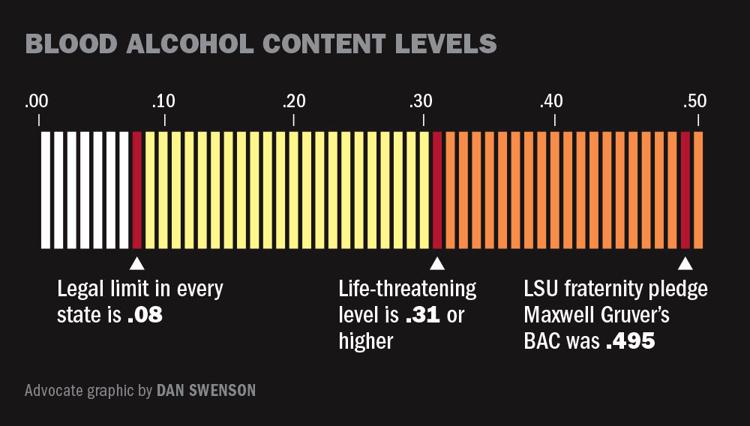 The hazing at the Phi Delta Theta house led to 10 arrests — including one student booked on a count of negligent homicide — and the swift shuttering of the fraternity.
Pi Kappa Phi got off easier, in large part because no one died or was reported injured that night years ago. But in addition to forcing pledges to drink alcohol, LSU accused that fraternity of forcing their recruits to kneel on pieces of silverware, buy food and drinks for senior members and clean their apartments. The brothers were accused of psychological games like placing pledges in a small room with "no lights and no air" and forcing them to sing the Pi Kappa Phi Raiders song in a single breath.
The fraternity denied many of the allegations but ultimately accepted the university's sanctions — the most punitive of which was a ban on alcohol at pledge and recruiting events for one academic year. The ban didn't prevent alcohol at socials and other regularly scheduled parties that take place throughout the year. The fraternity also agreed to host several educational workshops for members and to dole out individual punishments to members via its own chapter judicial process.
Nearly a year before Maxwell Gruver died during an initiation ritual at the Phi Delta Theta …
Pi Kappa Phi is just one of the Greek organizations LSU has flagged for hazing and alcohol abuse over the past five years. There were at least 23 other hazing incidents investigated by LSU during that time, with 20 findings that rules were violated. 
Fraternities, and to a much lesser extent sororities, are routinely investigated by LSU officials for hazing, violence, forcing pledges to drink alcohol, sexual harassment, drug use and underage drinking, according to five years of Office of Greek Life investigations detailing 55 behavioral incidents, almost all of which resulted in some kind of reprimand. 
But LSU has never permanently banned a Greek organization for bad behavior. And, at least in the past five years, LSU said no case involving a Greek student has warranted that person being expelled, even when the allegations included drugs or violence. Only one student over that period was suspended. Oftentimes, the harshest penalties came from the fraternities themselves, who voluntarily removed members who broke rules.
"Based on our process, we feel that with the cases you reference, education and rehabilitation has been the proper outcome," Kurt Keppler, LSU's vice president of student affairs, said in an email. LSU declined to allow The Advocate to interview LSU's Greek Life Director Angela Guillory about specific cases. 
Can't see the video below? Click here. 
LSU does regularly impose sanctions on Greek organizations. Most often, those take the form of a letter of reprimand that comes with no loss of privileges, or a probationary status, which requires members to go through training and give up a limited number of social events with alcohol. Often while LSU conducts its investigation, it will put the organization on an interim suspension, which freezes social activities.
Almost one-third of LSU's 45 Greek organizations are in some level of reprimand, which LSU President F. King Alexander said demonstrates that the university is being proactive about disciplinary action. However, that list of Greek organizations in hot water is a revolving door, with groups being removed and added every year. Out of 27 fraternity chapters, only four had no university violations over the past five years. Roughly 90 percent of the investigations targeted fraternities, and 10 percent sororities.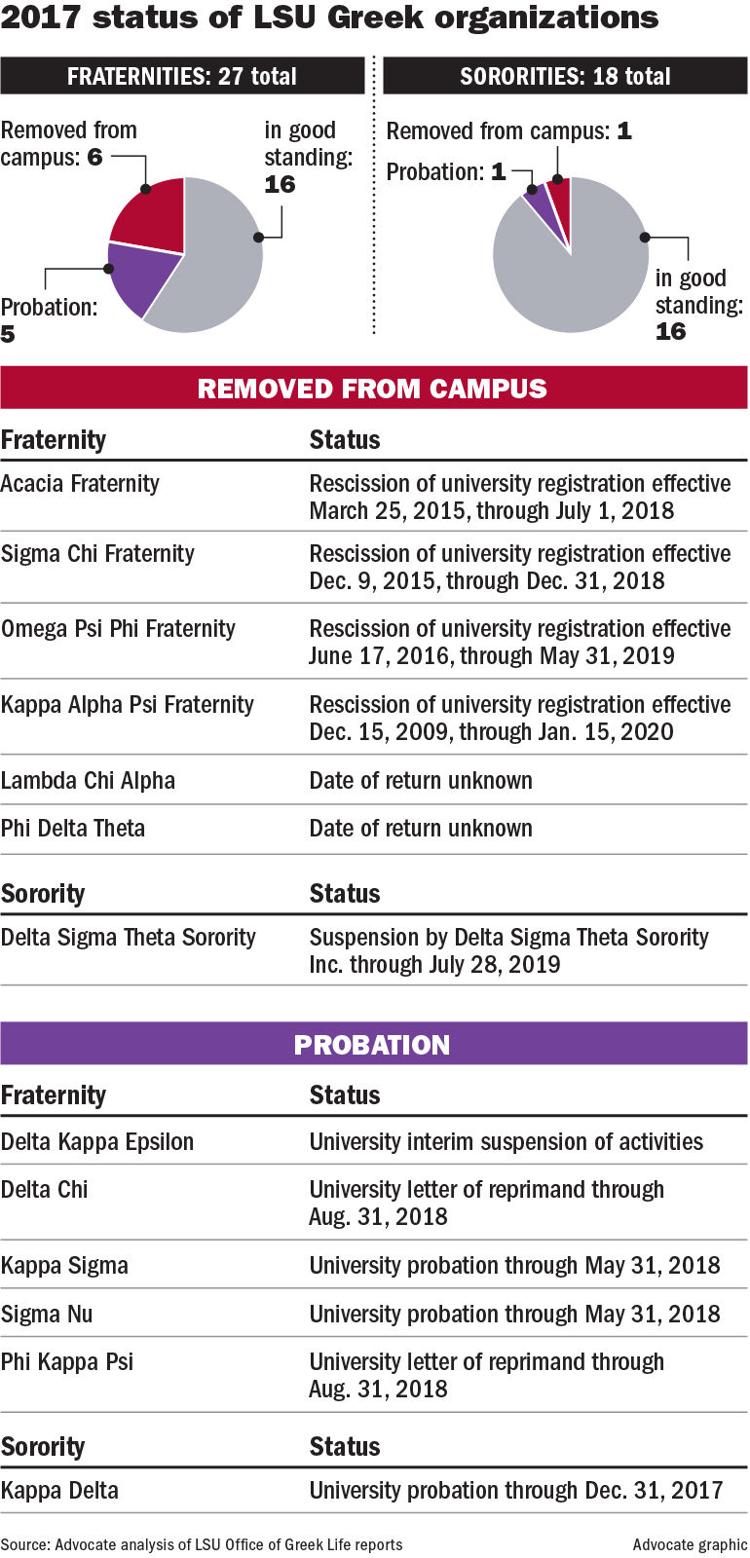 Four times over the past five years, Greek organizations received what is considered the ultimate penalty from LSU: a temporary exile from campus for bad behavior. Two fraternities, including Phi Delta Theta, have been shut down by their national headquarters within the past six weeks, while one sorority is under a five-year ban. The frats kicked off campus included Sigma Alpha Epsilon, which was penalized in 2012 after a pledge took a video of himself having sex with a sorority member because he and other pledges were instructed to deflower virgins. He celebrated by sharing the video with the other members and painting a golden lion statue outside of the frat house doors in the colors of the sorority. That fraternity was allowed back on campus in 2015.
Representatives of several national Greek organizations said they cooperate with LSU to stamp out dangerous behavior by members of their local chapters. Todd Shelton, a spokesman for the national organization Pi Kappa Phi, emphasized this point.  
"Pi Kappa Phi expects all members to be treated with dignity and respect, and when chapters are unable to make appropriate choices within the boundaries established by our risk management policy, the national organization holds them accountable," he said. 
Forced alcohol consumption
Almost every alleged infraction by a Greek organization at LSU has involved alcohol, according to The Advocate's review. At least six times in the past five years, LSU directly accused fraternities of forcing pledges to consume alcohol, as Gruver allegedly was. None of those fraternities were kicked off campus by the university as a result.
In 2015, Lambda Chi Alpha was accused of forcing new members to stay up all night to guard a tailgate spot for a home football game.
Another LSU fraternity has been shut down, this time in a move prompted by national fraterni…
"Actives provided five handles of alcohol and told the new members they had to finish the alcohol and had them take shots," the report alleges. "Active members would check on the new members often to make sure they were consuming alcohol and not going back to sleep."
The pledges also were required to clean up the tailgate and fraternity house, and do sit-ups and push-ups on the ground atop trash and broken glass, the report said. Separately, Lambda Chi was accused of forcing pledges to chug bags of wine before exchanges, which are mixers typically set up for members of one fraternity and one sorority. 
"New members divide into two lines and have to race to see who can finish the wine bag first," the report said. "The winning team doesn't have to drink the second bag."
As a result, Lambda Chi was placed on probation and agreed to sanctions that included additional supervision and educational workshops. Lambda Chi also was forced by LSU to add a handful of nonalcoholic social events to its calendar but was not expressly banned from hosting parties with alcohol.
Only a year later, Lambda Chi was flagged for hazing again. The offenses included restricting meals and keeping prescription medicine from pledges. LSU initially proposed kicking the fraternity off campus, but Lambda Chi appealed and was allowed to stay with penalties that included a yearlong freeze on new members and a ban on living in the house. 
But last week, the national headquarters voluntarily closed the LSU chapter when it determined the group had violated its probationary agreements. A spokesman for Lambda Chi's national board said repeated violations led the board to the conclusion the chapter was "unsafe." Eventually, the national organization will look to reopen the LSU house, he said.
Almost half of the reports provided by LSU were related to hazing, though they varied in severity. These incidents resulted in a probationary sentence from the university: 
Kappa Sigma, in 2016, was accused of an organized "Hell Week" for pledges that included forced alcohol consumption, sleep deprivation, and paddling, branding and tattooing. LSU found members also confiscated cellphones and violated rules prohibiting personal servitude, meaning pledges were forced to run errands, do chores, and buy goods and food for other members. 
A 2014 investigation into Sigma Phi Epsilon found an instance in which pledges were blindfolded, taken to a home in the Lake Beau Pre subdivision, placed in a closet and forced to drink alcohol while senior members of the fraternity yelled at them. Then the drunk pledges were driven to the Mississippi River levee and told to find their way back to school on foot in the wee hours of the morning.
In 2012, Sigma Chi took pledges to St. Francisville for a retreat and forced them to wrestle one another. One pledge had broken ribs as a result, and another reported being repeatedly burned on the arm with a cigarette by an active member.
Sigma Chi's spokesman Michael Church called the national organization an "evolutionary thought leader in the fight to eradicate hazing in all of its deplorable forms." A few years after the St. Francisville incident, members of LSU's Sigma Chi were found to be in possession of controlled substances. Instead of undergoing drug testing, fraternity members voted to just shut down the chapter. They can return to campus next year.
Typically, the probationary sentences require fraternities or sororities to forfeit a few parties. In the case of Sigma Phi Epsilon — which was also accused of other violations, including a party that resulted in someone being hospitalized for excessive alcohol consumption — the fraternity gave up four socials that fall. Fraternities on probation also typically agree to attend risk management seminars and workshops discussing alcohol and drug abuse or leadership. Often, probation requires the fraternities to promise to eliminate the harmful behavior that landed them in trouble.  
"We always try to balance the responsibility of the individuals and the responsibility of the organization as a whole with these reviews," Keppler said.
Three graduates who served in fraternities that were penalized for hazing within the past five years said LSU's sanctions have had little impact on curbing problematic behavior. 
LSU President F. King Alexander announced Thursday that the university will reinstate an alc…
"It means nothing for a fraternity to be on social probation," said 2016 graduate Jayce Genco, a brother of Sigma Nu who had served on the LSU Interfraternity Council, a Greek student leadership board. "There's nothing to stop an alumni or another member from renting out a bar and telling XYZ sorority to come that night as long as the chapter is not using chapter funds." 
Genco said when fraternities were kicked off campus or serious infractions were identified, administrators never used the opportunity to provide broader outreach, reminders or warnings to the other Greek organizations. 
"The chapter presidents had a meeting with Greek Life, they checked a box, sang 'Kumbaya' and that's it," Genco said. "There was no other directive to other Greeks, no communication. That was the end of it." 
The mandatory workshops that came with probationary status were easy to get around because active members could sign in and leave early, said one fraternity leader, who spoke on the condition of anonymity because he could face social retribution from the organization even as an alumnus.
"We'd make the pledges sit in them, so there were bodies in the room," he said. "The workshops happened, but they didn't do anything."
He said in his experience, LSU rarely individually penalized students found responsible for violations within a fraternity. And if a fraternity decided to kick out a member for bad behavior, there was nothing to stop him from attending parties and social functions.
The third fraternity leader, who was a chapter president and also requested anonymity for fear of retribution, said outside of banning a fraternity from campus, the sanctions carried little weight. 
"Greek leaders will even say that some groups are in and out of trouble every few years, getting new letters as the old ones expire," he said. "I'd say the sanctions were pretty easy to get around because the letters of reprimand in effect did not do much."
He also said LSU could have done a better job educating Greek students about past incidents, especially the case of fraternity pledge Benjamin Wynne, who died of alcohol poisoning 20 years ago after a night of heavy drinking with his fraternity. 
"I think back and the only times I heard Ben Wynne mentioned were in private meetings," he said, calling it a missed opportunity for a teachable moment. 
All three former fraternity members said they enjoyed their time in Greek life but were frustrated by LSU's handling of serious infractions.
"I wouldn't be who I am today without the people I've met in Greek life," Genco said. "And I hate to see it go through what it's going through, but it's absolutely necessary and it needs a culture change, but that has to start at the top and work itself down." 
Rotating door
Several fraternities received back-to-back punishments for violating LSU's rules year after year.
Gruver's fraternity was among them. Less than a year before Gruver died, Phi Delta Theta was placed on interim suspension for alleged hazing, which included pledges being ordered to act as servants for members. LSU also received two complaints in fall 2016, including one from a parent of a student who said she saw Phi Delta Theta pledges "snorting cocaine" and "sleeping in their own puke" at a tailgate. The other letter came from a "concerned student" who overheard drunk Phi Delta Theta members brag that they were going to "get them good" — referring to the new pledge class — on initiation night. 
Sigma Nu was among the handful of other fraternities that received back-to-back warnings from LSU. The first came in 2011 for hazing that included forced alcohol consumption during a quiz game for pledges about fraternity history. Then in 2013, the fraternity admitted to an unregistered party where there were at least 49 underaged drinkers, and one person was hospitalized after getting too drunk. In 2014, the fraternity was flagged yet again when a member was disrespectful to a police officer at a fraternity tailgating party. In 2016, Sigma Nu was accused of hazing and other violations during a football season where two women said they felt more incapacitated than they should have been after accepting drinks at a tailgate. 
The reports warranted probations and a letter of reprimand. 
Sigma Nu national spokesman Fred Dobry said the organization takes hazing seriously and responds with its own disciplinary action. "Sigma Nu Fraternity will continue its work and partnership with LSU in support of the education and development of our student members," he said.
Asked if the administration should have imposed more serious sentences in some cases, LSU's Keppler said: "We have policies in place and approach each incident on a case-by-case basis and consistently follow those policies." 
Several of the incidents flagged by LSU that were unrelated to hazing involved Greek organizations hosting unregistered parties where alcohol flowed freely, often to people who were underage. At least seven of the reports referenced students who were hospitalized because of drinking too much alcohol.
In 2015 at a Alpha Gamma Rho fraternity tailgate party, a female student was taken to the hospital after drinking three cups of "Tiger Tea," which was described as equal parts blue and red Hawaiian Punch, vodka and Diesel, the same 190-proof liquor that contributed to Gruver's death. The purple concoction was served in large plastic garbage cans on football game days.
Fraternity leaders pitched their own resolution to the problem to university officials: They offered to add more Hawaiian Punch to the tea so it would be less potent. The university accepted the resolution and closed the case. 
Sororities have been investigated for hazing and drinking far less often than LSU's fraternities. In 2014, a Delta Zeta sorority sister was penalized after printing out and posting 18 unflattering photos of her "little sister" around a campus dorm. When interviewed by LSU officials, the sorority member called it an "act of love." Delta Sigma Theta was put on probation for a secret initiation ceremony where sisters put eggs, whipped cream and syrup in the pledges' hair. Delta Sigma Theta national headquarters later initiated a move to ban the sorority from LSU for five years.
No return to normal
After Gruver died, Alexander promised that substantive change would be coming to LSU. And he's already cracked down on Greek tailgates — one of the least regulated campus group activities, and a common source of binge-drinking complaints — by banning kegs and imposing other restrictions. He's repeatedly warned Greek students there won't be a "return to normal." 
Earlier this month, Alexander took it further, sending a scathing letter to Greek students announcing he was rescinding alcohol privileges at all fraternity and sorority parties. The decision marked a sharp reversal — a temporary ban on alcohol and parties had been lifted just a few days earlier. Alexander said students weren't taking the situation seriously and some were seeking to "maintain the status quo despite continued warnings about the dangers inherent in such actions."
He also has formed a task force to evaluate LSU's Greek Life policies and root out risky behavior. He pronounced that the recommendations of the task force could position LSU to be a model for other universities facing similar challenges.
Sean Wagner, chief operating officer of Phi Delta Theta, the frat Gruver was pledging, said the organization is doing a "thorough review" of all of its health, safety and educational programs. The national organization shut down the LSU chapter days after Gruver's death.
One day in September, Maxwell Gruver received a phone message from a member of the fraternit…
"We're committed to a zero tolerance for any chapter that is found to encourage or tolerate hazing," he said, adding that the organization employs training on hazing prevention to try to eliminate the practice. 
Walter Kimbrough, Dillard University president and a national expert on hazing, said after decades of hand-wringing about how to make Greek life safer, universities are still without an answer.
"This problem is hundreds of years old and no one has solved it," he said. "That doesn't mean we stop trying." 
He said it's hard for universities to end Greek life altogether because members of those organizations are typically some of the most active on campus and are more likely to donate as alumni.
Ending campus fraternities and sororities would only push the social clubs into the shadows, where there are no rules, Kimbrough said. He said eliminating alcohol in frat houses just sends their parties to bars. And shutting down the pledge system leads to secret initiations. 
Kimbrough said parents and schools need to start talking about hazing beginning in high school, in the same way bullying has become a national dialogue.
In an interview, Alexander said it's not the university's aim to shut down Greek life. He said he thinks the drastic reforms he hopes will come from the task force will actually save the system. 
He said it's important not to overlook the upside of Greek life. For instance, members of sororities and fraternities tend to participate in meaningful philanthropy and graduate at a higher rate than non-Greeks. 
"If we don't do something about this issue nationally, I would say the Greek systems may not be around 10 years from now," he said. "Our student government president knows that and I've told him that 'You may be watching the decline of the Greek system around the United States because of these issues.' "