When Vince Wozniak went noodling for the first time, the rush of adrenaline had him hooked.
"It's the most primal fishing you can possibly do," Wozniak, of Shreveport said. "You're not using a pole or bait. You're using your body and your hands to pull a big catfish out of its territory."
Noodlers fish for catfish by sticking their hands into man-made or natural catfish holes. The goal is to get bitten by the fish — on purpose — and pull it out of the hole by its gills.
Noodling was never explicitly illegal in Louisiana, but a state law clarifying noodling as a legal fishing method went into effect Aug. 1.
Since the law went into effect, the bill's author, state Rep. Jack McFarland, said he's been getting the same question from Louisiana residents.
"Everywhere I go, people always ask me if this is going to require an extra license," McFarland said. "I say no. This does not require any additional licensing."
Can't see the videos below? Click here.
While they won't need an extra fishing license, first-time noodlers still have a lot to learn about hand-grabbing. Wozniak said it's safest to noodle with others.
"We always try to have at least three people with us," Wozniak said.
Going out with experienced handfishers also provides guidance. Wozniak said he learned from noodling with his family friends and Skipper Bivins, from the Animal Planet show "Hillbilly Handfishing."
"Skipper Bivins is the one who taught me a lot on how to find natural catfish holes," he said. 'He and the Reagan family are the ones who taught me everything when I first started."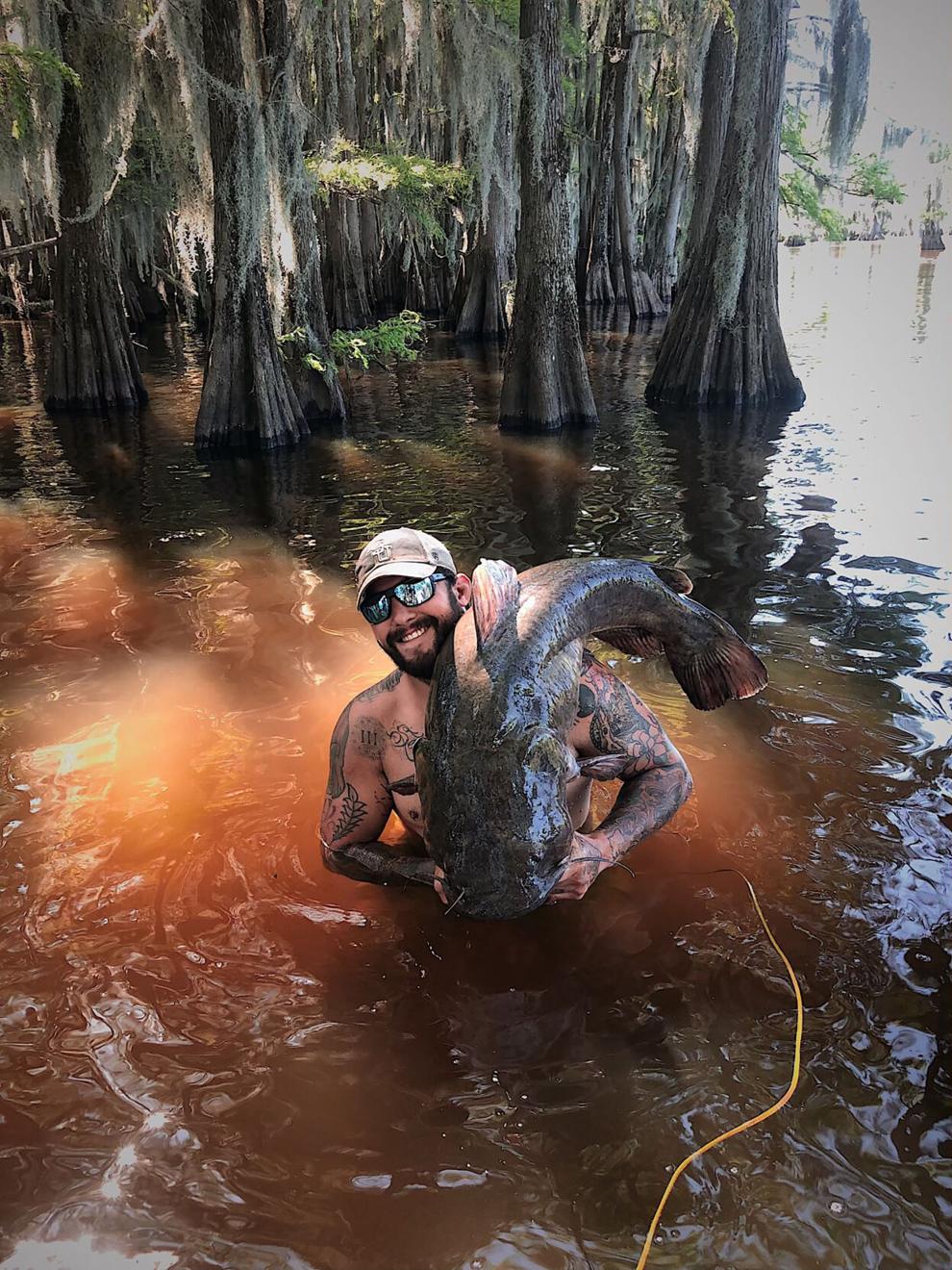 Male catfish form nests in holes and lure female catfish to the nests to lay eggs. Then, the male catfish watches over the eggs.
Wozniak said the protective male catfish are a noodler's main target.
"They're very territorial about their babies," Wozniak said. "When you stick your hand in the hole, they attack your hand because they see you as a predator trying to take their babies."
Some handfishers make their own boxes to put in the water to try to lure a male catfish to spawn. Others look for natural nests that the catfish made themselves.
Wozniak said it may be more dangerous, but he prefers to look for natural holes.
"I like the natural way because I like finding where they might actually spawn," Wozniak said.
The two types of catfish that noodlers in Louisiana find are blue catfish and Opelousas catfish, Wozniak said. Opelousas catfish are generally a preferred catch because their meat tastes better, but blue catfish are more of a challenge.
"I always say you're not a real noodler until you've been bit by a blue catfish," Wozniak said. "They're like the pit bulls of the water. You can be a foot from the hole, and they're coming out to attack you with full force and not letting go."
Wozniak said Louisiana is his favorite place to go noodling but doesn't want to give any of his catfish spots away.
"The biggest thing in noodling is that we don't tell people where we go," Wozniak said. "Even if you say a big lake, they're going to eventually find it if they know what they're looking for."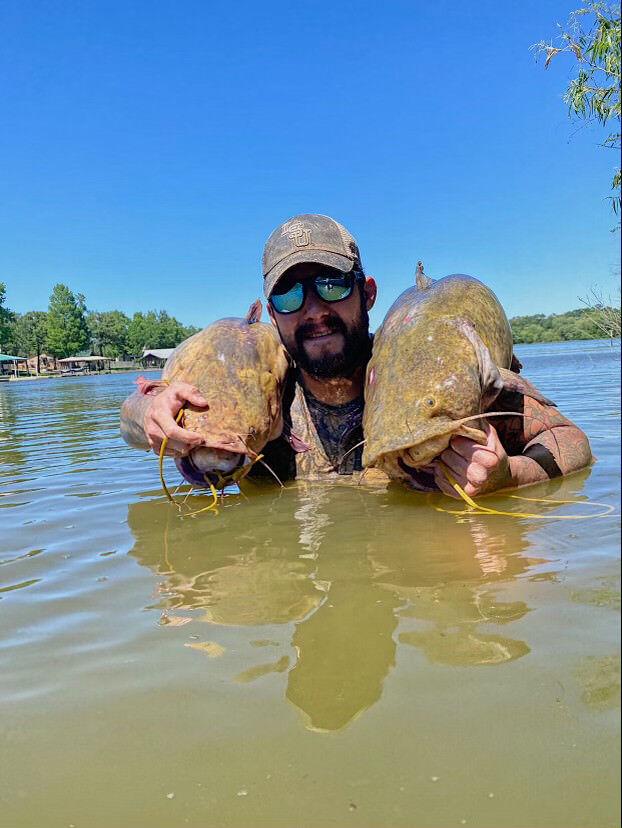 McFarland went noodling for the first time last year. He said he's an adrenaline junkie, so the activity was immediately appealing to him.
"I love the challenge," McFarland said. "You're nervous with anticipation. You've got a little bit of fear, but I enjoyed it."
After his first noodling experience, he was approached by the Louisiana Department of Wildlife and Fisheries about making noodling officially legal.
"We shouldn't be writing people tickets for this," McFarland said. "Not that they were, but it had been a question for Wildlife and Fisheries. Now we don't have to worry about it."
Wozniak got his first catch during a noodling tournament that his friend's family put on. His friend asked if Wozniak would be on his team, even though he'd never caught a fish before. He agreed and was determined to make a catch for his team.
"I ended up getting a 27-pound catfish," Wozniak said. "I was already hooked just going and trying to look for catfish, but when I actually got one it was even better."
While noodling is exciting, it can also be dangerous. Adam Einck, spokesperson for the Louisiana Department of Wildlife & Fisheries, said that noodlers should always go out with at least one person, wear gloves to protect their hands from catfish bites, and keep their fingers together when they reach into a catfish hole so they don't break any fingers.
"Catfish are extremely powerful fish, so be sure you don't underestimate their strength," Einck said.
Wozniak said people often assume alligators and snapping turtles are the biggest risks in noodling, but it's really the catfish themselves — and how long noodlers might have to hold their breath underwater.
"If you're not good at holding your breath, you've got to get good," Wozniak said. "We've been underwater for up to a minute, just trying to get a fish out. That's the most dangerous part."
McFarland said he's excited for more Louisiana residents to try noodling.
"Don't be afraid, but be smart," McFarland said. "Like all sports, you have to practice. Especially in the water."