When Hurricane Sandy was bearing down on the northeast coast in 2012, it was only rated a Category 1, belying the storm's actual destructive potential. Stephanie Pilkington recalled that meteorologists warned at the time that the official designation didn't give the whole story, but their message wasn't getting across to the public.
Now, the Colorado State University graduate student has co-authored a paper in an academic journal that proposes a new method of categorizing storms that isn't just based on wind speed like the existing Saffir-Simpson scale. After all, she said, rain and storm surges cause much of a hurricane's damage, and the new scale considers how expensive the damage will be.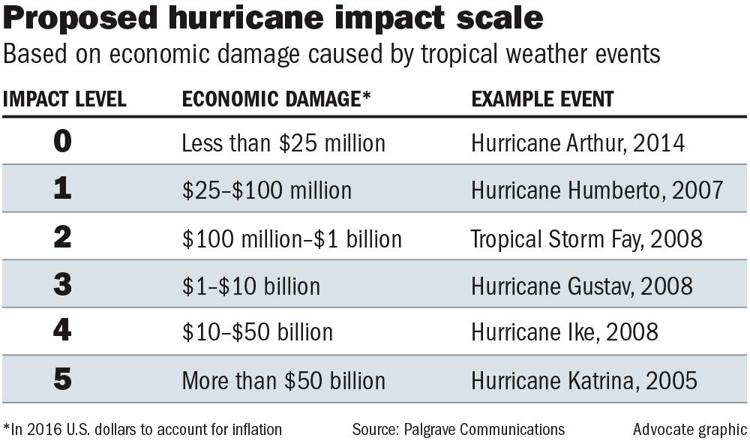 "Its not always wind speed that really gets you. ... Now you're communicating not just the intensity of (the hurricane) but what you can expect the impact to be." Pilkington said.
"We were able to quantify the economic consequences," added her co-author, engineering professor Hussam Mahmoud. 
In the hurricane impact system they are proposing, a level 3 storm would be expected to cause between $1 billion and $10 billion in damage, like Hurricane Gustav did. Hurricane Ike would be a level 4, meaning it caused between $10 billion and $50 billion.
Level 5s are intentionally rare, to prevent the public from feeling like officials are always crying wolf, Pilkington said. At over $50 billion, only dangerous storms aimed at massive population centers — like Hurricanes Katrina or Sandy — would reach the highest threshold.
MIAMI (AP) — It's the last day of an intense and destructive hurricane season that included 17 named storms.
The impact system takes into account weather conditions like pressure, precipitation and wind speed as well as the population likely to be affected at the projected landfall location, the researchers said.
Scientists have discussed changing the way hurricanes are categorized for some time,  but recent advances in computer modeling have now made it possible, they continued. In effect, they have the power to train machines to think like an experienced forecaster.
"The Hurricane Impact Level Model is the first prediction model to utilize machine-learning techniques (artificial neural networks) to establish complex connections between all meteorological factors ... and how those interact with the location of landfall to produce a certain level of economic damage," they wrote.
In June, residents across southeast Louisiana got a familiar warning: A storm was coming — time to check generators, supplies and evacuation plans.
At this point, the model doesn't directly account for property values, though it does include about 20 years of hurricane data, which gives a sense of the potential cost of a storm, the researchers explained. For example, in Louisiana a less densely populated area could still be valuable if it contains a lot of petrochemical infrastructure. 
Pilkington said Louisiana has a lot of data points due to all the tropical systems that have battered the state.
The researchers also plotted the potential damage if past storms had hit other places on the coast. For example, Tropical Storm Andrea would have done less damage to New York City than Hurricane Sandy in part because Andrea's surge would not have been able to inundate the city's airports and tunnels.
At present, the scale is mostly designed to communicate a storm's danger to the public. However, with some refinement it could be used to look at areas most vulnerable to flooding, which could be useful for community planning, emergency response and the National Flood Insurance Program, Pilkington said.