Coal is king in President Donald Trump's energy initiatives so far, but in natural gas-rich Louisiana, power companies, regulators and environmental groups are waiting to see how his administration's recent moves translate into concrete policies.
In 2015, the Environmental Protection Agency under then-President Barack Obama introduced the Clean Power Plan, an attempt to reduce pollution from power plants, especially those powered by coal. The EPA celebrated the Plan as "a historic and important step in reducing carbon pollution from power plants that takes real action on climate change."
Not everyone was as thrilled. Members of rural Louisiana electrical co-operatives could see their bills increase if co-ops have to refit their facilities or build new ones, one official said.
The state and the Louisiana Attorney General's office both signed onto a lawsuit with leaders in 26 other states who oppose the Clean Power Plan. Implementation has been delayed while the two sides fight it out in court. And last month Trump weighed in, directing the EPA to revise the CPP, which the White House says "would stifle the American energy industry."
WASHINGTON - The email arrived at lunchtime Tuesday from a top aide to Environmental Protect…
Power companies generate electricity in various ways, but the most common by far involve burning fuel.
Nationally, coal and natural gas were neck-and-neck as fuel to generate electricity in 2015, according to the most recent data from the U.S. Energy Information Administration. Nuclear energy was a distant third, followed by hydroelectric with wood, petroleum, wind, solar and other sources accounting for much smaller portions.
Unlike such states as Kentucky and West Virginia, Louisiana has very little stake in coal production. The state just isn't old enough, geologically speaking, to have vast reserves, according to Department of Natural Resources spokesman Patrick Courreges. Some surface mining occurs in northwest Louisiana, but just about all of it goes to a power plant in DeSoto Parish.
To generate electricity, Louisiana relies much more heavily on natural gas, and its use has increased in recent years.
However, individual electricity providers vary widely.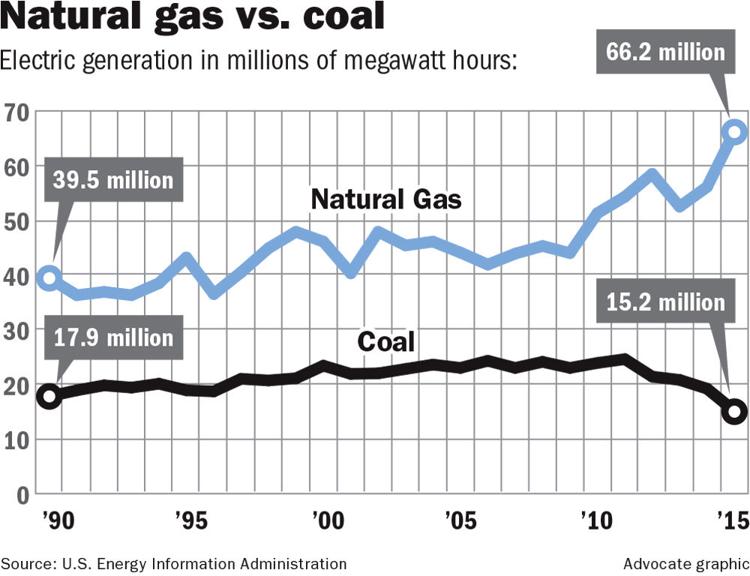 Half of Entergy Louisiana's power in 2015 was natural gas-generated, 26 percent came from nuclear plants and only three percent from coal, said spokesman Michael Burns. However, the company purchases about 20 percent of its energy from other entities and doesn't track their fuel sources.
Burns also pointed to a January report from the Energy Information Administration that shows Louisiana has the lowest retail and residential electricity rates in the country.
When asked about the Clean Power Plan or any alternative the new administration may propose, the company wrote in a statement that "the executive order does not change Entergy's commitment and obligation to deliver safe, reliable and sustainable energy to our customers."
By comparison, electric co-operatives are 60 to 70 percent reliant on coal, said Randy Pierce, CEO of the Association of Louisiana Electric cooperatives. Member-owned cooperatives mainly serve rural areas and provide power to about a quarter of the state's population, he continued.
While businesses might generate electricity from a number of facilities, cooperatives lean heavily on a few major plants. The most important is Big Cajun II in Pointe Coupee Parish. The massive facility was entirely coal-fueled until two years ago, when it converted one of its three generators to burn natural gas.
By diversifying, Big Cajun II can keep costs to its members down by first burning whatever fuel is cheapest at the time, Pierce said.
However, the main reason for the retrofit was to comply with mercury emission standards, said Dave Knox, spokesman for NRG Energy, which operates the facility. NRG, which owns coal, natural gas, nuclear, oil, wind and solar-powered plants across the country, declined to comment further for this story.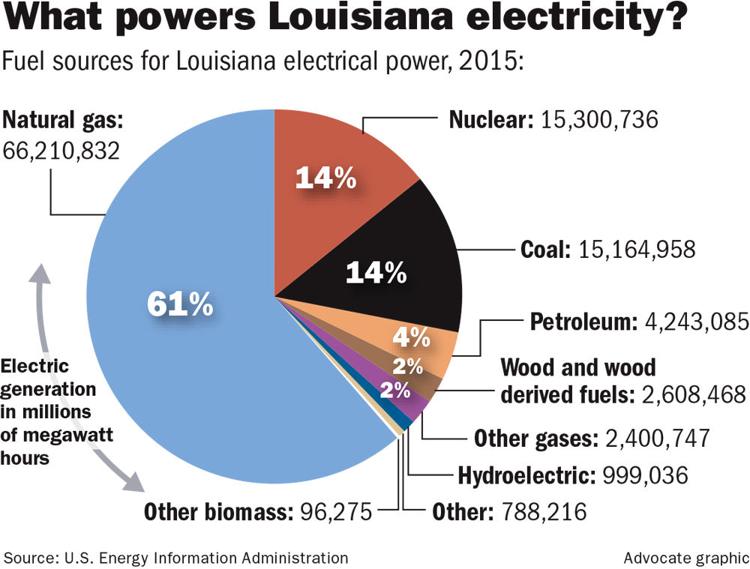 Big Cajun II is one of the main plants in the crosshairs of the Louisiana Environmental Action Network. LEAN has urged regulators to tighten emission standards on plants that burn coal and related products, as well as select natural gas facilities that lack the equipment to remove pollutants from emissions.
Those plants all emit carbon dioxide, as well as sulfur dioxide, the compound that smells like rotten eggs and contributes to acid rain, said LEAN chemist Wilma Subra. Coal also releases mercury, which accumulates in aquatic animals. She pointed out that dozens of Louisiana bodies of water and its Gulf Coast have standing advisories that warn fishermen to limit their seafood consumption in order to avoid mercury poisoning.
The ideal ecosystem to expose people to dangerous amounts of mercury requires rainy skies, a…
LEAN has also emphasized that high-emission plants are disproportionately located in communities with the least clout to demand stricter standards. Low-income, minority and indigenous populations stand to benefit most by reducing pollution, LEAN wrote in a letter to the Louisiana Department of Environmental Quality.
DEQ is playing a waiting game. On one hand, it's obligated to enforce EPA standards, but it also works for the state of Louisiana, which is a plaintiff in the suit against the Clean Power Plan. Now, staff members are waiting to see what news will come out of the Trump administration and new EPA director Scott Pruitt.
"I don't know what a substitute plan would be. ... No one wants to prognosticate about Mr. Pruitt and what he might decide," DEQ spokesman Greg Langley said.
Other states have used the Clean Power Plan as a guide for their own standards, but Louisiana has not. Aside from one preliminary hearing, it has not begun the process of adopting the federal provisions and is currently waiting for the federal court in Washington D.C. to hand down a ruling.
Should the judiciary side with the Obama administration before the Trump EPA proffers an alternative to the Clean Power Plan, states will have to figure out how to cut carbon emissions. If it includes a move away from coal-fueled plants, industry will have to decide whether to turn to nuclear power, which can have high start-up costs, or to renewable energy, which makes up a small amount of current production, or to another combustible source like natural gas.
Though Louisiana is home to many natural gas producers, state organizations are staying quiet on the Clean Power Plan debate. State leaders don't advocate "for the downfall of another industry," said Louisiana Oil & Gas Association Vice President Gifford Briggs. At the same time, he noted that American plants have already begun shifting toward more natural gas use and pointed out that the cost of natural gas is comparable to coal.
Louisiana ranks near the bottom in the nation for energy efficiency, according to the 2016 S…
At least, the natural gas price is good for the time being.
Pierce, of the electric co-ops, pointed out that fuel prices fluctuate and may change in the future. Converting existing coal plants to natural gas or building new plants altogether will be an expensive undertaking that could cause members' electricity bills to go up 20 to 25 percent, he said.