Allergy sufferers can let out a sniffly cheer — this year's brutal pollen season seems to have peaked.
"It's just a really heavy year for pollen," largely due to the mild winter, said Anna Timmerman, horticulture agent for the LSU AgCenter. Furthermore, plants tend to follow cycles in which every few years they'll flush out an extra dose of pollen, and a lot of species seem to have lined up this year, she said.
The Asthma and Allergy Foundation of America ranked New Orleans and Baton Rouge seventh and ninth, respectively, on their annual list of "allergy capitals."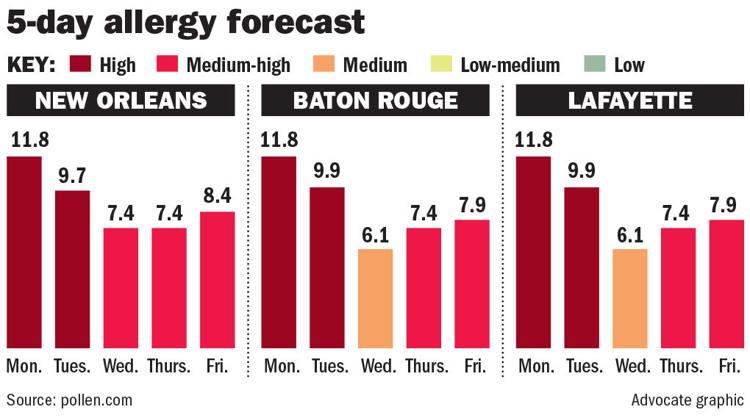 Doctors at Baton Rouge General Medical Center have definitely been seeing more allergy patients this year, and they began arriving earlier in the year, family medicine Dr. Amanda Watts said.
Not only that, patients aren't responding to some of the medication that's typically proven effective, said allergist Ben Gaudin of The Allergy, Asthma & Sinus Center.
"It's been a terrible spring," he said.
Experts gave slightly different timelines but generally agreed that trees should be finished spreading pollen by the end of April to mid May. Grasses and shrubs are starting around now, and weeds like dreaded ragweed can last into early summer when it starts getting really hot and people begin to mow more.
Elms, Bradford pears and privet hedges are all sneeze-inducing, but oaks are the greatest villain to allergy sufferers, said Hallie Dozier, assistant professor in LSU's School of Renewable Natural Resources. To prevent cross-pollination, different species of oak take turns releasing pollen, dragging out the season.
Pine trees may coat a car, but probably won't cause an allergic reaction, she said.
People who are suffering seasonal allergies should start by looking at over-the-counter medication, said assistant state health officer Joseph Kanter of the Louisiana Department of Health. He advised speaking to the pharmacist to make the right choice. If that doesn't work, patients can visit their primary care doctor.
Watts said her first choice would probably be a daily nasal steroid spray to be used while symptoms last. An oral antihistamine would likely be the next step, and sometimes patients need a prescription.
People who really like to be outdoors in spring, like golfers and Little League parents, may consider allergy shots, Gaudin said. That course of action takes a three-to-five year commitment but "it's the closest thing we have to a cure," he said.
Doctors inject patients with increasingly high doses of whatever triggers their allergies. The first six months require weekly shots, though it falls off to twice weekly and finally monthly over time, gradually inoculating the patient, Gaudin said.
Allergies are the result of the body misinterpreting harmless items like pollen as dangerous foreign invaders, Kanter said.
That causes a person to develop some cold-like symptoms, but red, itchy eyes are one giveaway a patient is suffering from allergies, Watts said. She advises people to see a doctor if they develop discolored mucus or begin having sinus pain, because frequent allergies can allow bacteria to enter the sinuses, causing an infection.
And April showers bring May mold. Humid weather promotes growth of molds, which release spores that can cause allergies, and some can cause infection, Kanter warns.
It's not clear exactly when the season will end, but the trees that are releasing so much pollen should be pretty much finished in the next couple of weeks, said AgCenter horticulturalist Heather Kirk-Ballard. Some species like elms and maples have already finished, she said. Oaks have peaked, and other species like pecans and fruit trees are still in full spring.
Weeds and grasses are on the way, though they're less of a problem, especially in urban New Orleans, Timmerman said. However, they can hold on until early summer, when Louisiana's other air quality menace comes to call — ozone. It's still "way too early" to begin seeing ozone, said National Weather Service Meteorologist Phil Grigsby. But once the weather starts to heat up and high pressure causes pollution to hang in the air, residents will have a fresh concern.