The following is a list of closings, openings, cancellations and other information from the flooding in East Baton Rouge and surrounding parishes:
Debris removal
— Debris removal contractors for East Baton Rouge will begin work on Monday for damage in the Baton Rouge area. Residents of flood-impacted areas are asked to place any storm-generated debris on the public right-of-way, if they are safely able to do so, and to separate the debris as follows:
1. Construction and demolition debris: lumber and wood, wall board, glass, metal, roofing materials, tile, furnishings and fixtures.
2. Household hazardous waste: paints, cleaners, pesticides, etc.
3. White goods: refrigerators, freezers, air conditioners, heat pumps, ovens, ranges, washing machines, clothes dryers and water heaters.
4. Electronics: computers, televisions, office electronic equipment.
5. Vegetative: Whole trees, tree stumps, branches, trunks, and other leafy material.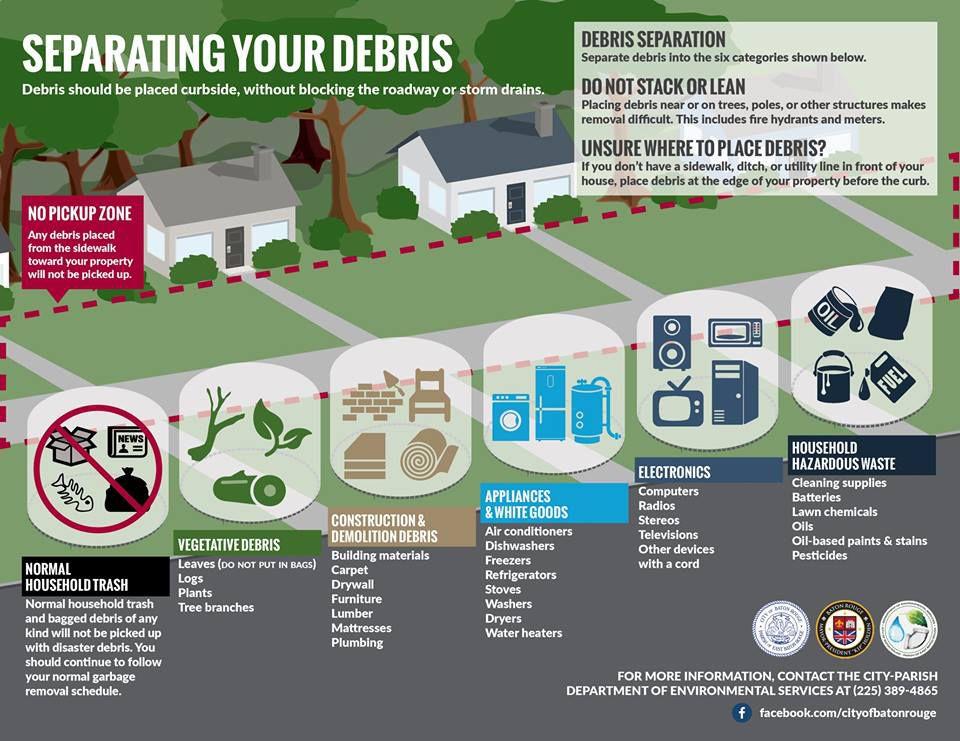 Do not place filled sandbags in garbage carts for disposal. The filled bags are too heavy for the carts, and will rip out the bottoms of the carts when the automated trucks attempt to pick them up.
Do not place debris near a water meter vault, fire hydrant, or any other above-ground utility. Until further notice, only debris placed on the public right-of-way will be collected. If residents cannot safely set out debris at this time, or if debris collection contractors cannot safely enter submerged areas, additional debris removal passes will be scheduled in the near future. Check for updates on Facebook at facebook.com/cityofbatonrouge or Twitter at twitter.com/thecityofbr.
— East Baton Rouge residents with an animal carcass on their property should move the carcass to the right-of-way and call (888) 721-4372 for pick-up. If you cannot move the carcass to the right-of-way, you may call to have the carcass removed from your property, but you will be required to sign a right-of-entry form to the contractor removing the carcass. If you are reporting a carcass that is on someone else's property, please include that information when calling in your complaint
— Waste Management of Baton Rouge will resume collection routes once roads are opened in all affected areas. Customers in Zachary, Livingston, Walker, Springfield, Port Vincent, unincorporated areas of Livingston Parish, unincorporated areas of Tangipahoa Parish, West Feliciana Parish and St. Francisville will continue to receive collection of household garbage, such as food refuse, diapers, newspapers and other waste, but Waste Management is not collecting flood debris such as rugs, furniture, sheet rock, wood fencing, tree limbs, bags of clothing, refrigerators, household appliances and roofing materials. For more information, visit www.wm.com online or on Facebook at www.facebook.com/wastemanagement or Twitter at twitter.com/wastemanagement.
— Republic Services of Baton Rouge announces the following updates on residential solid waste services in the greater Baton Rouge area:
City of Baker: Solid waste collection resumes Thursday for all services except flood debris. Residents who lost their garbage or recycling carts should call City Hall at 225-778-0300.
Ascension Parish subscription customers and the town of Sorrento: All services have been suspended until flood waters subside and roads are passable. Flood debris will be collected separately and at a later date by a different contractor. Subscription customers who lost their garbage or recycling carts should call Republic at 800-222-3903; Sorrento residents should call 225-675-5337 when Town Hall reopens.
City of Denham Springs: All services have been suspended but are expected to resume on a limited basis soon. Flood debris will be collected separately and at a later date by a different contractor.
East Baton Rouge: Cart Service for garbage has resumed in accessible areas. Food waste or excess garbage must be in bags, boxes or the cart to be picked up. Do not place food waste in the flood debris pile. Flood debris will be collected separately and at a later date by a different  contractor. Residents who lost their garbage cart should call the 311 Call Center.
West Baton Rouge Parish: All solid waste services have returned to normal levels for the cities of Port Allen and New Roads and towns of Brusly and Addis.
Colleges
— LSU will reinstate full operations and begin the fall semester on Monday. 
— The deadline to apply for LSU's Fall 2016 enrollment has been changed to Aug. 25 and the deadline for fee bills has been extended to Aug. 24.
— LSU students now in need of on-campus housing for the 2016-17 academic year should contact Residential Life at 225-578-8663 or fill out an application at www.lsu.edu/housing.
— The LSU Welcome event for freshmen will be held at 5:30 p.m. Sunday at the PMAC, as previously scheduled, and students can move into residence halls through Saturday. Note that many other previously scheduled campus events have been postponed or canceled.
— People interested in donating to LSU students affected by the storm, should go to: www.lsufoundation.org/floodrelief.
— Baton Rouge Community College will remain closed for the rest of the week. 
— Southeastern Louisiana University will resume classes on Monday, Aug. 22.
— River Parishes Community College in Gonzales will begin classes on Monday, Aug. 22. The college is open for registration.
Closings, openings, cancellations
— BREC's Duck Duck Goose Day is canceled.
— LIGO Science Saturday on Aug. 20 is canceled.
— East Baton Rouge Parish Library system on Wednesday opened 12 of 14 branches until 6 p.m. The Zachary and Greenwell Springs Regional branches are not open. 
— Classes in the East Baton Rouge Parish School System resume on Wednesday, Aug. 24. Employees return Monday.
— Schools in Central are closed until at least Sept. 6.
— Schools in Zachary reopen on Tuesday.
— City of Baker schools reopen Monday. Students and parents can follow updates on the school system's website at bakerschools.org.
— Parents of students in the City of Baker School System that need a place to file their flood insurance claims online can do so at the school board office, 14740 Plank Road. Several computers will be available for parents and staff will assist users who need help; however, will not be able to assist with the actual filing of the claim. The office is open from 9 a.m. until 4 p.m., Monday through Friday.
— LSU Lab School will remain closed through Sunday.
— Ascension, St. Helena and Tangipahoa schools are closed for the remainder of the week.
— Livingston Parish schools are closed until further notice.
— East Feliciana Parish schools are closed until further notice.
— Louisiana Connections Academy will begin Monday for all 2,100 students enrolled at the statewide, free virtual charter school.
— East Baton Rouge Head Start parent orientations scheduled this week have been canceled until further notice. One was scheduled Wednesday at Mount Pilgrim Baptist Church on Scenic Highway for the parents of students to be attending Baker Heights, Discovery, Progress I and Progress II Head Start centers. The other was scheduled Thursday at St. Mary Baptist Church on North Acadian Thruway for parents of students to be attending New Horizon, Charlie Thomas, Freeman Matthews and Labelle Aire Head Start centers.
— All Livingston Parish Library branches will be open through Saturday from 9 a.m. to 5 p.m. The Denham Springs-Walker Branch, normally the only location open on Sunday, will be closed on Sunday, Aug. 21. Next week, all branches will be open from 9 a.m. to 5 p.m. All library services are available, but previously announced library programming for the month has been canceled.
— The Social Security office at 4332 Harding Blvd. in Baton Rouge is closed all week, with plans to reopen Aug. 22. The Social Security office at 5455 Bankers Ave. plans to reopen Wednesday.
— The East Baton Rouge Clerk of Court's Office, 19th Judicial District Court, Family and Juvenile court remain closed through Friday.
— Essential Federal Credit Union's Walker and Central branches remain closed until further notice.
— The Tangipahoa Parish Landfill, located at 57510 Hano Road west of Independence, will have extended on weekdays from 6:30 a.m. to 6 p.m. and on Saturdays from 7 a.m. to 3 p.m. until further notice.
— The Jill Scott concert scheduled for Sunday, Aug. 21, at the Baton Rouge River Center Arena is being canceled. Refunds will be available at the point of purchase and tickets purchased online or by phone will be refunded automatically.
Medical facilities
— A medical special needs shelter has been set up at the LSU Fieldhouse as a shelter of last resort for people who currently receive in-home care — such as the homebound, disabled or chronically ill — and is not for the general public. To access the shelter, a patient or caregiver must first call (225) 578-6383. For general information about the shelter, call (225) 578-3928. 
— For a limited time, Blue Cross and Blue Shield of Louisiana will offer early refills on medications for members with Express Scripts pharmacy benefits in case they need to evacuate or anticipate limited access to their pharmacy. The service will be available to members who live in parishes under a state of emergency or to members housing someone from an affected area. Members must still pay their usual co-payment, deductible and coinsurance for all medications and procedures. Members who have trouble refilling a prescription should call the pharmacy or customer service number listed on their ID cards.
— Most Baton Rouge General clinics have re-opened and elective surgeries have resumed. See the full list here.  Baton Rouge General hospitals at Bluebonnet and Mid City both remain open and fully operational. 
— Elective surgeries at Our Lady of the Lake Regional Medical Center will be rescheduled. Patients with questions should call the hospital at (225) 765-6565. A temporary walk-in clinic will be open in the mobile bus at the Essen Lane entrance to Mary Bird Perkins – Our Lady of the Lake Cancer Center. See a full list of open and closed OLOL clinic locations here.
— North Oaks Health System clinics reopened in Tangipahoa Parish, except for outpatient pediatric rehabilitation services in Hammond, which will remain closed. See a full list of closings here.
Other
— The St. Amant Post Office (70774) and the French Settlement Post Office (70733) have resumed all delivery and retail operations. Residents in Lake Arthur (70549), Mermentau (70556) and Evangeline (70537) need to go to the Jennings Post Office (70546) to get their mail.
The post offices listed below remain suspended and service is being provided by alternate Post Offices in the 707 ZIP Code area:
Denham Springs 70726:  Alternate site: Baton Rouge Plant (8101 Bluebonnet Rd.)
Greenwell Springs 70739: Alternate site: Zachary P.O. 70791
Weyanoke 70787: Alternate site: St. Francisville 70775
Sorrento 70778: Alternate site: Gonzales P.O. 70737
— FEMA will provide assistance to help families who have lost loved ones in the flood or for the expense of coffins that have been disinterred by floodwater. For more information, go to www.fema.gov/disaster-funeral-assistance.
– Venyu, a division of EATEL, is making its Baton Rouge Business Continuity Center available for free for first responders and municipal governments in flooded areas. The center, located in Mid-City, has 62 workstations, free network connections, internet and phones. Businesses in flooded areas may use the workstations for half off regular rates for a week. To reserve a space, call (225) 214-3800 or toll-free (866) 978-3698.
— VCA Animal Hospitals in Metairie will offer free boarding assistance for small animals, including dogs, cats, birds and pocket pets, to families impacted by flooding. The two hospitals are located at 5105 Airline Drive and 1315 N. Causeway Boulevard, both in Metairie. Boarding assistance is based on space availability. Pets should have up-to-date vaccinations, but if not, VCA veterinarians will update vaccinations at no cost. VCA Hospitals will also offer a free health assessment exam for pets that have been evacuated or displaced due to flooding. Pet owners should contact the American Red Cross or any VCA hospital for more information.
— Airbnb has activated its disaster response tool to help connect residents who have been displaced by the flood and in need of accommodations with Airbnb hosts who are opening their homes free of charge. 
— River Road in front of the Baton Rouge River Center is closed. The center is being used as a shelter for flood victims. Westbound Government Street detour is 4th Street to Florida Street to River Road. Southbound River Road detour is Florida Street to 4th Street to Government Street. Telephone inquiries may be directed to Traffic Engineering at 225-389-3246.