Forecasters are predicting a La Niña weather pattern which portends a warm, dry winter for Louisiana but also means hurricane seasons could start getting worse.
Peruvian fishermen once noticed unusually warm coastal water around Christmas, which they dubbed El Niño. The phrase literally means "the boy" in Spanish, but is a colloquial way to refer to the infant Jesus, oceanographer Billy Kessler wrote on the University of Washington's website.
Conversely, when the water is cooler, it's called La Niña — "the girl."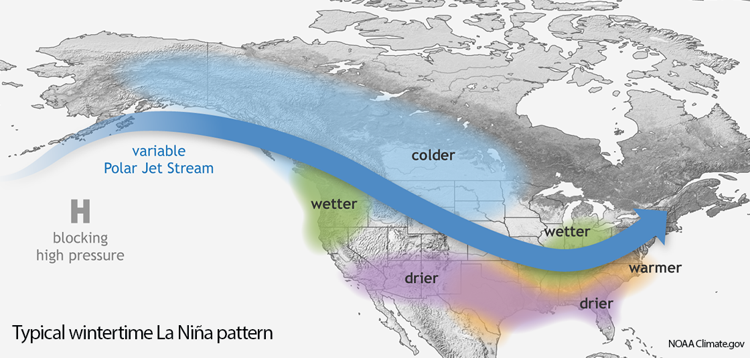 In the 1960s, scientists realized the two phenomena actually extend to the wider Pacific, and have repercussions on the global climate. El Niño and La Niña cycle back and forth, with each lasting about three or four years before the other comes back, according to the Pacific Marine Environmental Laboratory.
The boy and the girl act as a seesaw on hurricane activity in the Atlantic and Pacific. La Niña suppresses Pacific cyclones but allows more hurricane activity in the Atlantic, producing the types of storms that can strike Louisiana, scientists wrote on a National Oceanic and Atmospheric Administration blog.
Multiple forces factor into each individual storm, but meteorologists have said that one reason the 2016 season had so many destructive storms was a lack of the El Niño effect. As a result, there weren't shearing Atlantic winds around to tear apart the kind of storm systems that can devleop into hurricanes.
Halfway through hurricane season, the outlook has gotten darker.
Now, La Niña is here. 
There was a weak La Niña effect last winter, and it isn't expected to be strong this year, but the National Weather Service this week announced they do expect it to impact winter weather.
While the southern part of the country can expect a dry, mild season, those living in the north may need to dig in, as they're more likely to experience a wet, cold winter.
More than likely, the trend will continue through at least April, the researchers continued.
Louisiana could still experience a cold spell. What forecasters mean is that, as a whole, there are likely to be fewer cold days, and those days won't be quite as bracing, according to meteorologist Mike Efferson of the Weather Service's Slidell office.
For example, a cold front is expected to arrive just next weekend, he pointed out.
The National Weather Service anticipated La Niña last month when they published their winter outlook. They're set to update the outlook on Thursday but wrote they didn't expect to make serious changes.
Anyone who reads forecasting material this winter may also see the climate phenomenon referred to by a name that's largely fallen out of use. Before La Niña was the commonly accepted term for the opposite of El Niño, some people referred to it as El Viejo — "the old man."