Louisiana leads the country in properties that are repeatedly swamped by water and rebuilt using flood insurance payments, with state residents receiving $1.2 billion since 1978 for damage to houses and businesses that have flooded multiple times.
Experts say a large part of the problem lies with a federal flood insurance system that encourages rebuilding in flood-prone areas while mitigation measures receive less-than-needed funding. People who want to raise a house or get bought out often hit bureaucratic stumbling blocks, or just wait in line for so long that they end up just fixing up in the same location.
"As it works now, the flood insurance program, it traps them there," said Rob Moore, senior policy analyst with the Natural Resource Defense Council. "The National Flood Insurance Program has to have a bigger emphasis on mitigation and prevention."
As flood waters were about to hit Louisiana, the NRDC published an article looking at repetitive losses and the need for reform in how the nation reacts to these events. Many critics have also argued there are also more systemic problems with local government responses to repeat flooding, saying they should block development in high-risk areas and impose additional flood protection measures like elevation requirements above the federal minimums.
"Money alone isn't going to fix the problem," Moore said.
Louisiana's more than $1 billion share of repetitive loss claims, which the NRDC received data on through 2015, represents payments to 7,223 properties. Each fits FEMA's definition of severe repetitive loss by having more than four claim payments over $5,000 each.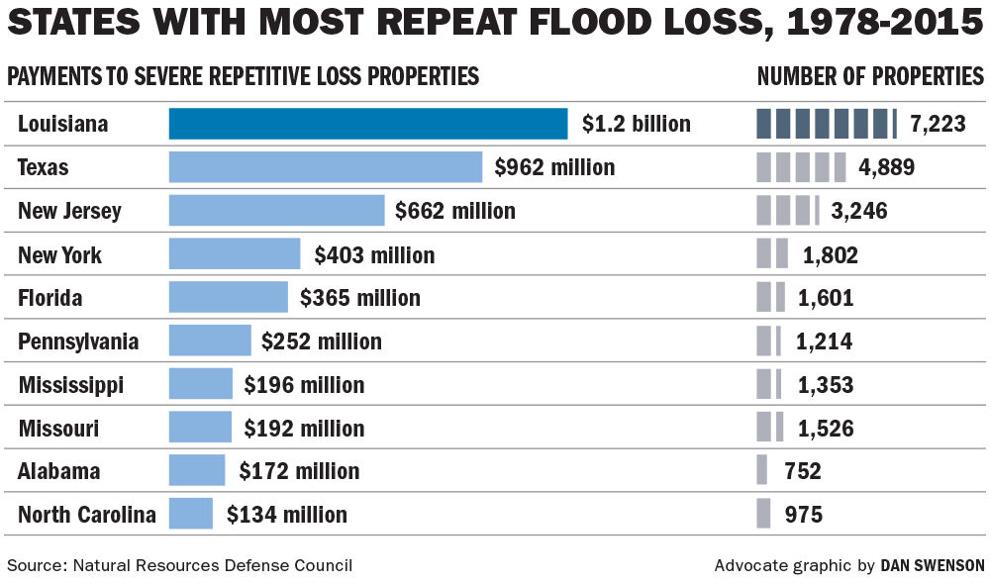 Louisiana parishes and communities take eight of the top 25 spots in the country for repetitive flood loss, with Orleans Parish at number one and East Baton Rouge Parish at 24th place.
In East Baton Rouge, the most recent numbers show there are 968 structures classified as repetitive loss, including 179 considered severe repetitive loss. Many, if not most, of these properties flooded again during the August floods that devastated the region.
But parish officials say they only have enough federal money to buy out as many as 10 properties a year, leaving a lot of people waiting, repairing a house that is likely destined to flood again. The homes are clustered all over the parish in low-lying areas or where waterways tend to converge or see backwater flooding become an issue.
"Far too many communities and far too many people believe these are one time events and continue to build in places destined to flood," Moore said. That desire to rebuild as if flooding will never happen again is not just an issue in Louisiana, but is repeated across the country. More properties are added each year to the list of repetitive flood loss than are removed through mitigation measures like home elevation or buy outs.
Resilient rebuilding
In late September, Congress voted to give Louisiana $500 million, in part to help homeowners rebuild. At that time, Gov. John Bel Edwards said building resilient communities that are better able to survive or bounce back from a natural disaster will be part of that work.
Exactly what resilient communities will look like isn't clear. Richard Carbo, the governor's communication director, said the state is starting the planning process, but suggested some initiatives could include drainage improvements and home elevations.
As many Baton Rouge-area parishes have seen in the last couple months, it can be tough for a local community, already devastated by flooding, to make the process more difficult for residents by enforcing stringent flood mitigation requirements. In fact, many local governments have eliminated some of the tougher rebuilding standards that had been in place before the August flood.
"Our number one priority is certainly getting people back in their homes," said Jr. Shelton, Central's mayor, a town in East Baton Rouge Parish that saw widespread damage.
Under FEMA rules, homes in high-risk flooding areas that are more than 50 percent damaged by a flood and below base flood elevation are required to elevate to at least that level, something that remains true for Central residents.
One action the city took was to eliminate the requirement for one-foot of freeboard over the base flood elevation for certain reconstruction -- a tougher measure than the federal minimum -- although any new construction still will need to meet that requirement, he said.
"If you got to elevate homes, you're going to wipe out whole subdivisions," Shelton said. He said the city got estimates of $65 a square foot to elevate homes meaning that a 1,800 square foot home would come in at $117,000 for elevation.
Shelton has repeatedly emphasized that experts have theorized the rain that caused the flooding was so outside the norm, what some have speculated was a 1,000 year flood, or an event that had a .1 percent change of happening in a year. FEMA creates its maps to a much lower level of probability, the 100 year flood.
"It's such an anomaly," Shelton said.
Buyouts and elevations
Although the August flood broke records for rainfall and river levels, Louisiana is no stranger to flooding disasters, racking up 15 flood events that prompted a major disaster declaration in the last 11 years.
Homes placed on a repetitive loss list meet the definition from the National Flood Insurance Program as any property that has had two or more flood insurance claims of more than $1,000 in a 10 year period.
Severe repetitive loss properties are ones that have had four or more claim payments over $5,000 each with the combination of claims adding up to more than $20,000. At least two of those claim payments have been made with the added together amount exceeding the market value of the building, according to FEMA.
At the federal level, money is available to property owners if they are insured and want to rebuild, but getting funding for buyouts or elevation can be time consuming and sometimes costly. Buyouts pay the property owners and then the land is taken out of circulation to become green space, but the process can take years. Other work like elevating a home requires a property owner to come up with 25 percent of the cost, putting the option out of reach for some people.
"The way we do buy outs now is kind of shameful," Moore said. "There's a lot that could be done to streamline that."
In addition, money to do elevation work or even buyouts can be hard to come by despite several annual grant opportunities and a share of disaster response money.
"In the past, we've only been able to buy out seven to 10 homes (a year)," said Joanne Moreau, director of the East Baton Rouge Office of Homeland Security and Emergency Preparedness. "There's a much greater interest right now, but unfortunately there's no money in the buyout program."
Casey Tingle, assistant deputy director for hazard mitigation at the Governor's Office of Homeland Security and Emergency Preparedness, said there are three main grant opportunities for mitigation work, but the state regularly doesn't have enough.
"It's generally the case in Louisiana, specifically related to flooding, there is more need than funding to meet the need," Casey said about mitigation. This isn't the case of Louisiana getting short changed, he said, in fact many people might say Louisiana has gotten more than many other states, but it's not enough.
For example, Ascension Parish got just more than $1 million in 2015 for buy outs and $969,210 for home elevation. In 2014, just over $300,000 was spent.
Currently, three homes have been purchased and are being demolished and another home is pending, according to Martin McConnell, the Ascension public information officer.
These will be the last buyouts in the parish since the previous administration decided to end the buyout program. Instead, Ascension plans to emphasize elevation and other mitigation measures.
Evidence nationally shows that it can be difficult to stop construction in flood prone areas.
Nicholas Pinter, professor of applied geosciences at University of California-Davis, said researchers looked at St. Louis, Missouri, which was hit with major flooding in 1993 and spent $88 million on buying out properties. A review 10 years later found that despite those properties no longer being available for development, $2 billion worth of new construction had been built in nearby areas that had also been under water in 1993.
"Flood damage is never only just the water. It's the planning and development decisions," Pinter said.
Insured properties that have flooded multiple times make up just 1 percent of premiums paid to the National Flood Insurance Program, but account for 25 to 30 percent of the losses to the program, which currently has debt of $23 billion, according to the Pew Charitable Trusts.
The National Flood Insurance Program is up for review next year, but in the meantime one new proposal has been introduced in Congress that would compel communities with repeated flood loss to map and plan to reduce those losses.
"This is a problem we have to do something about," said Phyllis Cuttino, director of flood prepared communities at Pew Charitable Trust. "We can't do the same thing over and over again."