A proposed 283-mile pipeline that would cross 14 parishes from Richland to Plaquemines to feed a planned natural gas export facility has raised concerns from more than 120 residents and one Indian tribe.
About a dozen proponents, ranging from business owners to local politicians, have sent letters to the Federal Energy Regulatory Commission in favor of the project as an economic development driver, while concerns were focused on the environment, impact on tribal land and African American communities, the potential use of state legal provisions that allow land to be taken from opposing owners at market rates and the market saturation of LNG projects.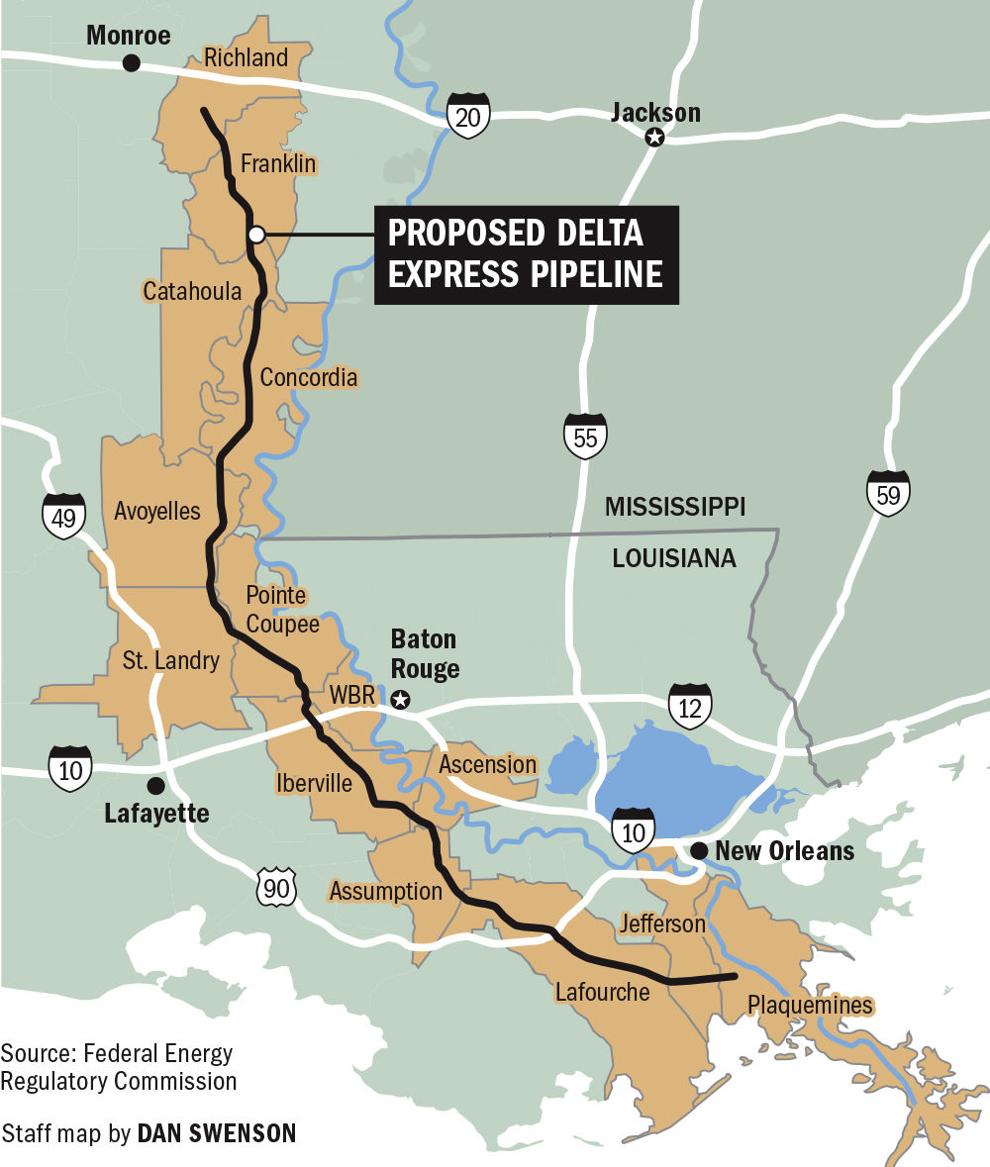 Venture Global LNG, which has two other liquefied natural gas export facilities planned in Louisiana, said the construction of the 283-mile Delta Express Pipeline would enable subsidiary Delta LNG to export up to 24 million tons of natural gas each year by 2024 from Plaquemines Parish. The project is expected to cost $8.5 billion, support 2,000 temporary construction jobs and create about 250 full-time permanent jobs once completed. 
The 42-inch wide pipeline also would include four compressor stations in Richland, Concordia, Pointe Coupee and Lafourche parishes.
The Delta Express would begin in Alto, southeast of Monroe, near a natural gas pipeline intersection then head south, disturbing about 6,000 acres of land along the way. The company said it plans to restore about 2,700 acres after the project is built. 
That concerns representatives of Healthy Gulf, an environmental activist organization in New Orleans, in particular the possible destruction of wetlands deep in south Louisiana that offer a physical barrier during hurricanes and tropical storms. The organization also was skeptical of potential market saturation for LNG, with a half-dozen export terminals  competing with each other for customers.
"There's no market for all of these projects being built," Scott Eustis, community science director of Healthy Gulf, said during the Belle Chasse community meeting where FERC collected public comments. "They are all in a race to see who can build it first."
In August, residents submitted comments during Venture Global meetings in Belle Chasse and Donaldsonville but none were collected at meetings in Winnsboro and New Roads. 
Venture Global LNG declined further comment beyond its responses to residents' concerns on file with FERC. 
Venture Global LNG said that it's not aware of any detrimental impacts during hurricanes if the land was cleared for a pipeline. The company said it expects to build the export facility in two phases to meet market demand and so far has had "significant success contracting for LNG sales."
The federally recognized Tunica-Biloxi Indian Tribe in Avoyelles Parish hired an attorney to voice concerns about the pipeline crossing tribal lands. The tribe wants FERC to expand its review of the pipeline to include impacts on archeological surveys, future tanker traffic and remediation if an explosion or spill or spill were to happen. 
Dozens of residents in Raceland, a majority African American community, opposed the pipeline construction citing health and safety concerns at the Belle Chasse meeting and in letters submitted to FERC afterwards.
Carolyn Smith, head of the NAACP in Lafourche Parish, is concerned about the project cutting through predominately African American neighborhoods, including a nearby cemetery, which the company said is not in the pipeline's path.
If approved, the company could use eminent domain to buy the right of way for the pipeline, and that raised concerns for Smith and others. 
In response, Venture Global LNG said it intends to reach agreements with landowners and use eminent domain as a last resort. It also expects to conduct an environmental justice review for residents within 1 mile of the pipeline route — which is a federal requirement.
It's not the only contentious pipeline project in recent years. The Bayou Bridge Pipeline that transports oil from St. James to Lake Charles but eventually into Texas as well, was completed in March after years of controversy. The 163-mile oil pipeline was opposed by environmentalists over its impact to the Atchafalaya Basin. Landowners have been tied up in a lawsuit against the joint venture between Energy Transfer Partners and Phillips 66 over eminent domain after property owners found crews working on the pipeline on private property without permission. The companies said that the pipeline reduces U.S. reliance on foreign oil and was a positive economic impact during the construction phase. This month, landowners in the pipeline path appealed a judge's ruling in December 2018 that oil companies — like natural gas companies — could use eminent domain. The companies asserted that they already negotiated easements with property owners for about 95% of the pipeline route. 
As for Venture Global LNG's project, some residents asked whether the company would consider hiring local residents to work at the facility. The company said it is "committed to hiring local people" and expects to develop training programs.
Among proponents of the project is Betsy Pavlovich, owner of Nairn Concrete Services in Belle Chasse, who said that it could be a boon to local suppliers if the pipeline and export terminal is approved. 
Several politicians who represent parishes along the pipeline route also sent letters in support: state Sens. Neil Riser, District 32, which includes Catahoula, Concordia, Franklin and parts of Avoyelles and Richland parishes; and Richard Ward, District 17, which includes Pointe Coupee, West Baton Rouge, Iberville, Assumption parishes. 
Also expressing support were state Reps. Christopher Leopold, District 105, encompassing Jefferson and Plaquemines parishes; Charles Chaney, District 19, encompassing Richland Parish; and John Berthelot, District 88, Ascension Parish. 
"Delta LNG and Delta Express are important to not only the continued economic growing in Louisiana but also to the United States; LNG export from the U.S. is an important diplomatic tool and this project is another step in the right direction," Leopold said in a letter. 
The Plaquemines Port Harbor and Terminal District, the Northeast Louisiana Economic Alliance, the Louisiana Mid-Continent Oil and Gas Association and the Baton Rouge Area Chamber also submitted letters in favor of the pipeline. 
In its decision-making, FERC considers the quality of the issues raised, such as environmental destruction, to see if the economic gains outweigh the impact, not just volume of submissions. 
"FERC's decision whether to grant or deny a pipeline certificate is based upon a determination whether the project would be in the public interest," according to a Congressional Research Service report about the process. "FERC accounts for several factors, including a project's potential impact on pipeline competition, the possibility of overbuilding, subsidization by existing customers, potential environmental impacts, avoiding the unnecessary use of eminent domain and other considerations." 
Venture Global LNG has two other pipelines planned in the state. The Trans Cameron pipeline was approved earlier this year. It is only 24 miles long and crosses Cameron Parish then connects to an existing pipeline system. The Gator Express pipeline is still pending approval but it's also a short route, no longer than 30 miles in Plaquemines Parish, before it hits an existing interconnection. 
In the past year, FERC has approved 10 new major pipelines, including three that cut through Louisiana that are for new LNG export facilities. 
Only two pipeline projects out of 400 have been rejected by FERC between 1999 and 2017.
In 2011, FERC denied the Turtle Bayou Gas Storage Co.'s proposal to build a natural gas storage facility in Texas after it wasn't able to acquire rights to the land. In 2016, FERC denied the application for the 232-mile long Pacific Connector Pipeline because the company didn't demonstrate that the economic impact of the project outweighed property rights taken away through eminent domain. In 2017, the company filed another application for the pipeline that would connect to the Jordan Cove LNG export facility in Oregon, so it could still be approved.