Nearly all of Louisiana's adult population has heard about the state's constant budget problems, and most agree the state's financial issues are "very serious," according to a new poll out Friday.
And most prefer an approach that goes beyond relying on the state sales tax to shore up the shortfall the state faces when temporary tax measures expire June 30.
The 2018 Louisiana Survey, conducted by the Public Policy Research Lab at LSU's Manship School for Mass Communication, found about 56 percent of respondents said they want the State Legislature to lower income tax rates and reduce tax breaks, 53 percent said they support cuts to business tax exemptions, 52 percent said they prefer a cuts-only approach, 47 percent support extending the current 5 percent sales tax rate and 46 percent said the state should lower the sales tax but broaden it to services too.
The Survey has been conducted annually since 2003 and twice in 2006 to establish benchmarks in public opinion on several hot topics.
The proposal to change the personal income tax, in exchange for reducing deductions, won bipartisan support among respondents to the survey. Republicans supported the idea by 61 percent, 54 percent of Democrats picked that as their preferred method and 55 percent of independents prefer the idea.
A proposal to continue temporary reductions to certain business tax exemptions also won broad support with respondents who identified as Republicans (52 percent), Democrats (51 percent), and independents (55 percent).
The 2018 Louisiana Survey was conducted telephone Jan. 26 to March 3 via landline and cell phone. It included 852 respondents and has a margin of error of 3.4 percentage points. Friday's release is the second in a series of six parts addressing views on various issues.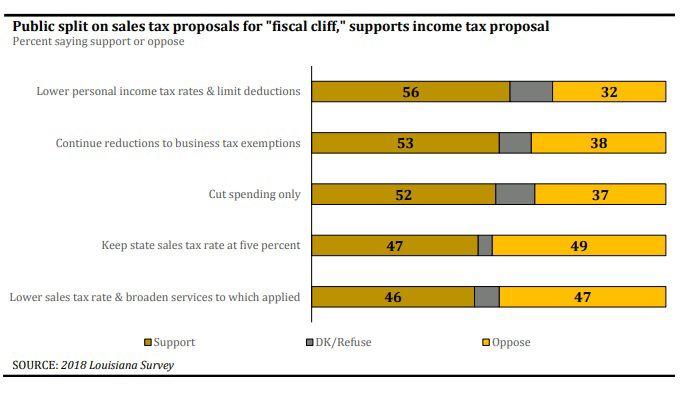 The first part showed frustration that residents feel over partisanship in state government in recent years as the state has cycled through repeated budget crises.
Louisiana lawmakers this month ended a special session with no action toward addressing the looming "fiscal cliff" the state faces for the budget cycle that begins July 1, after a deep breakdown in the state House over the best approach.
The Legislature entered its regular session last week with leaders expressing hope that it will end early so that another special session can be called to address the latest budget outlook, but no consensus has been reached on the best path forward.
The Louisiana Survey found that 87 percent of respondents recognize that the state has budget problems, while 59 percent said they would deem them "very serious."
While a majority said that they think the state could address the fiscal cliff through a cuts-only approach, the opinion was split along partisan lines. Sixty percent of Republicans and 55 percent of independents approve a cuts-only approach, while just 42 percent of Democrats think that's the way the state's finances should be shored up and half of Democrats said they oppose dealing with the shortfall strictly by cutting.
Other findings in the survey:
Respondents were split over whether the state constitution needs to be rewritten. Fourty-six percent support a constitutional convention and 44 percent oppose. But even those in favor still prefer to keep current protections for K-12 education (95 percent), coastal protection (85 percent), transportation (77 percent) and homestead exemption (79 percent).
Respondents were more familiar with changes in Louisiana's sale tax in recent years and how it compares to other states than they were with income tax. Fifty-four percent knew the state's sales tax is higher today than it was in January 2016, and 53 percent knew that the sales tax in Louisiana is among the highest in the country. Meanwhile, 39 percent of respondents were under the impression that income taxes are higher than they were in January 2016, despite few changes in that time period, and 38 percent said they believe Louisiana's income taxes on individuals and households are higher than most states, even though Louisiana's is among the lowest.
Most respondents (69 percent) said htey believe spending can be cut without cutting back on services, including 83 percent of Republicans and 52 percent of Democrats.
Read more about the 2018 Louisiana Survey findings here.