In a marshy, quiet corner of southwest Louisiana, the residents of Cameron Parish are sitting on a gold mine, but they are unable to reap its full rewards. 
Over the past decade, their region has seen an explosion of capital investment from huge corporations erecting sprawling megaplants, thanks to the area's easy access to deep-water ports and abundant pipelines supplying cheap natural gas.
Two companies alone, Cheniere Energy and Cameron LNG, are collectively investing $29 billion in Cameron Parish into new facilities that process and export liquefied natural gas. Chenier Energy alone is spending about $20 billion, the equivalent of building the 10 costliest NFL stadiums.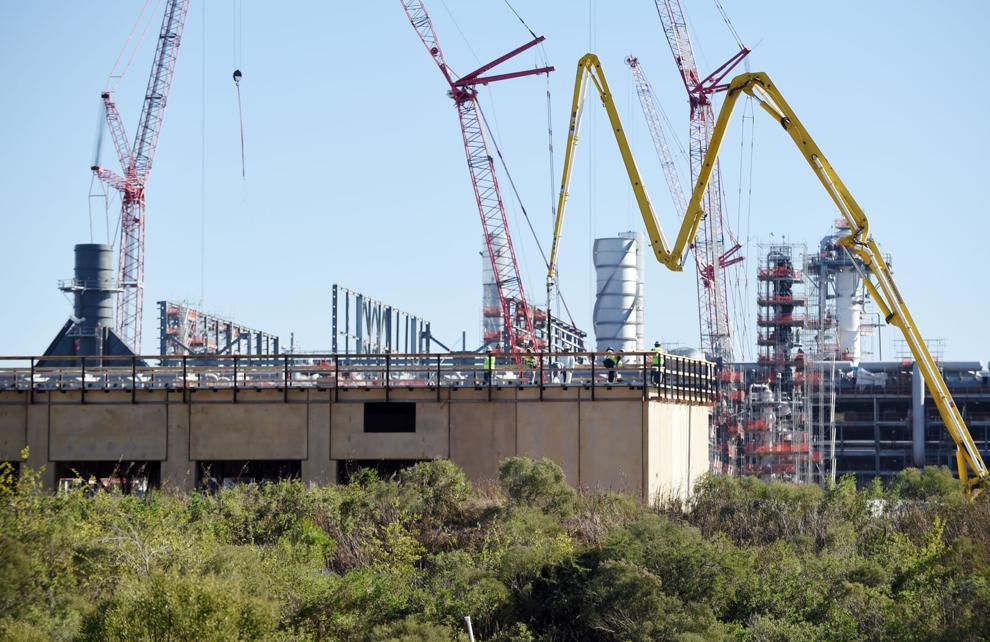 Theoretically, at least, the crush of new construction should be generating hundreds of millions of dollars in property tax revenue each year. Such a windfall would be transformative for a sprawling but rural community of less than 7,000 people that is still recovering from the twin blows of hurricanes Rita in 2005 and Ike in 2008, each of which deluged the parish with 12-foot storm surges.
But the truth is, even amid such a remarkable building boom, Cameron Parish's government is still limping along, short of money for basic needs like a new school and more sheriff's deputies. 
The disconnect between the lack of resources for basic public services and the unprecedented capital investment in Cameron Parish can be traced to Louisiana's Industrial Tax Exemption Program, which allows manufacturing facilities to be exempt from paying property taxes on new facilities for 10 years. By year 11, when their owners would be expected to start paying property taxes, the value of the industrial plants and machinery usually has depreciated so dramatically that local governments can hope to receive only a modest bump in collections.
That conundrum, and others around the state, explains why the Industrial Tax Exemption Program has come under fire in recent years. Even in a state that prides itself for a welcoming attitude toward industry -- even dirty industries that many other states discourage -- experts and some politicians have begun to question whether it makes sense to give away so much for so little. 
Nowhere in the state do the consequences of the program play out more spectacularly than they do here, in a place that is simultaneously one of Louisiana's largest and least populous parishes. Cameron Parish has no local sales tax. And though local government operations are almost entirely dependent on property taxes, there are few businesses outside of the industrial plants that bring in tax revenue.
From 2011 to 2016, Cameron Parish's forgone property taxes amounted to $4.2 billion -- an average of $700 million a year. Incredibly, that works out to more than $100,000 for every man, woman and child in the parish, each year. The parish exempts about 10 times the amount of property taxes it collects, far and away the highest such ratio in the state.
Right next door, Calcasieu Parish, home to Lake Charles, was No. 2 among Louisiana's 64 parishes in industrial tax exemptions, with $2.8 billion given away over that same span. Between them, those two parishes accounted for more forgone property taxes through the Industrial Tax Exemption Program than the other 62 parishes combined.
Even as Cameron Parish misses out on $700 million a year, its Police Jury is scraping by on a budget of about 1 percent of that sum: $8 million a year. Cameron Parish's public school system, which is awash in red ink, makes do with just $22 million annually. In total, the parish collects about $38 million a year in property taxes, about 5 percent of what it gives away in exemptions.
Cameron and Calcasieu are among five Louisiana parishes -- the others are St. Charles, St. John and Iberville, all along the Mississippi River -- that in a typical recent year have exempted more property tax to industry than they have collected overall.
In part, that's because those parishes are home to relatively few people and thus have fewer other taxpayers to draw on. For example, East Baton Rouge Parish, the state's most populous, is No. 7 in the amount given away, forgoing $388 million over six years. But because of its large tax base, the parish still collects six times in total property taxes what it exempts for industry.
Cameron Parish's administrator and schools superintendent say they have a list of $2 billion in infrastructure needs, including plans to replace a new school that's still in use despite being damaged by Hurricane Ike.
Because parish officials have had their hands tied by the industrial tax exemption, which is granted by a state board that typically rubber-stamps applications, they have attempted to broker deals that go around the program. These have involved getting companies to agree to pony up some property tax payments during the first decade in exchange for a lower tax burden over the long term. At least one of these deals has been controversial locally, riling up taxpayers and requiring court intervention.
Cameron Parish's efforts to work around the tax exemption may offer a glimpse into Louisiana's future, as government and corporate officials nervous about recent changes to the program implemented last year could seek similar arrangements. Although the effect of the program is most obvious in Cameron Parish, the diversion of property tax dollars through the program happens across the state, affecting budgets for police protection, pothole filling, pay for public school teachers and other government services.
It's an especially pressing issue in Louisiana's industrial core, which, along with Cameron and Calcasieu, includes the string of parishes along the Mississippi River between Baton Rouge and New Orleans.
The revamp of the program, made through a 2016 executive order signed by Gov. John Bel Edwards, aimed to change the approval process from a fait accompli in which nearly every project is accepted to one where local governmental bodies, like the Cameron Parish Police Jury, decide whether they can afford a particular exemption.
Over the past 20 years, Exxon Mobil has been exempted from paying almost $700 million in property taxes that would have otherwise helped pay f…
The tax exemption had other weaknesses in the view of the governor and his appointees at Louisiana Economic Development. Unlike similar programs in other states, Louisiana's industrial incentive lacked job requirements, was given even for routine capital investments and was awarded to every eligible company for a full 10 years at 100 percent forgiveness without consideration of the merits of the project. 
"Four out of every five states have a property tax exemption for manufacturers, but Louisiana was the only state to approve those exemptions without formal input from the local taxing bodies that provide the exemption," Edwards said by way of explaining the new process. "I thought it was time to change that."
A tax swap
After 2005's Hurricane Rita, Cheniere Energy found itself in a tough spot. It was building its regasification facility -- where liquified natural gas is converted back to gas -- in Cameron Parish, but the damaged roads and spotty infrastructure of the decimated parish couldn't support the needs of the growing industrial campus. 
The parish didn't have the tax revenue to make improvements quickly, and the tax exemption the company enjoyed was only going to further delay progress. So Cheniere and the Police Jury struck a deal to have the company pay $25 million in property taxes over its first 10 years, rather than being totally exempt. The deal would work like a loan, with the company getting a dollar-for-dollar credit over its second decade for those early payments.
Those dollars have generated an extra $361,000 a year for the Police Jury, which was used for road improvements and to rebuild government buildings. The school system received $812,000 a year and was able to issue bonds to rebuild two schools damaged by Rita.
Last year, Cameron LNG officials tried to negotiate a similar deal. But their version was going to give the parish much more money up front in exchange for a smaller tax burden for the company over the long run.
The proposed deal called for Cameron LNG to pay $24.5 million a year for 20 years, amounting to almost $500 million. In its first year, the deal would have boosted Cameron Parish's property tax revenues by almost two-thirds. Even so, the parish assessor projected that the deal ultimately would cost the parish $1.5 billion it otherwise would have collected.
Local officials called the assessor's projections of lost revenue too high, saying he didn't appropriately account for the rapid depreciation of industrial equipment. They also said he failed to consider that tax rates likely would be reduced as more money came in, limiting the company's future tax liability.
But many residents sided with the assessor. They were worried about giving up so much future tax revenue, money that ultimately could mean dramatically lower bills for themselves, as well as better schools and infrastructure.
Ultimately, the deal was deemed unconstitutional by a district court judge and then an appellate court, both of which found that property taxes, by law, have to be tied to fair market values and cannot be arbitrarily assigned. The deal that parish officials had confected with Cameron LNG did not meet that test.
Margaret Jones, who retired after working for Cameron Parish schools for 30 years, was a leader of the fight against the bargain. She said it was frustrating to watch a huge corporation get a pass on hundreds of millions of dollars she felt the parish badly needed.
"The School Board and the rest of the parish are very dependent on property tax income," Jones said. "It's not like LNGs are really fantastic neighbors to have, so when you encourage businesses to come to your town, you expect them to hire local people and pay their taxes. That's why you want them here."
Ironically, perhaps, opponents and advocates of the Cameron LNG deal all wanted the same thing: financial security for a struggling parish. The question was how to achieve it. Police Jury and School Board officials said there was major value in getting around the 10-year waiting period and building predictability into their budget.
Ryan Bourriaque, the parish's administrator, also said he believes the rapid depreciation schedule for industrial machinery means assumptions about revenues in the second decade are iffy. Manufacturing and industrial equipment loses most of its taxable value in the first 10 years -- usually more than 90 percent of it, according to Jay Delafield, a tax attorney in Lake Charles who helped negotiate the Cameron LNG deal for the parish.
"When industrial tax exemptions of those facilities finally come on the tax rolls, what percent do you think we get from the original contract?" Bourriaque asked rhetorically. "The answer is: hardly nothing. And that's a fact."
But Brian Eddington, general counsel to the Louisiana Assessors' Association, said that's a bit of an exaggeration. He said industrial improvements typically depreciate by about 60 percent or more by the time the manufacturers are required to pay taxes again.
It's not an entirely settled question, though it's an important one, especially when considering the effects of a 10-year break. According to the state's suggested depreciation schedule, petroleum industry machinery has depreciation schedules ranging from 10 to 25 years -- meaning at least some of the equipment could have no value after 10 years.
"We looked at it like: What is the value of certainty in having a dedicated revenue stream that would not fluctuate, that would allow us to issue bonds, that would allow us to budget accordingly, that would allow us the infrastructure improvements that we don't have now," Bourriaque said.
Although they're at odds over whether the deal was good for the parish, Bourriaque and Jones generally see eye to eye on what the parish needs.
On a recent day, Jones sat in her car for 30 minutes at the Calcasieu Ship Channel, waiting for a 60-year-old ferry to arrive to haul her across the narrow waterway, which is only a few hundred yards wide. The north-south strait, which flows to the Gulf, divides the parish. The unreliable ferry is the only way across — other than a two-hour detour north to go around it.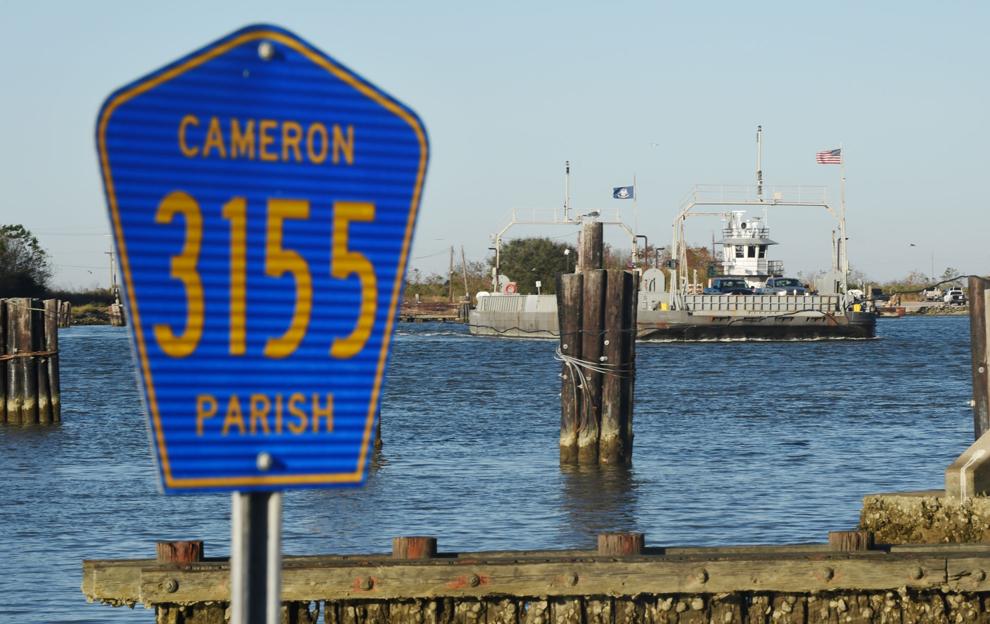 Both Jones and Bourriaque separately complained that either the ferry needs to be replaced or a bridge built to take its place. They also both cited the need for coastal restoration projects, like a seawall, to protect the low-lying parish from Gulf storms.
Last year, the Cheniere agreement expired, and its impact on tax rolls is already being felt. The Police Jury and the Sheriff's Office are both short an extra $360,000 a year they had been receiving for 10 years. 
Schools Superintendent Charles Atkins says his system is operating at a deficit, quickly burning through a reserve account after voters rejected a property tax renewal a few years ago.
Even the narrow roads that surround some of the new industrial construction are in lousy condition, Jones said. And she said she thinks the companies are to blame — directly and indirectly.
"The roads are in bad shape; they've put terrible stress on our waterworks, and these are the types of things that taxes pay for," Jones said. "If they don't want to foot the bill, then what's the point?"
Absent the deal, Cameron LNG's operations will take the industrial tax exemption.
"It was unfortunate that the proposed cooperative endeavor agreement was denied as we strive to contribute to the growth of the economy," said spokeswoman Anya McInnis in a statement on behalf of the company. "However, we remain committed to being a good corporate partner in Cameron Parish."
A new workaround?
After the Cameron LNG deal was killed by the courts, it was given a second chance by the Louisiana Legislature.
Dubbed the "PILOT" bill, for "payments in lieu of taxes," it was sponsored by state Rep. Alan Seabaugh, R-Shreveport, who said it was a direct outgrowth of the implosion of the Cameron LNG deal.
The bill was approved by the House and had the governor's backing. But it was killed in a Senate committee.
"There was a perception that big national companies were going to dupe these poor, uninformed police juries into bad deals," Seabaugh said of the bill's critics. "I think the police juries and school boards are sophisticated enough to make their own decisions."
Parish tax assessors and Together Louisiana, a faith-based advocacy organization, joined forces to kill the bill. Seabaugh said assessors were motivated by self-interest: A small percentage of property tax valuations go to fund the assessors' retirement system, and the bill would have allowed some massive projects to be taken off the tax rolls. 
Eddington, of the assessors group, called the accusation "asinine," adding that assessors' individual retirement payments are based on years of service, not how much is in the fund.
"It's ridiculous," he said. "The reason we're opposed to it is because it wrecks the tax code. Everything is based on the simple premise that everybody is taxed in the same way."
Seabaugh said he's certain the bill will get another hearing. Fiscal bills can be filed only every other year, so he said the bill will either be filed in a special session next year or the regular session in 2019.
Cameron Parish officials said they're hopeful the law will be changed so they can resume negotiations with Cameron LNG.
Worth it?
Despite the challenges the industrial tax exemption has created, local officials say they are still largely supportive of the program. And although they're struggling to come up with money, they still trust the state government officials who gave away their tax dollars in the first place. 
"I'm sure those economic development professionals are well-versed on those programs and have an understanding of why they're needed," Bourriaque said. 
And they recognize that they've gotten some economic benefits from their new megaplants — even if they haven't taken the form of tax receipts.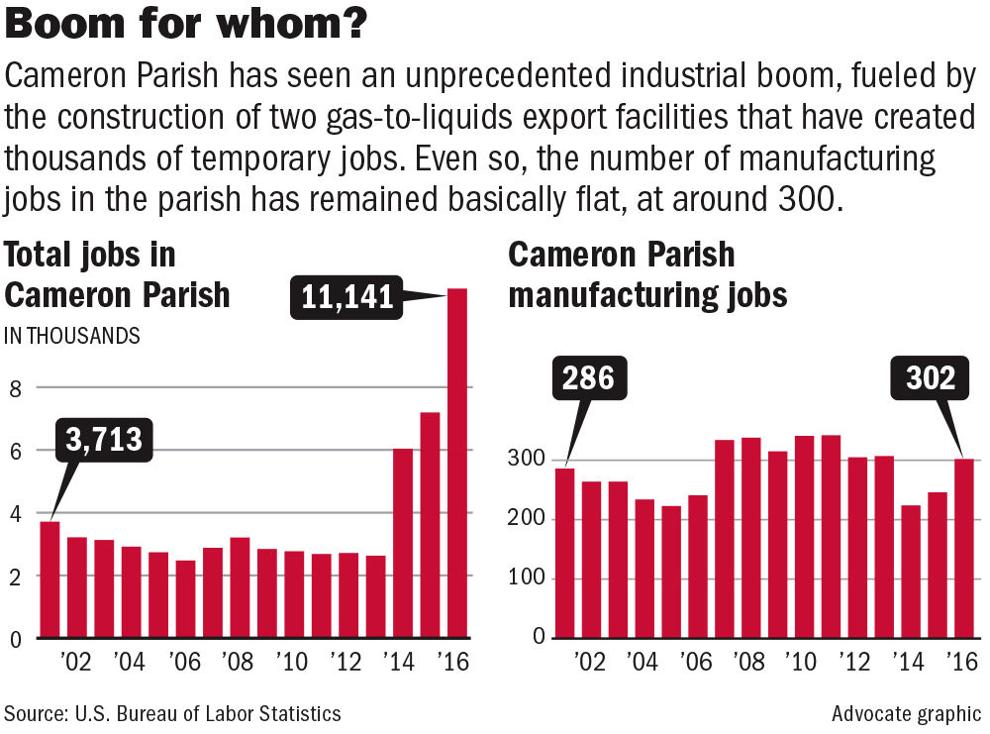 In 2016, Cameron Parish had the lowest annual unemployment rate in the state at 4.4 percent, according to the federal Bureau of Labor Statistics. Its average weekly wage last year was $1,471, good for No. 1 in Louisiana and above the national average.
Although Cameron Parish actually lost 42 manufacturing jobs between 2011 and 2016, according to the Bureau of Labor Statistics, the total number of jobs in the parish quadrupled over the same period. That number, which includes temporary construction jobs, jumped from 2,700 jobs to more than 11,000 -- 1½ jobs for every man, woman and child in the parish.
"We, the Police Jury, have never given away one single dollar. The state did that," Bourriaque said. "But let's say the industrial tax exemption never existed ... can we guarantee these companies would have located here otherwise?" 
Jones has a different take.
Around town, there are lots filled with dingy white campers and mobile homes where temporary construction workers live, transients who will leave once the construction boom is over.
Cameron LNG and the other plants say they'll create hundreds of permanent jobs, but Jones wondered aloud if the cost to taxpayers is worth the billions in lost property taxes.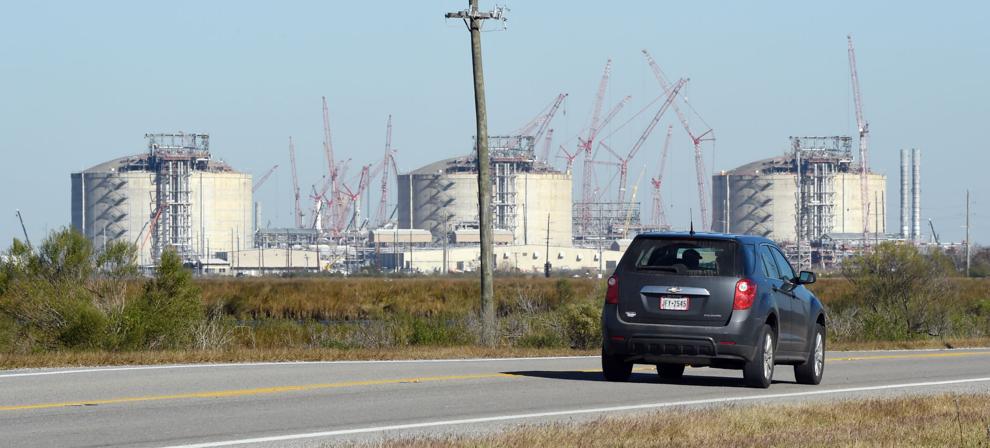 Absent the PILOT deal, Cameron LNG can rest on its industrial tax exemptions, which from 2003 to 2017 amounted to $3.1 billion in relief. Cameron LNG said it expects to employ about 275 people; however, 50 of those people will work in Houston. So far, each Louisiana job created by Cameron LNG is costing taxpayers roughly $13.7 million in lost revenue.
In a visit to a couple of the plants, Jones frowned as she pointed out dozens of cars with Texas license plates going in and coming out. She wondered what Louisiana is getting out of the bargain.
"I pay my taxes. And for 30 years, my salary was paid for at the school system from property taxes," she said. "I just feel like everyone should pay what they owe."