WASHINGTON — Louisiana will get nearly $95 million for coastal protection and restoration efforts in the latest round of payments from the federal government's Gulf energy royalties.
State officials quickly hailed the announcement of the latest round of Gulf of Mexico Energy and Security Act funding as a win for the state's conservation and hurricane protection efforts.
Gov. John Bel Edwards announced plans Wednesday for spending about $350 million in coastal dollars, including money to accelerate a nearly hal…
"Revenues from oil and gas activity in the Gulf of Mexico are vital to restoring our coast and protecting coastal communities," U.S. House Minority Whip Steve Scalise, R-Jefferson, said. "American energy dominance will play an increasing role in the revenue sharing dollars coming to Louisiana, and I look forward to working with President Trump to support a robust energy strategy in the Gulf of Mexico which allows us to better protect the coast we love."
The latest tranche of GOMESA funding, which the U.S. Department of Interior announced Thursday, is roughly $12 million more than the state received under the program last year — about a 14 percent boost.
But the annual money from GOMESA still hasn't reached initial estimates coastal officials anticipated just a few years ago. State leaders initially anticipated revenue would reach about $175 million a year by this point; the latest release tracks with revised estimates unveiled two years ago.
Louisiana Coastal Protection and Restoration Authority Chairman Chip Kline said the increase over last year is still reason for optimism about future boosts.
"With oil prices and leases on the rebound, we could see additional dollars in coming years, and we are actively working with our congressional delegation to raise the cap on the total amount we could receive in peak years," he said.
Stephen Barnes, an LSU professor and economist who has worked on GOMESA forecasts for the state, said the latest release is within the most recent forecasts but "a little bit on the lower end."
"In the long run we remain confident that the overall share is going to go up over time," Barnes said. "This is a small incremental gain, but every year we expect that to go up, following the long-run trend and ultimately provide a stable, larger source of revenue that we've all been looking for to protect our coastline."
Congress established GOMESA in 2006 to distribute some federal revenue collected from energy-related drilling off the coasts of Alabama, Louisiana, Mississippi and Texas back to those states.
"This money is made off Louisiana's coast, and it is used to battle coastal erosion," said U.S. Sen. John Kennedy, R-Madisonville. "It's no secret that our coastline is disappearing, threatening coastal families and jobs. This increase in funding will help us restore our wetlands and preserve Louisiana's future."
Louisiana's cut of the nearly $215 million in total GOMESA funding that's being doled out this week is the largest among states that are part of the revenue-sharing pact, as Louisiana has more oil platforms off its coast than the other three states.
Of Louisiana's $94.7 million, about $75.8 million will go to state-level efforts. The remaining $18.9 million will go directly to 19 coastal parishes in amounts ranging from $582,000 to more than $1.8 million.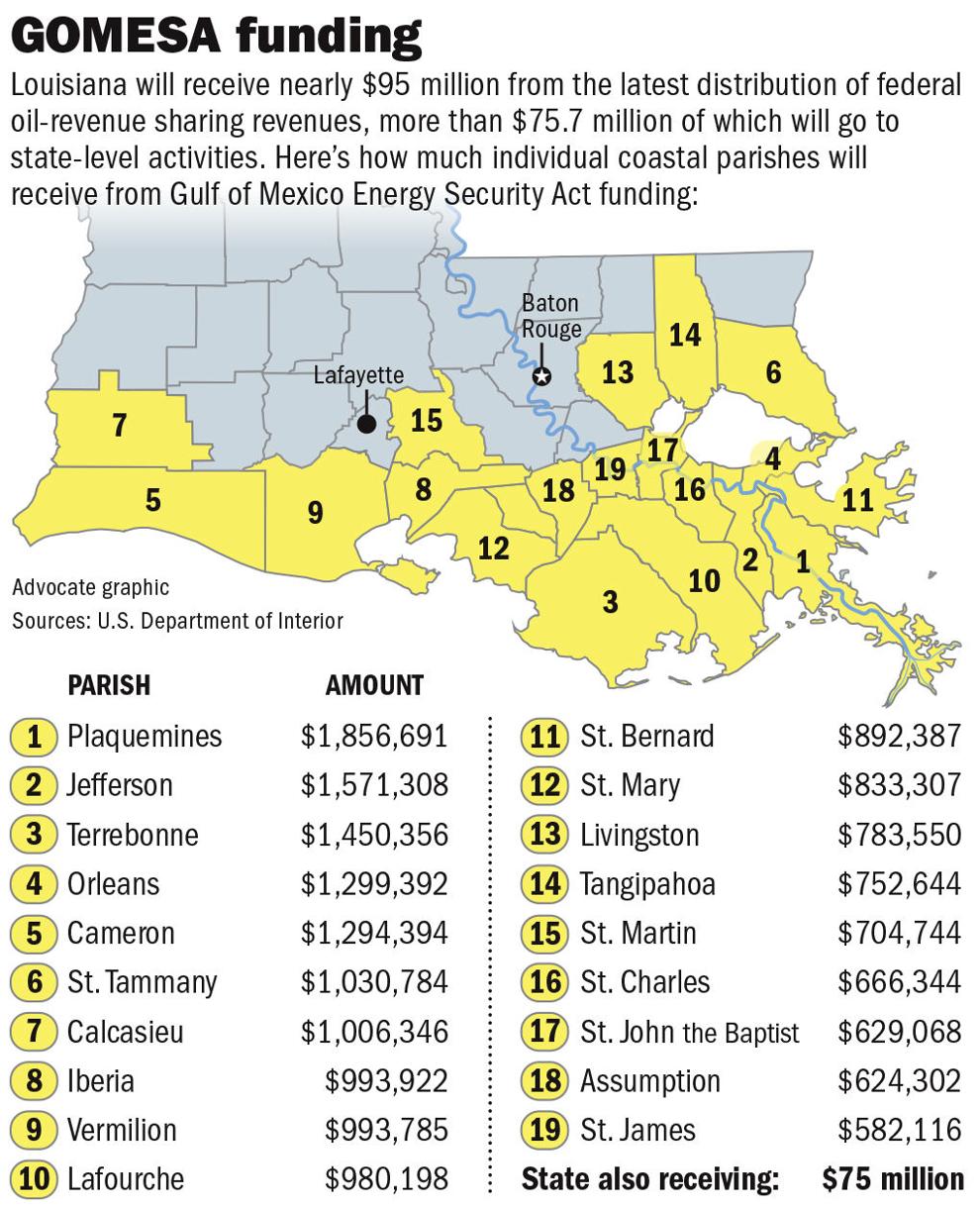 The GOMESA funds must be dedicated to coastal restoration or protection work, under state law.
"This funding is critical to our efforts to restore and protect our coast and will allow the Coastal Protection and Restoration Authority to construct hurricane protection and coastal restoration projects that will better protect our communities, help restore our coast, and make our state more resilient," Gov. John Bel Edwards said in a statement.
GOMESA has, in the past, found itself under threat of elimination as officials eyed other priorities for spending. 
U.S. Sen. Bill Cassidy, a Baton Rouge Republican who has rallied support of the program alongside other members of the Louisiana delegation, vowed to continue "to work with the (Trump) administration, and the entire Louisiana delegation, to preserve this important program."
"GOMESA revenue is essential to restore and protect Louisiana's coasts," Cassidy said.
Other members of the Louisiana delegation also expressed optimism about the latest round of funding.
"Energy producing states along the Gulf Coast have waited a long time to start getting a fair share of offshore energy revenues, especially in Louisiana, where the Gulf has eroded over 2,000 square miles of our coast," said U.S. Rep. Garret Graves, a Baton Rouge Republican who led CPRA efforts under then-Gov. Bobby Jindal. "Every single penny of this funding will be invested in urgent coastal restoration and hurricane protection efforts to protect Louisiana lives, communities, culture and a nationally-important economic engine responsible for 80 to 90 percent of all offshore energy production in federal waters in the United States."
U.S. Rep. Clay Higgins, R-Port Barre, said GOMESA has been a leading priority for the entire Louisiana delegation.
"This means greater investment into mitigation and restoration projects along our coast," he said.
U.S. Rep. Mike Johnson, a Shreveport Republican who chairs the conservative Republican Study Committee, called the Interior announcement "a big win for our state."
"The robust oil and gas industry in our state is key to America's economy and energy independence, and I will continue to do all I can to protect Louisiana's interests," he said.