For the first time in five years, more Louisiana residents believe the state is heading in the right direction than those who think it's moving in the wrong direction, a new poll shows.
LSU's Public Policy Research Lab began this week releasing the findings of the 2017 Louisiana Survey, an annual poll on Louisiana residents' views on various topics.
This year's survey found 46 percent of respondents feel that the state is heading in the "right direction" compared to 40 percent who say it's heading in the wrong direction. That's the most optimistic respondents have been since 2012, when 47 percent of people felt the state was on the incline and 39 percent felt it was heading down.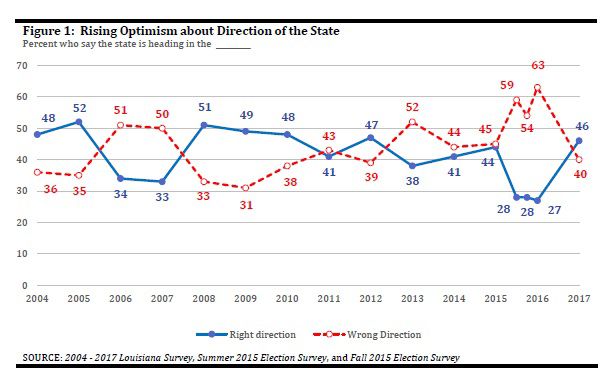 Since then, the negative outlook has consistently polled higher than the positive, hitting a peak of 63 percent viewing the state heading in the wrong direction last year, and just 27 percent saying their outlook for the state was positive.
The report notes, "Republicans, in particular, are driving the mood change. Last year, just 20 percent of Republicans said the state was heading in the right direction and 73 percent said it was heading in the wrong direction. Now, 48 percent feel the state is heading in the right direction and 38 percent say it is heading in the wrong direction."
Other findings within the latest release of the comprehensive survey show that the state budget and the economy remain top priorities for residents, polling at 23 percent and 21 percent, respectively. 
Another 15 percent identified education as their top concern, followed by crime (8 percent), politics and health care (each 6 percent), transportation (5 percent), and the environment and criminal justice (each 2 percent). About 1 percent identified recovery from last year's historic floods as their top priority.
Most Louisiana residents say they want the Legislature to get the state's budget under contr…
Louisiana has slid into a recession, but the survey found that residents' views of their own economic situations have largely remained consistent over the past three years.
"Most (55 percent) feel their financial situation is the same as a year ago. Just under one quarter (22 percent) say they are financially better off than a year ago, and about the same share (23 percent) say they are worse off," the report notes.
The LSU Public Policy Research Lab report is based off responses from 1,012 residents in live interviews by cellphone or landline from Feb. 23 to March 23. The margin of error is 3.1 percentage points.
Thursday's release is the second of six. The first installment focused heavily on attitudes about taxes.