Twenty parishes are now covered under a federal disaster declaration in response to severe flooding that has struck Louisiana.
At least 40,000 have signed up for federal assistance following historic flooding across south Louisiana, and more than 30,000 people have been rescued since Saturday, Gov. John Bel Edwards said in his latest briefing on Tuesday.
On Tuesday, Gov. John Bel Edwards announced that the declaration, which qualifies residents and local government in those parishes for federal assistance, had been expanded from the initial four -- East Baton Rouge, Livingston, St. Helena and Tangipahoa -- to include 16 others:  Acadia, Ascension, Avoyelles, East Feliciana, Evangeline, Iberia, Iberville, Jefferson Davis, Lafayette, Pointe Coupee, St. Landry, St. Martin, St. Tammany, Vermilion, Washington and West Feliciana.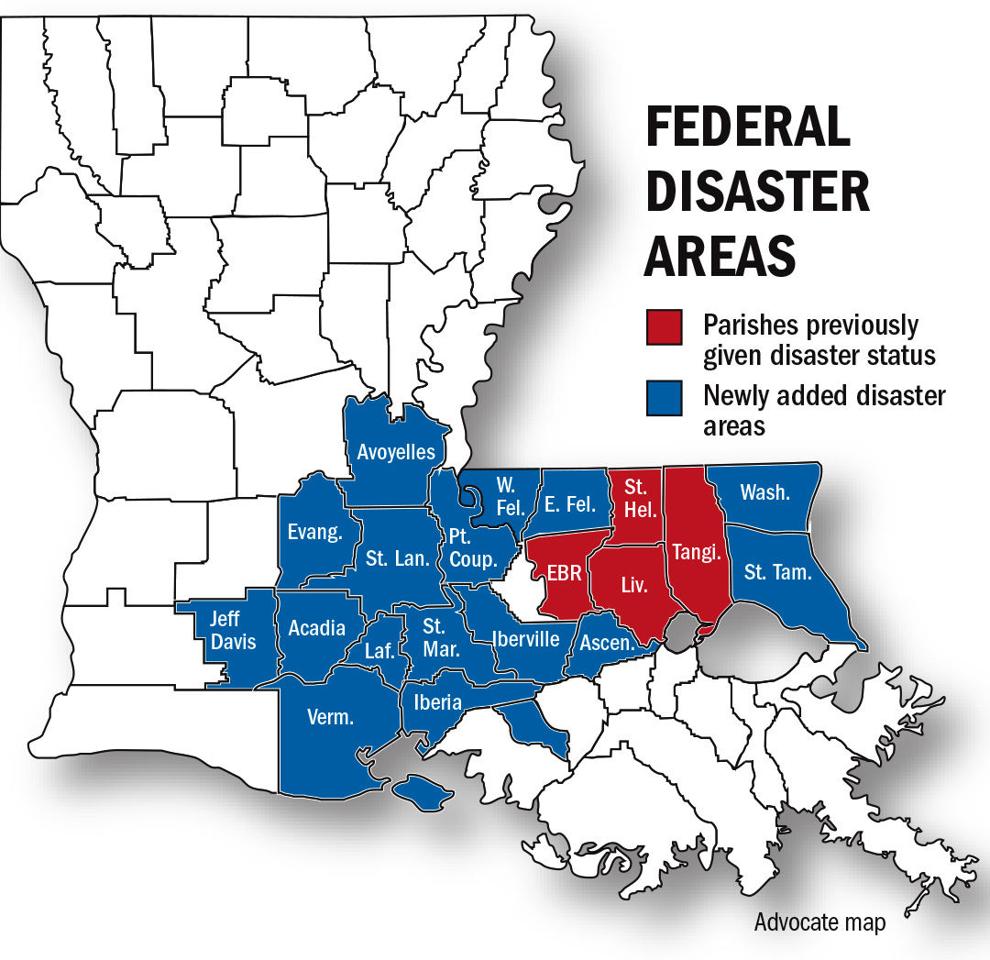 Since Edwards' initial declaration request covering 21 parishes went out Sunday, leaders have been working to assess damage across the state and update information for federal assessment.
"Nobody is going to be forgotten," Edwards said. "We're going to work around the clock and do everything humanly possible to render aid."
Authorities in the Florida Parishes continue with search and rescue efforts, while parishes to the north and those west of the Mississippi River are shifting to recovery mode, Edwards said.
Federal Emergency Management Agency head Craig Fugate is in the state to tour areas that have been hit by flooding. He said that FEMA is sending in thousands of people to assist with the recovery.
"FEMA understands that this is a very large disaster impacting tens of thousands of people," Fugate said. "Irregardless of what it may be getting in national coverage, we know there has been a significant impact here in Louisiana.
He said that FEMA and the president are committed to ensuring a "full recovery" from the flood.
"National media maybe hasn't been picking up on this and making it the headline, (but) we think it is the headline disaster right now," he said.
Fugate said one of FEMA's goals moving forward will be getting people into temporary housing. No plan has been developed so it's unclear what that may include.
But he stressed that it would be an improvement over the temporary housing that was put in place following Hurricane Katrina.
"This is not the FEMA travel trailers," he said. "They all meet or exceed HUD standards."
You can watch a replay of the news conference here.
Louisiana Gov. John Bel Edwards walked across the Celtic Studios lot on Monday, shaking hand…
Edwards spent much of Monday traveling to flood-affected areas of the state that had not made it into the first round of federal disaster declaration, which President Barack Obama announced just hours after Edwards made his request. Two representatives from FEMA traveled with him to view the damage and hear from local leaders. Fugate is expected to tour flood-affected areas today.
On Monday, Edwards repeatedly told officials he met with in Ascension, Lafayette, Vermilion and Iberia parishes that their disaster declarations were coming.
"We're working to make it happen," he said in Abbeville. "I think we're gonna get you swiftly added."
About 20,000 people have been rescued, along with hundreds of pets, and at least three, mayb…
The declaration means that federal funding will become available to affected individuals in those parishes.
That assistance can include grants for temporary housing and home repairs, as well as low-cost loans to cover uninsured property losses.
The disaster declaration also makes federal funding available for state and local government emergency and recovery efforts.
According to the governor's office, more than 40,000 people have already registered with FEMA, seeking assistance because of the flood. 
To register, visit disasterassistance.gov or call 1-800-621-3362.
Those who live in parishes not yet covered by the disaster declaration can pre-register by calling 1-800-621-3362.
Check back with The Advocate for more updates.